Family Meals Month Means Chips? Why not!
Lindsey here. September marks Family Meals Month, encouraging people to set aside time at least a few days a week to convene the family around a home-cooked meal. Research shows that when families eat together, it's better for kids'–and parents'–emotional well-being, performance, and diet.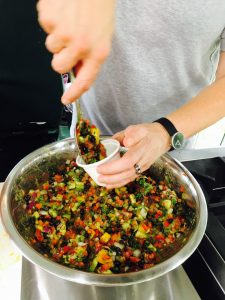 The simplest way to ensure a nourishing meal is to step back and look at the whole plate: do the foods on it have at least three (naturally-occurring) colors? A color-filled plate is an easy way to determine you're providing an array of vitamins and minerals.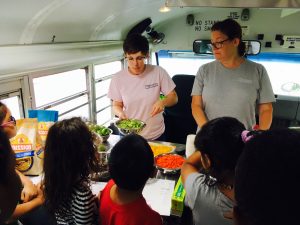 What if I told you that I witnessed 16 kids, ages 8-10, gobble up raw peppers, avocado, and black beans and come back for third helpings? It happened this summer on Manny the Mobile Kitchen.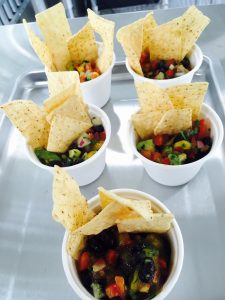 Too little time?
Get kids to help. They can stir, grate, pour, mix, tear, wash, toss, set the table, and clean up as you go along.
Worried about picky eaters?
Taking a little something familiar (like a low-salt tortilla chip) is a great way for kids to try new flavors and textures. It certainly worked with this simple, wholesome recipe from Common Threads.
Too much work?
Make a taco bar! Everyone can pile this wholesome salsa onto their chicken, fish, whole-grain tortilla, or brown rice (hint: instant brown rice cooks perfectly and helps weeknights). Each eater customizes, they can sprinkle on their own scallions, shredded cheese, plain yogurt, chili flakes, etc. That way, each person at the table can decide which foods they want touching.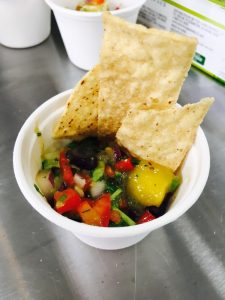 Prioritize time together, and keep meals happy. Use the time to focus on the positive, and what interests kids. Include them in discussions about your community, get their take on the news. If you're stuck, here's a few ideas:
If you could have any super power, what would it be and why?
If we could go anywhere you wanted on vacation, where would you choose? Why?
When do you feel the most proud of who you are?
Bon appetit!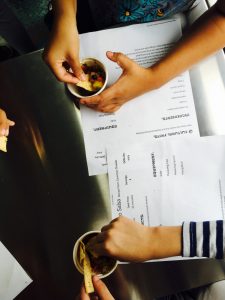 Black Bean Mango Salsa
from Common Threads, kid approved!
Lindsey's trick: frozen mango is ripe, affordable, and pre-chopped
15 ounces black beans

1 mango

1 red bell pepper

1/3 red onion

1 bunch cilantro

2 lime

1 large avocado
1. Drain the can of black beans
2. Peel the mango and chop it along with the bell pepper and red onion
3. Add freshly chopped ingredients to the black beans
4. Chop the bunch of cilantro and add to top of mixture
5. Squeeze the two limes over the mixing bowl
6. Cut the large avocado into small pieces and mix into the mixing bowl
7. Serve the black bean mango salsa and enjoy!
Lindsey here. Once upon a time, Manny the Mobile Kitchen was a humble school bus, toting 72 kiddos to and from school. He looked like this.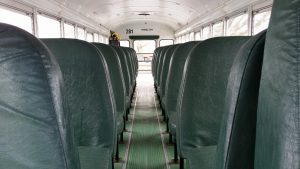 These days, this school bus is taking kids' taste buds through the rainbow of wholesome foods.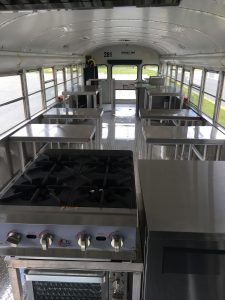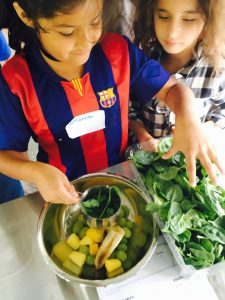 Sixteen youth at Gaithersburg Elementary participated in the pilot program aboard our Manna Mobile Kitchen. We partnered with Common Threads to implement their program, Small Bites, an eight-day class that teaches kids the basics of nutrition in a way that integrates science experiments, reading, and math. For the second half of the class, students engage in hands-on, knife-free food prep making healthy snacks.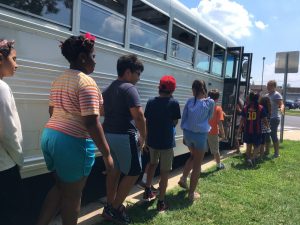 Dishes included Strawberry-Pineapple Agua Fresca (as an alternative to soda), Mango-Lime Yogurt Parfaits, Sneaky Green Smoothies, and Mango Salsa.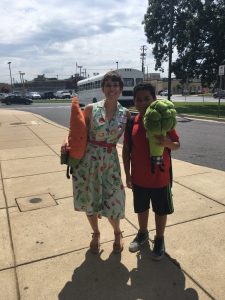 Along with a team of enthusiastic volunteers, we also integrated fitness activities and trying new foods with bell pepper tastings and seed tastings.
By far the most popular dish was our roasted cauliflower! One parent shared how she and her daughter went to the store together to purchase cauliflower after this particular class. She even got her big brother (13) to try and enjoy roasted cauliflower, too.
Manny the Mobile Kitchen will also serve as a Pop-Up Pantry to bring fresh produce to underserved neighborhoods. I hope you'll join us for an opportunity to visit this special new addition to Manna. Climb aboard to enjoy the culinary classroom experience for yourself, plus a tasty sample, on Saturday September 16th. Details here. Hope to see you there!
Lindsey here. For four years I've worked in Nutrition Education at Manna. It's also how long, before that, I applied for job after job, competing with more experienced colleagues who lost their careers in the Recession.
My role here is rooted in the community; I'm on-the-go to schools, senior apartments, and community centers most days of the week. My classes have grandmothers and grandchildren, veterans and students—I receive both stories and hugs.
In these four years, the Nutrition Education workshops evolve with the concerns of our community: as I hear complaints about deceptive advertisements, we develop a new "Nutrition Fact or Fiction" class. As more and more adults share their confusion over this new "prediabetic" diagnosis, we created a two-part series on habits to hinder diabetes and chronic disease. We talk about small, practical steps that make sense in a busy, budgeted lifestyle: walking and dancing with your kids, drinking fruit-infused water, purchasing wholesome foods (oats, onions, carrots) in bulk—to last beyond the week.
In a span of two days, I was reminded: people here are hungry. Participants are tired, frustrated, worried, too–that's easier to see. Hunger is not always so visible in America, few people standing in line for food assistance appear severely underweight.
In my most recent Cooking Matters at the Store grocery tour, a participant had to sit down for the second half of the class because she was so dizzy. In conversation, I learned that she had not eaten since a bagel at breakfast—seven hours earlier—because she ran out of food at home. Over some fresh watermelon, we discussed unit prices and nutrition labels on the store's front park bench.
The next day, a woman called to sign up for a store tour. I asked how she was doing today—a question I've learn to ask with patient pause in this work. She lost half of her pension when retiring for health issues, so she practices gratitude, but struggles with logistics of getting-by. She was called into work for the same time as my upcoming nutrition class. She truly considered calling out of work just to attend a class about how to stretch a grocery budget.
We hear more about hunger in the news, but in terms of numbers. It's not "the needy"; it's our neighbors in need. 
In these four years, I find the amazement of people who step into our warehouse never ceases–the scale of this work is often surprising. If you are able, I invite you to volunteer with Manna, even for just a day. These stories could belong to any of us.
We know from Montgomery County's Food Security Plan that families are not accessing or consuming enough vegetables.  As you likely know, vegetables really drive Nutrition Education: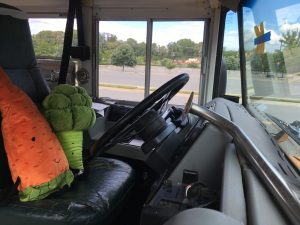 Manna's Mobile Kitchen & Pop-Up Pantry is a new program designed to tackle two barriers at once by bringing nutritious foods and cooking skills to our community. The MMK is an extension of Manna's focus on innovative, participant-centered approaches to eliminating hunger.
Programming will encourage increased fruit and vegetable consumption, greater acceptance of new, nutritious foods, and encourage lifelong skills like math and teamwork. Our pilot program starting this July utilizes Common Threads Small Bites curriculum, which ties youth culinary skills to Common Core academic skills.
Here's where the kids will be cooking:
Our participants often faced transportation barriers to accessing licensed community kitchens where Manna taught classes in the past. We will travel to high-need schools and apartment complexes to teach youth, seniors, and adults at risk of food insecurity.
Upon finalizing permits and exterior wrap designs, the MMK will begin community programming in July 2017.
How can I get involved?
This innovative new program will depend on generous support from the community to fund outreach moving forward.
Corporate Sponsorship opportunities are available. Click here for details.
This school year the MMK will offer educational opportunities to some of the 30,000 elementary students in the Montgomery County Public Schools eligible for free and reduced meals. Our culinary classroom on wheels is an innovative solution to increase access to nutrition education and nutritious foods in Montgomery County.
Mike here, I am a Dietetic Intern completing my rotation at Manna Food Center.
One of the great things that Manna does in the community is teach nutrition education classes. I was able to participate in one of these lessons today: The class is "Sugar Shockers" and I can definitely say I was shocked. It wasn't the content of the lesson, but the responses from participating mothers. Lindsey regularly holds this class at local elementary schools for families in the Linkages to Learning program, many of whom also participate in Smart Sacks.
The lesson detailed sugar in common foods like soft drinks, juices, and breakfast cereals. It also covered how sugar reacts in the body and what health problems can result from eating too much sugar. These aren't new concepts in my field of study, but I realized that it's easy to take for granted the things you know. Some of these concepts were brand new for a lot of the mothers. It was heartbreaking to see their reactions to some of the information. It was as if they had been lied to about what is healthy for their entire lives. They became very concerned about how much sugar their children have been eating every day.
Something that I thought was interesting was that nearly all of the mothers said that they thought honey was healthier than sugar. While honey may be natural and have other potential benefits, the body uses it the same way it uses sugar from a packet. Too much honey results in the same problems as too much sugar.
We also talked about how fruit juice isn't as healthy as eating fresh fruit because when you eat fresh fruit, you get a lot of fiber that helps make you feel full. Eating one or two oranges is plenty for most people. However, with juice, you don't get the fiber, but you get all the sugar. One glass of orange juice may contain eight or nine oranges worth of sugar. While oranges are definitely a healthy food, eating nine oranges at once is just too much for one person. This was another concept that seemed to really upset some of the mothers. Many of their children drink multiple glasses of juice per day because parents thought the juice had equal health benefits of fruit.
Near the end of the lesson, we did an activity in which we read the nutrition facts label on several products and identified how many grams of sugar were in a single serving. Then we counted out how many sugar packets it takes to get that much sugar. One packet of sugar is equal to 1 teaspoon, which is 4 grams of sugar. One of the mothers had a 12 ounce can of ginger ale that contained 32 grams of sugar. That's 8 teaspoons of sugar in a single can! The World Health Organization advises the maximum daily intake for added sugar is 6 teaspoons for women, 9 teaspoons for men, and 4 teaspoons for children.
From the many questions throughout the lesson, and it was obvious that participants had received poor nutrition advice, whether from friends, family, magazines, radio, or television. This is why the nutrition education that Manna provides is so important. People want to make healthy choices, so it's important that we help dispel the myths about nutrition and provide the information necessary to make those healthy choices.
Lindsey here. While life is in full swing here at Manna's warehouse, there have been remarkable opportunities to share Manna's work with professionals across the country (and the world) this March.
Last week, I published a post about the 5 most interesting breakthroughs in health tips that I learned from experts at the International Association of Culinary Professionals' conference. Check out that post here.
I have been a member of the International Association of Culinary Professional for three years now. In 1978, a group of cooking school owners and instructors, including Julia Child and Jacques Pépin, created the IACP (formerly named the Association of Cooking Schools), and in the process, they laid a foundation for food culture in America and beyond. Now IACP's membership includes writers, photographers, stylists, bloggers, marketers, nutritionists, chefs, restaurateurs, culinary tour operators, artisan food producers, and academia.
Last year, I had the honor to serve as a cookbook judge for the Children, Youth, Family cookbooks submitted to the IACP's distinguished Cookbook Awards. This year, for the 39th annual conference, I was selected as a speaker for the first evening's workshops. See, I noticed that the allure of food and cooking united this engaging group of professionals—but who was talking about the millions around us without enough food for the week ahead?
This observation inspired my IACP colleague and I to create a workshop: Using Our Culinary Expertise For Good. Ellen Damaschino is the Program Manager of Cooking Matters, a vital program in Manna's Nutrition Education outreach. Ellen is working on the national level, training Americorp volunteers on teaching grocery shopping and cooking skills to families living on a low-income. I covered work happening here in Montomgery County: from our own nutrition education programming, to Community Food Rescue and Farm to Foodbank.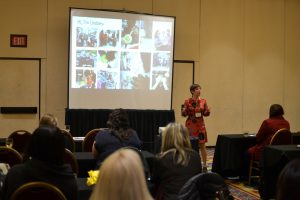 The 3 biggest surprises from our session:
Hunger touches more lives than you might expect.
Ellen and I shared some ways that our organizations fight hunger in the community—both at the personal and the policy level. We then asked our session participants to answer some questions we posted around the room. Our participants included owners of distinguished culinary schools, chefs, writers, and representatives from big food corporations. This response surprised me the most:
People are so eager to give back, but just don't know how.
Prior to the conference, Ellen and I surveyed the 50 attendees registered for our session about what hinders them from helping those affected by hunger. We found common, and some unexpected, themes in the responses.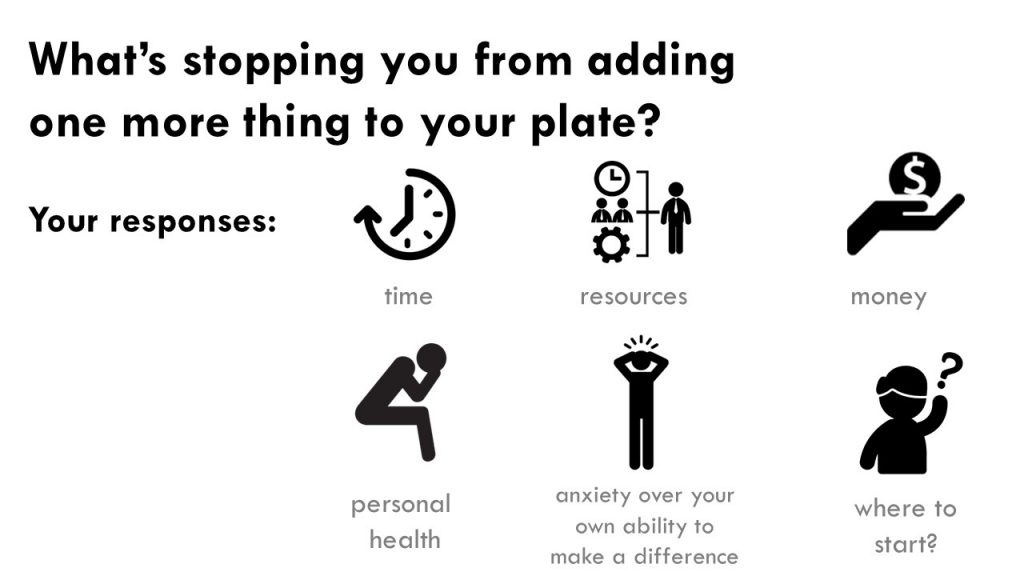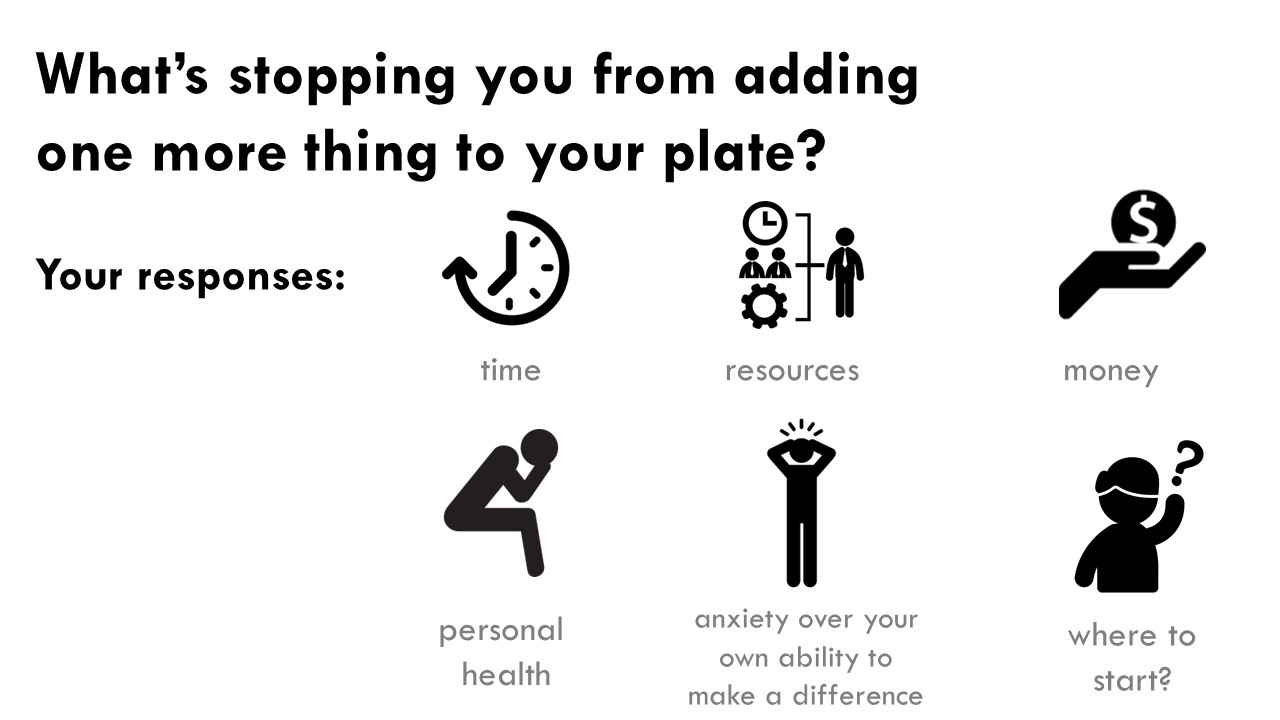 It's all about the small steps.
We found that this group of talented, accomplished, and driven colleagues were indeed eager to make a difference. We didn't need to spend time explaining how or why hunger is simply wrong. We did find that most people are paralyzed by the notion of taking the "right" first step. So we asked our groups to brainstorm what they could do within their means and resources and availability—and sent them them off with small action steps to take home. Feel free to check out our resource guide, and consider your own inspiration to get involved.
How Can You Use Your Culinary Expertise For Good Official Resource Page
Lindsey here. Who's heard this before:
"I was a vegetarian… for a week."
"I gave up soda for the New Year… for the month."
"I'm trying to lose weight. So I'm giving up pasta for the summer."
Healthy intentions so often take the form of cutting out an entire food group—cold turkey, if you will. If you have ever tried a diet, you know how hard it is to stick it out for the long haul. Small steps are a sustainable way to add healthy foods to our plates. Plus, recent research shows that yo-yo dieting can actually increase a woman's risk of heart disease.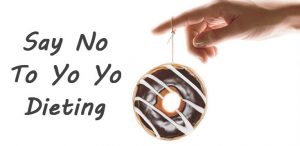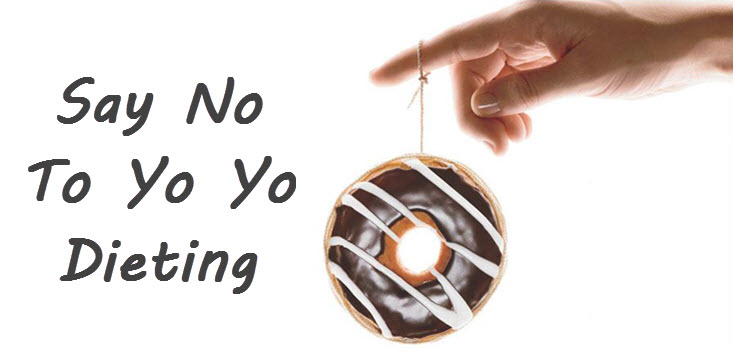 In Manna's nutrition education classes, I like to say that a "diet" is not a thing to do, but a way of living and eating. This message aligns well with the theme of 2017's National Nutrition Month. "Put Your Best Fork Forward" is all about how significant those small steps are over time. Small changes like adding an additional serving of vegetables, or switching out juices for water, are easier to implement daily—and improve your health over time.
Put Your Best Fork Forward reminds us that each bite counts. Those small adjustments can add up over time.
I have the opportunity to interact with Manna's families in our classes throughout the county. (In fact, in March, we are travelling to 17 classes!)  The question I receive every month in these community nutrition workshops is, "If so many of these boxed foods are dangerously high in sodium and sugar, why does Manna have these foods at all?" This is why our healthy wishlist is so important. The families I meet each week at the grocery store and elementary schools are also trying to take steps towards better health. But when meal funds are uncertain, unhealthy canned soups and pasta meal kits are cheap choices. Healthy pantry items like beans, brown rice, canned salmon, nuts, seeds, and spices build healthy, frugal meals.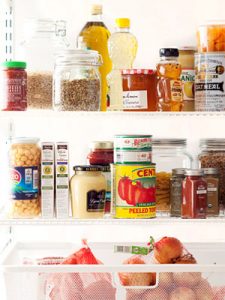 You can help Manna's participants put their best fork forward by encouraging your neighbors, schools, and faith communities to donate wholesome pantry items.
Wishing you good luck in your own journey of healthy eating, and spreading gratitude to the community that makes healthy eating accessible here at Manna.
Lindsey here. Last week, I was a guest speaker at the International Association of Culinary Professionals Conference in Lousiville, Kentucky. Next week, I'll be back to share how we intertwined Manna's work with nationwide hunger-fighting efforts.
At IACP, I had the opportunity to learn about the latest in health, eating, and feeding from professionals all over the globe.
Here are five fascinating takeaways from the pros
one: White flour has the nutritional value of a Q-tip.
I am always seeking a clear way to teach our families about the nutrition (or lack of) in white flour. Unfortunately, cookies, cakes, crackers, white bread, pretzels, etc. are cheap and abundant. If we're looking to fuel our bodies for energy, focus, and wellness, white flour has little to contribute. I love this easy phrase!
two: Hunger is not a production issue. It's economic, political, and infrastructure.
This was uttered by a grain farmer at a workshop called "Can Heritage Grains Actually Feed the World?" Of course, this question does not have a straightforward yes or no answer. However, this statement is a powerful reminder of how much capability, and responsibility, we have to feed our neighbors. By which I mean nourish our neighbors, not bombard vulnerable families with excess bakery leftovers (see number one, above).
three: Health should be more contagious than disease.
Dr. Peter Swanz, a physician and Doctor of Naturopathy, had much to share about the hottest words in food (epigenetics, nutrigenetics and the microbiome). While there were a lot of multi-syllabic science terms, health still comes down to some important basics. Dr. Swanz said: Nutrition is only one piece of our health. Make sleep, exercise, and drinking filtered water priorities, too. Exercise actually increases healthy bacteria in the gut.
four: Beware of the "Eat like me, look like me" trend.
One of the most engaging workshops was about navigating nutrition on the web. Consumers are distrusting experts more and more, and research shows the public views their peers equally credible when it comes to health advice. Pete Evans, pictured here, actually had a book recalled because the Paleo food he recommended for infants was in fact lethal advice! How to spot red flags when you're reading a health headline: is it published? is it too good to be true? is it heavy on testimonials? is there only one study to support the statement? Here is a great watchdog website to handle all those health headlines.
five: We are only 1% human.
You read that right. Our bodies are comprised of ten times more microbial cells than our own human cells. There are approximately 100 times more bacterial genes playing a role in your life than there are human genes. We are 99% bacteria! Here's the take-home message from the latest research: to increase your microbiome diversity, nuts, fruits, vegetables, and exercise made the most difference. Organically grown or not, replacing processed food with any vegetables is the most important step.
Come back to the blog next week to see Manna's good work represented in Louisville.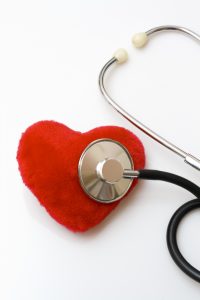 Lindsey here.
Did you know that February has been American Heart Health month since 1964?
You have likely observed that nutrition advice has varied in the decades from then to today, but there are some things that never change. Here are some heart-healthy refrains from our Nutrition Education classes:
Strive for at least 3 different colored foods at every meal
Make half your plate veggies, and then fruits
Move more (walking, dancing, taking the stairs–exercise is free!)
Drink water, and then drink some more
Frozen produce is as healthy as fresh, and sometimes much more affordable
We can't control our genetics, but the great news is that most of the ways to protect our heart are things over which we do have control: stop smoking; sit less; move more; lessen the meats and sweets.
Here are some shots of the open boxes Manna distributed this week. Abundant color is an easy way to spot heart-healthy choices!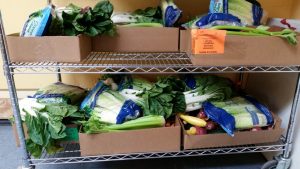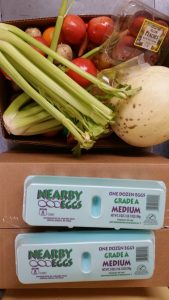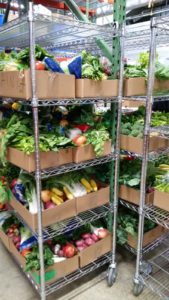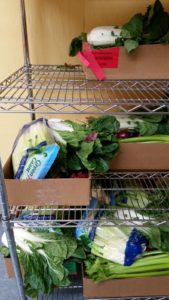 To learn more about heart health, check out these stress-reducing tips plus these important resources for stroke prevention.
Ben and Tuesday here. I'm sure you're probably thinking, "Wait, who?" We are dietetic interns at the University of Maryland College Park, and we've had the privilege to spend the past two weeks at Manna Food Center. Throughout our rotation, we have gotten to experience many different aspects of what is done at Manna. We attended Breaking Bread, created handouts, observed nutrition education sessions, researched a variety of topics, and volunteered in the warehouse.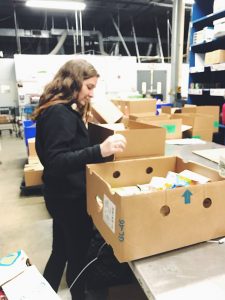 Tuesday's Take
I'm going to take a minute to brag about the awesome staff at Manna. It's obvious that they all love their jobs and put their heart into their work to make life better for others in their community. They are constantly coming up with
ways to better the organization for their participants' sakes. It's the simple things that stood out the most to me. For example, Manna does the best they can to accommodate special food needs. They pack special vegetarian, vegan, gluten free, and renal boxes to ensure that they food they are given out will actually be used by their clients. Another instance of this was when I observed a diabetes and chronic disease prevention nutrition education class. Lindsey is constantly changing her curriculum to meet the needs of the participants. She makes sure to use positive messaging that is appropriate for people of all different cultures and walks of life. All in all, I found it heartwarming and refreshing to see people so invested in the work and mission of their organization.
Ben's Take
What I first noticed when I walked through the doors of Manna was everyone's contagious desire to serve those in need. As we were given a tour of the warehouse, we met people who have been volunteering with Manna each week for the past several years. What keeps these volunteers coming back year after year was the visible effect fighting food insecurity had on their community. The warehouse is the primary site for the Smart Sacks initiative, a program that packs boxes with nutritious food for children who might not have another meal until school is back in session. Manna's servitude extends beyond the warehouse with its Nutrition Education programs. The elite nutrition education professionals of Manna venture out into the community and teach topics such as chronic disease prevention, added sugars, and shopping tips and techniques.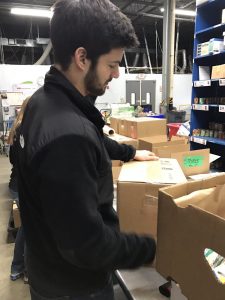 I was able to channel this mindset of service by partaking in one of Manna's weekly distribution days. During the first half of a distribution day, we sorted through produce and pre-prepared foods saved through the Community Food Rescue Program, ensuring the item's quality are suitable for participants. We then packed the produce and rescued goods into open boxes and created bags of meat for participants. During the latter half of the day, patrons came to receive a non-perishable box of food, an open-box of produce, a bag of meat, and their choice of available breads and pastries. These items were loaded up and delivered to the clients. Truth be told, the day seemed long but it was very rewarding, especially after seeing the gratitude expressed by participants. Although my time spent at Manna was short, I can say that I have caught their infectious spirit for serving the community. I highly encourage everyone to take a few hours out of his or her day and volunteer with Manna Food Center.
Jackie here.
Here at Manna Food Center we fully embrace the notion that Dr. King's Birthday should be a "Day On not a Day Off." This year in particular, I wanted to honor Dr. King in a way that would help me be a better leader.    Taking to heart Dr. King's observation that,
"The ultimate measure of a [hu]man is not where he stands in moments of comfort and convenience, but where he stands at times of challenge and controversy. The true neighbor will risk his position, his prestige and even his life for the welfare of others."
I decided I wanted to test my commitment to the welfare of others by walking in the shoes of those Manna serves.  I began a week long "Manna diet."
Like any other participant who schedules a pick-up at one of our distribution sites, on the Friday before MLK weekend I claimed a closed box of non-perishable items and an open box of produce, along with a bag of meat.  Even though I know the technicalities of a Manna order—approximately 60 lbs of food designed to offer items that match the nutritional guidelines of the USDA's My Plate, I was pleasantly surprised by the amount of food I received and the range of items it contained.
Looking the order over, I experienced my first minor disappointment—my produce allotment contained more than ½ dozen green peppers, and only one red.  I'm not a big fan of green peppers.  Plus, there was a huge head of cabbage.  I had no idea how to cook that, and I forgot to grab a recipe in the lobby.  But seconds later I felt a boost: a sweet item I could choose from the dessert table was my favorite—crème brulee. I rarely get that special treat except when I go out to eat at a fancy restaurant. There was even a peanut butter brownie for my spouse!
Within two minutes of my "diet" I got a sense of what Manna participants experience every time they turn to us for food—the fact that the offerings are well-rounded, nutritious, and tasty, but they are also mostly determined by "the luck of the draw." I received what items were available due to what had been rescued or collected that particular week.
When I arrived home, opening the closed box of canned items and bag of protein was a little like opening birthday gifts.  There was a lot of curiosity about what was inside.  Here, too, I was pleased and disappointed at the same time.  There were lots of green canned vegetables and tuna, which I know I need to eat more of, but there were also yams and dry beans that held no appeal for me.  Also, some of the meat options I had never cooked before in my life (pork neck bones turned out to be quite delicious after I simmered them in a crock pot). In my meal planning for the week, I realized how much I typically rely on food items that are pretty quick to prepare—frozen veggies, quick to boil pasta—and are not very creative.  With the Manna box, I had a variety of items that required time and talent to prepare.  I also realized that I go out to eat regularly, which is something low-income families might not have the option of doing.
Over the course of my week, aware of the nature of my experiment, I tried not to complain too much about the constraints of my food options, but I definitely felt limited by my circumstances.  I also learned a lot about myself in how I typically use food to reward myself (no salty chips were in my Manna box!), and I gained an appreciation for how much creativity and commitment is necessary to make the most of Manna offerings.  If I wasn't already committed to Nutrition Education programs to help our participants learn how to shop and cook on a budget, I am now!  If I wasn't passionate before about increasing options for choice, I am now!  I am so grateful that Manna, in partnership with faith communities, has three choice pantry opportunities each month, where neighbors can shop for the food that matches their families' size, tastes, and other preferences.
All in all, my week on a Manna diet didn't entail too much hardship, and I'm proud of that.  That means to me that what Manna is offering our participants is generous, healthful, and appropriate.  We are on track to meet our goals for continuing to increase the quality of food and the options for receiving it.  What I learned most from the week-long diet was the power of giving up comfort and convenience.  Inspired by Dr. King and fueled by the direct experience of being reliant on others for my food, I am more committed to helping create a hunger free Montgomery County.
Thank you for joining us in our concern for the welfare of our neighbors.  I look forward to your responses (on our FB page or info@mannafood.org) to the Manna diet and any reflections you have about the work we are doing.
Lindsey here. A theme of conversation these days among Manna staff, particularly in our Breaking Bread conversations, is privilege. There are so many ways the privilege of time and leisure come into our health. A recent article about privilege and personal responsibility (a worthy read, check it out) reminded me that there are unexpected ways this luxury appears in eating well.
Naturally, an important step in nutritious eating is cooking at home—I share this in every class I lead. But the time to read about healthy foods, shop for those foods (assuming they fit in your budget), prep and cook is not a priority everyone can afford.
Even keeping up with accurate news can feel like yet another thing on top of a busy working family's to-do list.  One simple way to empower our families at Manna with healthy steps that are possible now is providing nutrition information in our lobby literature racks. Waiting in line to pick up food often offers our families an opportunity to read—so I added this handy list to our lobby today.
8 Great Ways to Live Healthier and Save Money Doing It
adapted from U.S. News and World Report, August 2015 by Lindsey Seegers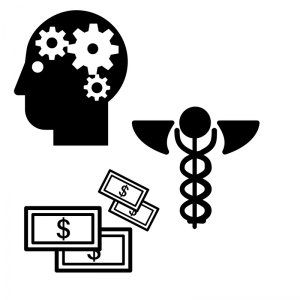 ONE Plan your groceries before you go to the store.
Check out the food in your fridge and your pantry to see what meal makers you have on-hand. Make a list and stick to it at the store—a handy way to avoid overbuying at the store and wasting food at home.
TWO Drink water.
Buying sodas, coffees and smoothies on the go is costly for your wallet and your health. That money you save can go towards wholesome groceries. Water is free (especially if you take a reusable bottle with you to refill)!
THREE Eat less meat.
Meat can often be the most expensive item on our grocery bills. Varying your protein purchases can stretch your shopping budget further, and provide more nutrients for your body. Foods like legumes, peanuts, nuts, grains and seeds offer your body protein, too, and often for less money.
FOUR Discovery free ways to move more.
Finding the time and energy to exercise can be challenge. Ever harder—those expensive fitness gyms! Walking with your kids, friends, or dog is a free way to get more steps in the day. If the weather isn't nice enough to be out, you can dance, stretch, climb stairs, and move more indoors, too.
FIVE Kick the habit.
Cutting out cigarettes immediately puts money back in your wallet, not to mention the benefits your body enjoys. Cutting back on alcohol, or other substances, can to save your money and save your life.
SIX Catch up on an active date.
Everyone can afford to be more active, and it doesn't have to cost money. Spend time with your loved ones (friends, too!) by taking a walk, hike, or even renting a canoe. Research shows that relationships can influence a person's health and wellness decisions.
SEVEN Follow the doctor's orders.
Cancelling a doctor's visit or skipping medicine saves you money right now. But following through on preventative care can save you expensive hospital visits. Avoiding the doctor can mean expensive consequences to your health and your budget later on.
 EIGHT Mind your mental health.
Mental health and happiness are important. Neglecting psychological issues, such as depression, can make it challenging to work. Ignoring mental health can also increase the risk of suffering chronic health conditions. Besides seeing a doctor, the tips listed above can also improve mood and happiness!
These tips might not be new, but certainly provided an important reminder to me to consider self-care. Post this list on your fridge, pass along to a friend, or come grab a copy yourself next time you pop over to our warehouse to donate or volunteer.
Lindsey here. I've been teaching healthy budget shopping with the Cooking Matters at the Store program for the three years I've been Manna's Nutrition Educator. The questions that arise week after week are, sadly, the same: "I was just diagnosed with Type II diabetes, what can I eat now?"
In response to this question, I developed a new class for Manna called "Habits to Hinder Diabetes and Chronic Disease". I teach this class at agencies throughout Montgomery County. This week alone, I've taught the workshop to over 60 individuals at senior apartment complexes and the Wells-Robertson House. The refrain of this class is that Type II diabetes can be controlled, and—best of all—prevented and potentially reversed. There is so much bad news about diabetes, a diagnosis that can be frustrating, confusing, and maddening. So I set out to create an uplifting workshop that highlights the ways we can take control over our health. One of those is to gradually transition our eating habits from those abundant meats and sweets to more beans and greens. But informed food choices are only one piece of prevention.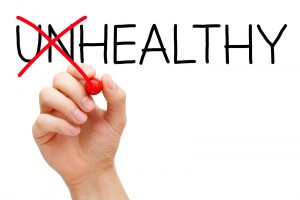 Here are the four healthy habits we discuss at the end of the workshop (adapted from The End of Diabetes by Joel Fuhrman, M.D.):
1.      Make a commitment to yourself.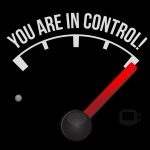 Write down your health goal and share with valued people in your life. Rather than thinking "I'm on a diet", consider the choices you are making towards your own health and positive well-being. This isn't about deprivation, it's about the good care you're giving yourself. Indulgent comfort-food may provide a momentary boost, but the most pleasure in life comes from more meaningful achievements. Each day of healthier food choices brings you closer to improving your health.
2.      Track your progress.
Keep a notebook in a place you'll see it (next to the bed, in the pantry). At least twice weekly: log foods, (and beverages!) and exercise. Even if it's not the precise amount, paint a picture of the food variety in your day. A variety of color is key. If you have diabetes, track your blood sugar and medications too. Write down your movement, how long and vigorous the exercise. Tracking your progress and success can be a powerful motivator—you've got the data to show for all your hard work!
3.      Switch up your pantry.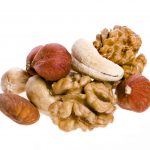 Keep bulk items around. The store brand plain oatmeal, bag of carrots and onions, and one pound of brown rice are inexpensive (versatile and nutritious!) items that stretch your food throughout the month. Avoid purchasing foods that are pre-seasoned and flavored. With items like canned soups or high-sodium packaged foods, combine with fresh, frozen, or no-salt added items to add more fiber to the dish and decrease the sodium per serving.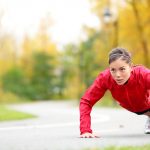 4.      Move more.
Exercise is the very best prescription to protect our health. Medication does not replace the need to (or lifelong benefits) eat well and move more. The benefits are vast, supporting the musculoskeletal system, digestion, heart and blood vessels, and even mental function! This doesn't have to be long distance running: even standing up from a chair and sitting back down for 5 straight minutes gets the heart pumping.
If you know an agency serving families with low-income that may be interested in this class, contact Lindsey at Lindsey@mannafood.org
Lindsey here. I just returned from Hollywood. Yes, Hollywood: the locale of this year's conference for the International Association of Culinary Professionals. There were wonderful surprises on my trip, including a memorable conversation around Nigerian cuisine with my cab driver, Joseph.
I also met some food heroes of mine, Marion Nestle and Lynne Rossetto Kasper. I missed out on autographs, but the opportunity for conversation over dinner was even better. Rather than share about themselves (or their amazing books and radio shows), theirs was a mutual chorus praising Manna's work, especially nutrition education, as the most important kind of work food lovers can share.
Beyond workshops about why cooking matters to kids today, the food retail revolution, and the future of cooking lessons, I spent my first conference day touring Melissa's Produce. Melissa's is the country's leading distributor of specialty produce. On the East Coast, we buy their fruits and veggies in stores like Trader Joes, Whole Foods, and Wegmans. Our Manna drivers rescue food from these stores each week, meaning that Melissa's produce rotating out of grocery store inventory is likely making its way to Manna boxes. This food rescue provides our clients with wholesome fresh veggies, and also reduces food waste.
My visit to Melissa's California warehouse included perusing 1,500 different varieties of fruits and vegetables! In this tour, I learned the birds and the bees of foods that grow on trees…
Four Things This Foodie Did NOT Know About Fruits and Veggies
1.     Males look great in purple
Eggplant is easily my favorite vegetable, I love how versatile it is. It can be creamy, smoky, or crispy—depending how you cook it. Newbies to eating eggplant often complain about the bitter taste, and, boy oh boy, is there an easy way to get around that! The male eggplant has a very small, round scar on the round base of the vegetable; this has less seeds and is less bitter. The female eggplant has a larger, sometimes longer scar, with more seeds: more bitter. If you're new to eggplant, try cooking a male eggplant.
2.     The bumpier the better
Bell peppers are a different story. If you want the sweetest pepper—think of those NO BOYS ALLOWED signs from middle school—look for the sweet females. Female peppers have four (or more!) bumps; they are sweeter with more seeds, and great for eating raw. Male peppers have three bumps: less seeds and less sweet. Male peppers are better for cooking.
3.     A rose is a rose
You know how some things in life have different names for the same item? Water closet, washroom, loo, powder room, lavatory—we know it's the same destination. But did you know that the tangerine, clementine, and mandarin orange is the very same fruit? This rocked my world.
4.     Go give it a squeeze
Mangoes have the most beautiful hues, from tropical greens to sunny yellows and oranges. Though mangoes are the most popular fruit worldwide, many of us look at these colors for ripeness. However, like a peach, tender flesh + fruity fragrance is the real way to determine if your mango is ready to enjoy.
Part of my job as Nutrition Educator is to develop recipes for the abundant, and sometimes, unusual, foods we distribute at Manna. Upon learning this, my new friends at Melissa's gifted Manna with this wonderful reference book, Melissa's Great Book of Produce.
At the end of the day, eating more fruits and vegetables (no matter what the gender) is what counts the most. Our farmers, local grocery stores, and generous donors help make that possible for the families we serve. To learn more about how Manna drivers rescue food from local grocery stores, click here.
Lindsey here. After being snowed in at home for four straight days, making meals from every canned bean and frozen vegetable I could combine, I got to the grocery store yesterday. Even after the winter storm has settled, some grocery shelves are still emptier than usual.
Having a stocked kitchen cupboard is not only your key to snowed-in sanity, but also a time and money-saver. When money is tight at the end of the week or the end of the month, stocked ingredients can turn your pantry items into a substantial, appetizing meal.
I developed this infographic for our Notes From the Nutritionist series: kitchen tips we include in each Manna box to help families produce healthy, home-cooked meals.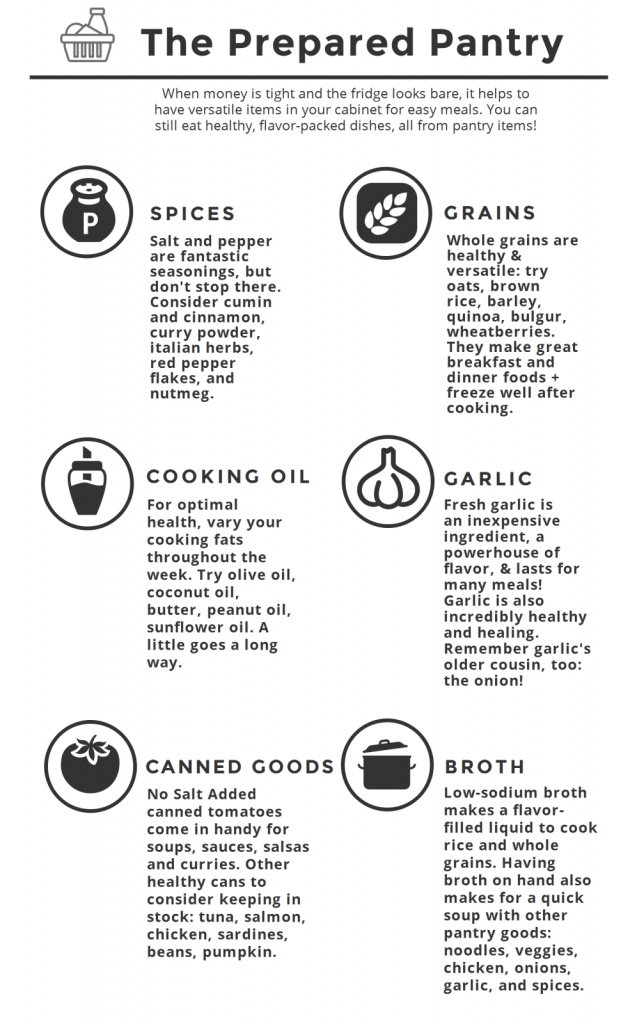 Want to learn more about reading food labels and shopping for the healthiest pantry items on a budget? Come to one of our grocery store tours around Montgomery County, just contact me at Lindsey@mannafood.org
Lindsey here. Despite all the responsibilities, I find the peace of being an adult some days is being alright with not having All The Answers. Nutrition research evolves constantly; scientific reports pop into the headlines about what not to eat this week, confusing the public.  The role of Manna's Nutrition Educator implies a vast knowledge base that intimidates even me. Being relatively new to my career, I can sometimes slip into a panic, convincing myself that perfect strangers will see "nutrition" in my job title and, on the spot, start quizzing me on GMOs, insoluble fiber or sources of Vitamin A (sweet potato, carrots, beef, kale, collards).
In recent conversations with families who receive food through our Smart Sacks program, one mother said she doesn't know what to do with dried beans, another shared her frustration with cooking brown rice on a hurried weeknight. Before I could offer suggestions, the other parents spoke up:
"I make a brown rice salad with corn, celery, green pepper, sweet pepper, and carrot. The dressing is lemon and mayo, and it is good three days in the fridge. Sometimes I add chicken."
"I make a sauce of tomato, sweet red pepper, onion, and fish. I parboil the brown rice, then finish cooking rice in the sauce so the rice is red and my kids don't see that the rice is brown."
With the gradual acceptance of not needing to have all the answers comes the opportunity to listen. Rather than spending the hour telling parents about the healthy dishes in which I use similar ingredients—and assuming my imaginary children adore my every culinary concoction—I took notes. Lots of notes.
One mother, from Nigeria, shared that the only beans she knows are black eyed peas. She often incorporates them into a porridge with yams and corn. Another parent, from Paraguay, says that beans are expensive in South America, and that she, too, is unaccustomed to cooking beans on a regular basis. A third parent, from Mexico voices her favorite Manna item: pink beans, which her family loves in a salad with scallion, tomato, cilantro, and canned salmon. The parents in attendance were eager to go home and try this one.
It's a new year now, and from glancing at the grocery store magazines or health websites, it appears this is the month to reinvent the wheel: cook new foods, whip up creative lunches and dinner for your family.
My afternoon with these creative moms sparked a simpler idea.
Ask you friends and neighbors what they're cooking this week. Isolation can be the biggest risk factor to one's health, so get out and mingle. Cook with a friend, cook for a friend, pass along a new recipe, or have your kids select a new ingredient to cook at home. Isn't it a relief that we don't have to do everything by ourselves? The people around us have delicious wisdom and experience to share if we would just take the time to ask and listen.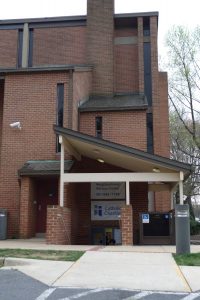 Lindsey here. This week, I visited our clients at one of Manna's busiest distribution sites, Catholic Charities in Wheaton. After receiving food, about twenty people joined me for a community conversation and nutrition workshop inside Catholic Charities.
In my two years at Manna, I have led many workshops, conversed with many clients, listened to their stories. But there were two things about this evening that surprised me.
Garnering participants for any event can prove challenging. People have obligations with work and family, not to mention transportation hurdles. I hoped that advertising snacks might prove appealing to those leaving home around dinnertime.
We first took turn introducing ourselves and naming something "good or new" that happened to us in the past few days. Think about that phrase for a moment: happened to us. For so many people who find themselves in need of Manna's food, it is not always the actions one takes in life that leads to poverty, but rather life happening to a person. Chronic illness, job loss, medical bills, divorce, relocation—the "stuff happens" circumstances. As the men and women in attendance listed their "something good", the responses went like this:
"I was called for work three times last week. I don't have any calls this week, but maybe in a few days I will get a job. Working last week was good."
"I just got out of the hospital, so nothing feels good right now."
"I woke up today and I was able to get here. That's good."
There is never a time for me that these stories will feel commonplace or acceptable. They are simultaneously heart-wrenching and maddening.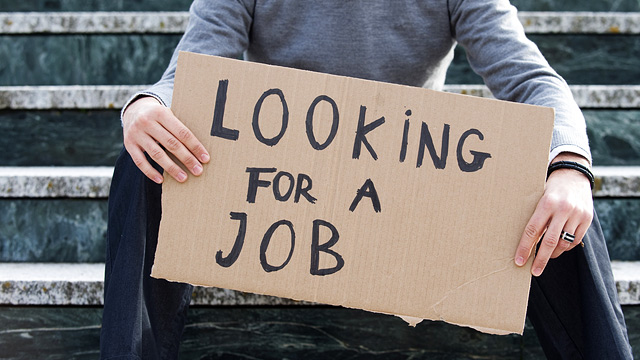 At Manna, we serve families challenged by food insecurity who don't always know when that next meal will be available—or the quality of the food they can afford. I spent so many years studying food insecurity, I don't often think about our families as physically hungry. Hunger is that state we have all experienced, that discomfort relieved by eating. Where some of us can alleviate that hunger with food whenever we want, families facing food insecurity have limited foods available to them. The next meal may be out of reach financially, geographically, or both. When I visit their children in school, I rest assured these kids have breakfast and lunch among the safety of their peers.
But on Tuesday night, I spent time with their parents, and with unemployed singles. This group responded to my spread of apples, cheeses and whole grain crackers as if they had not eaten all day. It was at the end of class, when I passed out the leftover apples and boxes of crackers that I realized: maybe they hadn't.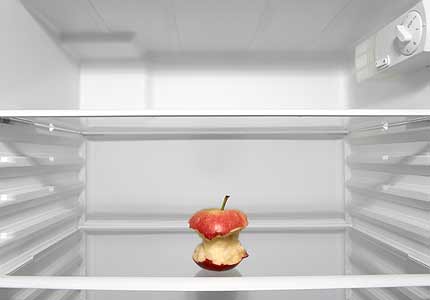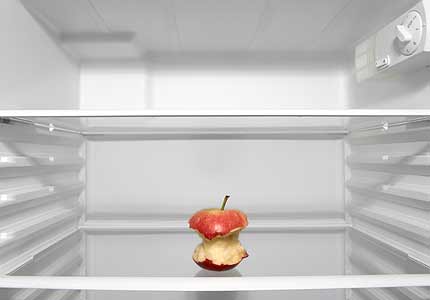 By the time I arrived home after class, it was just 30 minutes before I typically go to bed. Still, I stared at my bursting pantry and rummaged through the fridge, then freezer, eventually deciding I would stay up late to digest my impromptu dinner so I would not wake up hungry.
For no good reason, I have that choice. For now, my husband and I still have jobs to afford our house, our food and our fun. For now, we have our health and separate cars to get to our full-time jobs, and to the multiple grocery stores we frequent. For no good reason—not because I am good or worthy or luckier than most: I woke up to a refrigerator with multiple options for breakfast, I packed a lunch I had time to cook, I'm returning home to a delicious, healthy and homemade dinner. I have food in my home, with plenty to share.
For no good reason, I have that choice.
Lindsey here, with some photos of what we've been up to. I hope you came hungry…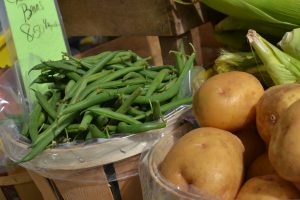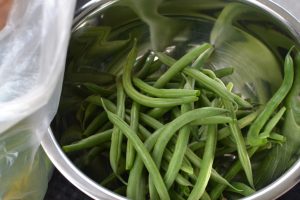 Last week, Manna's Nutrition Team (Jenna & Lindsey) enjoyed a second annual friendly-competition of CHOPPED! at the Clarksburg Farmer's Market. With crisp produce from Scenic View Orchards, Chef Charley and Team Manna went knife-to-knife for the grand prize: bragging rights.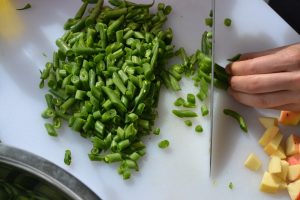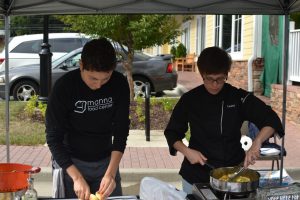 Our dishes were very different. Chef Charley went the tartine route, topping herbed bread with marinated beets, heirloom tomatoes, and cheese. What did Jenna and I make? Check out the recipe below!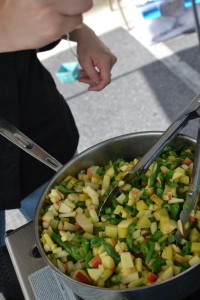 Three common fruits and veggies transform into an unexpected, aromatic autumn sidedish. Stir in chickpeas for a vegetarian entrée, or serve alongside your favorite protein and brown rice.
LINDSEY'S INDIAN-SPICED AUTUMN SAUTÉ
Cook time: less than 20 minutes
1 pint fresh green beans, tips trimmed & sliced into 1 inch pieces
5 yukon gold potatoes, ½ inch dice
4 apples (we used Gala), diced
3 tablespoons cooking fat (butter, olive oil, coconut oil; we used half butter, half olive oil)
½ tablespoon curry powder
½ teaspoon saigon cinnamon
1 teaspoon honey
Juice of 1 lemon
¾ teaspoon salt
In a large pan over medium-low heat, heat oil/butter until melted. Sprinkle curry powder and cinnamon into melted butter and stir for 30 seconds. Add potatoes, stirring occasionally, until the potatoes are just tender. Watch the heat, the potatoes should not get crispy or brown.
Once the potatoes are just fork-tender (not overcooked!), stir in the sliced green beans along with ½ cup water. Increase the heat to medium and cover pan to steam beans for about 2 minutes. Add the apples and stir, covering for 5 minutes. Add more water if the mixture sticks to the pan.
Toss with honey and lemon and taste the mixture: the apples should be slightly soft, the potatos and green beans tender. Add salt and additional curry powder or cinnamon as you like. The curry powder should be present, but not overpowering. Gobble up!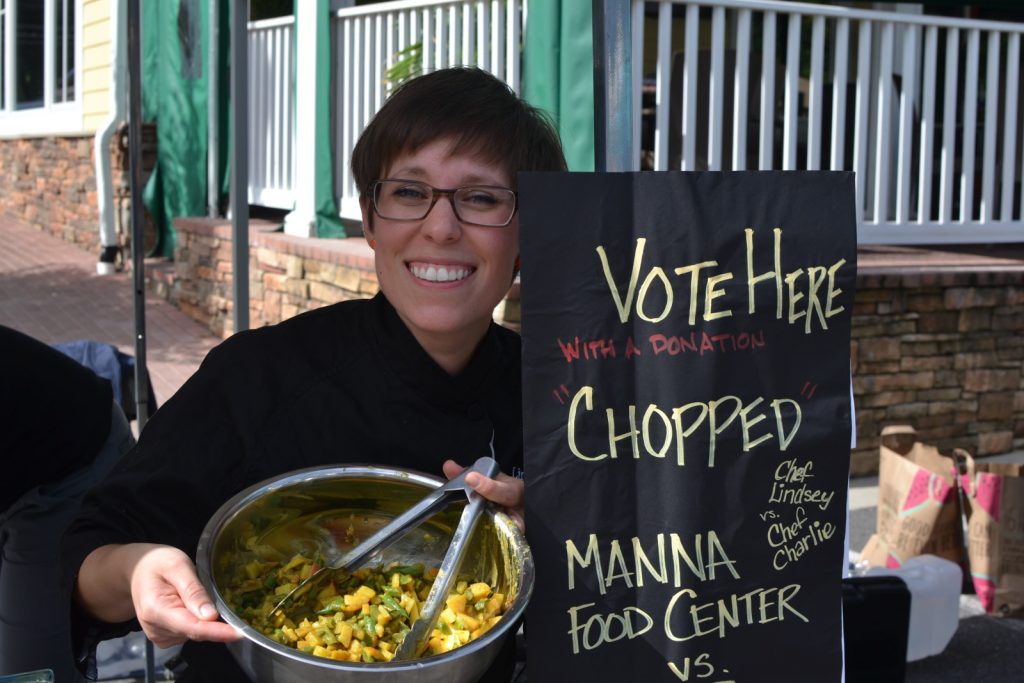 A word or two about spices:
"Curry" is a word that needlessly intimidates unfamiliar eaters. It is simply a sauce of spiced vegetables. The story goes that the British invented Curry Powder to bring the aromatic flavors of Indian cuisine to home kitchens. Store-bought curry powder is just a spice blend of tumeric, ground ginger, coriander, cumin and paprika—flavorful, but not necessarily spicy.
Saigon Cinnamon packs more punch that traditional ground cinnamon. I find it at conventional grocery stores among the jarred spices.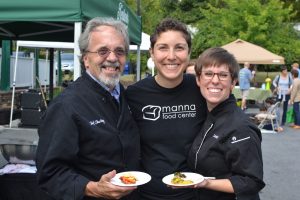 All proceeds from the dollar-votes went to Manna. The votes, for the second year in a row, were split down the middle–meaning shoppers and tasters enjoyed a might delicious morning. Thank you to all who came out!