Family Meals Month Means Chips? Why not!
Lindsey here. September marks Family Meals Month, encouraging people to set aside time at least a few days a week to convene the family around a home-cooked meal. Research shows that when families eat together, it's better for kids'–and parents'–emotional well-being, performance, and diet.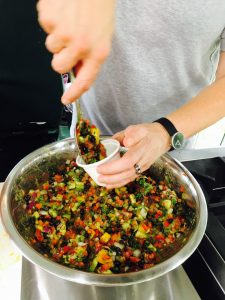 The simplest way to ensure a nourishing meal is to step back and look at the whole plate: do the foods on it have at least three (naturally-occurring) colors? A color-filled plate is an easy way to determine you're providing an array of vitamins and minerals.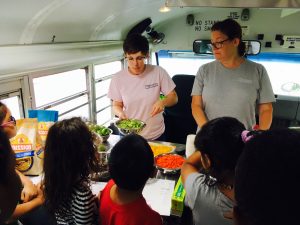 What if I told you that I witnessed 16 kids, ages 8-10, gobble up raw peppers, avocado, and black beans and come back for third helpings? It happened this summer on Manny the Mobile Kitchen.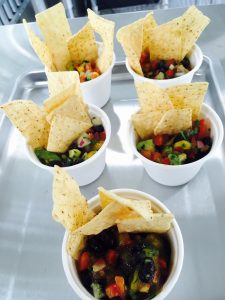 Too little time?
Get kids to help. They can stir, grate, pour, mix, tear, wash, toss, set the table, and clean up as you go along.
Worried about picky eaters?
Taking a little something familiar (like a low-salt tortilla chip) is a great way for kids to try new flavors and textures. It certainly worked with this simple, wholesome recipe from Common Threads.
Too much work?
Make a taco bar! Everyone can pile this wholesome salsa onto their chicken, fish, whole-grain tortilla, or brown rice (hint: instant brown rice cooks perfectly and helps weeknights). Each eater customizes, they can sprinkle on their own scallions, shredded cheese, plain yogurt, chili flakes, etc. That way, each person at the table can decide which foods they want touching.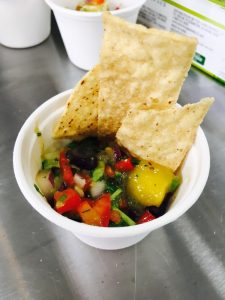 Prioritize time together, and keep meals happy. Use the time to focus on the positive, and what interests kids. Include them in discussions about your community, get their take on the news. If you're stuck, here's a few ideas:
If you could have any super power, what would it be and why?
If we could go anywhere you wanted on vacation, where would you choose? Why?
When do you feel the most proud of who you are?
Bon appetit!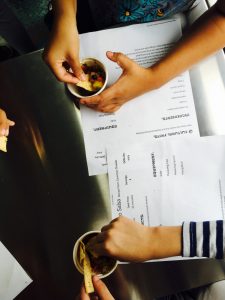 Black Bean Mango Salsa
from Common Threads, kid approved!
Lindsey's trick: frozen mango is ripe, affordable, and pre-chopped
15 ounces black beans

1 mango

1 red bell pepper

1/3 red onion

1 bunch cilantro

2 lime

1 large avocado
1. Drain the can of black beans
2. Peel the mango and chop it along with the bell pepper and red onion
3. Add freshly chopped ingredients to the black beans
4. Chop the bunch of cilantro and add to top of mixture
5. Squeeze the two limes over the mixing bowl
6. Cut the large avocado into small pieces and mix into the mixing bowl
7. Serve the black bean mango salsa and enjoy!