Mission, Vision, & History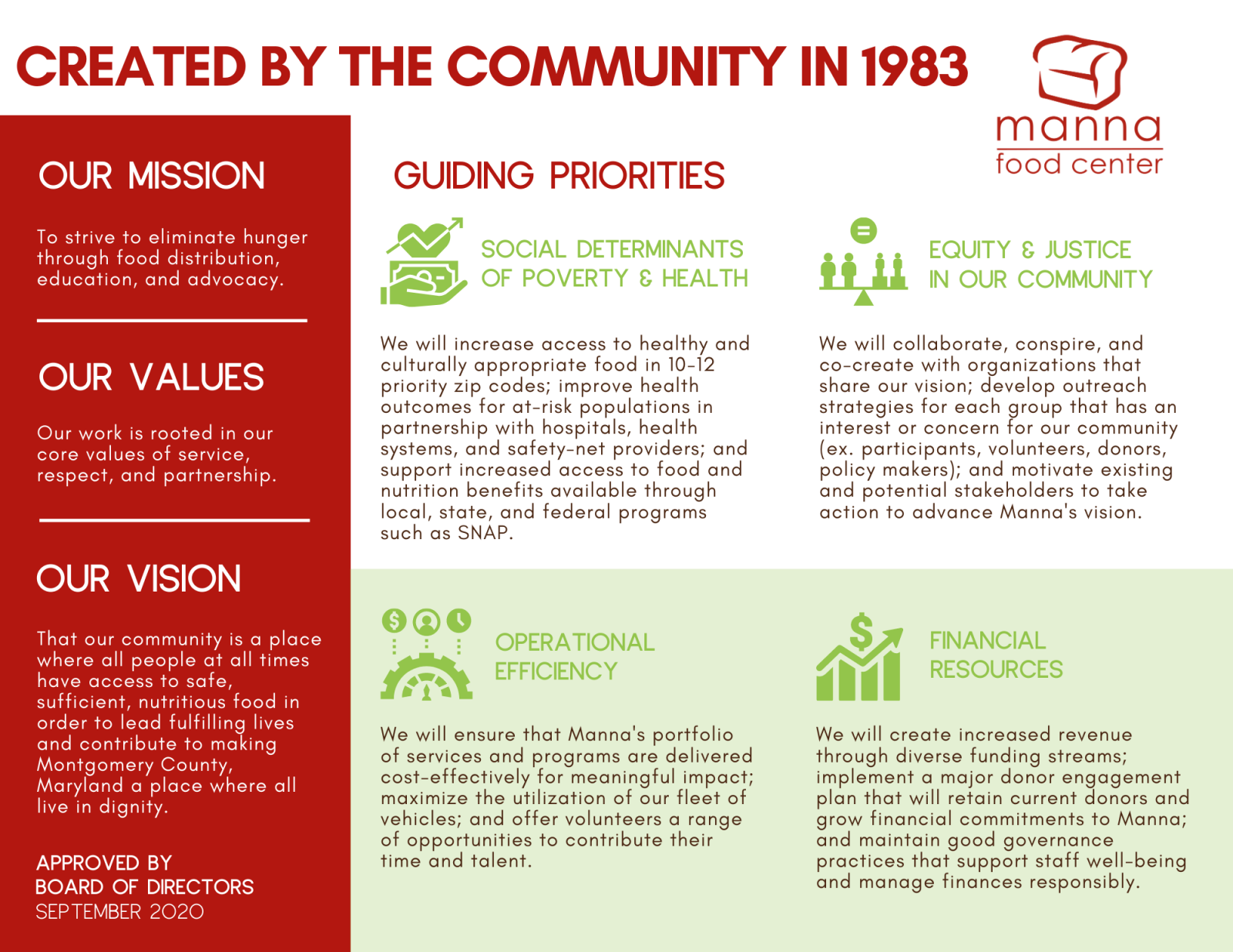 OUR MISSION
To strive to eliminate hunger through food distribution, education, and advocacy.
OUR VALUES
Our work is rooted in our core values of service, respect, and partnership.
OUR VISION
That our Community is a place where all people at all times have access to safe, sufficient, nutritious food in order to lead fulfilling lives and contribute to making Montgomery County, Maryland a place where all live in dignity.
How do we achieve this mission and vision?
By increasing access to nutritious food for all those experiencing hunger and food insecurity.
Through strengthening community food skills that empower healthy eating.
In connecting neighbors in need to resource providers and to each other.
If you've received an iconic "Manna box" during times of need or attended a coalition meeting… if you've volunteered at our warehouse or donated to one of our food drives… then you know our priority is serving the vulnerable among us.
Core to our theory of change is that no one agency can end hunger alone. Our extensive network has grown to include more than 350 different organizations, including government agencies, corporations, nonprofit groups, schools, doctors, employee assistance programs and faith-based associations. Last year alone, our volunteers donated more than 43,000 hours of their time, constituting the equivalent of 24 full time employees.
Ending hunger in Montgomery County is within our reach. Every day, our staff, volunteers, fellow providers and community members move us closer to this reality. And every moment, Manna's participants remain the bright focal point of each of our collaborations.
Manna's History
Manna's origins reflect the shared efforts of community, civic and faith leaders to establish a centralized food bank for Montgomery County – and our history is just as remarkable as the people we serve.
When Manna's doors opened in 1983, they were the doors of a vacant elementary school. Operations began with a meager budget, a single pledge of $3,100 and a donation of 16,000 pounds of food. At the time, Manna served just several hundred people.
Ever-increasing community support has allowed Manna to expand the scope of our work, and original operations are hardly recognizable. Now, we distribute approximately 12,000 pounds of food daily. We operate as more than just a food bank; we are also a center of distribution and nutrition education. We have grown from serving hundreds of people each year to serving 50,510.
Manna has grown from serving hundreds of people each year to serving 50,510.
What's more, our neighbors have progressively rallied around our cause. Today our extensive network of contributors includes more than 40 grant-making organizations, and more than 12,000 corporate, faith-based, not for profit and individual donors.
In the 1980s, Manna's founders were driven by the realities of our recession-stricken county. Their steadfast sense of duty and integrity has compelled them to persevere through peaks and values of resources and another recession in the first decade of this century.
We are also committed to the next phase of our agency's evolution so that ending hunger is a possibility, not a slogan. The face of hunger has been changing. The folks we are charged to serve remain under or unemployed, yet opportunities to address their realities are not at the top of many policy maker or philanthropist's lists of concerns.
These neighbors are full of potential and untapped capacities. As Manna moves from transactions to relationships, we are building new networks to create solutions to the hunger problem.