Manna's NEW Mobile Kitchen!
We know from Montgomery County's Food Security Plan that families are not accessing or consuming enough vegetables.  As you likely know, vegetables really drive Nutrition Education: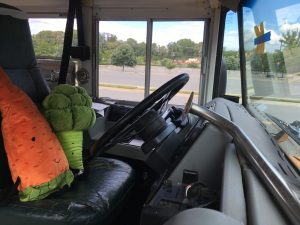 Manna's Mobile Kitchen & Pop-Up Pantry is a new program designed to tackle two barriers at once by bringing nutritious foods and cooking skills to our community. The MMK is an extension of Manna's focus on innovative, participant-centered approaches to eliminating hunger.
Programming will encourage increased fruit and vegetable consumption, greater acceptance of new, nutritious foods, and encourage lifelong skills like math and teamwork. Our pilot program starting this July utilizes Common Threads Small Bites curriculum, which ties youth culinary skills to Common Core academic skills.
Here's where the kids will be cooking:
Our participants often faced transportation barriers to accessing licensed community kitchens where Manna taught classes in the past. We will travel to high-need schools and apartment complexes to teach youth, seniors, and adults at risk of food insecurity.
Upon finalizing permits and exterior wrap designs, the MMK will begin community programming in July 2017.
How can I get involved?
This innovative new program will depend on generous support from the community to fund outreach moving forward.
Corporate Sponsorship opportunities are available. Click here for details.
This school year the MMK will offer educational opportunities to some of the 30,000 elementary students in the Montgomery County Public Schools eligible for free and reduced meals. Our culinary classroom on wheels is an innovative solution to increase access to nutrition education and nutritious foods in Montgomery County.