Family Meals Month Means Chips? Why not!
Lindsey here. September marks Family Meals Month, encouraging people to set aside time at least a few days a week to convene the family around a home-cooked meal. Research shows that when families eat together, it's better for kids'–and parents'–emotional well-being, performance, and diet.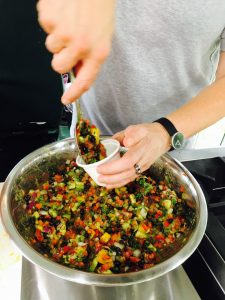 The simplest way to ensure a nourishing meal is to step back and look at the whole plate: do the foods on it have at least three (naturally-occurring) colors? A color-filled plate is an easy way to determine you're providing an array of vitamins and minerals.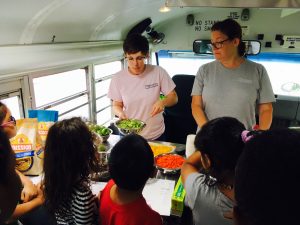 What if I told you that I witnessed 16 kids, ages 8-10, gobble up raw peppers, avocado, and black beans and come back for third helpings? It happened this summer on Manny the Mobile Kitchen.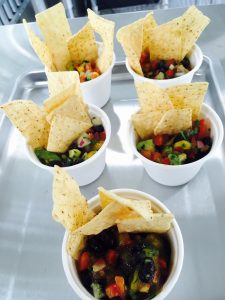 Too little time?
Get kids to help. They can stir, grate, pour, mix, tear, wash, toss, set the table, and clean up as you go along.
Worried about picky eaters?
Taking a little something familiar (like a low-salt tortilla chip) is a great way for kids to try new flavors and textures. It certainly worked with this simple, wholesome recipe from Common Threads.
Too much work?
Make a taco bar! Everyone can pile this wholesome salsa onto their chicken, fish, whole-grain tortilla, or brown rice (hint: instant brown rice cooks perfectly and helps weeknights). Each eater customizes, they can sprinkle on their own scallions, shredded cheese, plain yogurt, chili flakes, etc. That way, each person at the table can decide which foods they want touching.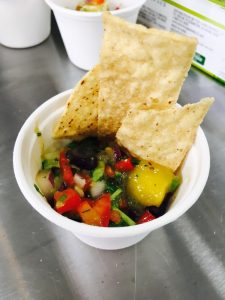 Prioritize time together, and keep meals happy. Use the time to focus on the positive, and what interests kids. Include them in discussions about your community, get their take on the news. If you're stuck, here's a few ideas:
If you could have any super power, what would it be and why?
If we could go anywhere you wanted on vacation, where would you choose? Why?
When do you feel the most proud of who you are?
Bon appetit!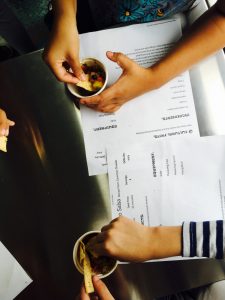 Black Bean Mango Salsa
from Common Threads, kid approved!
Lindsey's trick: frozen mango is ripe, affordable, and pre-chopped
15 ounces black beans

1 mango

1 red bell pepper

1/3 red onion

1 bunch cilantro

2 lime

1 large avocado
1. Drain the can of black beans
2. Peel the mango and chop it along with the bell pepper and red onion
3. Add freshly chopped ingredients to the black beans
4. Chop the bunch of cilantro and add to top of mixture
5. Squeeze the two limes over the mixing bowl
6. Cut the large avocado into small pieces and mix into the mixing bowl
7. Serve the black bean mango salsa and enjoy!
Lindsey here. For four years I've worked in Nutrition Education at Manna. It's also how long, before that, I applied for job after job, competing with more experienced colleagues who lost their careers in the Recession.
My role here is rooted in the community; I'm on-the-go to schools, senior apartments, and community centers most days of the week. My classes have grandmothers and grandchildren, veterans and students—I receive both stories and hugs.
In these four years, the Nutrition Education workshops evolve with the concerns of our community: as I hear complaints about deceptive advertisements, we develop a new "Nutrition Fact or Fiction" class. As more and more adults share their confusion over this new "prediabetic" diagnosis, we created a two-part series on habits to hinder diabetes and chronic disease. We talk about small, practical steps that make sense in a busy, budgeted lifestyle: walking and dancing with your kids, drinking fruit-infused water, purchasing wholesome foods (oats, onions, carrots) in bulk—to last beyond the week.
In a span of two days, I was reminded: people here are hungry. Participants are tired, frustrated, worried, too–that's easier to see. Hunger is not always so visible in America, few people standing in line for food assistance appear severely underweight.
In my most recent Cooking Matters at the Store grocery tour, a participant had to sit down for the second half of the class because she was so dizzy. In conversation, I learned that she had not eaten since a bagel at breakfast—seven hours earlier—because she ran out of food at home. Over some fresh watermelon, we discussed unit prices and nutrition labels on the store's front park bench.
The next day, a woman called to sign up for a store tour. I asked how she was doing today—a question I've learn to ask with patient pause in this work. She lost half of her pension when retiring for health issues, so she practices gratitude, but struggles with logistics of getting-by. She was called into work for the same time as my upcoming nutrition class. She truly considered calling out of work just to attend a class about how to stretch a grocery budget.
We hear more about hunger in the news, but in terms of numbers. It's not "the needy"; it's our neighbors in need. 
In these four years, I find the amazement of people who step into our warehouse never ceases–the scale of this work is often surprising. If you are able, I invite you to volunteer with Manna, even for just a day. These stories could belong to any of us.
Mike here, I am a Dietetic Intern completing my rotation at Manna Food Center.
One of the great things that Manna does in the community is teach nutrition education classes. I was able to participate in one of these lessons today: The class is "Sugar Shockers" and I can definitely say I was shocked. It wasn't the content of the lesson, but the responses from participating mothers. Lindsey regularly holds this class at local elementary schools for families in the Linkages to Learning program, many of whom also participate in Smart Sacks.
The lesson detailed sugar in common foods like soft drinks, juices, and breakfast cereals. It also covered how sugar reacts in the body and what health problems can result from eating too much sugar. These aren't new concepts in my field of study, but I realized that it's easy to take for granted the things you know. Some of these concepts were brand new for a lot of the mothers. It was heartbreaking to see their reactions to some of the information. It was as if they had been lied to about what is healthy for their entire lives. They became very concerned about how much sugar their children have been eating every day.
Something that I thought was interesting was that nearly all of the mothers said that they thought honey was healthier than sugar. While honey may be natural and have other potential benefits, the body uses it the same way it uses sugar from a packet. Too much honey results in the same problems as too much sugar.
We also talked about how fruit juice isn't as healthy as eating fresh fruit because when you eat fresh fruit, you get a lot of fiber that helps make you feel full. Eating one or two oranges is plenty for most people. However, with juice, you don't get the fiber, but you get all the sugar. One glass of orange juice may contain eight or nine oranges worth of sugar. While oranges are definitely a healthy food, eating nine oranges at once is just too much for one person. This was another concept that seemed to really upset some of the mothers. Many of their children drink multiple glasses of juice per day because parents thought the juice had equal health benefits of fruit.
Near the end of the lesson, we did an activity in which we read the nutrition facts label on several products and identified how many grams of sugar were in a single serving. Then we counted out how many sugar packets it takes to get that much sugar. One packet of sugar is equal to 1 teaspoon, which is 4 grams of sugar. One of the mothers had a 12 ounce can of ginger ale that contained 32 grams of sugar. That's 8 teaspoons of sugar in a single can! The World Health Organization advises the maximum daily intake for added sugar is 6 teaspoons for women, 9 teaspoons for men, and 4 teaspoons for children.
From the many questions throughout the lesson, and it was obvious that participants had received poor nutrition advice, whether from friends, family, magazines, radio, or television. This is why the nutrition education that Manna provides is so important. People want to make healthy choices, so it's important that we help dispel the myths about nutrition and provide the information necessary to make those healthy choices.
Jackie here.
Here at Manna Food Center we fully embrace the notion that Dr. King's Birthday should be a "Day On not a Day Off." This year in particular, I wanted to honor Dr. King in a way that would help me be a better leader.    Taking to heart Dr. King's observation that,
"The ultimate measure of a [hu]man is not where he stands in moments of comfort and convenience, but where he stands at times of challenge and controversy. The true neighbor will risk his position, his prestige and even his life for the welfare of others."
I decided I wanted to test my commitment to the welfare of others by walking in the shoes of those Manna serves.  I began a week long "Manna diet."
Like any other participant who schedules a pick-up at one of our distribution sites, on the Friday before MLK weekend I claimed a closed box of non-perishable items and an open box of produce, along with a bag of meat.  Even though I know the technicalities of a Manna order—approximately 60 lbs of food designed to offer items that match the nutritional guidelines of the USDA's My Plate, I was pleasantly surprised by the amount of food I received and the range of items it contained.
Looking the order over, I experienced my first minor disappointment—my produce allotment contained more than ½ dozen green peppers, and only one red.  I'm not a big fan of green peppers.  Plus, there was a huge head of cabbage.  I had no idea how to cook that, and I forgot to grab a recipe in the lobby.  But seconds later I felt a boost: a sweet item I could choose from the dessert table was my favorite—crème brulee. I rarely get that special treat except when I go out to eat at a fancy restaurant. There was even a peanut butter brownie for my spouse!
Within two minutes of my "diet" I got a sense of what Manna participants experience every time they turn to us for food—the fact that the offerings are well-rounded, nutritious, and tasty, but they are also mostly determined by "the luck of the draw." I received what items were available due to what had been rescued or collected that particular week.
When I arrived home, opening the closed box of canned items and bag of protein was a little like opening birthday gifts.  There was a lot of curiosity about what was inside.  Here, too, I was pleased and disappointed at the same time.  There were lots of green canned vegetables and tuna, which I know I need to eat more of, but there were also yams and dry beans that held no appeal for me.  Also, some of the meat options I had never cooked before in my life (pork neck bones turned out to be quite delicious after I simmered them in a crock pot). In my meal planning for the week, I realized how much I typically rely on food items that are pretty quick to prepare—frozen veggies, quick to boil pasta—and are not very creative.  With the Manna box, I had a variety of items that required time and talent to prepare.  I also realized that I go out to eat regularly, which is something low-income families might not have the option of doing.
Over the course of my week, aware of the nature of my experiment, I tried not to complain too much about the constraints of my food options, but I definitely felt limited by my circumstances.  I also learned a lot about myself in how I typically use food to reward myself (no salty chips were in my Manna box!), and I gained an appreciation for how much creativity and commitment is necessary to make the most of Manna offerings.  If I wasn't already committed to Nutrition Education programs to help our participants learn how to shop and cook on a budget, I am now!  If I wasn't passionate before about increasing options for choice, I am now!  I am so grateful that Manna, in partnership with faith communities, has three choice pantry opportunities each month, where neighbors can shop for the food that matches their families' size, tastes, and other preferences.
All in all, my week on a Manna diet didn't entail too much hardship, and I'm proud of that.  That means to me that what Manna is offering our participants is generous, healthful, and appropriate.  We are on track to meet our goals for continuing to increase the quality of food and the options for receiving it.  What I learned most from the week-long diet was the power of giving up comfort and convenience.  Inspired by Dr. King and fueled by the direct experience of being reliant on others for my food, I am more committed to helping create a hunger free Montgomery County.
Thank you for joining us in our concern for the welfare of our neighbors.  I look forward to your responses (on our FB page or info@mannafood.org) to the Manna diet and any reflections you have about the work we are doing.
Lindsey here. Ready or not, the holidays are here. The pace of this season so often induces stress and financial strain–for those with jobs and especially those without. How do we celebrate in the midst of this tension?
I love this mantra:
interrupt anxiety with gratitude.
It's one we put into practice at Manna this month, with teammates posting their responses to the questions:
Who are you grateful for?
What ability are you thankful to have?
What do you take for granted in your day-to-day life?
What element of nature are you grateful for?
This week, Manna's team, volunteers, and participants are bustling around with food distribution before Thanksgiving. It seemed an apt opportunity to pass The Gratitude Jar (a former Utz sourdough pretzel bin)  down the line in our lobby. Every single person waiting for food joyfully accepted the opportunity to submit a message of their own gratitude to the nearly hundred slips of paper filling the jar.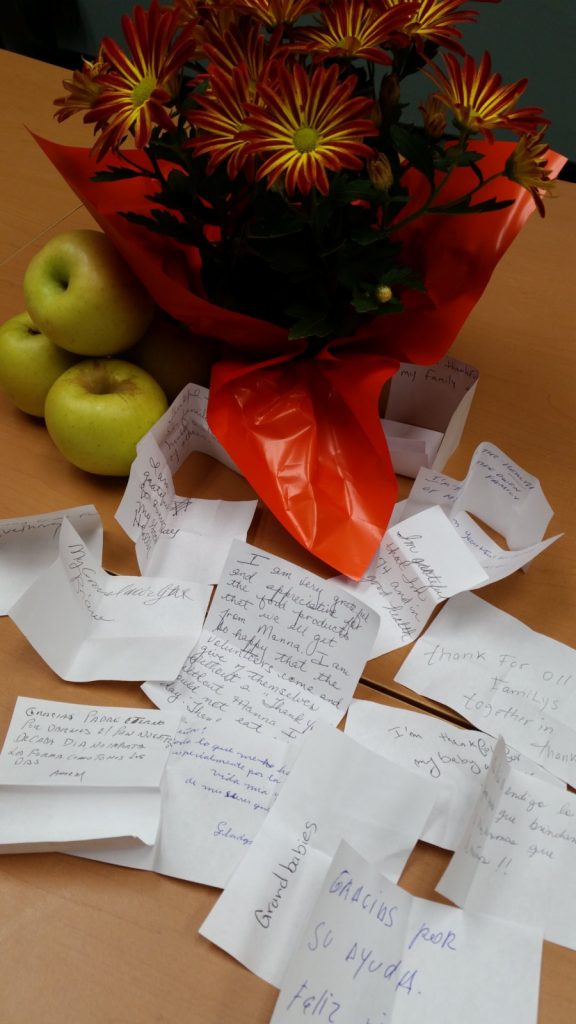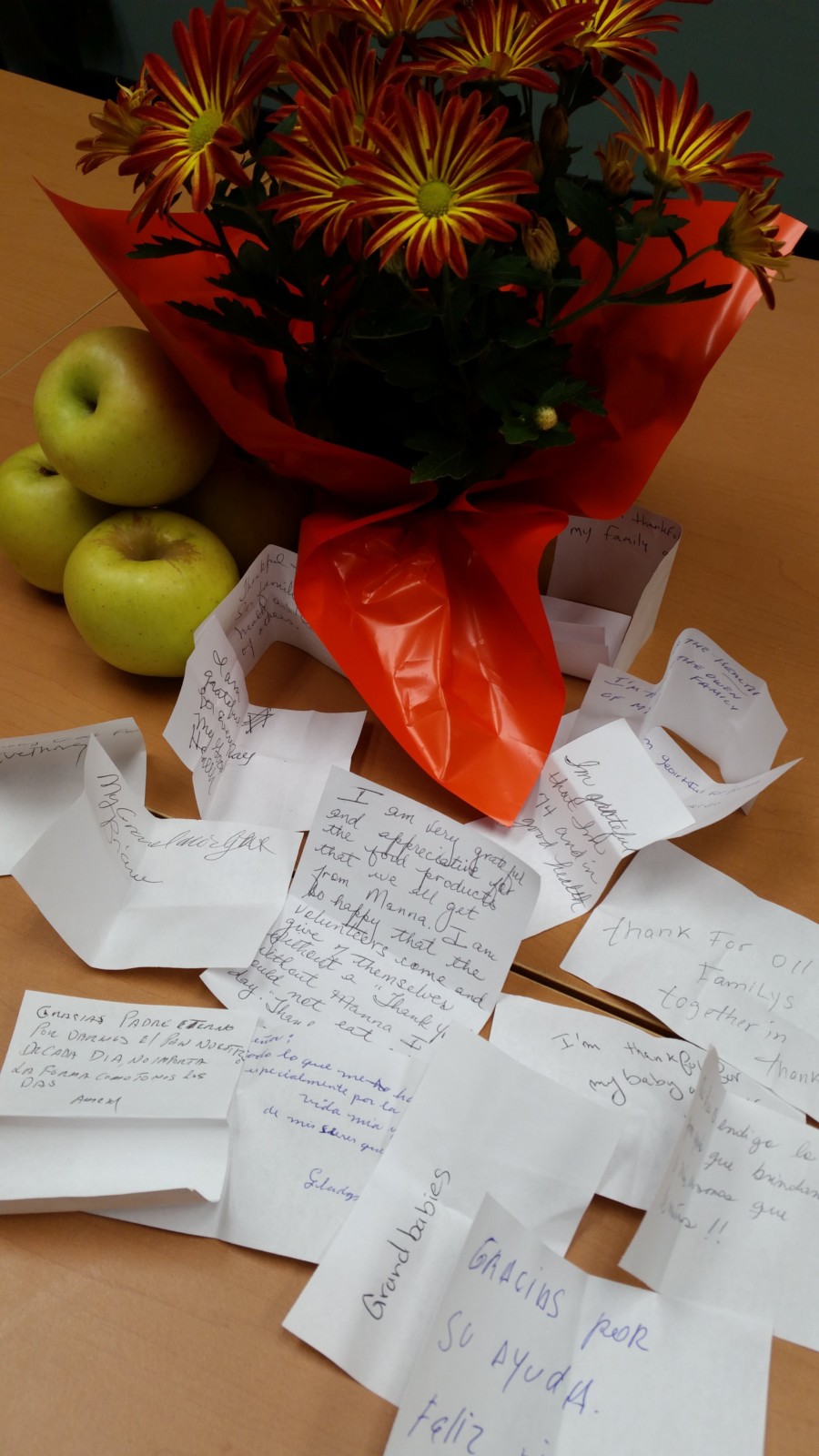 Here are some words of gratitude from Manna's participants:
Gracias por su ayuda. Feliz dia de gracias.
Grandbabies
I am grateful for not getting wounded in Vietnam! and for being alive
I've very grateful and appreciative for the food products that we all get from Manna. I am so happy that the volunteers come and give of themselves without a "thank you". Without Manna, I could not eat every day. Thank you.
I'm am grateful because I can walk. Thankful for my parents.
Thankful and grateful for family, friends, health, and the kindness of others.
I'm grateful that I'm 74 and in good health.
Thanks for life. Grateful for the fact that I can stand here and have the power to say thank you, volunteers.
Thank you God for waking me up every morning.
Thanks to Manna for helping us. We are senior we low income. We eat a lot better. All of the employees are doing a great job, keep it up!
Thanks for waking up, having a job, and for all of the help Manna has given my family!
My healthy kids.
Thankful because God has been good to me. I get free food from Manna when others have nothing to eat. Thank Manna Food.
Gracias a dios por mi familia.
My four wonderful children who would do anything for me.
From the entire Manna team, we are wishing you a celebration full of joy, gratitude, and memories.
Lindsey here. A theme of conversation these days among Manna staff, particularly in our Breaking Bread conversations, is privilege. There are so many ways the privilege of time and leisure come into our health. A recent article about privilege and personal responsibility (a worthy read, check it out) reminded me that there are unexpected ways this luxury appears in eating well.
Naturally, an important step in nutritious eating is cooking at home—I share this in every class I lead. But the time to read about healthy foods, shop for those foods (assuming they fit in your budget), prep and cook is not a priority everyone can afford.
Even keeping up with accurate news can feel like yet another thing on top of a busy working family's to-do list.  One simple way to empower our families at Manna with healthy steps that are possible now is providing nutrition information in our lobby literature racks. Waiting in line to pick up food often offers our families an opportunity to read—so I added this handy list to our lobby today.
8 Great Ways to Live Healthier and Save Money Doing It
adapted from U.S. News and World Report, August 2015 by Lindsey Seegers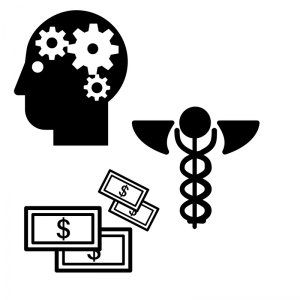 ONE Plan your groceries before you go to the store.
Check out the food in your fridge and your pantry to see what meal makers you have on-hand. Make a list and stick to it at the store—a handy way to avoid overbuying at the store and wasting food at home.
TWO Drink water.
Buying sodas, coffees and smoothies on the go is costly for your wallet and your health. That money you save can go towards wholesome groceries. Water is free (especially if you take a reusable bottle with you to refill)!
THREE Eat less meat.
Meat can often be the most expensive item on our grocery bills. Varying your protein purchases can stretch your shopping budget further, and provide more nutrients for your body. Foods like legumes, peanuts, nuts, grains and seeds offer your body protein, too, and often for less money.
FOUR Discovery free ways to move more.
Finding the time and energy to exercise can be challenge. Ever harder—those expensive fitness gyms! Walking with your kids, friends, or dog is a free way to get more steps in the day. If the weather isn't nice enough to be out, you can dance, stretch, climb stairs, and move more indoors, too.
FIVE Kick the habit.
Cutting out cigarettes immediately puts money back in your wallet, not to mention the benefits your body enjoys. Cutting back on alcohol, or other substances, can to save your money and save your life.
SIX Catch up on an active date.
Everyone can afford to be more active, and it doesn't have to cost money. Spend time with your loved ones (friends, too!) by taking a walk, hike, or even renting a canoe. Research shows that relationships can influence a person's health and wellness decisions.
SEVEN Follow the doctor's orders.
Cancelling a doctor's visit or skipping medicine saves you money right now. But following through on preventative care can save you expensive hospital visits. Avoiding the doctor can mean expensive consequences to your health and your budget later on.
 EIGHT Mind your mental health.
Mental health and happiness are important. Neglecting psychological issues, such as depression, can make it challenging to work. Ignoring mental health can also increase the risk of suffering chronic health conditions. Besides seeing a doctor, the tips listed above can also improve mood and happiness!
These tips might not be new, but certainly provided an important reminder to me to consider self-care. Post this list on your fridge, pass along to a friend, or come grab a copy yourself next time you pop over to our warehouse to donate or volunteer.
Ethan Kach stopped by last week with a handcrafted gift for Manna. Two in fact.
Ethan first learned about Manna Food Center through the Boy Scouts' participation in "Scouting For Food". Ethan walked door to door the past four years for this annual food drive. Once a neighbor asked Ethan to volunteer in our warehouse for an evening of packing food boxes and he finally got to see Manna behind-the-scenes. "I was very impressed with the warehouse in how organized everything was, the amount of food that gets collected, and how many people are there to help provide food for the hungry."
For his Eagle Scout project, Ethan came up with the idea to host a food drive, and build two custom carts for Manna. He met with our Operations team last year and saw the need for moving boxes, food, and supplies throughout our warehouse. You will see in the photo that Ethan included rubber bumpers on the corners of the cart to protect our walls–how considerate of you, Ethan! He also added a handle, a drawer for storage, and a space below measured to perfectly store our flat-packed boxes.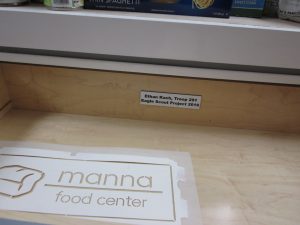 We plan to feature these carts at our sites like Colesville Presbyterian Church and Silver Spring United Methodist–they will be perfect for food demonstrations and nutrition lessons.

Ethan has been working for five years to reach the honor of Eagle Scout. Completing this project inches Ethan closer to his goal, and gifts Manna with a physical reminder of the kindness of our community.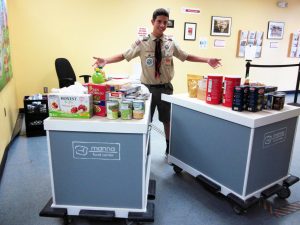 Lindsey here. Here is what I observed in three consecutive minutes at Manna this week:
Mark Mills, a chocolatier, professional chef, and, oh yes, full-time farmer at Chocolate and Tomatoes farm, pulls up to Manna in his pick up truck, bearing gifts: coolers and crates overflow with freshly picked collard greens, cucumbers, jalapeños and even fresh ginger. 648 pounds of fresh food for the families lined up in our lobby.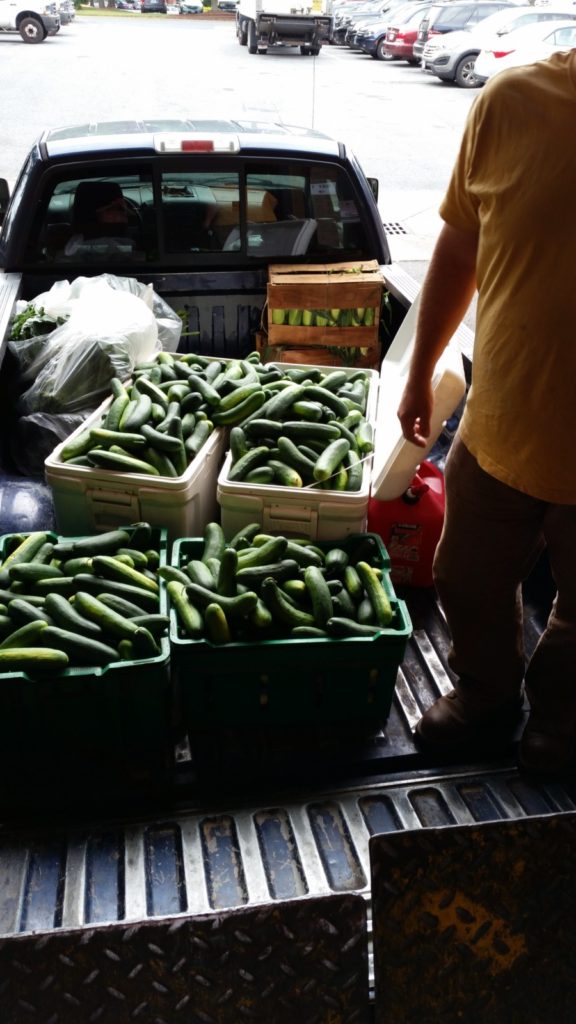 In the referral office, all five phones are active, three volunteers and our own Yelba and Silvia signing up clients to pick up Manna food boxes. In the summer, more children wait in line with their parents, sitting on the floor or their mommy's laps. Over the cacophony of ringing-beeping-faxing-talking-printing cries a baby in the lobby. Not a whimper, a long heart-wrenching hungry cry. The crying crescendos over all the bustling of the lobby and referral office.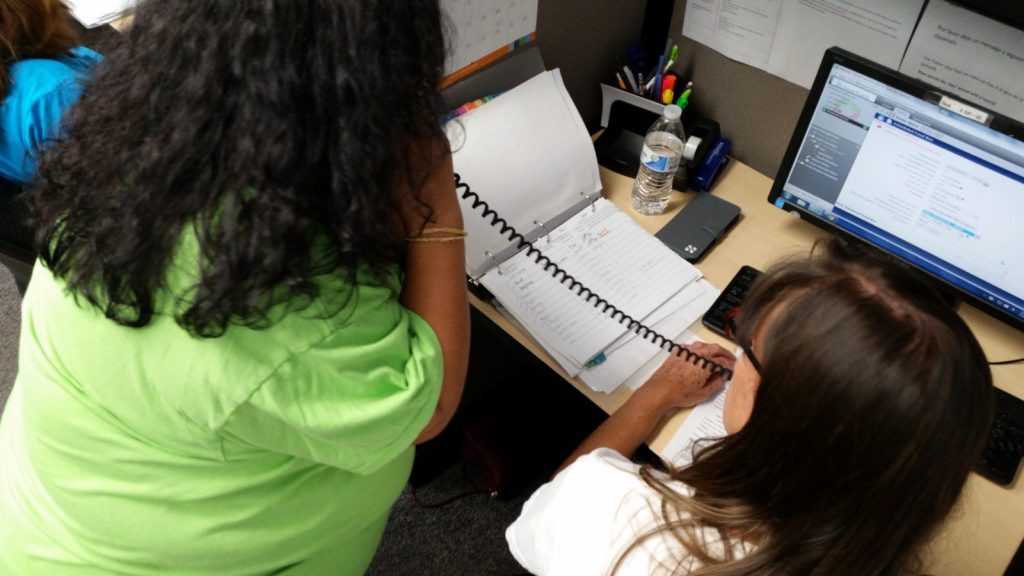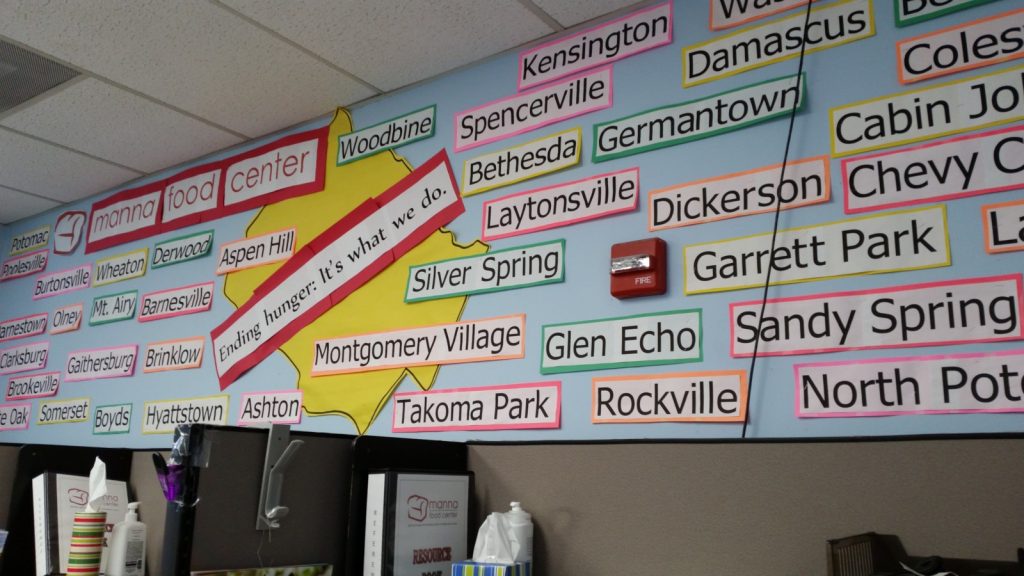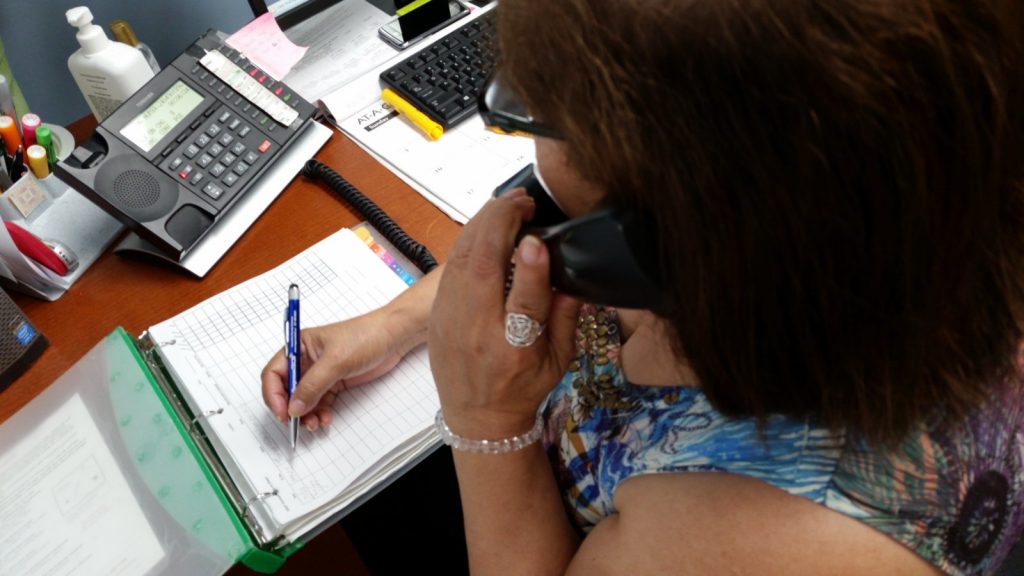 The open boxes, brimming with local produce, sit in a line waiting to go home. Our clients sit and stand in line for noon to approach, when distribution starts—though cabs and buses dropped off some men and women nearly two hours before. Despite the wait in this heat, despite the anxiety of carting home these heavy food packages (sometimes down the sidewalk with an actual cart), every person in line bestows a generous offer. You see, the baby crying—a curly-headed girl, 5 weeks small and barely filling out her diaper—is cradled in the arms of her mother. Her mother, who stands at the very end of a line now curled around Manna's modest lobby to avoid the heat. So when Yelba steps out of the referral office to greet our clients and ask if Mom and Baby can get their food first today, everyone joyfully agrees. And, smiling, they move their chairs and bodies to make room for her stroller.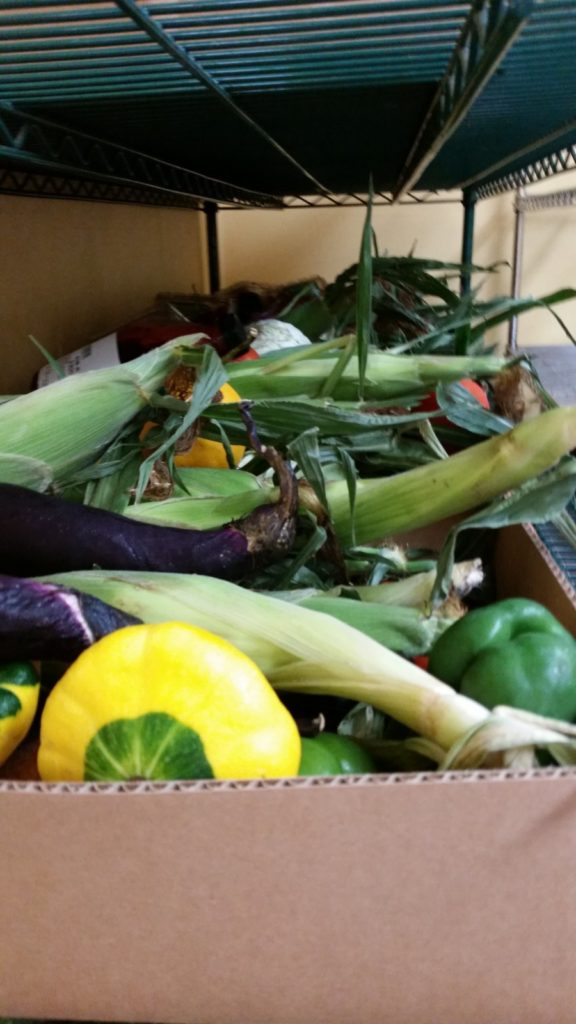 Witnessing this gesture was beautiful. But this moment of generosity is not uncommon: the giving that happens here is not just from Manna's staff and volunteers. Unselfish hospitality abounds in this place.
Lindsey here. This time of year, the open food boxes we distribute to clients are overflowing with local produce. It's a beautiful sight: plump tomatoes and bouquets of kale tucked between varieties of purple, white and wee green eggplants. These fruits and veggies travel home alongside foods that our drivers rescue from grocery stores each day. Greek yogurt, cheeses, salad makings and cut fruit provide meals with foods that—if not rescued from grocery stores overturning inventory—would have gone to the trash.
Sometimes food waste seems obvious: perfectly edible, whole ingredients tossed from shelf to garbage. But there is another way food that costs our money and time ends up needlessly wasted. Have you ever brought home a head of broccoli and plucked off the florets only? Or found yourself stumped over the stems of leafy greens and cooked only the tops? When it comes to plants, unnecessary waste can happen when we're not sure if all the parts are edible and what on earth to do with them.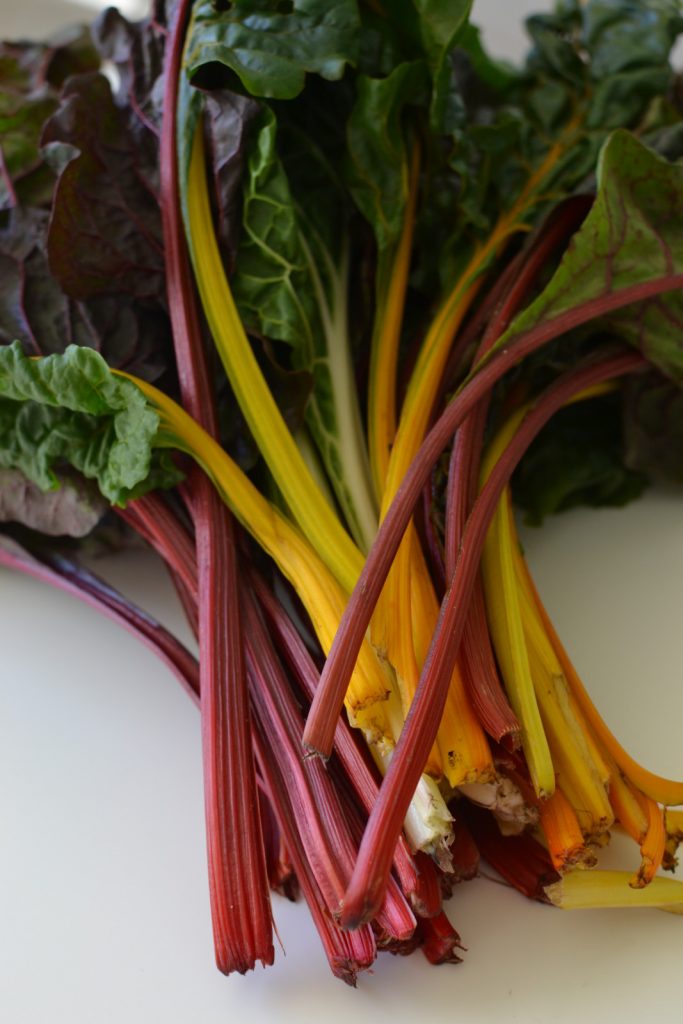 Take this vibrant rainbow chard for example. The prettiest part is the sunset-hued stems, right? But many recipes call only for the leaves. Did you know the stems can be sliced and stir fried, with the leaves added in at the end? The same goes for greens tops (turnip, beet, kohlrabi, collard, or mustard greens); these can be easily braised with garlic and crushed red chili flakes.
You can also switch up your chickpea hummus with chard stalks! In the Mediterranean, chard stalks are boiled and pureéd with garlic, tahini, olive oil and lemon juice for a savory dip.
The most important part of these techniques and know-how—beyond the environmental and good-feeling part of salvaging edible food—is that food stretches further. This is critical when families leave Manna with a 3-5 day supply of food and need those ingredients to make multiple meals. It's why we provide recipes and cooking tips to our clients.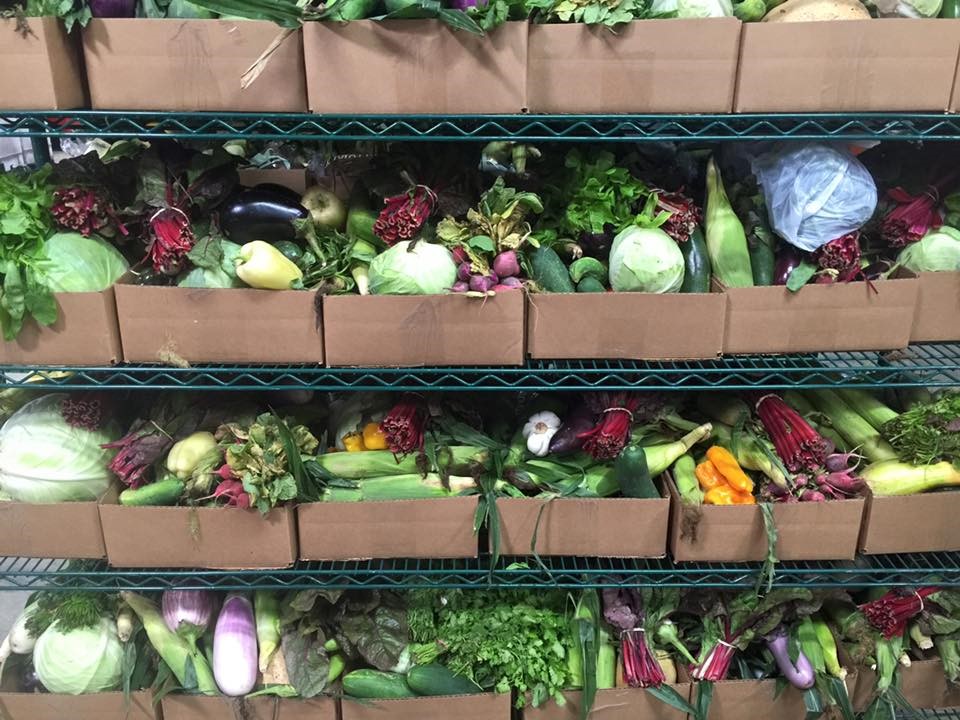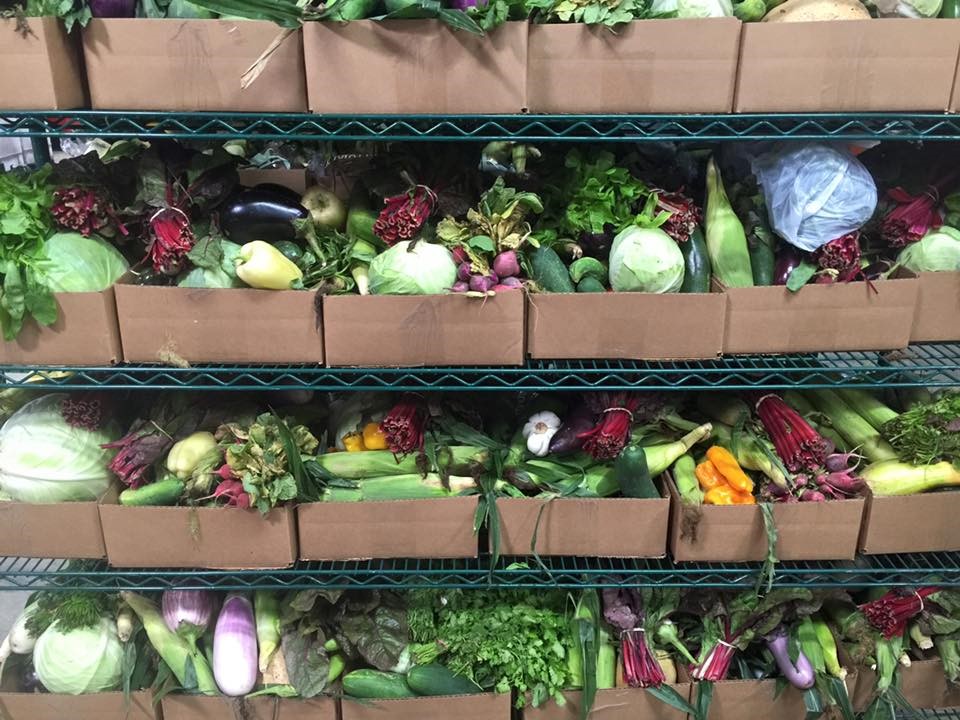 Want to make the most of your farmers market purchases this summer? Check out these great reads below. While you're at the market, come visit a Manna table (look for the bright red tablecloth) at farmers markets all over Montgomery County!
Root to Stalk Cooking: The Art of Using the Whole Vegetable by Tara Duggan (have this on my shelf!)
The Southern Vegetable Book: A Root-to-Stalk Guide to the South's Favorite Produce by Rebecca Lang
Root to Leaf: A Southern Chef Cooks Through the Seasons by Steven Satterfield
Vegetable Literacy: Cooking and Gardening with Twelve Families from the Edible Plant Kingdom by Deborah Madison
Waste-Free Kitchen Handbook: A Guide to Eating Well and Saving Money By Wasting Less Food by Dana Gunders
Lindsey here. Something special about Manna is that we promote "caring for those who care". If you've ever served in a caregiving capacity for a loved one, you know that the caretaker's own well-being is not always a priority. Likewise, at Manna we are bustling around in the business of distributing food each day—the need is always urgent. Stopping for a wholesome lunch or brisk walk doesn't feel as pressing.
It's why we started MORE at Manna, a program to encourage wellness among our Manna teammates. MORE stands for Movement, yOur health, Relaxation, and Education. For two years, we've invited dietitians, boxing instructors, fitness pros, and yoga teachers to join our staff for interactive "Lunch and Learn" sessions. We also run staff-wide competitions for most steps, drinking water, and eating more fruits and veggies. Last month, Jenna and I hosted a 21-day "Eat the Rainbow" Challenge.
Did you know that eating all colors of fruits and vegetables give our bodies maximum nutrients? Each color of fruit and vegetables provides unique, essential health benefits. We challenged our colleagues to eat at least one serving of produce from every color every day! Next week, we celebrate the winners. (One staff member ate 211.5 servings of produce in 21 days!)
How many colors have you enjoyed today?
Lindsey here. I've been teaching healthy budget shopping with the Cooking Matters at the Store program for the three years I've been Manna's Nutrition Educator. The questions that arise week after week are, sadly, the same: "I was just diagnosed with Type II diabetes, what can I eat now?"
In response to this question, I developed a new class for Manna called "Habits to Hinder Diabetes and Chronic Disease". I teach this class at agencies throughout Montgomery County. This week alone, I've taught the workshop to over 60 individuals at senior apartment complexes and the Wells-Robertson House. The refrain of this class is that Type II diabetes can be controlled, and—best of all—prevented and potentially reversed. There is so much bad news about diabetes, a diagnosis that can be frustrating, confusing, and maddening. So I set out to create an uplifting workshop that highlights the ways we can take control over our health. One of those is to gradually transition our eating habits from those abundant meats and sweets to more beans and greens. But informed food choices are only one piece of prevention.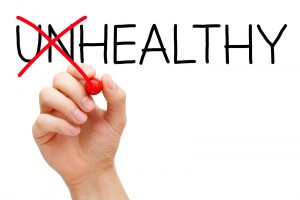 Here are the four healthy habits we discuss at the end of the workshop (adapted from The End of Diabetes by Joel Fuhrman, M.D.):
1.      Make a commitment to yourself.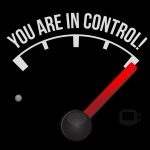 Write down your health goal and share with valued people in your life. Rather than thinking "I'm on a diet", consider the choices you are making towards your own health and positive well-being. This isn't about deprivation, it's about the good care you're giving yourself. Indulgent comfort-food may provide a momentary boost, but the most pleasure in life comes from more meaningful achievements. Each day of healthier food choices brings you closer to improving your health.
2.      Track your progress.
Keep a notebook in a place you'll see it (next to the bed, in the pantry). At least twice weekly: log foods, (and beverages!) and exercise. Even if it's not the precise amount, paint a picture of the food variety in your day. A variety of color is key. If you have diabetes, track your blood sugar and medications too. Write down your movement, how long and vigorous the exercise. Tracking your progress and success can be a powerful motivator—you've got the data to show for all your hard work!
3.      Switch up your pantry.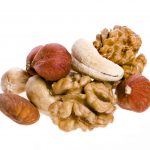 Keep bulk items around. The store brand plain oatmeal, bag of carrots and onions, and one pound of brown rice are inexpensive (versatile and nutritious!) items that stretch your food throughout the month. Avoid purchasing foods that are pre-seasoned and flavored. With items like canned soups or high-sodium packaged foods, combine with fresh, frozen, or no-salt added items to add more fiber to the dish and decrease the sodium per serving.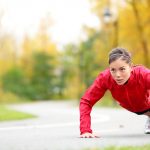 4.      Move more.
Exercise is the very best prescription to protect our health. Medication does not replace the need to (or lifelong benefits) eat well and move more. The benefits are vast, supporting the musculoskeletal system, digestion, heart and blood vessels, and even mental function! This doesn't have to be long distance running: even standing up from a chair and sitting back down for 5 straight minutes gets the heart pumping.
If you know an agency serving families with low-income that may be interested in this class, contact Lindsey at Lindsey@mannafood.org