The Privilege to Peruse the News
Lindsey here. A theme of conversation these days among Manna staff, particularly in our Breaking Bread conversations, is privilege. There are so many ways the privilege of time and leisure come into our health. A recent article about privilege and personal responsibility (a worthy read, check it out) reminded me that there are unexpected ways this luxury appears in eating well.
Naturally, an important step in nutritious eating is cooking at home—I share this in every class I lead. But the time to read about healthy foods, shop for those foods (assuming they fit in your budget), prep and cook is not a priority everyone can afford.
Even keeping up with accurate news can feel like yet another thing on top of a busy working family's to-do list.  One simple way to empower our families at Manna with healthy steps that are possible now is providing nutrition information in our lobby literature racks. Waiting in line to pick up food often offers our families an opportunity to read—so I added this handy list to our lobby today.
8 Great Ways to Live Healthier and Save Money Doing It
adapted from U.S. News and World Report, August 2015 by Lindsey Seegers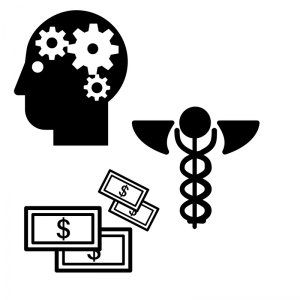 ONE Plan your groceries before you go to the store.
Check out the food in your fridge and your pantry to see what meal makers you have on-hand. Make a list and stick to it at the store—a handy way to avoid overbuying at the store and wasting food at home.
TWO Drink water.
Buying sodas, coffees and smoothies on the go is costly for your wallet and your health. That money you save can go towards wholesome groceries. Water is free (especially if you take a reusable bottle with you to refill)!
THREE Eat less meat.
Meat can often be the most expensive item on our grocery bills. Varying your protein purchases can stretch your shopping budget further, and provide more nutrients for your body. Foods like legumes, peanuts, nuts, grains and seeds offer your body protein, too, and often for less money.
FOUR Discovery free ways to move more.
Finding the time and energy to exercise can be challenge. Ever harder—those expensive fitness gyms! Walking with your kids, friends, or dog is a free way to get more steps in the day. If the weather isn't nice enough to be out, you can dance, stretch, climb stairs, and move more indoors, too.
FIVE Kick the habit.
Cutting out cigarettes immediately puts money back in your wallet, not to mention the benefits your body enjoys. Cutting back on alcohol, or other substances, can to save your money and save your life.
SIX Catch up on an active date.
Everyone can afford to be more active, and it doesn't have to cost money. Spend time with your loved ones (friends, too!) by taking a walk, hike, or even renting a canoe. Research shows that relationships can influence a person's health and wellness decisions.
SEVEN Follow the doctor's orders.
Cancelling a doctor's visit or skipping medicine saves you money right now. But following through on preventative care can save you expensive hospital visits. Avoiding the doctor can mean expensive consequences to your health and your budget later on.
 EIGHT Mind your mental health.
Mental health and happiness are important. Neglecting psychological issues, such as depression, can make it challenging to work. Ignoring mental health can also increase the risk of suffering chronic health conditions. Besides seeing a doctor, the tips listed above can also improve mood and happiness!
These tips might not be new, but certainly provided an important reminder to me to consider self-care. Post this list on your fridge, pass along to a friend, or come grab a copy yourself next time you pop over to our warehouse to donate or volunteer.