What Boy Scout Ethan Made For Manna
Ethan Kach stopped by last week with a handcrafted gift for Manna. Two in fact.
Ethan first learned about Manna Food Center through the Boy Scouts' participation in "Scouting For Food". Ethan walked door to door the past four years for this annual food drive. Once a neighbor asked Ethan to volunteer in our warehouse for an evening of packing food boxes and he finally got to see Manna behind-the-scenes. "I was very impressed with the warehouse in how organized everything was, the amount of food that gets collected, and how many people are there to help provide food for the hungry."
For his Eagle Scout project, Ethan came up with the idea to host a food drive, and build two custom carts for Manna. He met with our Operations team last year and saw the need for moving boxes, food, and supplies throughout our warehouse. You will see in the photo that Ethan included rubber bumpers on the corners of the cart to protect our walls–how considerate of you, Ethan! He also added a handle, a drawer for storage, and a space below measured to perfectly store our flat-packed boxes.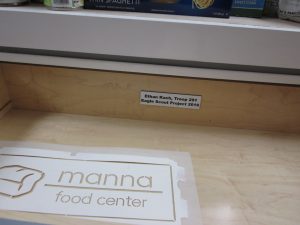 We plan to feature these carts at our sites like Colesville Presbyterian Church and Silver Spring United Methodist–they will be perfect for food demonstrations and nutrition lessons.

Ethan has been working for five years to reach the honor of Eagle Scout. Completing this project inches Ethan closer to his goal, and gifts Manna with a physical reminder of the kindness of our community.