Root to Stalk Eating
Lindsey here. This time of year, the open food boxes we distribute to clients are overflowing with local produce. It's a beautiful sight: plump tomatoes and bouquets of kale tucked between varieties of purple, white and wee green eggplants. These fruits and veggies travel home alongside foods that our drivers rescue from grocery stores each day. Greek yogurt, cheeses, salad makings and cut fruit provide meals with foods that—if not rescued from grocery stores overturning inventory—would have gone to the trash.
Sometimes food waste seems obvious: perfectly edible, whole ingredients tossed from shelf to garbage. But there is another way food that costs our money and time ends up needlessly wasted. Have you ever brought home a head of broccoli and plucked off the florets only? Or found yourself stumped over the stems of leafy greens and cooked only the tops? When it comes to plants, unnecessary waste can happen when we're not sure if all the parts are edible and what on earth to do with them.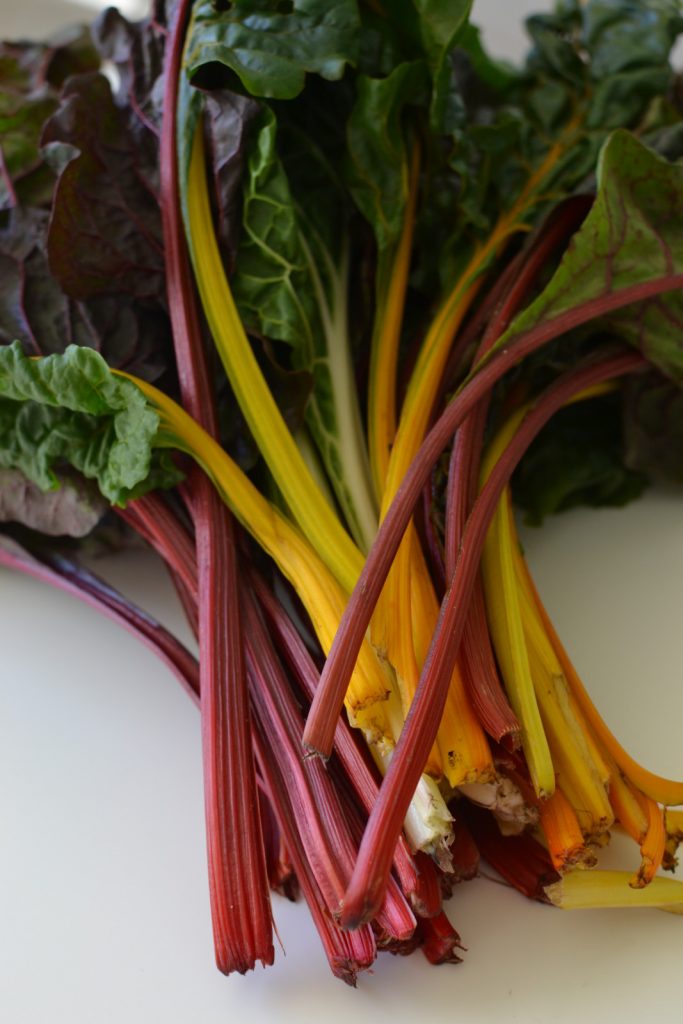 Take this vibrant rainbow chard for example. The prettiest part is the sunset-hued stems, right? But many recipes call only for the leaves. Did you know the stems can be sliced and stir fried, with the leaves added in at the end? The same goes for greens tops (turnip, beet, kohlrabi, collard, or mustard greens); these can be easily braised with garlic and crushed red chili flakes.
You can also switch up your chickpea hummus with chard stalks! In the Mediterranean, chard stalks are boiled and pureéd with garlic, tahini, olive oil and lemon juice for a savory dip.
The most important part of these techniques and know-how—beyond the environmental and good-feeling part of salvaging edible food—is that food stretches further. This is critical when families leave Manna with a 3-5 day supply of food and need those ingredients to make multiple meals. It's why we provide recipes and cooking tips to our clients.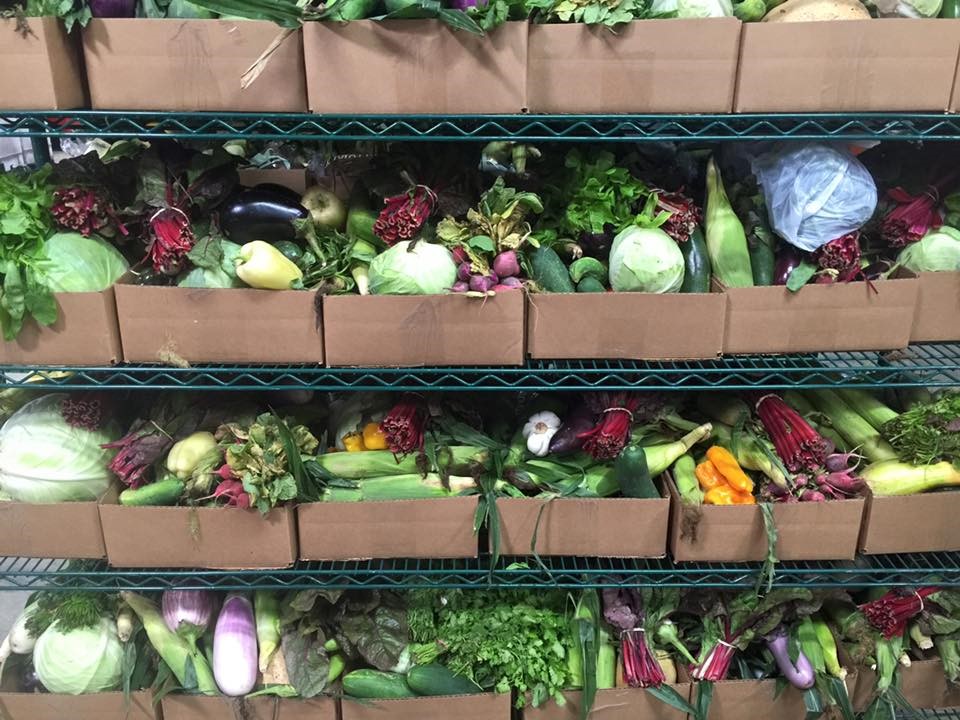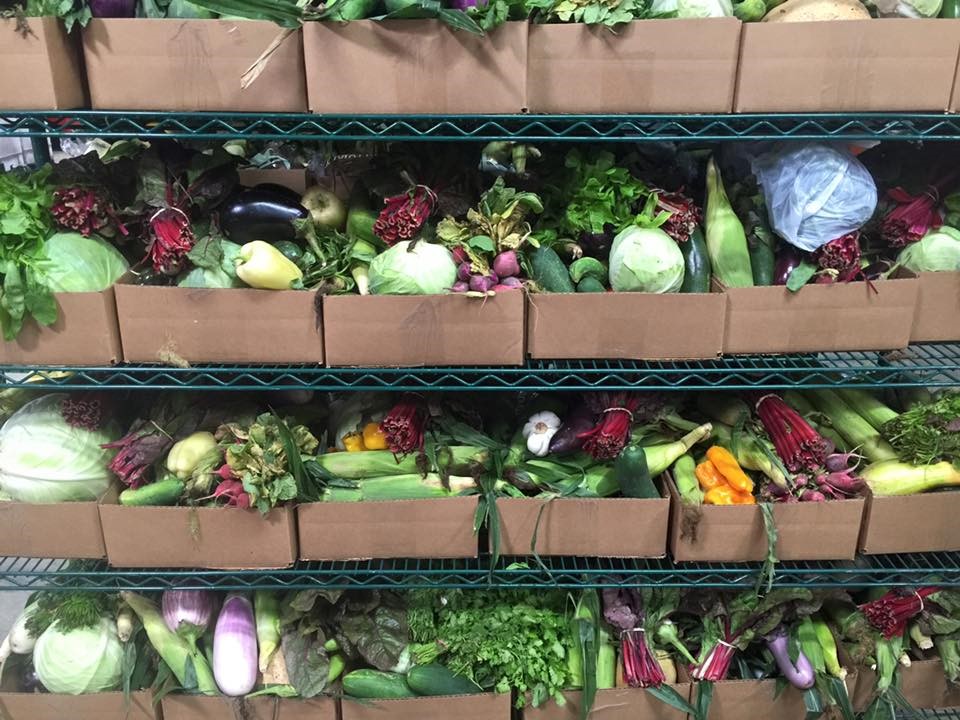 Want to make the most of your farmers market purchases this summer? Check out these great reads below. While you're at the market, come visit a Manna table (look for the bright red tablecloth) at farmers markets all over Montgomery County!
Root to Stalk Cooking: The Art of Using the Whole Vegetable by Tara Duggan (have this on my shelf!)
The Southern Vegetable Book: A Root-to-Stalk Guide to the South's Favorite Produce by Rebecca Lang
Root to Leaf: A Southern Chef Cooks Through the Seasons by Steven Satterfield
Vegetable Literacy: Cooking and Gardening with Twelve Families from the Edible Plant Kingdom by Deborah Madison
Waste-Free Kitchen Handbook: A Guide to Eating Well and Saving Money By Wasting Less Food by Dana Gunders
Lindsey here. Something special about Manna is that we promote "caring for those who care". If you've ever served in a caregiving capacity for a loved one, you know that the caretaker's own well-being is not always a priority. Likewise, at Manna we are bustling around in the business of distributing food each day—the need is always urgent. Stopping for a wholesome lunch or brisk walk doesn't feel as pressing.
It's why we started MORE at Manna, a program to encourage wellness among our Manna teammates. MORE stands for Movement, yOur health, Relaxation, and Education. For two years, we've invited dietitians, boxing instructors, fitness pros, and yoga teachers to join our staff for interactive "Lunch and Learn" sessions. We also run staff-wide competitions for most steps, drinking water, and eating more fruits and veggies. Last month, Jenna and I hosted a 21-day "Eat the Rainbow" Challenge.
Did you know that eating all colors of fruits and vegetables give our bodies maximum nutrients? Each color of fruit and vegetables provides unique, essential health benefits. We challenged our colleagues to eat at least one serving of produce from every color every day! Next week, we celebrate the winners. (One staff member ate 211.5 servings of produce in 21 days!)
How many colors have you enjoyed today?
Lindsey here, sharing another round of my Notes from the Nutritionist: a series of kitchen tips we include in each Manna box to help families produce healthy, home-cooked meals.
Now, raise your hand if this has ever been you:
Spot drool-worthy food photo.
Glance / scroll down to discover accompanying recipe.
Vow you are going to attempt this life-changing recipe in Your Very Own Kitchen.
Check out the ingredient list, note the recipe calls for more than eight spices.
Slump head in discouragement.
Reheat leftovers instead.
I've got you covered…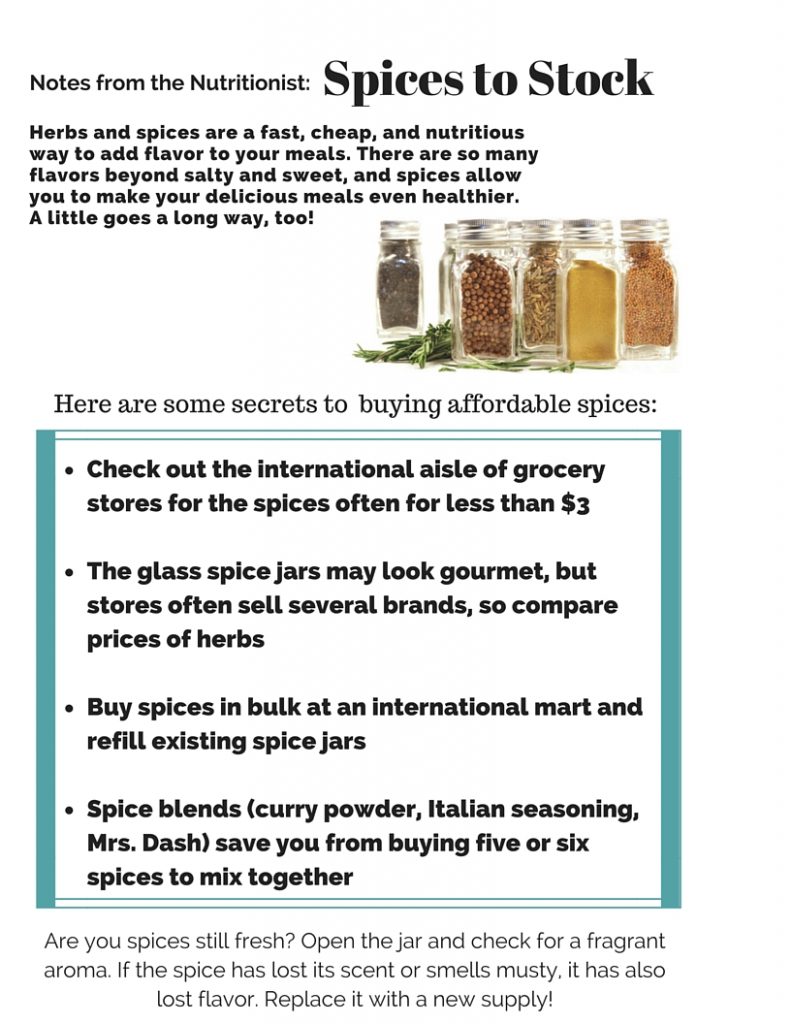 Spices are a fantastic way to throw together a quick, wholesome, flavor-packed meal. Price doesn't have to hinder every part of eating healthy. Hope you enjoyed Part II of our last blog post, The Prepared Pantry, with these remarkably simple tips to improve your spice rack this week.
Lindsey here. After being snowed in at home for four straight days, making meals from every canned bean and frozen vegetable I could combine, I got to the grocery store yesterday. Even after the winter storm has settled, some grocery shelves are still emptier than usual.
Having a stocked kitchen cupboard is not only your key to snowed-in sanity, but also a time and money-saver. When money is tight at the end of the week or the end of the month, stocked ingredients can turn your pantry items into a substantial, appetizing meal.
I developed this infographic for our Notes From the Nutritionist series: kitchen tips we include in each Manna box to help families produce healthy, home-cooked meals.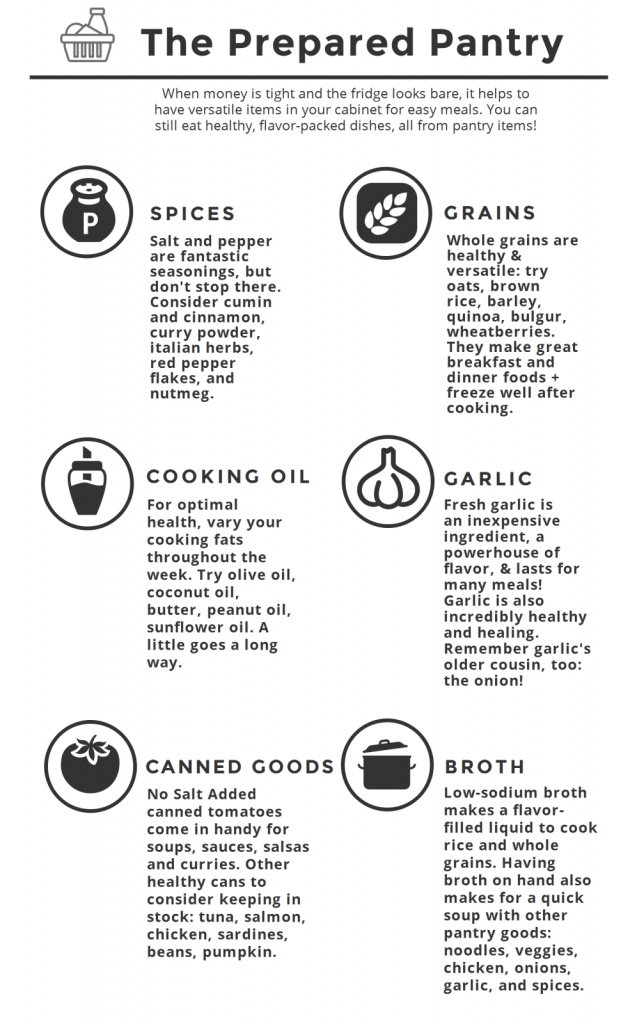 Want to learn more about reading food labels and shopping for the healthiest pantry items on a budget? Come to one of our grocery store tours around Montgomery County, just contact me at Lindsey@mannafood.org
Lindsey here. Did you know that FOOD DAY began in 1975? When I first heard of a designated FOOD DAY, I'll admit: I thought it was just another excuse for foodies to get together to celebrate balsamic reductions, kale chips, quinoa, and squash bowls.
While I, too, find food glorious and glamorous, I work at Manna Food Center, where pallets piled high with hundreds of pounds of butternut squash and onions and cabbage make veggies feel, well, far from trendy. Food is this whole "thing" now, especially to millennials like myself. Eating is not merely a physiological obligation, it is a pastime to be tweeted and instagrammed, shared and envied.
There are magazines and television networks and podcasts making a big deal out of food. And while, even as a foodie, I can tire of the 'Ten New Ways To Cook Tomatoes' posts, I am glad there is an increasing conversation around food. Because food is a big deal, and how we share it is even bigger. There are many ways, big and small, we can help improve food access and food quality; and many stories that illustrate why we should:
Through Manna, I meet individuals who cannot afford food for the month. I hear the firsthand account of an elderly man who makes a single can of sliced green beans last for four meals. I listen to a voicemail from a mother who did not have enough food for the entire family to last the weekend, until her daughter brought home brown rice and oatmeal and canned produce in her Smart Sacks bag. At the Clarksburg Farmer's Market last month, I met a farmer whose crops didn't respond to this summer's weather and faces financial loss as a result.
While food has become a source of exploration, experimentation, and joy in my own personal life, at my day job I'm often reminded that food is always a serious matter. It turns out, FOOD DAY is, too; it's about improving our diets as well as our food policies. October 24 is a day to resolve to make changes in our own diets and to take action to solve food-related problems in our communities at the local, state, and national level. In 2015, Food Day's theme is "Toward a Greener Diet." FoodDay.org says, "Eating Real can save your own health and put our food system on a more humane, sustainable path. With America's resources, there's no excuse for hunger, low wages for food and farm workers, or inhumane conditions for farm animals."
Although October 24th has passed, every day is truly "food day" at Manna Food Center, where we take steps to end hunger through food distribution, education, food rescue, and advocacy. Surf our site to find out how we're working towards change, and how you can take part.