Family Meals Month Means Chips? Why not!
Lindsey here. September marks Family Meals Month, encouraging people to set aside time at least a few days a week to convene the family around a home-cooked meal. Research shows that when families eat together, it's better for kids'–and parents'–emotional well-being, performance, and diet.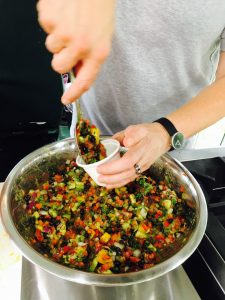 The simplest way to ensure a nourishing meal is to step back and look at the whole plate: do the foods on it have at least three (naturally-occurring) colors? A color-filled plate is an easy way to determine you're providing an array of vitamins and minerals.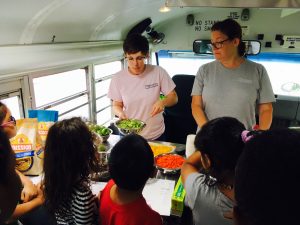 What if I told you that I witnessed 16 kids, ages 8-10, gobble up raw peppers, avocado, and black beans and come back for third helpings? It happened this summer on Manny the Mobile Kitchen.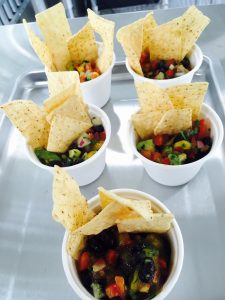 Too little time?
Get kids to help. They can stir, grate, pour, mix, tear, wash, toss, set the table, and clean up as you go along.
Worried about picky eaters?
Taking a little something familiar (like a low-salt tortilla chip) is a great way for kids to try new flavors and textures. It certainly worked with this simple, wholesome recipe from Common Threads.
Too much work?
Make a taco bar! Everyone can pile this wholesome salsa onto their chicken, fish, whole-grain tortilla, or brown rice (hint: instant brown rice cooks perfectly and helps weeknights). Each eater customizes, they can sprinkle on their own scallions, shredded cheese, plain yogurt, chili flakes, etc. That way, each person at the table can decide which foods they want touching.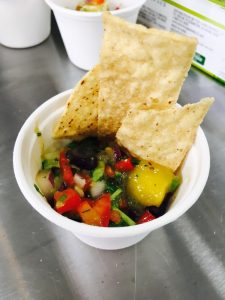 Prioritize time together, and keep meals happy. Use the time to focus on the positive, and what interests kids. Include them in discussions about your community, get their take on the news. If you're stuck, here's a few ideas:
If you could have any super power, what would it be and why?
If we could go anywhere you wanted on vacation, where would you choose? Why?
When do you feel the most proud of who you are?
Bon appetit!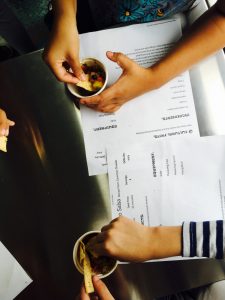 Black Bean Mango Salsa
from Common Threads, kid approved!
Lindsey's trick: frozen mango is ripe, affordable, and pre-chopped
15 ounces black beans

1 mango

1 red bell pepper

1/3 red onion

1 bunch cilantro

2 lime

1 large avocado
1. Drain the can of black beans
2. Peel the mango and chop it along with the bell pepper and red onion
3. Add freshly chopped ingredients to the black beans
4. Chop the bunch of cilantro and add to top of mixture
5. Squeeze the two limes over the mixing bowl
6. Cut the large avocado into small pieces and mix into the mixing bowl
7. Serve the black bean mango salsa and enjoy!
Lindsey here. Once upon a time, Manny the Mobile Kitchen was a humble school bus, toting 72 kiddos to and from school. He looked like this.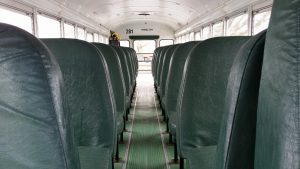 These days, this school bus is taking kids' taste buds through the rainbow of wholesome foods.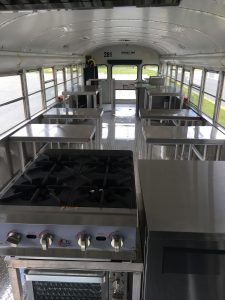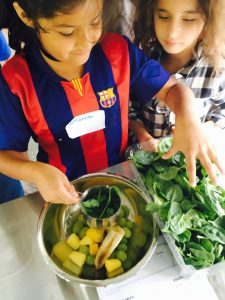 Sixteen youth at Gaithersburg Elementary participated in the pilot program aboard our Manna Mobile Kitchen. We partnered with Common Threads to implement their program, Small Bites, an eight-day class that teaches kids the basics of nutrition in a way that integrates science experiments, reading, and math. For the second half of the class, students engage in hands-on, knife-free food prep making healthy snacks.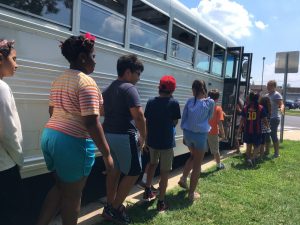 Dishes included Strawberry-Pineapple Agua Fresca (as an alternative to soda), Mango-Lime Yogurt Parfaits, Sneaky Green Smoothies, and Mango Salsa.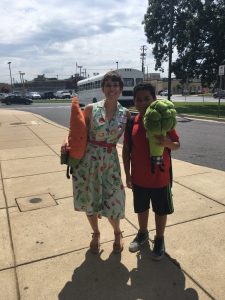 Along with a team of enthusiastic volunteers, we also integrated fitness activities and trying new foods with bell pepper tastings and seed tastings.
By far the most popular dish was our roasted cauliflower! One parent shared how she and her daughter went to the store together to purchase cauliflower after this particular class. She even got her big brother (13) to try and enjoy roasted cauliflower, too.
Manny the Mobile Kitchen will also serve as a Pop-Up Pantry to bring fresh produce to underserved neighborhoods. I hope you'll join us for an opportunity to visit this special new addition to Manna. Climb aboard to enjoy the culinary classroom experience for yourself, plus a tasty sample, on Saturday September 16th. Details here. Hope to see you there!
We know from Montgomery County's Food Security Plan that families are not accessing or consuming enough vegetables.  As you likely know, vegetables really drive Nutrition Education: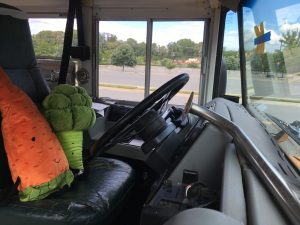 Manna's Mobile Kitchen & Pop-Up Pantry is a new program designed to tackle two barriers at once by bringing nutritious foods and cooking skills to our community. The MMK is an extension of Manna's focus on innovative, participant-centered approaches to eliminating hunger.
Programming will encourage increased fruit and vegetable consumption, greater acceptance of new, nutritious foods, and encourage lifelong skills like math and teamwork. Our pilot program starting this July utilizes Common Threads Small Bites curriculum, which ties youth culinary skills to Common Core academic skills.
Here's where the kids will be cooking:
Our participants often faced transportation barriers to accessing licensed community kitchens where Manna taught classes in the past. We will travel to high-need schools and apartment complexes to teach youth, seniors, and adults at risk of food insecurity.
Upon finalizing permits and exterior wrap designs, the MMK will begin community programming in July 2017.
How can I get involved?
This innovative new program will depend on generous support from the community to fund outreach moving forward.
Corporate Sponsorship opportunities are available. Click here for details.
This school year the MMK will offer educational opportunities to some of the 30,000 elementary students in the Montgomery County Public Schools eligible for free and reduced meals. Our culinary classroom on wheels is an innovative solution to increase access to nutrition education and nutritious foods in Montgomery County.