Weekend Bags
Bags of food available for all Montgomery County children, MCPS students, and their families. No referral or ID required.
Fridays – 11am – 1pm
See details below.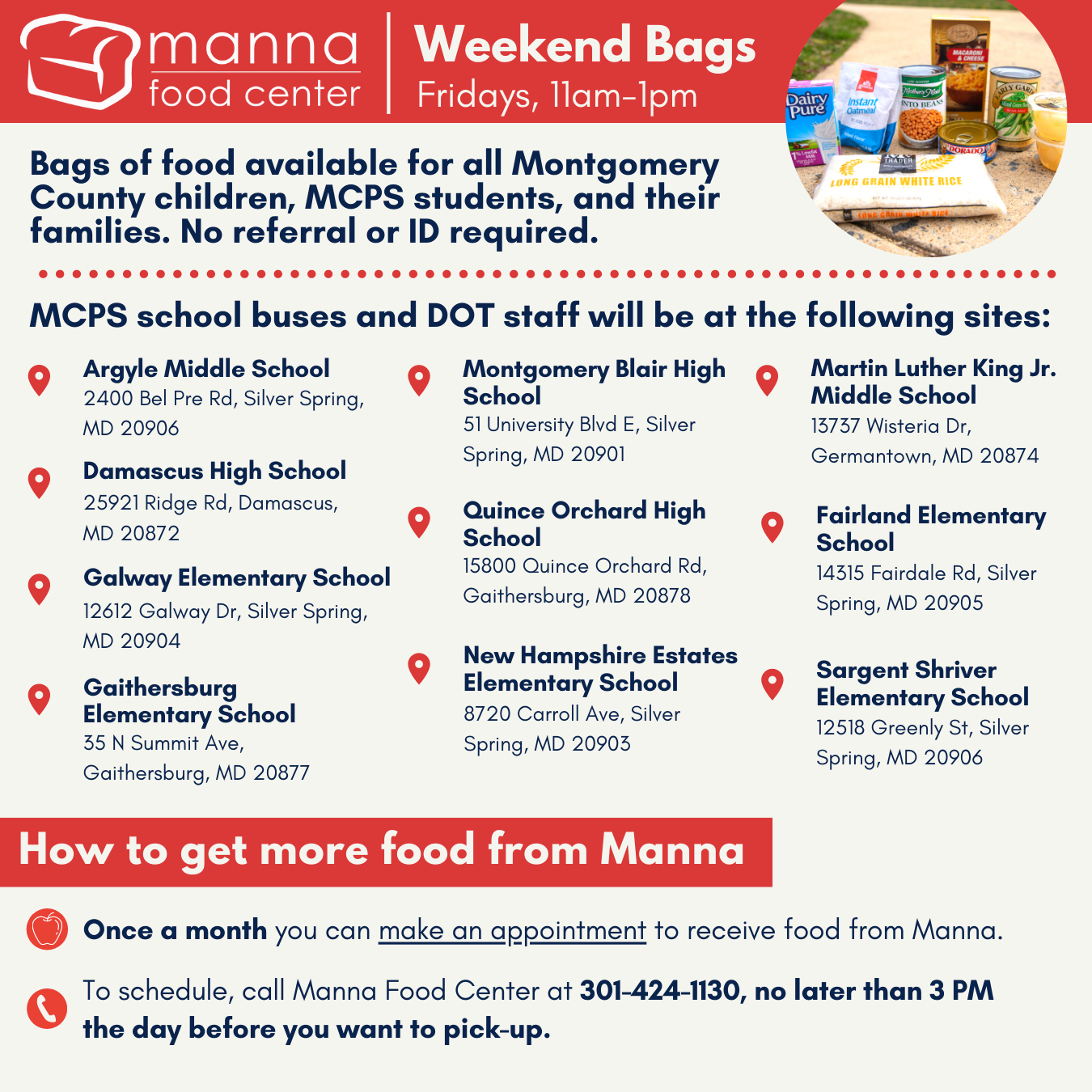 FOR IMMEDIATE RELEASE: September 16, 2020
Contact: Catherine Nardi, Programs Manager, Montgomery County Food Council
301-664-4010, cnardi@mocofoodcouncil.org
Montgomery County is Now Accepting Applications for its Farm to Food Bank Capacity Building Grant program.
$200,000 in grants will be awarded to assist Montgomery County-based food producing farms with the purchase of equipment, and/or to build food production capacity and infrastructure in order to contribute to the Montgomery County Farm to Food Bank program in 2021. Montgomery County farms can apply for up to $20,000.
Applications for the grants are due by noon on Wednesday, September 30, 2020, and funds will be distributed beginning Tuesday, October 13th 2020. Grant awards are funded by Federal CARES Act funding that was appropriated by the County Executive and Montgomery County Council to address local food insecurity during the COVID-19 pandemic, Manna Food Center, and Food for Montgomery, a fund of the Greater Washington Community Foundation. 
A panel of local food security and agriculture experts will review the applications and determine grant awards. Grant applications will be reviewed on criteria that includes requests in the priority area such as food production equipment and infrastructure, and the ability of the farm to increase the quantities of culturally appropriate food being provided to local food assistance organizations, to enhance gender/racial/ethnic diversity within the agricultural producer community, and to engage in sustainable farming practices. Manna Food Center is the administrator for the program and will make the funding awards.
To submit an application and learn more, visit the Food Council's website at www.mocofoodcouncil.org/f2fbapp/.  If any farm cannot complete the application online or requires the application be provided in a language other than English, please email Catherine Nardi at cnardi@mocofoodcouncil.org.  An information session will be held via Zoom on Monday, September 21st from 9-10am for interested applicants.
The  Montgomery County Food Security Task Force was established by the Montgomery County Office of Emergency Management and Homeland Security in early April 2020 as a response to the increased demand on food assistance providers during the COVID-19 pandemic, with the mission to increase the volume of food in the food assistance system, improve access to food by building the capacity of the food assistance network and food production sector, and to communicate information to residents on available resources and ensure residents are connected with available resources.
One of more than a dozen strategies implemented through the Task Force was the Montgomery County Farm to Food Bank program, which seeks to:
Provide fresh, sufficient, nutritious, and diverse produce to food assistance recipients in Montgomery County.
Support Montgomery County farmers, create new market opportunities for farm products, and develop new purchasing partnerships with local farms/farmers to ensure a sustained and resilient food supply for 2020-2021 and beyond.
Reduce food waste by procuring products based on shelf-life, broadening distribution of local farm products to additional County providers, and establishing a secondary sales market for these local products.
The Montgomery County Farm to Food Bank Program is a partnership between the Montgomery County Food Security Task Force, the Montgomery County Food Council, the Montgomery County Office of Agriculture, Manna Food Center, and the Greater Washington Community Foundation.
For the latest COVID-19 updates, visit the County's COVID-19 website and follow Montgomery County on Facebook @MontgomeryCountyInfo and Twitter @MontgomeryCoMD.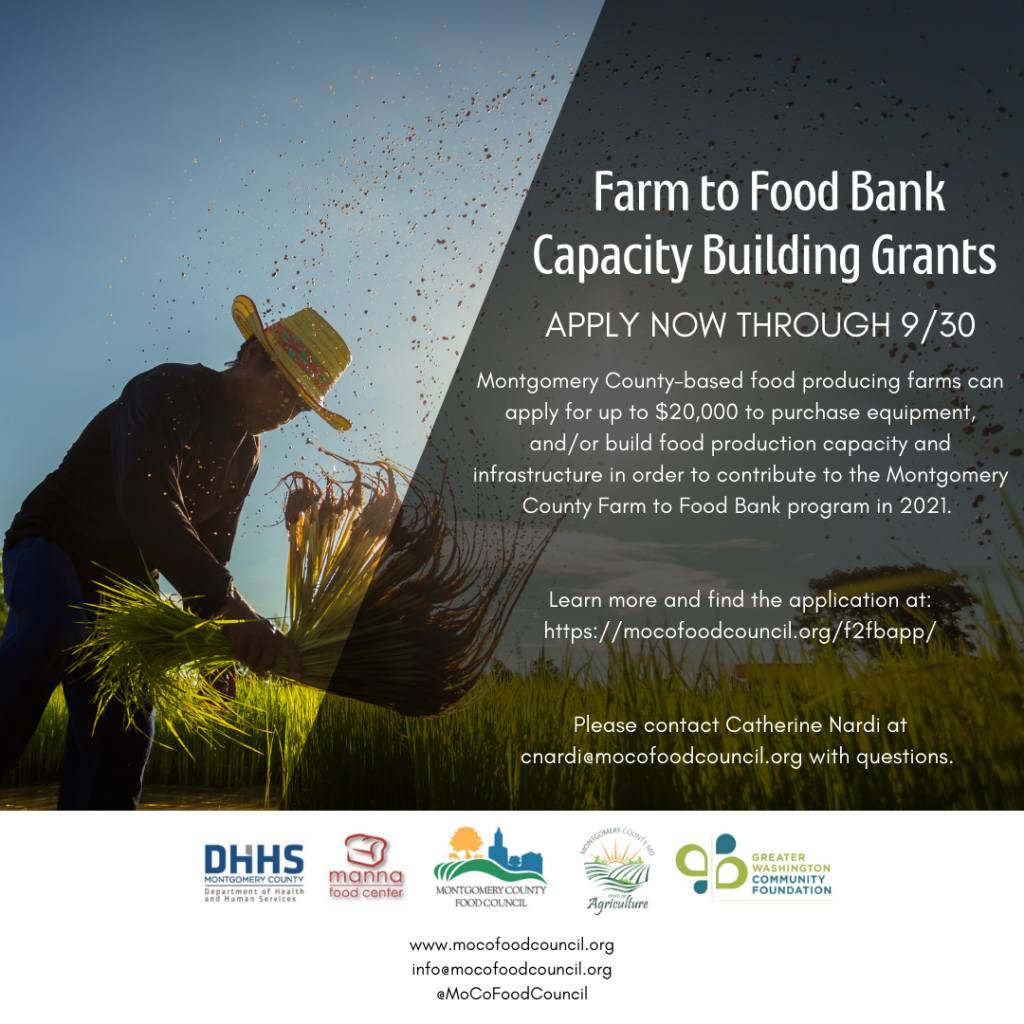 FOR IMMEDIATE RELEASE: August 11, 2020
Contact: Sam Miller, Communications Manager, Manna Food Center
301-509-8440, samantha@mannafood.org
New Farm to Food Bank Investment Set to Strengthen Montgomery County Food Economy, Fill Nutrition Gap for Residents Experiencing Hunger  
Today, the Montgomery County Farm to Food Bank program — a partnership between the Montgomery County Food Security Task Force, the Department of Health and Human Services, Manna Food Center, the Montgomery County Food Council, and the Montgomery County Office of Agriculture — announced an initial investment of over $200,000 in local farms to support a sustained and resilient local food supply and provide more nutritious and culturally diverse produce to residents who experience hunger.
Since March, food insecurity in Montgomery County has increased by 50%, with over 100,000 residents receiving food assistance. In June, 86% of food assistance providers shared that they did not have sufficient supplies of fresh produce to distribute to clients. "This program brings a critical systems approach to the Food Security Response Strategy, supporting small businesses while promoting food security, and enhancing connectivity and self-sufficiency in our County's food system," stated Heather Bruskin, Executive Director of the Montgomery County Food Council.
With County funding provided through the Montgomery County Food Security Task Force, Manna Food Center will serve as the program administrator to purchase roughly 100,000 pounds of produce during the first phase of the program, which runs through November 2020. Manna will distribute corn, tomatoes, squash, potatoes, berries, and other produce to a network of County food assistance providers and directly to its own clients, reaching at least 20,000 people who experience hunger. "Everyone deserves access to fresh fruits and vegetables, yet that's not the reality for many of our neighbors," said Jackie DeCarlo, Chief Executive Officer of Manna Food Center. "Investing in our local farmers to help fill the fresh produce gap is an important step toward a more just, secure, and sustainable local food system, and we're proud to play our role in this partnership."
The first phase of this new program investment will include partnerships with 8+ local farms. Farms participating in Phase I of the program include: Butler's Orchard, Dodo Farms, Lewis Orchards, Metro Microgreens, Sandy Spring Gardens, and The Farm at Our House. Phase II of the program, which will begin in the fall, will establish a grant program for farmers to receive capacity-building funding in exchange for a commitment to provide product to the program in 2021.
"The market rate for high-quality farm products is typically too prohibitive for food assistance providers to accommodate in their purchasing budgets," said Mark Hodge, Assistant Chief Operating Officer at the Montgomery County DHHS and DHHS lead for the Food Security Task Force. "However, the pandemic has left many local farms with excess produce, which instead of going to waste can be redirected to feed local residents."
Beyond serving the needs of county residents who experience hunger, this Farm to Food Bank investment will preserve the economic sustainability of local food producers, increase the nutritional value of food consumed close to its harvest date, and reduce the negative environmental impact of long-haul food transport, while fostering long-term increased local food production and procurement, which are key pillars of building Montgomery County's food system resilience. "This program is a fantastic opportunity for farmers in Montgomery County, especially those financially impacted by the pandemic, to provide local food to our community while meeting their bottom line," said Jeremy Criss, Director of the Office of Agriculture.
The Montgomery County Food Council, Manna Food Center, and the Office of Agriculture express their appreciation to the Montgomery County government and Food Security Task Force for allocating the initial funding to support this program from July 2020-November 2021. They also thanked the local table crop farming community for their ongoing dedication to providing nutritious, locally produced food to all Montgomery County residents.
MLK Weekend Food Drive Brings In 27,000 Pounds of Food
Elected officials serve alongside Manna volunteers for the second year in a row.
(Silver Spring, Maryland) – Manna Food Center (Manna) collected a total of 27,088 pounds of food during the MLK Service Weekend Food Drive held on January 18th and 19th 2020 at nineteen participating Giant Food stores in Montgomery County.
"In what is becoming a special annual tradition, elected officials and volunteers came together to honor the spirit of Dr. King throughout this weekend of service," said Jackie DeCarlo, chief executive officer for Manna Food Center. Even though temperatures were below freezing for part of the weekend, the food drive was still a huge success. Public Allies AmeriCorps member Isaac Manchego came out to volunteer at the White Oak Giant on Sunday afternoon. "There were so many moving parts that had to align in order for this event to run smoothly," said Manchego. "It was really inspiring to watch all the different members of the community come together to help those most in need."
The 13.5 tons of food will help stock Manna's shelves for Montgomery County neighbors in need. As many as 63,000 residents live with uncertainty around food for themselves and their family. Food will be distributed to participants through more than a dozen distribution sites.
More than 200 Manna volunteers and 24 elected officials collected food items from shoppers throughout the weekend of service. Certificates of Recognition will be distributed to the top five Giant Food stores. This year's challenge winner was Kentlands, where volunteers collected 2852 lbs. of food donations, followed by Cabin John (2716 lbs.), Westfield Wheaton (2514 lbs.), Leisureworld (2244 lbs.), and Olney (1924 lbs.).
Participating elected officials included:
U.S. Representative Jamie Raskin
State Senator Jeff Waldstreicher
Maryland House of Delegates

Al Carr
Lorig Charkoudian
David Fraser-Hidalgo
Marc Korman
Lesley Lopez
Sara Love
Julie Palakovich Carr
Lily Qi
Pamela Queen
Kirill Reznik
Emily Shetty
Jared Solomon
Vaughn Stewart
Jheanelle Wilkins

Montgomery County Council

Gabe Albornoz
Andrew Friedman
Will Jawando

Gaithersburg City Council

Mayor Jud Ashman
Michael Sesma
Laurie-Anne Sayles
Ryan Spiegel

Rockville City Council
Notes from the CEO – Jackie DeCarlo
With Thanksgiving falling late in November, it feels to me like we celebrated one holiday and then, with the quick turn of the calendar page, we are in a whole new season already! I hope you had a chance to pause and savor an abundant and tasty Thanksgiving. As a Manna Food Center supporter, you can be assured that thousands of your neighbors were grateful for the services Manna provides. One woman left our marketplace Thanksgiving Eve saying to me, "Thank you, thank you, thank you…you just don't know what this means. You just don't know." I want YOU to know that because of your generosity, Manna Food Center was able to offer good food in welcoming spaces to everyone who turned to us—1,158 people Thanksgiving week alone!
Last Tuesday was another celebration — Giving Tuesday. We celebrated giving back to the community and many of you showed their generosity with financial donations to Manna Food Center. Your support helps us replenish our shelves and fill our fridges with food. Your donations also make it possible for us to educate neighbors on how to prepare healthy holiday meals (Link to Cynthia's blog post) and open our spaces to groups sharing skills such as GED tutoring, breast-feeding tips for new moms, and English language learning for adults.
The Giving Tuesday holiday also means the clock is ticking for end-of-year contributions. Depending on your age, your tax status, and other circumstances, there may be financial incentives to gifting required-minimum distributions or other contributions to Manna Food Center. Some individuals and families designate donations from
Donor Advised Funds
at the end of the year. (Link to Manna page as appropriate). Last month
we shared tips from Rebecca Rothey
, Vice President of Development and Senior Philanthropic Advisor at the Greater Washington Community Foundation. If you didn't have a chance to act with those tips in mind, now is the time to do so!
However you chose to give
, on behalf of the Manna Board, staff, and volunteers I want to thank you for giving us so much. As we gear up to end the year strong, I am so aware we could not serve without you. Thank you for being part of our team as we create together a community where there is Food for All.
It's the holiday season and along with chillier temps come requests from Manna to you, members of the community, to participate in food drives to stock our shelves and, in turn, our participants' pantries.
As our warehouse gets filled with cans of vegetables (low sodium, please!)  and boxes of pasta (whole grain, please!) we express our gratitude to the Manna drivers who transport bins of food around the County. We give thanks to the shoppers for generously choosing to purchase a little extra to share with a neighbor. We are grateful to the grocery store staff for hosting and advertising our drive, and the corporate level executives who encourage individual stores to get involved in charitable acts. 
We seldom follow this thread of appreciation back to the people who first planted the wheat or put the seed in the ground. Yes, it may be large scale operations that bring the bulk of the food to grocery store aisles and often many stops between the soil and the dinner plate, but there is always a farm and farmworkers to ultimately thank for food making its way to our plates. 
Manna's Farm to Food Bank program recognizes highlights and supports the farmers that ensure food security in this region through direct purchasing. We are fortunate to have close relationships with four County-based farms: Red Wiggler Community Farm, One Acre Farm, Sandy Spring Gardens and Chocolates and Tomatoes Farm.   
These farmers (Woody Woodruff, Michael Protas, Tom Farquhar and Mark Mills, respectively) commit to cultivating a portion of their fields each season for Manna to share with County residents. Partnerships with county-based farmers markets allow us to expand our scope to regional producers from Pennsylvania, Virginia, and other parts of Maryland. Vegetables not sold at the end of the market are passed along to Manna for a fraction of the cost.  
The City of Rockville market, Central Farm Markets, and the Olney Farmers and Artists Market had dozens of vendors participating this year. Customers at each market supported participating vendors through cash donations supplemented by County grant funds.  
We want to take a moment now to thank the many hands that grew and harvested nearly 114,000 pounds of greens, squash, tomatoes, peaches, and apples that ended up on the plates of thousands of Manna participants between June and November.  We encourage you to amplify our gratitude by purchasing products from these farms and our participating vendors at these farmers' markets.  As Wendell Berry said, "Eating is an agricultural act."  Let's not forget to thank all the actors that keep us eating all year round.  
Celebrating an Apple's Journey from Farm to Table 
This year's Manna Food Center's Community Food Rescue Week Oct 20-26 demonstrated how our community is feeding more and wasting less with five public events.   
CFR Week's aim is to raise public awareness about food waste, hunger, and food recovery in Montgomery County. This year's events thanked CFR network members, expanded the CFR network, celebrated our accomplishments, and reinforced our close ties with supporters and partners. 
The common thread of each event followed post-commercial harvest apples along their journey– gleaned at the orchard, distributed to neighbors in need, cooked into delicious apple crisp, and sampled at events. CFR week finished with a composting demo to show how even food scraps can be used to enrich the earth. Read on for highlights of each event.  
Gleaning Apples at Butler's Orchard 
Montgomery County Master Gardeners and GSK volunteers joined us at Butler's Orchard, our event co-host and CFR network food donor, to glean apples. Most of the 1,200 pounds of gleaned apples were distributed to CFR network food providers that serve neighbors experiencing hunger. The rest were baked into apple crisp at the Cooking with Recovered Food Event. 
Cooking with Recovered Food 
Following gleaning at Butler's Orchard, we joined with co-hosts Silver Spring United Methodist Church, STEP Chef Scott Ulen, MoCo Food Council and KindWorks volunteers to cook gleaned apples into apple crisp. Using recovered food, we cooked other delicious dishes from recovered food such as crostini with greens and fall grain salad. The 100 prepared meals were donated CFR network member, the Montgomery County Coalition for the Homeless. We also prepared appetizers and apple crisp that were served at other Community Food Rescue Week events.  
CFR Happy Hour 
Foodies and food advocates mixed and mingled at True Respite Brewery to discuss our local food system, promote food security and fight food waste. We recognized CFR volunteers and this year's CFR mini-grant awardees. Attendees enjoyed True Respite's beer, wine, kombucha, and soda that accompanied delicious appetizers and dessert made from Butler's Orchard gleaned apples and recovered food at a CFR Cooks! Event earlier in the week.  
No Waste, Big Taste Cooking Competition 
Our No Waste, Big Taste cooking competition drew a large crowd at the Silver Spring Fresh Farm market. The event pitted two CFR member donors—PLNT Burger and Matchbox against each other to see who could best use mystery donated and rescued ingredients from the Manna warehouse and market vendors. In two quick rounds they each created an incredible appetizer and main dish.  Jenna Umbriac, Manna Director of Programs, emceed the competition and kept the crowd's rapt attention with chef, sous-chefs, and judge interviews, and trivia questions to the audience about Manna, CFR, hunger, food waste etc. Farm market attendees were treated to samples of the above– mentioned apple crisp as they learned about CFR.  
Koiner Farm Tour and Compost Demonstration 
Koiner Farm, the only urban farm in Montgomery County welcomed us along with Bethesda Green, the Montgomery County Food Council, the Compost Crew, and the Montgomery County Department of Environmental Protection. Each organization shared their connection to our food system, starting with how food is grown to how food scraps are turned into compost.  Attendees learned how to reduce food waste at home while enriching their gardens and the environment by composting food scraps.   
For more highlights visit: CFR Website www.mocofoodrescueweek.org. Community Food Rescue Week happens once a year, but volunteers are needed all year round. Visit www.communityfoodrescue.org to learn how you can feed more and waste less. 
Planning to take your Required Minimum Distribution early? You may want to consider making charitable donations through a Qualified Charitable Distribution* (QCD). A QCD is a direct transfer of funds from your IRA custodian, payable to a qualified charity. QCDs can be counted toward satisfying your required minimum distributions (RMDs) for the year, as long as certain rules are met. 
In addition to the benefits of giving to charity, a QCD excludes the amount donated from taxable income, which is unlike regular withdrawals from an IRA. Keeping your taxable income lower may reduce the impact to certain tax credits and deductions, including Social Security and Medicare. 
Also, QCDs don't require that you itemize, which due to the recent tax law changes, means you may decide to take advantage of the higher standard deduction, but still use a QCD for charitable giving. 
Can I make a QCD? 
While many IRAs are eligible for QCDs—Traditional, Rollover, Inherited, SEP (inactive plans only), and SIMPLE (inactive plans only)* —there are requirements: 
You must be 70½ or older to be eligible to make a QCD.

 

QCDs are limited to the amount that would otherwise be taxed as ordinary income. This excludes non-deductible contributions.

 

The maximum annual amount that can qualify for a QCD is $100,000. This applies to the sum of QCDs made to one or more charities in a calendar year. (If, however, you file taxes jointly, your spouse can also make a QCD from his or her own IRA within the same tax year for up to $100,000.)

 

For a QCD to count towards your current year

'

s RMD, the funds must come out of your IRA by your RMD deadline, generally December 31.

 
Any amount donated above your RMD does not count toward satisfying a future year's RMD. 
Funds distributed directly to you, the IRA owner, and which you then give to charity do not qualify as a QCD. 
*Ask your financial advisor for more information 
Editor's Note: The following are remarks from Manna CEO Jackie DeCarlo at the Universities of Shady Grove "Ingredients for Change" event with Chef Jose Andres on Thursday, October 28, 2019.
I'm already a big fan of USG and to see alum involvement continues to impress.  I'd like to thank Chef Susan Callahan of the Hospitality Program who has been a long-standing partner of Manna Food Center.  Most recently she has helped us feed more people by wasting less food through our Community Food Rescue program.  Also, I want to give a shout out to Director of Administration, Jessica Nardi, who serves on Manna's Board of Directors.  I am also extremely honored that the Center for Student Engagement, Director, Andrea Milo, included me and Manna Food Center in today's events.
Of course, it is a bit intimidating to be the warm-up act for such a famous chef and hero like Chef Andres.  While I love to eat and I'm committed to ending hunger, I'm no cook.  In fact, my idea of a sous chef is to ask my spouse to heat up a burrito in the microwave.
But, fortunately, we do have a couple of things in common.  We both lead not-for-profit organizations focused on not only feeding hungry people but also reforming food systems.  We've both been privileged to travel around the world to try to be of service to communities in need and to respond to emergencies here at home.   We both know how essential volunteers are to responding to crisis and to offering hope and hospitality to their neighbors.  At Manna Food Center, in fact, if you add up all the hours volunteers serve in a year, it totals 35 full time staff, more than doubling our capacity last year to reach the 34,210 neighbors we served.
Today, I've been asked to help USG students and guests to contextualize the information and inspiration we are about to hear from Jose Andres.   What I'd like to suggest is that as you listen ask yourselves some questions as you hear the stories and statistics.
Here in Montgomery County, for example, an estimated 63,000 neighbors don't always know where their next meal is coming from.  In fact, more than 50,000 students in MCPS receive meals at schools. On the other end of the spectrum, more and more seniors are aging into poverty.  People like Bella, who called me recently to thank me for the friendly reception she receives at our pantry in partnership with Colesville Presbyterian Church.  Other people who turn to Manna include the working poor—people who work hard but can't make ends meet. Those neighbors constitute at least a third of the people Manna serves.  So I'd like you to ask yourself:
Do I need to reach out to receive food?
Before you shrink back with the idea of receiving "Charity" let me share that I understand a little bit about how hard it is to be a college student. In undergrad, I was helped by Pell grants, student loans, personal loans, and a single mom who worked two jobs.  I know a lot of USG students juggle studies with jobs.  That's why USG in partnership with Capital Area Food Bank offers a mobile market once a month.  On a daily basis, thanks to the service of an AmeriCorps member, there is a pantry called Grover's Essentials.  On November 6, Manna's Pop Up Pantry (who we nick-named Manny) will be visiting this campus to offer tips on how to prepare tasty, healthy food on a budget.  Take it from me, and I suspect the Chef will agree, there is no shame in accepting help.  In fact, receiving support boosts your chances of a brighter future. You'll have the energy and focus to study, you'll be less likely to fall prey to diet-related disease, and when you are self-sufficient you'll have a deeper empathy for those who fall on hard times.   There are a range of organizations across the county who are ready to serve.  The Montgomery County Food Council has an on-line directory that lists the locations, hours of operation, and more.
Another question to ask yourself as you listen is what part of the Chef's story would you like to replicate?  Is it volunteering your time?  Starting a social enterprise?  Montgomery County is an excellent place to offer your time and your talent and to innovate.  Our Volunteer Center is a great clearinghouse for all different kinds of ways you can pay it forward or give it back.  And not just with food, you can offer comfort to cancer patients, confront climate change, organize against gun violence.  If you have a passion there literally hundreds of local, regional, and national nonprofits that will welcome your time and talent.  If you ARE into food, organizations like Manna and our partners have opportunities like stocking shelves at our warehouse, assisting with nutrition education classes, answering phones–especially if you are bi or tri-lingual– holding food drives, acting as food runners using our mobile app, and preparing meals in our commercial kitchen.
Finally, ask how you can bring your values into your current or future workplace.  Maybe you don't want to be a chef OR a not-for-profit executive, you don't have time to volunteer. Even so, you can make an impact.  Whether you are studying business, cybersecurity, public health or bio-tech, you'll be working in institutions.  Institutions need people who bring not only their talents and skills to work every day but also their values and commitments.  Seek out and find institutions already committed to corporate social responsibility, such as Marriot International, and urge them to do more.  Or, if you somehow land in a place that doesn't have a corporate volunteer program or is behind the curve on sustainability, step up and show them how it is done.  Today, you'll get lots of ideas for making things happen in whatever sphere you operate in.
I suspect you turned out today not only to hear from a celebrity but to learn from a role model.   Listen up and consider how today and tomorrow you can follow the chef's lead and become a hero for those around you.
So please join me in welcoming to the Universities of Shady Grove, the newly minted #19 of the Washington Nationals, Jose Andres.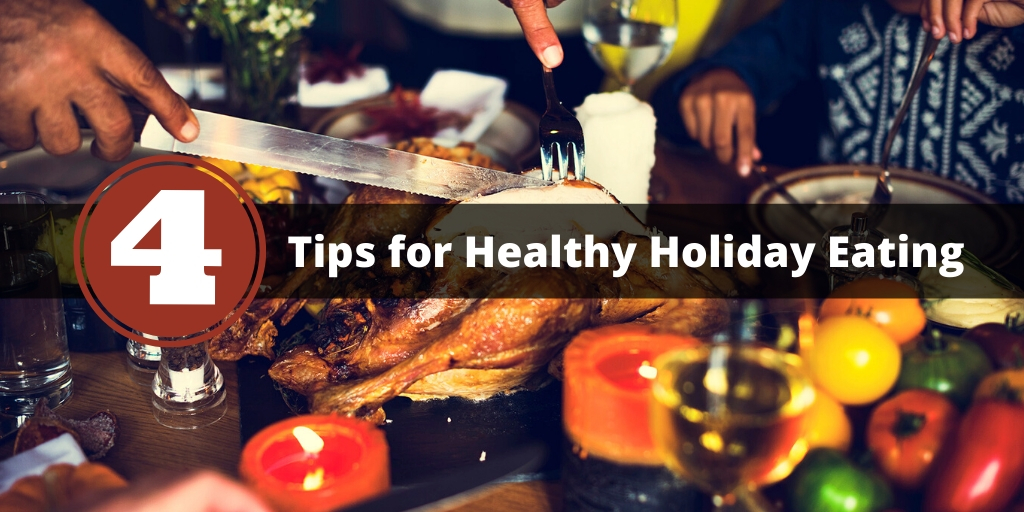 The holidays are coming up and one of the most notable (and best!) attributes of this season is all the yummy food that isn't necessarily good for us. How can we enjoy some of the great food and still keep our health intact?
Tip #1
Mentally commit to eating a little bit better than you did last year. This could be eating a little less or a little more of the healthy stuff that is provided. If you commit to it mentally you are more likely to follow through physically.
Tip #2
Take a favorite food and add some health benefits to it. Maybe in the mashed potatoes, you experiment with adding mashed cauliflower or add a few dashes of turmeric to your mac and cheese. Most of the time you won't even notice a difference and you just boosted the health factor of that food.
Tip #3
Eat throughout the day instead of starving up until the meal. This way you may not feel the need to eat as much since you're not as hungry. One thing I try to keep in mind, and this may not work if you have a huge family that you spend the holidays with, is that the food will not disappear if I don't eat it at that second. You can always put away what you did not have time or room to eat.
Tip #4
Get your veggies in early. Start your meal off with a salad, soup, or veggie plate so that you know you've eaten your veggies. When you feel satisfied you don't have to worry that you didn't eat anything health because that was the first thing you did.
Bank of America Announces 2019 Neighborhood Builders® Grants to Manna Food Center and National Housing Trust
Each non-profit to receive $200,000 grant
Bank of America has supported 32 Neighborhood Builders with $6.4 million in grants in Greater Washington DC since 2004
Washington, D.C. – Due to their demonstrated commitment to improving economic mobility in the communities they serve, a pair of Greater Washington non-profit organizations — Manna Food Center of Montgomery County, Md. and National Housing Trust (NHT) of Washington, D.C. — have been named Bank of America's 2019 Neighborhood Builders®. Each organization will receive a $200,000 grant as part of the Bank of America Neighborhood Builders program.
In addition to monetary grants, each non-profit also will receive leadership training for a designated executive and emerging leader, and the opportunity to access capital for further expansion of their social impact.
Manna Food Center provides food to more than 34,000 individuals every year, and helps distribute rescued food to soup kitchens, food pantries and emergency shelters. Serving Montgomery County residents since 1983, Manna's mission includes supplying healthy food choices and providing education on proper nutrition. Manna Food Center offers mobile and pop-up kitchen services with the organization's fully equipped retro-fitted school bus they lovingly call "Manny."
"We are delighted to receive this important Neighborhood Builders grant from Bank of America, and we look forward to putting it to great use to achieve Food for All in Montgomery County by reaching 10,000 more neighbors," said Manna Food Center CEO Jackie DeCarlo.
The National Housing Trust preserves, improves and maintains affordable housing so that low-income families can live in quality neighborhoods with access to opportunity. Through public policy advocacy, real estate development, lending and energy solutions, NHT has preserved more than 36,000 affordable homes in all 50 states and currently owns 35 affordable-housing properties nationwide, including 10 in the District, two in Arlington, Va., and one in Vienna, Va.
"This Neighborhood Builders award enables NHT to generate even more of a positive impact in affordable housing throughout the National Capital area. Headquartered in D.C. and surrounded by the largest concentration of communities in our portfolio, we're pleased to put this capital from Bank of America toward the best possible use: improving housing options for families right here in the District," said Priya Jayachandran, president of National Housing Trust.
"Bank of America is helping drive economic mobility in the D/M/V and one of the ways we're doing that is through the partnership with our Neighborhood Builders," said Larry Di Rita, Market President for Greater Washington D.C., Bank of America. "We're proud to associate with Manna and NHT, and help them continue the important work they are doing."
Bank of America's presence in the Greater Washington DC market extends back more than 200 years. The Neighborhood Builders program is in its 16th year, and through it, Bank of America has partnered with 32 Washington, D.C., area nonprofits and has provided $6.4 million in grants since 2004.
Bank of America
Bank of America is one of the world's leading financial institutions, serving individual consumers, small and middle-market businesses and large corporations with a full range of banking, investing, asset management and other financial and risk management products and services. The company provides unmatched convenience in the United States, serving approximately 66 million consumer and small business clients with approximately 4,300 retail financial centers, including approximately 2,400 lending centers, 2,600 financial centers with a Consumer Investment Financial Solutions Advisor and 1,700 business centers; approximately 16,600 ATMs; and award-winning digital banking with nearly 38 million active users, including approximately 29 million mobile users. Bank of America is a global leader in wealth management, corporate and investment banking and trading across a broad range of asset classes, serving corporations, governments, institutions and individuals around the world. Bank of America offers industry-leading support to approximately 3 million small business owners through a suite of innovative, easy-to-use online products and services. The company serves clients through operations across the United States, its territories and approximately 35 countries. Bank of America Corporation stock (NYSE: BAC) is listed on the New York Stock Exchange.
For more Bank of America news, including dividend announcements and other important information, visit the Bank of America newsroom. Click here to register for news email alerts.
www.bankofamerica.com
###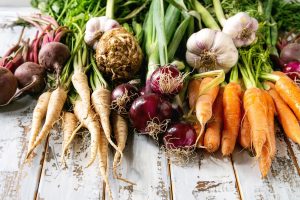 If I were to ask you what your favorite root vegetables are most would answer: potatoes, carrots, garlic, and maybe even beets. These root vegetables are typically the star root vegs that steal the show. Let me introduce or reintroduce you to some of the unsung heroes of the root group.
First out we have Parsnips which have a similar resemblance to carrots. Parsnips are an excellent source of vitamin C, vitamin K, and folate. They also contain both fiber and calcium along with suppling many antioxidants to help prevent oxidative stress and decrease damage to your cells. These are great for soups and roasting as they have a sweet and earthy flavor.
Next in the lineup are Turnips! Turnips are known for being lower in calories and carbs and high in nutrients. They are loaded with vitamins K, A, C, E, B1, B3, B5, B6, B2, and B9 and those are only the vitamins. The plethora of minerals include manganese, potassium, magnesium, iron, calcium, copper, phosphorus. *announcer voice* AND THAT'S NOT ALL! Turnips also include omega-3 fatty acids, fiber, and protein. This root is definitely a powerhouse of nutrients. Turnips are available year-round, they can be eaten raw or cooked and you can even eat the greens that add to the health benefits you're already getting.
Finally, let's talk about Rutabagas. Now Rutabagas are amongst the kings of vitamin C. One medium rutabaga has 107% of the Daily Value of vitamin C. They also have a good source of potassium, magnesium, and vitamin E. Rutabagas also have 36% of the recommended daily fiber which promotes bowel health. When you cook rutabagas it releases a sweet yet savory flavor, similar to a potato but less starchy.
Have you ever had any of these root vegetables or any other uncommon root vegetables? Don't let these precious root vegetables sit in the dark, underused. They taste great and are great for you! Try to incorporate them into your upcoming meals and reap the benefits of these unsung root heroes.
by Cynthia Wilson
Notes from the CEO – Jackie DeCarlo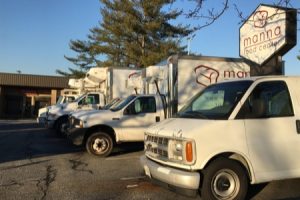 This summer Manna orchestrated a temporary re-location so that our warehouse could be transformed into a distribution hub.  With the help of incredibly committed volunteers, faithful and generous donors, and a rock-star team of dedicated employees, Manna made it back to our home at 9311 Gaither Rd last month.  But that's not all, this summer we also created a Manna Marketplace and launched services at our new Center at the corner of Tech Rd and Rt 29 in Silver Spring.
These incredible milestones are critical to our vision of Food for All. They reflect our place-based strategy of serving in areas where poverty and food insecurity are too high.  They embody our core value of "respect" as we continue to design services that respond to the requests and interests of our community.  Plain and simple they indicate that we are serious about our delivering on our mission in the best way we know-how.
We are serious about our delivering on our mission.
We could not have made it through this support without support like yours, and we hope you'll come out and celebrate with us this month.  Read on in this newsletter for details of our "One Weekend: Two Celebrations" plans for October 19 and 20th.  Please join us and see for yourself the transformation that your support has made possible!
It wasn't easy…our warehouse team battled high temperatures, wildlife (ask 'em about the snakes), and lack of equipment.  Other staff and volunteers, grateful for increased office space and amenities, had to cope with malfunctioning phone systems, changed commutes, and the demands of new processes to support our goal of reaching 10,000 new neighbors.  We've had some challenges, there is no doubt.
At marketplace, I recently spoke to "Marcus," a participant recovering from a heart attack.  He spoke of his eagerness to heal and return to work.  He shared his gratitude to Manna as his family struggles to get by only on disability insurance. Before he left the Manna Marketplace he also gave me some tips on how to manage the grocery carts more efficiently!  Most importantly Marcus helped me realized that all the struggles, hassles, doubts, and challenges of this summer were worth it.  We are better able to serve Marcus and neighbors like him now and into the future.
A few tough months will soon be distant memories replaced by the joy of service and partnership.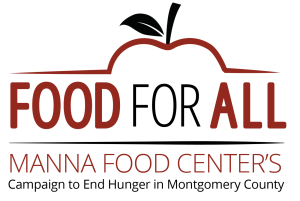 This past year has been one of exciting transition for Manna Food Center. Through the dedicated support of donors like you, we have been able to steadily grow our programming and services. Manna is excited to announce that now we have launched a bold expansion plan focused on bringing fresh food to high-need communities where poor transportation and other barriers make access to healthy food challenging.
Through this expansion, Manna is going to the areas where people
need them most.
Joy Stein, Food for All, Campaign Committee member
How are we doing this? Through the transformation of our current warehouse at 9311 Gaither Road in Gaithersburg into a food distribution hub & the opening of a new marketplace and office at 12301 Old Columbia Pike in Silver Spring.
This expansion wouldn't be possible without generous supporters who are stepping up to ensure our neighbors have the nutritious food that they need. Manna has launched the Food for All Campaign to raise the much-needed funds to fuel this transformation.
Notes from the CEO – Jackie DeCarlo
Dear Friends of Manna,
The start of a school year brings a sense of excitement – even if you aren't a parent, student, or teacher. Something about the academic year remains with those of us who have had the privilege of a formal education; the sense of possibility is keen once classes begin. Here at Manna Food Center, the anticipation is even greater this fall.
After years of planning and months of actual transition, we are settling into our new spaces. Our market and learning space in Silver Spring is opening its doors soon, and our warehouse is almost completely renovated. We have a vision of a Montgomery County where all people at all times have access to good food in welcoming spaces. Our recent renovations and relocations will better make that possible.
In our September newsletter, you'll read about some of the celebrations we are having to welcome you into those spaces. I hope you will attend so I can thank you personally for helping us come this far!
Sincerely,
Jackie
Notes from the CEO – Jackie DeCarlo
I'm having a bit of writer's block: There is SOOO much happening in the world of Manna that it is hard to know what to share. Perhaps I should just offer up a "day in the life" to give you a taste of how we are fighting hunger and feeding hope this season.
A Day in the Life of Manna
One Tuesday this month I started the day at the community kitchen of Silver Spring Methodist Church, where we hosted WAMU radio, alongside partners KindWorks and MCCH, to share how the Community Food Rescue program helps feed neighbors and reduce the environmental impact of food waste. Then I went to Montgomery Village, where Rep. David Trone was a making a stop on his summer food tour. By gathering representatives from MCPS, the Department of Recreation, and the not-for-profit community, Manna helped the Congressman understand strategies for increasing access to healthy meals in the critical summer months.
Back at the warehouse, Manna's logistics team was settling into our temporary warehouse at 8341 Beechcraft Ave in Gaithersburg (where food donations are accepted until our warehouse is renovated). Operating with less space and without any shelving or air-condition, our amazing team has exceeded my expectations of dedication and flexibility. Alongside stalwart volunteers, this particular Tuesday our staff got Manny on the road for a class at a Montgomery Housing Partnership location and conducted our food distribution satellite at Clifton Park Baptist Church.
Meanwhile, the office staff was in the final countdown of "purging and packing" as we relocated our headquarters to 12301 OLD Columbia Pike in Silver Spring. We are 50% of the way to opening a center featuring a marketplace to choose free food, alongside collaboration and classroom space. Save the date for an Open House: October 19!
Clearly, it has been an unusual and exciting summer for all of us dedicated to eliminating hunger. We could not make the progress we are, without supporters like you: donating food and funds, volunteering your time, even dropping off baked goods to nourish my teammates with surprise treats! This summer has been a group effort, and I am humbled by the response each and every day.
Sincerely,
Jackie
This spring, Community Food Rescue (CFR) rescued and distributed our five millionth pound of food, the equivalent of 4.1 million meals to people who are experiencing hunger. In addition, CFR food recipient organizations that have surplus food that they cannot use have also used our ChowMatch app to redistribute the food to other CFR network members. An additional 59,433 lbs. of food (representing 50,000 meals) has been redistributed to people who are food insecure.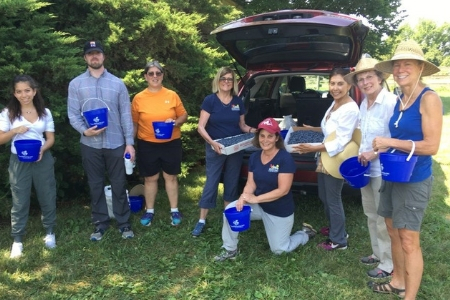 Since our launch in September 2015, the CFR network of food donor businesses, non-profit food recipient organizations, and volunteer food runners has grown to 373 members throughout Montgomery County. As we've grown in numbers, the network has also expanded the kinds of food we are able to rescue. Last summer we started gleaning fruit and vegetables from local farms in partnership with Montgomery County Master Gardeners and the Maryland Extension.
We gathered everything from strawberries and blueberries to sweet potato greens and apples that were no longer commercially viable. These delicious foods from Butler's Orchards and Red Wiggler Community Farm were much appreciated by CFR recipient organizations, including Shepherd's Table, Sally K. Ride and Washington Elementary Schools. If you'd like to volunteer at a gleaning session or know a farm that offers gleaning to groups, contact: communityfoodrescueoutreach@mannafood.org.
CFR has also started cooking with recovered food to use bruised, wilted, or misshapen food that is better cooked rather than eaten fresh. Thanks to Manna Food Center's partnership with the Silver Spring United Methodist Church, we used the church's newly refurbished commercial kitchen that is designated for social mission purposes.  In last year's pilot project, we invited guest chefs from Marriott International and volunteers from KindWorks to help.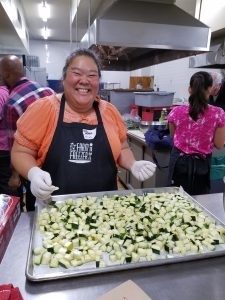 During nine three-hour cooking sessions, we turned 2,160 lbs. of meat, vegetables, fruit and staple foods into 1,700 tasty entrees, soups, salads, side dishes and fruit crisps. These meals were very much appreciated and needed by non-profit shelters that serve meals but do not have kitchen facilities for cooking. The chefs enjoyed the challenge of menu planning with what was available; volunteers loved learning cooking techniques from professional chefs, and shelter clients found the restaurant-quality meals delicious! We are scaling up our CFR Cooks! project to once a week. If you'd like to volunteer for our weekly cooking sessions, visit www.dokindworks.org for more information and to sign up.
These food recovery activities help not only those who are food insecure, but also our planet. By not wasting food on the farm, we also are eliminating the waste of water and energy used to grow that food. By reducing the amount of food waste entering our landfill, currently 147,000 tons per year in Montgomery County, we save on greenhouse gas emissions. CFR's ChowMatch tool, used to match food donor businesses with food recipient organizations, also calculates the environmental benefits of the network's accumulated recovered food.
The net greenhouse gas emissions benefit from CFR's food recovery thus far is 5,391 metric tons of carbon dioxide, equivalent to 1,154 vehicles removed from the road for a year, or 13.2 million miles not driven by one passenger vehicle.
Whether tracking greenhouse gas emissions or tasty meals, it's clear that feeding more and wasting less is good for people and the planet.

Nearly every Monday in August you can expect to see Manna's walk-in refrigerator bursting at the seams with summer fruits.  Zucchini, eggplant, tomatoes, peppers, and peaches are stacked in crates that reach to the ceiling. And, yes, those are all fruits, botanically speaking. One by one each pallet of the season's bounty is brought out to Manna volunteers who enthusiastically fill boxes and racks destined for a Manna distribution site.  During the peak of the growing season, families can expect to receive approximately 20 pounds of fresh, regionally produced fruits and vegetables.
Sharing this abundance wouldn't be possible without the extremely hard work of dozens of farmers around the region who regularly contribute to Manna's Farm to Food Bank program at a partnering Montgomery County farmers market. The generosity of market customers and funds from the County Community Grants program allow us to provide a small stipend to each vendor but most vendors donate much more than this modest payment could ever cover.  What's more, a few vendors go out of their way in the winter months to continue to deliver product to Manna's Gaithersburg facility.
In addition to the important role supporting local farms has in creating a more food secure Montgomery County, it's also critical to the promotion of a healthier Montgomery County.  Based on our annual participant survey, 83% of participants report that receiving fresh produce from Manna contributes to improving their health.
We often celebrate Manna's partnerships with City of Rockville, Olney Farm & Artisans Market and Central Farm Markets but we don't often get to shout our gratitude to those many growers who fill Manna's trucks with sweet corn in the summer, delicate leafy greens in the spring, and hearty squash in the fall.   We will be recognizing them this month by providing a sign that our partners can display at market. Please help us thank them by patronizing these Farm to Food Bank supporters at a participating farmers market this weekend.
Manny the Mobile Kitchen and Pop-Up Pantry vehicle was invited to participate in the Montgomery County Farm Tour this year. Our driver, Maka Graham, and coordinator, Jaimie Mulligan, had a wonderful time introducing participants, donors, volunteers, and community members to our two programs that feature the vehicle. For those that do not know, "Manny" is a retro-fitted school bus with a full commercial kitchen onboard. Manna uses this kitchen to go to schools on a monthly basis to teach elementary school students grades 3rd through 6th basic nutrition principles through cooking and tasting. In addition to the classes for children, we also use the bus to host Pop-Up Pantries in different underserved areas of our County. We fill the vehicle with racks full of fresh produce, and go to places in Montgomery County that benefit from this type of outreach. We also use these opportunities to connect new people to Manna's mission and services.
When people entered the vehicle on Saturday, they were greeted with a choice of two different samples featuring local produce items from Red Wiggler Community Farm. The first recipe used the beautiful multicolored heirloom tomatoes and fresh basil picked by Red Wiggler growers. We created a simple Caprese salad with the addition of some whole mozzarella, freshly ground black pepper, sea salt, and balsamic vinegar. Just as we do in our children's nutrition education classes, we focused on highlighting the featured ingredients. The second recipe took advantage of the multitude of local cucumbers and tomatoes to make a simple chopped salad with onions, red wine vinegar, salt, pepper, and olive oil. The bus provided a shady and cool refuge on a beautiful sunny day.
If you are interested in bringing Manny to your school, please reach out to our Program Coordinator, Priya Narang at priya@mannafood.org. We are still creating our calendar and are always eager to include new partnerships in our plan. We have limited space available, so please act soon.
This celebration of local ingredients and Manna's mission to share good food in welcoming spaces continued that evening guests at the Poolesville Golf Course. Central Farm Markets, a longstanding partner and support of Manna's through our Farm to Food Bank program showcased some of their local vendors at a Farm to Table dinner organized in conjunction with the 2019 Farm Tour.
Diners plates were full of delicious, local ingredients from Community Food Rescue network member Plow and Stars Farm,  Manna Farm to Food Bank partner One Acre Farm and a few generous vendors that regularly provide product from the Bethesda Central Farm Market including Young's Harvest and Twin Springs Farm.  What made the spread even more satisfying was the fact that 10% of the proceeds were given to Manna to further our vision of a more food secure Montgomery County.
Notes from the CEO – Jackie DeCarlo
When I'm out and about in the community this summer, people regularly ask, "How is the move going?" On my best days, I note that there are the usual delays and budget overruns, but I'm so excited about all that is being created—a revamped distribution hub and a new food center in Silver Spring. On those not-so-centered days, I grit my teeth and say, "Well, it's actually four moves."
Yes, this summer Manna Food Center is moving FOUR TIMES. We've already accomplished a temporary shift from 9311 Gaither to 8341 Beechcraft Ave. We'll be relocated there until early September, while our warehouse is renovated.
One down three to go!
This Friday, beginning at noon our offices will close, our administrative, fundraising, programs, and services will make move #2 to a new home at 12301 Old Columbia Pike. Later this summer, move #3 is also at the 12301 building. We'll offer a market for shopping, a classroom for learning, and a conference and "touch down" space for collaborating.
As fall approaches in our fourth and final move, our logistics team will return to 9311 Gaither Rd. better able to receive, store, and share millions of pounds of food. When it is all said and done, Manna will have accomplished much more than a move. We will have transformed our organization into a place where the community comes together through the power of food to be nourished, make connections, and ensure there is Food for All.
While all this change is exciting, some of the stress comes from saying goodbye. Our team—including our volunteers—will be functioning out of new locations in new ways. This means that Miss Blanche Hall, our warehouse clerk, won't be greeting participants with her distinctive warm welcome. Some long-time volunteers have decided that now is the time to put down their boxes and phones. Although we understand the decisions, we are sad that Manna's new ways and spaces don't meet everyone's service needs ( Secretly, we hope to tempt them back with cool new volunteer opportunities such as serving as shopping assistants on nights and weekends ).
Part of our moves this summer is a big leap of faith —that updating our equipment, evolving our services, and getting closer to those who need us will result in more food security, better health, and strong communities. Thank you for getting us to this place in our history and for coming along for the journey!
Gratefully,
Jackie DeCarlo
In the spring of 2014, a group of congregants from Colesville Presbyterian Church approached Manna Food Center to ask if they could become a distribution site. They had seen how we operated at the nearby East County Community Center and had even tested whether or not they could lift the boxes of 60 pounds of food. Lucky for them (or at least for their backs), we had a different idea in mind when we asked if they would experiment with a new choice model pantry. Lucky for us, they accepted the challenge and with a basic framework provided by Manna they created a monthly opportunity for community members to come together and support one another.
CPC's focus on hospitality is evident in the way each person is treated when they come to the church. A close fellowship has formed among volunteers and participants. They come together around food and share comforting hugs, smiles, and laughter.
Over the last 5 years, they've been steady on Manna's vision of providing "good food in welcoming spaces" and Manna is now using the CPC example as a foundation for new choice sites at Silver Spring United Methodist Church, Gaithersburg Middle School and our upcoming marketplace at 12301 Old Columbia Pike. ( See full distribution site list.)  We enjoyed sharing our gratitude with CPC members and patrons of the pantry at a potluck dinner hosted by CPC on June 30.
Happy Anniversary to all the volunteers and staff at Colesville Presbyterian Church!
"Eat your greens" was a common phrase at my dinner table growing up. My mother was desperate to get all three of her children to eat vibrant leafy vegetables. Red, orange, yellow, purple, and basically any other colored vegetables and fruits never seemed to spark as much dinner-time contention as the green ones. For years my little sister would even pick parsley out of her mashed potatoes to avoid anything green! I often wondered why my mom was so insistent that I eat the pile of spinach sitting on my plate. Today we are going to explore why greens are central to a healthy diet, where to find a variety of different greens, and how to cook them to make them irresistible.
Leafy green vegetables are an incredibly critical part of a healthy diet. They're packed with vitamin A, vitamin K, vitamin C, iron, calcium, and fiber. It is important to get these nutrients when you are a child, adult, and senior because they help you build strong bones and keep your digestive system regular. There has also been a lot of evidence that green-heavy diets help protect the brain by sharpening the memory and slowing neurodegenerative decline (NPR). Greens can be the nutritional superstars of a meal and offer numerous health benefits if you eat them every day. Some of these benefits include reduced risk of obesity, heart disease, and high blood pressure (Healthline).
As humans, we are lucky to be able to eat an extremely large variety of different foods. Our food diversity is one of the reasons why people from different cultures and traditions have such unique and interesting recipes. Within the world of food, green vegetables are a massive category. Some popular leafy options include spinach, kale, and collard greens. We can usually find these verdant staples in the frozen, canned, or fresh isle of any local grocery store in the United States. However, if you're bored of the usual fare, or are just in the mood for something more I encourage you to check out your local Farmer's Market. In the height of summer, you will find interesting leafy green options that might pique your curiosity and encourage you to try new recipes and eat more leafy greens.
Here are four of the more interesting greens we've found at Manna from our local Farmer's Market:
Arugula is a leafy green with a delicious peppery flavor. The smaller the leaves, the less bitter the taste. Arugula is great in salads, sandwiches, or as a raw topping on a pizza. Arugula is also an extremely hearty crop and can be grown at home by gardeners of all experience levels.
Bok Choy is a slightly bitter but mild vegetable and it is very popular in Asian countries. It's easy to pair with a lot of strong flavors, which makes it great to add to a variety of recipes. It has thick, dark green leaves with crisp, juicy white stalks, and the entire plant is edible. It is best cooked by adding it to soups, stir-fried, or sauteéd.
Watercress is packed with flavor. It features hot peppery leaves and can add a kick to salads, soups, sauces. Throw watercress into your breakfast eggs, and it pairs beautifully. The hot peppery taste comes from the mustard oil in the plant. Watercress is also one of the oldest known leaf vegetables consumed by humans.
Swiss Chard leaves are tender and have a taste like beet greens and spinach. These greens are vegetal in flavor than kale, and may be more palatable for some. The crunchy stems are slightly sweet and have a similar taste and texture with bok choy stems. Swiss Chard is fantastic sautéed in a pan with some butter, onions, and seasonings of your choice.
A diet with more dark leafy greens is better for your health and can encourage you to be more creative with your recipes. Whenever you can, make it a goal to eat greens at breakfast, lunch, and dinner. Greens are extremely versatile so this shouldn't be too hard. If you're not a fan of salads, that's ok. Try dark leafy greens in soups, pasta dishes, rice dishes, curries, and stews. If you're someone or know someone who doesn't like greens try looking for more variety. Consider preparing your greens in a different way or researching different kinds of dark leafy greens at your local farmer's market. They may even let you try the greens raw right at the farmer's stand! Many local farmer's markets provide a great place to support local businesses and will even match EBT/SNAP dollars. Here is a great resource to discover more dark leafy greens: https://cuesa.org/article/farmers-market-guide-greens. Good luck with your green exploration!
4 Easily Ways to Add Greens into Your Daily Diet:
Add something leafy and green (like kale or spinach) to a premade item like canned soups, delivery pizza, or even a frozen meal. The added greens will help increase the nutrient density of an otherwise lacking meal.
Make breakfast green! Greens taste great inside of an omelet or mixed into your scrambled eggs in the morning. Add greens to your morning toast and top it sparingly with your favorite dressing.
Make a green smoothie: add a large handful of spinach to a smoothie. You'll notice the color and added nutrition, but not the flavor.
Have a green snack. Heat up your oven and make some kale chips with your greens, oil, and salt. You'll love how crispy and delicious greens can be.
What comes to mind when you think of your human rights?  Maybe the right to life, liberty, and the pursuit of happiness? Have you ever considered food as a basic human right?
If you have, it's likely you've thought about it in the context of global food security.  Indeed many of the organizations that promote food as a right, such as FIAN International or the Global Network for the Right to Food and Nutrition have a global scope.  At our June Breaking Bread meeting, we began by learning more about the content of some of these worldwide efforts by watching a video entitled, "The Right to Food – A People's Struggle".
Important concepts communicated in this short film include access to land, social mobilization, and democratic representation as well as the need to continue to raise awareness.
This is an important point for us here in the States and especially here in Montgomery County where even when there are organizations like ours that have been promoting food security for over 35 years, some County residents don't know that the right to food is still not a reality for 60,000 of our neighbors.
After viewing the film, our group discussed the questions:
What does the right to food look like in people's lives here in the United States?
Whose responsibility is it to make this a reality?
What is Manna's role?
We agreed that individuals and governments need to work together to secure the right to food for all community members.  The government can support this right for their citizens through the provision of benefits, like the Supplemental Nutrition Assistance Program and through legislating wages that allow people to afford adequate amounts of safe and nutritious food for themselves and their families.  Individuals have the responsibility to support each other and organizations that are promoting food security, as well as a responsibility to hold our governments accountable.
We recognized that realizing the human right to food requires considering food in the context of many other social issues of our time including gender and women's rights, protecting land and natural resources, economic inequality, to name a few.
Framing food security as a fundamental human right can help to address not only the immediate effects of hunger but the upstream causes of hunger.  Hunger is, after all, a manifestation of social exclusion and discrimination.  It is these root causes that we convene monthly for Breaking Bread to talk about. This was the last Breaking Bread session being held at our 9311 Gaither Road location. We will take a short hiatus as we transition to our new space. Please stay tuned and I hope you will come break bread with us in the fall.
To learn more about the Right to Food I recommend this resource and others from WhyHunger.
Notes from the CEO – Jackie DeCarlo
It's going to be quite a summer for Manna Food Center! Last month I announced to you key milestones as Manna continues on a journey we refer to as "More than a Move." Yes, we will be moving to temporary space during renovations of our 9311 Gaither Rd warehouse after the July 4th weekend. Yes, we will be moving staff to 12301 Old Columbia Pike at the corner of Tech Rd and Old Columbia Pike starting mid-July. But all this activity is more than just packing boxes and shifting locations. It is the culmination of a "place-based strategy" to improve, innovate, and invigorate our efforts to eliminate hunger.
In the midst of this transformation, Manna is making sure our services continue. We often say "hunger doesn't take a break" and it certainly doesn't during a move! Hunger has different dimensions in the summer. With students out of school and away from breakfast and lunch programs, families can feel the strain of providing more meals. Costs for camps and other activities pinch parents' budgets. Even modest travel costs for three day weekends can chip away at disposable income. Through our Food for Families programs, at sites from Langley Park to Germantown, Manna is able to offer tasty, nutritious food to all who turn to us. Manny, our mobile kitchen and pop-up pantry, will be hitting the road double time to reach and teach.
Our motto this summer is "Be steady with the vision, be flexible with the details." That's because two construction projects happening while we serve 3,000 families a month is bound to be filled with headaches and hardships. However, if we all remember why we are in this process—to provide Food for All—we can keep the faith.
With your donations—of food, funds, and friendship—you make our work possible. Thank you for that generosity and for being with us on this journey. I continue to welcome your input or questions or suggestions.
Gratefully,
Jackie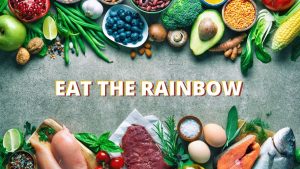 Have you ever heard the phrase "Eat the Rainbow"? If you haven't, the idea is that you consume foods, typically plant-based, which are the colors of the rainbow. The different colors have different nutrients and aligning health properties. The more colors you eat the better variety of nutrients you have to support your body and fight off illness. These nutrients are scientifically called phytonutrients or phytochemicals. These chemicals are said to be "…components of plants that are powerful defenders of health."(IFM, 2015) Phytonutrients can be found in fruits and vegetables but also in whole grains, legumes, herbs, nuts, seeds, and even tea.
Let's talk about colors, the way to identify the phytonutrients. As an "On-The-Go" culture, we typically eat tons of foods that are brown/white and have been stripped of nutrients. Nutrients are what make our body function. They are the nails to our house (body). If we don't have enough nails, the house may still stay up but maintenance will be high because of lack of stability. This is some of the reasons we can have health issues because we're not getting enough of nutrients to support ideal bodily functions. If we eat a variety of foods in an abundance of colors we supply our bodies with a diversity of nutrients to fulfill all of our body's wants and needs.
Foods come in so many different colors— purple, orange, green, red, white, etc. Different colors, different phytonutrients, have different health properties. "Red foods contain phytonutrients that may help reduce the risk for certain cancers, along with helping to protect the brain, heart, liver, and immune system." (IFM, 2015) Two of the most notable phytonutrients in red foods that help attribute to these health benefits are lycopene and anthocyanins.
Other colors have different phytonutrients that attribute to different health properties like orange. "Orange foods help protect the immune system, eyes, and skin, and reduce the risk for cancer and heart disease." (IFM, 2015) The most notable of phytonutrients being beta-carotene and bioflavonoids.
So how can you start reaping the benefits of the many different phytonutrients? Eat the Rainbow. Make a goal of eating 1-2 servings of each color every day. It may sound difficult but it can be quite simple. Having a hardy salad may give you 1 serving of each color if not more in just one serving. Make a game for yourself and see how many colors you can eat in a day.
5 tips to include more colors into what you already eat.
1. Drink a smoothie with different colors. It can be easy to eat a variety of colors when you blend them all together in a delicious drink.
2. Use dips and sauces that contain plant-based color blends. For example salsa (one of my personal favorites) and pesto.
3. Switch from white potatoes (boring!) to sweet potatoes or mashed cauliflower.
4. Add red onions, peppers (red, yellow, orange, green), broccoli, tomatoes, and garlic to your eggs.
5. Spice up your food! Using spices like turmeric, basil, cayenne, and more can add great flavor, phytonutrients, and other herbal health benefits.
By Cynthia Wilson
Community Food Rescue (CFR) has launched the second year of its gleaning initiative.
Gleaning is the harvesting of food that would otherwise go unpicked. The crop is left unharvested when there is so little left behind that it is not economical for the farmer to harvest. Or, in the case of "pick your own farms," the pickings are too slim for customers.
Our first glean of the season was at Butler Montessori School in Darnestown. With school coming to a close, there was limited staff or student time for pulling the kale so that summer crops could be planted.
Two Montgomery County Master Gardener volunteers, Dawn L. and Erica S. (one of whom is also a CFR food runner) and Jill P. also wearing two hats as a Manna/CFR volunteer, heeded the call from Susan Wexler, CFR's Outreach Coordinator, to help with harvesting kale. CFR was invited to harvest the kale by Bridgette D. who runs the farm program at Butler Montessori and who is also a CFR donor farmer. Bridgette operates Chicken in the Woods Farm.
We pulled the kale and then a very helpful group of 7th graders, stripped the kale leaves off the stem and the stems went to feed the chickens and into the compost pile. Meanwhile, Susan explained a bit about CFR's mission and food insecurity in Montgomery County. Twenty–five pounds of fresh, organic, kale was delivered by Erica S. to the Montgomery County Coalition for the Homeless' Safe Haven home for Veterans. We were invited to return to Butler Montessori for another glean in July.
Our second glean was at Butler's Orchard — no relation to Butler Montessori! Four Master Gardeners: Linda B., Robin K., Christine H., Gail S., and two CFR/Manna volunteers Molly H. and Ellen B. joined Susan Wexler for this work. Over just a few hours they harvested 82 pounds of beautiful strawberries. Molly completed her first food run and delivered the berries to Washington Grove Elementary School in Gaithersburg. The school staff was thrilled. CFR provided them with berries last year and the students loved them – it was a special treat. CFR collaborates with Pam H. of the University of Maryland Extensions Supplemental Food and Nutrition program to arrange for these relationships with MCPS.
We are grateful for this collaborative effort between CFR, Master Gardeners, UMD Extension and of course particularly to our farmer donors.
We expect to organize for 4 or 5 more gleans this growing season.
Notes from the CEO – Jackie DeCarlo
Cynthia, Manna's Community Food Education Manager, shared at a recent staff meeting how everyone needs a balanced diet of fruits, vegetables, grains, fats, and proteins to live a healthy life. Similar to the building blocks of health, Manna's donors, supporters, and volunteers are essential to creating a foundation upon which Manna's mission is possible. With your time, talent, and treasure, we touched the lives of 31,710 neighbors in need last year. To continue our progress, we've included volunteers, board members, and community members in our planning process to reach 10,000 more people in the years ahead.
Earlier this month I hosted "Q&A" sessions for volunteers to discuss our progress and short and long-term plans. It was inspiring to hear questions, suggestions, and concerns from those of you who give your time regularly to Manna.  I'm honored by the commitment to Manna that supporters like you have
I'm thrilled to report that construction on our new office space and marketplace in East County began last month. This space will offer a range of foods in our choice market and space for collaboration and learning. At the end of April, we opened a distribution site at Gaithersburg Middle School to support families. In early July our warehouse will close for renovations, and we'll relocate our food operations for two months. By the end of July, we'll also have the East County center open at 12301 Old Columbia Pike. You can check out a list of important milestones here. Clearly, summer will be anything but dull, but I assure you we have every intention to continue our services without interruption.
We know that the people of Montgomery County have a deep desire to be of service, and we are committed to offering you a chance to help end hunger. In fact, the Manna Board and staff are dedicated to making this "More than a Move."  There are still many details around our move to be determined.  Rest assured, we will continue to offer enriching volunteer opportunities around the County.
We are committed to updating our facilities and evolving our services to reach more neighbors in need. Thank you in advance for your flexibility and support. As always, feel free to drop me a line at jackie@mannafood.org.
Gratefully,
Jackie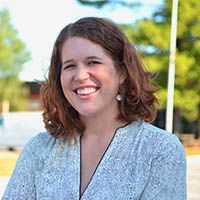 Manna Food Center and Stephanie Hubbard, Director of Development and Communications, are honored to be sponsored by Bank of America to attend New Strategies, a four day advanced training program conducted by Georgetown University's Global Social Enterprise Initiative (GSEI) at the McDonough School of Business in May. Stephanie Hubbard will join a class of 60 nonprofit executives from around the country to participate in New Strategies' forum specifically designed to help nonprofits increase and diversify their revenue streams.
Executives will learn from leaders in the nonprofit and philanthropy fields, Georgetown business school faculty and each other on topics ranging from cause marketing, earned revenue, using predictive analytics to increase individual giving levels, deferred and major gift funding options, addressing decreasing government funding and more. Ongoing access to the expert speakers and networking among the nonprofit executives is a hallmark of New Strategies.
Just being named by Bank of America is itself an honor. There is no application for nonprofits to attend New Strategies. Only those nonprofits sponsored by a corporation or foundation are invited to participate in the program and then only after being vetted by New Strategies.
Notes from the CEO – Jackie DeCarlo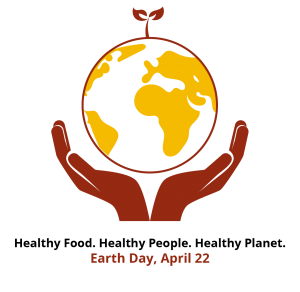 Last week I harvested my first "salad" from my garden! It was a mix of greens that had served as centerpieces at our Heroes Against Hunger (HAH) celebration. It was a small but tasty start of spring. I like to work in the garden to connect with the soil, occasionally find a cute wriggling earthworm, and enjoy the satisfaction of eradicating weeds. Perfect activities for April, the month our world celebrates Earth Day on the 22nd.
Year-round Manna Food Center is connected to the earth, especially through our food recovery efforts. The Community Food Rescue network matches sources of surplus food with agencies that serve our hungry neighbors. Powered by volunteer food runners, we are able to divert food that might go to waste from donors such as Ridgewells Catering, Charles E. Smith Jewish Day School, and Giant Food to peer agencies. Hilton's Canopy, for example, donated surplus food from our HAH celebration to Montgomery County Coalition for the Homeless.
With acreage well beyond the raised bed in my garden, five partners participating in Farm to Food Bank do the hard work of planting, cultivating, and harvesting fresh produce to help Manna offer tasty and healthy items to more than 3,000 participants a month. The farmers are located across Montgomery County, at plots in Ashton, Brookeville, Dickerson, and Germantown. We also purchase through farmers markets in Bethesda, Olney, and Rockville. By selling their crops to Manna at a discounted price, these small businesses are giving back to the community.
Speaking of community, let me give you a quick update on our work in East County to build "The Center" for ending hunger. We have the green light to begin demolition at our site at 12301 Old Columbia Pike, with a goal of moving in this summer. We continue to finalize renovation plans for 9311 Gaither Road and will soon convene "Q&A" sessions about the process to help supporters like you learn all the details. We'll share dates soon.
Thanks for your interest in what's "growing" here at Manna Food Center and for supporting our work across the county to waste less and feed more.
Sincerely,
Jackie
Our Distribution Locations are Changing!
Nuestros Lugares de Distribución están Cambiando!
If you would like to talk with our team to consider other distribution dates, times and locations, please call (301) 424-1130.  
Si deseahablar con nosotros para considerarotrasfechas de distribución, horarios y ubicaciones, llame al (301) 424-1130. 
Starting Tuesday, April 23, 2019 Manna will be opening a new distribution site at Gaithersburg Middle School. This site will replace our daily distribution at Manna's Gaithersburg warehouse. 
Gaithersburg Middle School
2 Teachers Way, Room 200
Gaithersburg, MD 20877
A partir del martes 23 de abril de 2019, Manna abrirá un nuevo sitio de distribución, que pronto reemplazará el lugar de nuestra distribución en la bodega principal ubicada en 9311 Gaither Rd. Gaithersburg.
Nuevo Centro
Gaithersburg Middle School
2 Teachers Way
Gaithersburg, MD 20877 – Sala 200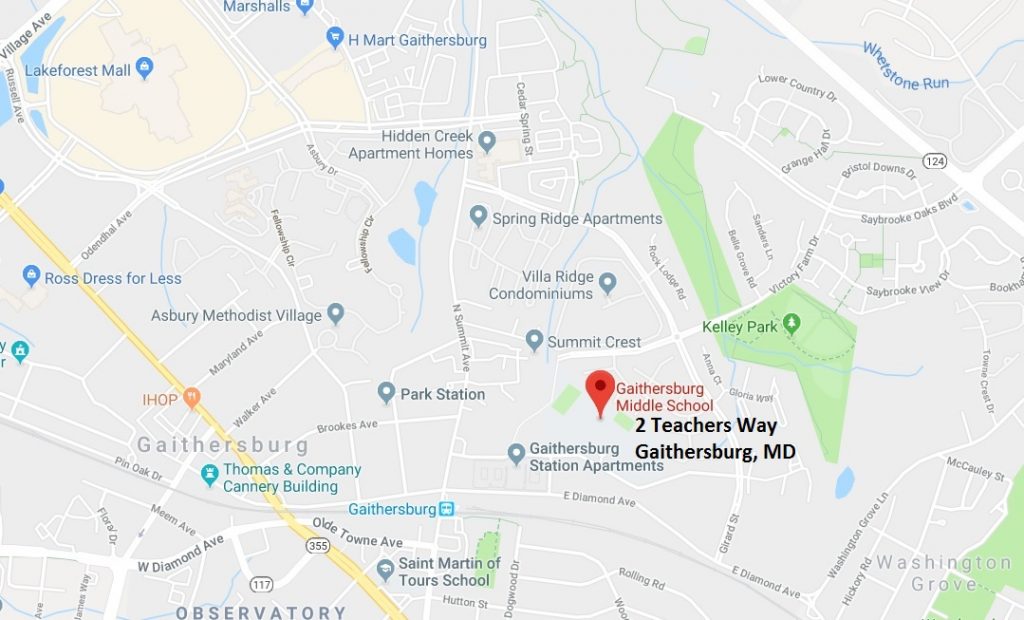 Food distribution at the Gaithersburg warehouse will continue daily until May 24, 2019. From April 23 to May 24, you will have the option to schedule a pick-up at either Manna's Warehouse or Gaithersburg Middle School. 
After May 24, food will no longer be distributed from Manna's Warehouse on Gaither Rd. 
La distribución de alimentos en la bodega principal de Gaithersburg continuará todos los días hasta el 24 de mayo de 2019. Desde el 23 de abril hasta el 24 de mayo, tendrá la opción de programar su recojo en la bodega de Manna o en la nueva ubicación que es Gaithersburg Middle School.
Después del 24 de mayo, los alimentos no serán distribuidos en la bodega de Manna en 9311 Gaither Rd. Gaithersburg.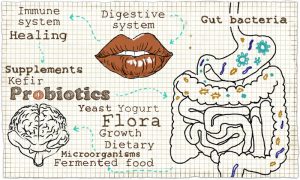 Bacteria typically have an unpleasant reputation. Commonly thought of as "germs," bacteria make up 2-5 lbs. of our body weight, weigh as much as our brain, and thrive inside our gut. These bacteria existing in our intestines are termed microbes for the fundamental role they play in human physiology and development of disease for the short-term and long-term. The food we choose to eat influences the types of microbes that live in our gut, which consequently dictates our health and well-being. Such diseases include Type 2 Diabetes, metabolic syndrome, immunity, brain health, chronic kidney disease, and cardiovascular disease (CVD). As disease influences physiological and biochemical changes, it also stimulates change within the human gut microbiome. Native to the gut, these microbes control 90% of our bodies, leaving us more bacteria than human (1). Our gut microbiome, the community of bacteria that lives in our gut, continues to develop and diversify as we age and reflects what we eat. An imbalance of healthy and unhealthy microbes in your gut is called gut dysbiosis. This imbalance may contribute to weight gain in addition to the development of other diseases ranging from Type 2 Diabetes to CVD.
Your body's ability to break down carbohydrates, such as bread, granola bars, and pasta is heavily influenced by the type of bacteria you have in your gut. A poor ability to break down the bread on the sandwich you had for lunch may result in high blood sugars and the potential onset of Type 2 Diabetes over a period of time. You can combat this issue by including a variety of foods in your diet and minimizing your intake of highly processed, high sugar foods. A diet rich in lean protein, whole grains, fruit, and vegetables are the foundation for a healthy gut and a healthy life!
Certain diet strategies can be effective, but sticking to these four general, simple steps can help you to create healthy and balanced meals that promote great gut health.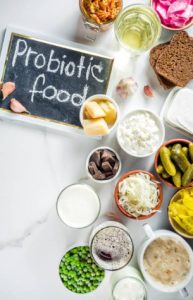 Variety
Incorporate a variety of lean proteins, whole grains, fruits, and vegetables into your daily intake. Your gut will thank you, and so will your overall health!
Eat fermented foods and yogurts.
Enjoy fermented foods such as tempeh, kimchi, kefir, and yogurt – all excellent sources of probiotics and a step in the right direction to optimal gut health.
Limit highly processed, high sugar foods.
Try limiting highly processed, high sugar foods by opting to drink liquids like water, low-fat milk, or sugar-free beverages. You can also cut down the number of times you eat out in a week. If you find yourself getting take out 3 or 4 times, limit yourself to 1 to 2 times a week and substitute for a home-cooked meal.
Focus on eating mostly whole, plant-based foods.
Focusing on eating mostly whole, plant-based foods can be simple. Start by filling half of your plate with vegetables each meal – fresh or frozen!
Rachel is a dietetic intern at the University of Maryland College Park. After undergoing two ACL reconstructions, Rachel developed an interest in the human body and rehabilitation. During a summer studying sport, health, and exercise science at Brunel University London, Rachel realized the paramount role nutrition plays in health and well-being. She aims to inspire others to take care of their mind, body, and soul through nutrition and movement.
Happy National Nutrition Month! This special month is celebrated, as the Academy of Nutrition and Dietetic states, to "increase the public's awareness of the importance of good nutrition". This includes spreading the message of how much one's diet may impact their health and well being.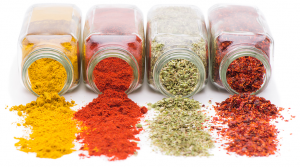 In honor of this month, it is important to address the misconception that healthy eating is bland and boring. There are simple cooking tips and tricks that can transform what one may believe to be a tasteless food, into a new favorite! This can be achieved simply by a combination of spices, sauces, marinades or even cooking methods.
Herbs and spices have the opportunity to create different flavors representing different cuisines, ranging from a Mexican to Italian flare. Some fresh herbs may be more expensive than others, try dried versions, which are just as flavorful. Just be sure to adjust the amount used in your cooking, as dry herbs tend to be more potent. If you're a fan of spicy food then spice up your dishes with your favorite hot sauce, crushed red pepper, or, for an Asian twist, try sriracha. All of these tend to have a long shelf life so they should keep well without worry of spoiling.

Often, marinating is thought to be a time consuming process, time that most people don't have when it comes to getting a meal on the table at the end of the day. In reality, marinating a protein for even just 30 minutes is sufficient enough to add great flavor and avoid any food safety concerns. A good guide to making your own marinade starts with oil, preferably with heart healthy fats such as olive oil; an acid, such as vinegar (your choice) or lemon juice; and lastly, seasonings or herbs. Some marinades also include a sweet component. Opt for more natural forms of sweetener, such as honey or maple syrup, which contain health benefits including antioxidants and minerals not found in table sugar. Typically the ratio for fat to acid in a marinade is 3:1. For example, mix together three tablespoons of oil with the juice of one lime and add 2 teaspoons of chili powder and freshly chopped cilantro if desired! This would go great on chicken or fish.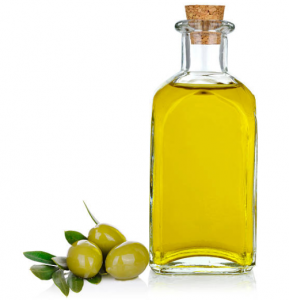 With the right seasonings, healthy food no longer needs to be boring! Turn a bland chicken breast into a yummy Mexican inspired meal with some chili powder, cumin, and garlic salt. Serve over brown rice and your favorite veggies. Squeeze lemon juice over a piece of fish with garlic salt and your favorite herbs. Don't be afraid to be creative in the kitchen and find your favorite combinations!
Samantha is a dietetic intern in the UMD College Park program. She is passionate about finding ways to combat food insecurity while working to reduce food waste through systematic changes. Samantha loves traveling and getting the chance to try local cuisines while on her adventures!
Notes from the CEO – Jackie DeCarlo
The promise of spring is around us. We've all reset our clocks, and many of us have started making our plans for school breaks and important religious holidays. Manna is gearing up for many hunger-fighting activities in a spirit of renewal: Our bus, "Manny," is out from hibernation, sporting new sponsorship logos and a calendar full of Pop-up Pantry activities and learning opportunities. Another new school-based pantry is offering free shopping opportunities. We are putting the final touches on the program and silent auction for Heroes Against Hunger on March 28. I hope to see you there as we salute individuals and institutions who have helped make our 35 years of fighting hunger possible.
That's all the usual type of spring activity, but more is happening behind the scenes. Late last year I signed a lease on new program and office space in Silver Spring. Our warehouse will be staying in Gaithersburg as the distribution hub reaching more than 31,000 people throughout the County at almost two dozen distribution sites. But in order to be closer to neighborhoods like Aspen Hill, Fairland, White Oak, and Wheaton, we need a Center for sharing food and building skills. This summer we'll be opening a new space, and I can't wait to give supporters like you a tour! Full disclosure: we'll also be renovating the warehouse this summer, but I haven't ironed out all those details — rest assured we will continue services no matter what. Please let me know if you have any questions about our expansion plans.
On the home front, I'm going to be constructing my first ever raised-bed garden. I like to dabble in the yard and was recently motivated by a wellness lesson during a Manna staff meeting. Heart disease runs in my family so fresh veggies can help me avoid common diet-related pitfalls. At home and at work, this is clearly a season of building and growing and caring. I wish the same for you and hope to see you out in the community soon to enjoy the season together.
Cholesterol: Clearing Up the Confusion
written by: Laura Jeske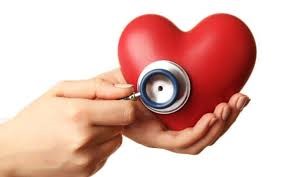 Are eggs bad for you? When it comes to nutrition and heart health, this is a question that seems to be asked constantly. Eggs are naturally high in dietary cholesterol, a fatty substance that has long been thought to increase levels of cholesterol in your blood. High blood cholesterol is a major factor in determining risk of heart disease. According to the Centers for Disease Control and Prevention, heart disease is the leading cause of death in the United States, contributing to approximately 25% of deaths annually. Heart disease is actually an umbrella term that encompasses a range of diseases, including atherosclerosis (hardening and narrowing of the arteries), heart attack, heart failure, arrhythmia (abnormal heart rhythm), stroke, and heart valve problems.
Cholesterol was first associated with heart disease in the early 1900s, but the lipid hypothesis – the idea that there is a direct link between cholesterol levels and heart disease risk – didn't catch on immediately. It wasn't until the 1950s that research indicated a correlation did exist between the two, and physicians began recommending people cut back on high cholesterol foods, like eggs. Since then, the associations between heart disease, cholesterol, and diet have been studied extensively. New research is moving away from the idea that cholesterol in food has much impact on blood cholesterol, but current guidelines continue to recommend maintaining low blood cholesterol levels in order to reduce the risk of heart disease.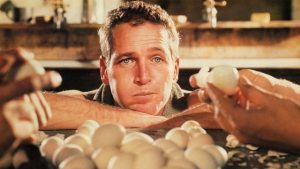 There are two main types of cholesterol: LDL, the "bad" cholesterol, circulates in your blood and can clog your arteries; HDL, the "good" cholesterol, removes harmful cholesterol from your bloodstream. While it makes logical sense that eating cholesterol in food will increase cholesterol in your blood, it's not quite that simple. Several dietary factors influence blood cholesterol levels. There isn't a lot of good evidence that dietary cholesterol has a significant impact on blood cholesterol for most people. In fact, the most recent federal dietary guidelines removed previous limits on dietary cholesterol, stating it is no longer a nutrient of concern. Instead, the focus is on three other factors:
Fat: Limiting fat is often the first thing that comes to mind when people think of a heart-healthy diet. However, not all fat is detrimental. Fat comes in three primary forms: saturated, unsaturated, and trans fat. When it comes to cholesterol and heart health, evidence shows that trans fat and saturated fat increase harmful LDL cholesterol and that trans fats in particular also decrease beneficial HDL cholesterol. Unsaturated fats, on the other hand, are considered heart-healthy and increase HDL cholesterol while lowering LDL cholesterol.

Sugar: The connection between sugar and cholesterol is a relatively recent discovery. Added sugars in the diet have been shown to decrease HDL cholesterol, and may increase LDL cholesterol. Sugar also increases levels of blood triglycerides, fats that, along with LDL cholesterol, are a risk factor for heart disease.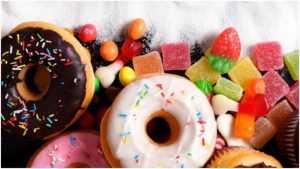 Fiber: Dietary fiber, particularly soluble fiber, effectively lowers LDL and total cholesterol levels by binding cholesterol and inhibiting its absorption into the bloodstream.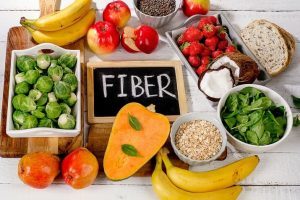 What to Eat for Healthy Cholesterol Levels?
Keeping in mind that diet is not the only factor affecting cholesterol levels certain foods do have an impact so diet is an important consideration.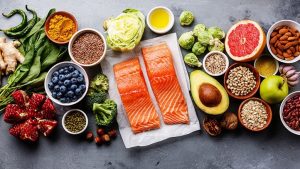 Add these high-fiber foods into your diet:
Fruits and vegetables
Legumes, like beans and lentils
Whole grains, like oatmeal, brown rice, and barley
Replace foods high in trans and saturated fats with heart-healthy unsaturated fats
Limit processed foods, baked goods, red meat, and butter
Add oils, nuts and nut butter, avocado, and fatty fish
Limit foods high in added sugar
Processed foods – almost all contain some amount of added sugar
Sweetened beverages, like soda, sports drinks, sweet tea, and juice drinks
Desserts, like candy, ice cream, cake, and cookies
So, what about eggs?
Though eggs do contain a small amount of saturated fat, they actually contain more unsaturated fat, plus a host of other beneficial nutrients. Feel free to include eggs in your heart-healthy diet.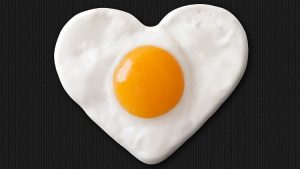 Editor's Note: Laura is a dietetic intern from Virginia Tech (go Hokies!). She spent the past two weeks working with the programs team at Manna Food Center learning about food insecurity and community nutrition education. She loves lentils and particularly enjoyed teaching Manna staff all about healthy protein and fat.
Notes from the CEO – Jackie DeCarlo
Traditionally our February e-newsletter is a time to shine a light on the service that happened in honor of Dr. King's birthday the previous month. This year is no exception. Stalwart volunteers-from high school students to Members of Congress-braved bitterly cold weather while helping us collect 28,542 pounds of food from 20 Giant Food stores. On MLK Day itself, with the support of our friends at Sodexo Stop Hunger Foundation, we participated in the County's Day of Service and prepared 768 boxes of food boxes for neighbors with special health concerns. I want to send a big THANK YOU to all those who volunteered, shopped, or packed boxes.
Another January story was, of course, how Manna Food Center responded to the longest running Federal government shutdown in U.S. history. By waiving the income eligibility requirements for the families of Federal workers, contractors, and others negatively impacted by the shutdown, we were able to share good food in welcoming spaces to 748 neighbors. We did this, while maintaining our usual Food for Families and Smart Sack programs and activating the Community Food Rescue volunteer network. Manna couldn't have responded as consistently and abundantly as we did without generous donations of food and funds.  Even though the shutdown is over, our waiver is still in effect as families recover.
The shutdown is a teachable moment for all of us. Last month, Forbes reported that 78% of U.S. workers are living paycheck to paycheck. Missing a paycheck can mean not making the rent, defaulting on a car loan, or ruining credit by skipping a utility payment. Manna helps prevent financial emergencies by offering Montgomery County families groceries at no-cost. We are confident that we will rise to any challenge ahead. As advocates as well as service providers, we are now redoubling our efforts to help the community understand that even when the government is working as it should, a health crisis, marital difficulties, or other stressors can put a household into a tail-spin.
There are many ways that you can be involved in helping our community rebound from the shutdown and prepare for what's next. Attend our Advocacy Task Force on February 19, visit our Breaking Bread potluck on February 20, or donate online. The Montgomery County community responded with generosity during the shutdown, and Manna Food Center will keep sharing food, building skills, and creating connections day in and day out, with your help.
Sincerely,
Jackie
MLK Weekend Food Drive Brings in 28,000 Pounds of Food
Over 200 volunteers and 20 elected officials collected food at 20 Giant Food stores.
(Gaithersburg, Maryland) – Manna Food Center (Manna) collected a total of 28,542 pounds of food during the MLK Service Weekend Food Drive held on January 19th and 20th at participating Giant Food stores in Montgomery County. Food donations increased by 87% from the previous year.
"We witnessed the strength and compassion of our community during MLK Service Weekend," said Jackie DeCarlo, chief executive officer for Manna Food Center. "Many were motivated to help because of the government shutdown, including our long-term partner Giant Food. The shutdown opened the public's eyes to ongoing issues around food insecurity here in Montgomery County."
The 14 tons of food will help stock Manna's shelves for Montgomery County neighbors in need. More than 63,000 residents live with uncertainty around food for themselves and their family. Manna waived income requirements to assist residents impacted from the shutdown. The waiver remains in effect until further notice. Food will be distributed to participants through existing distribution sites.
Over 200 Manna volunteers and 20 elected officials collected food items from shoppers throughout the weekend of service. The top five Giant Food stores were Westfield Wheaton (3114 lbs.), Blair Park (2193 lbs.), Kentlands (2052 lbs.), Burtonsville (1998 lbs.), and Traville Village Center (1758 lbs.).
Participating elected officials included:
U.S. Senator Chris Van Hollen
U.S. Representative Jamie Raskin
State Senators Cheryl Kagan and Jeff Waldstreicher
Maryland House of Delegates
Gabe Acevero
Lorig Charkoudian
Charlotte Crutchfield
Kathleen Dumais
Lesley Lopez
David Moon
Lily Qi
Jared Solomon
Jheanelle Wilkins
Montgomery County Council
Gabe Albornoz
Evan Glass
Will Jawando
Hans Riemer
Gaithersburg City Council
Mayor Jud Ashman
Laurie-Anne Sayles
Ryan Spiegel
Photos available at http://bit.ly/MannaMLKFoodDrivePhotos.
(Photo Credit: Manna Food Center)
Notes for the CEO – Jackie DeCarlo
We are experiencing a perfect storm (pun intended!) of vulnerability.  Montgomery County is cleaning up after a major snowstorm which created the usual complications for those needing shelter, clothing, and food. Many Federal workers also received no pay on Friday, and that evening hundreds turned up at a community supper that Manna Food Center was proud to support. As the weekend and weather played out, kids who receive meals at school went without on a snow day, and neighbors who rely on Federal contracts or related business have had their livelihoods disrupted. One family who turned to Manna for the first time last week told their story to NBC4.
Manna Food Center is waiving our income eligibility requirements for those who are impacted by the shutdown.  Because we recognize that the ripple effects are reaching into the community, we are not requiring Federal IDs to receive food.  If you are a resident of Montgomery County, it is our honor to offer you good food in a welcoming space. Because we know that food is just one element of concern, our staff are sharing information about how peer organizations and public agencies are stepping up with other resources.
The response to both the snow and the shutdown once again reveals what a special community Montgomery County is. One donor went online to give to Manna and shared that her gift was "For those who are furloughed. …[I am] happy to be able to help." If you are in a position to donate, please consider an online gift that will help Manna purchase healthy food.
We are also putting plans into place should the shutdown drag on, leaving more people vulnerable, especially as SNAP/Food Stamps benefits run out. Please mark your calendars for January 19-20, 2019, when we will be holding our annual Food Drive in honor of Dr. King.   During these uncertain times, it is essential for Manna to keep our shelves stocked and services strong. You can volunteer with us that weekend.
A government worker let us know, "This place is great. [You] gave me so much food. I am … on furlough status and not receiving a paycheck. This was such a great help. Thank you Manna!"
Thank you, for making sure Manna is ready whenever we are needed,
Jackie
Manna CEO Jackie DeCarlo makes the case to the Montgomery County General Assembly Delegation to support food security programs and initiatives at the local and state level. (Video courtesy of County Cable Montgomery).
Prior to my two-week rotation at Manna Food Center in Gaithersburg, Maryland, I thought all food banks were the same. From what I'd seen in the past, they handed out canned goods, bags of rice, and ramen. That belief was permanently changed after my first hour at Manna. I began the day sorting huge crates of fresh produce from local farmers; potatoes, cucumbers, oranges, apples, strawberries, assorted greens, mangos, and much more. I discovered almost a dozen varieties of eggplant, squash, and tomatoes that I had no idea existed. Once the boxes were overflowing with colorful fruits and vegetables, it was time to begin distributing food to participants. While helping recipients load their food into cars, I was able to learn how critical the need is and how thankful people are to have this valuable resource in their community.
Along with a box of fruits and vegetables, participants leave Manna with a bag of frozen meat, a choice of bread items, and one "closed box" containing shelf-stable items. The closed box given to every participant doesn't just contain a handful of randomly selected cans, but is composed of four to six cans of vegetables, one to three cans of fruit, at least one can of meat protein, multiple cans of beans or nuts, three containers of grains, bonuses such as soup, peanut butter, and other pantry staples like olive oil and mayonnaise. Each box contains around twenty items, which can be tailored for individual participants with particular nutrition needs. For example, patients with diabetes are given boxes containing items with less simple sugar, while vegetarian participants are given boxes that do not contain meat products.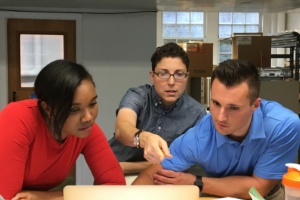 During our time at Manna Food Center, fellow University of Maryland Dietetic Intern Stephanie Jean and I shadowed Registered Dietitian Jenna Umbriac and learned about how she uses her dietetics experience and education in her role as the Director of Programs & Policy. Jenna explained to us that the purpose of this organization is to fight hunger, reduce food waste, and improve health outcomes. We've kept that purpose in mind throughout the last two weeks, while we created tools and guides for Manna volunteers, staff, and participants.
We constructed new guides to help staff build food boxes for participants following a Kosher diet, as well as participants with diabetes who are following a vegetarian diet. We also made alterations to the vegetarian guides with instructions on how to make boxes fit a vegan diet. These guides will help expand the options for participants with specific dietary needs while saving staff and volunteer time constructing special boxes. We also designed and produced a Volunteer Produce ID Manual, which includes photos and names of many different varieties of fruit and vegetables, as well as information and recipes for Manna participants. This valuable resource will help volunteers identify unfamiliar produce, either by name or by image, and provide box recipients with tips for storage, preparation, and preservation, as well as recipes and nutrition facts. These tools will help reduce food waste and hunger, by providing participants with the knowledge and resources to incorporate the foods they receive into their diet, as well as improve health outcomes, by including items that fit with individual dietary needs.
Since arriving at Manna I've gained a sincere appreciation for the vital role of food assistance organizations, like Manna, play in helping food-insecure individuals. Manna Food Center keeps their community healthy, not hungry, and I'm proud to have been a part of that.
On September 12th we welcomed current and potential East County partners to our Community Kitchen Open House at Silver Spring United Methodist Church in Four Corners to hear about the adult classes we're planning this Fall. Our 2 six-week class series, A Taste of African Heritage and A Taste of Latin Heritage, are designed to help participants learn health and nutrition through cooking and eating traditional and cultural foods in more nourishing ways.
Open House attendees included a past donor and representatives from organizations like Capital Area Food Bank, The Charles Koiner Center for Urban Farming, Montgomery County Food Council, Mt. Jezreel Baptist Church, Montgomery County Coalition for the Homeless, and Independence Now.
I facilitated a food demo and tasting of one of my favorite recipes from the curriculum, Pineapple, Mango and Papaya After-Chop Fruit Salad. The burst of flavors and ease of preparation inspired all to want to make this healthy dessert at home. Attendees also enjoyed samples of a Black Bean and Avocado Salad with Cumin Vinaigrette that will be part of the 6-week classes.
Everyone left the Open House nourished and fired up to help Manna spread the word within their networks about upcoming classes. It was wonderful to see organizations come together in the shared interest of community food education. I look forward to bringing partners together again in the Community Kitchen in the future!
Registration is now open for classes. A Taste of African Heritage runs Tuesdays, 2-4 pm, October 9 – November 13 and A Taste of Latin Heritage runs Thursdays, 2-4 pm, November 8 – December 20 (except November 22). Participants in the classes must be eligible to receive Manna Food Center services. To register, contact Madea Allen, Community Education Program Manager at madea@mannafood.org.
Manna was proud to contribute to the Consumer Health Foundation's recent briefing paper "Immigration Status as a Social Determinant of Health – Focus On: Food Insecurity". CHF and their partners are presenting a series of briefing papers to explore immigration as it relates to health, hunger and poverty, and worker's issues. This paper was a joint effort between the Food Research & Action Center, D.C. Hunger Solutions and Maryland Hunger Solutions.  Manna's Director of Programs, Jenna Umbriac, and former outreach worker, Maria Chavez, provided input regarding Manna's efforts to provide SNAP application assistance and the challenges faced by many immigrants and their families when it comes to food access.
"Despite the compelling research demonstrating the positive contributions immigrants make to the economic and social fabric of the United States, false narratives disparaging immigrants are prevalent and too often take root in restrictive policies aimed at immigrants. These false narratives…heighten the struggles immigrant households face in terms of addressing social determinants of health, including access to a consistent healthy, nutritious diet and willingness to participate in federal nutrition programs."
This brief examines barriers and opportunities in the region to improving the food security and the health of immigrant households: http://www.consumerhealthfdn.org/wp-content/uploads/2018/04/SDOH_BriefingPaper_FoodInsecurity.pdf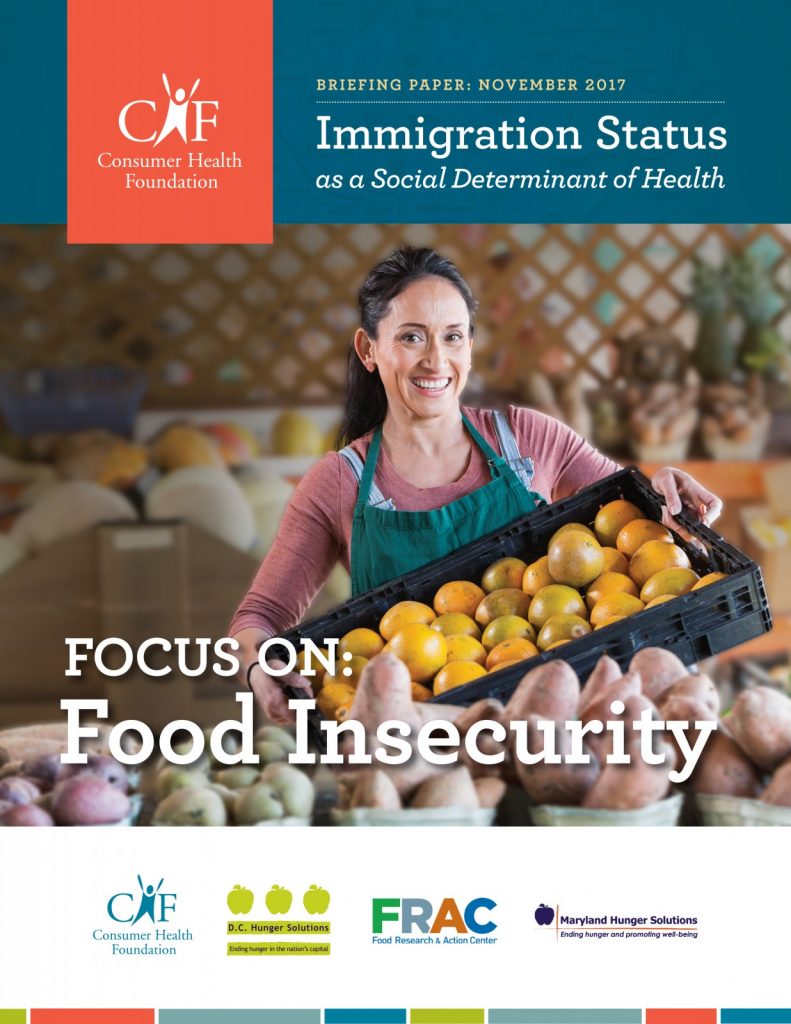 CLICK HERE TO SEE THE FULL BRIEFING PAPER!
Cooking Up Healthy Habits with Montgomery County's Youth
Have you ever wanted to learn something new but not have the resources to start?  Whether it's learning a new subject, picking up a new hobby, or developing a new skill, it's essential to have a strong knowledge base, the right equipment, and access to resources in order to be successful.
For the children of Montgomery County, learning new skills in nutrition, such as cooking, food safety, and healthy eating habits, is possible with the help of "Manny", Manna Food Center's commercial kitchen on wheels. Every day, Manny travels from school to school providing nutrition education to students who qualify for free or discounted school lunches. Over a series of 8 weeks, students are able to learn the ins-and-outs of how to choose healthy, nutritious food options, how to cook these food options, and how to turn their actions into sustainable, healthy habits for a lifetime.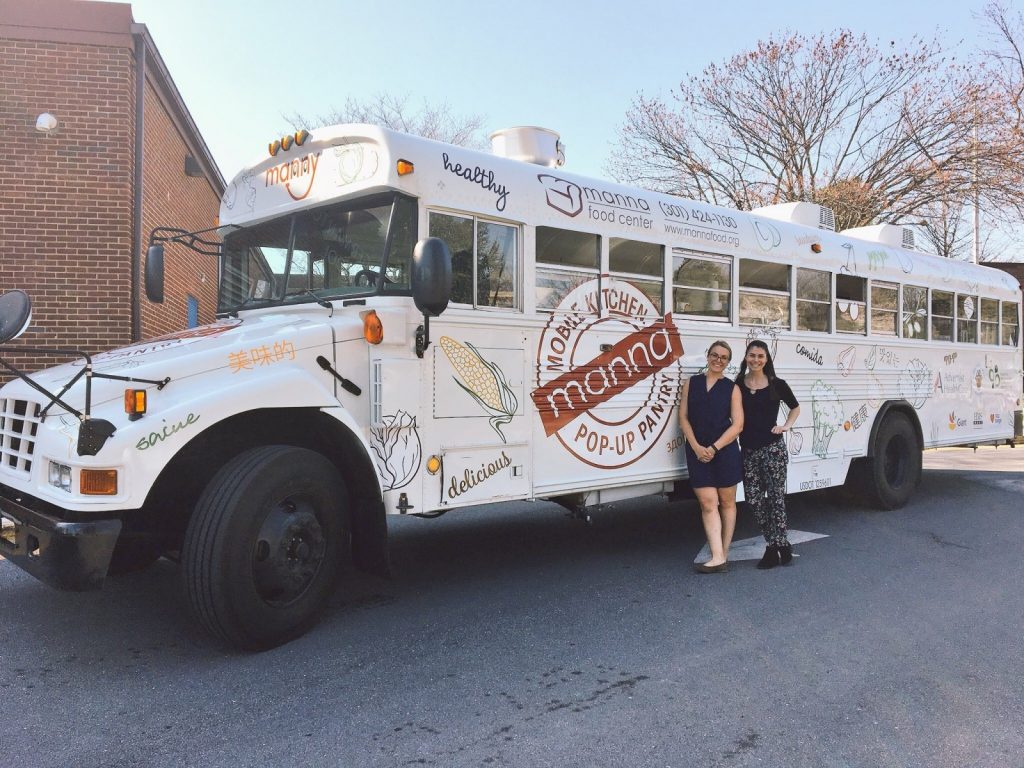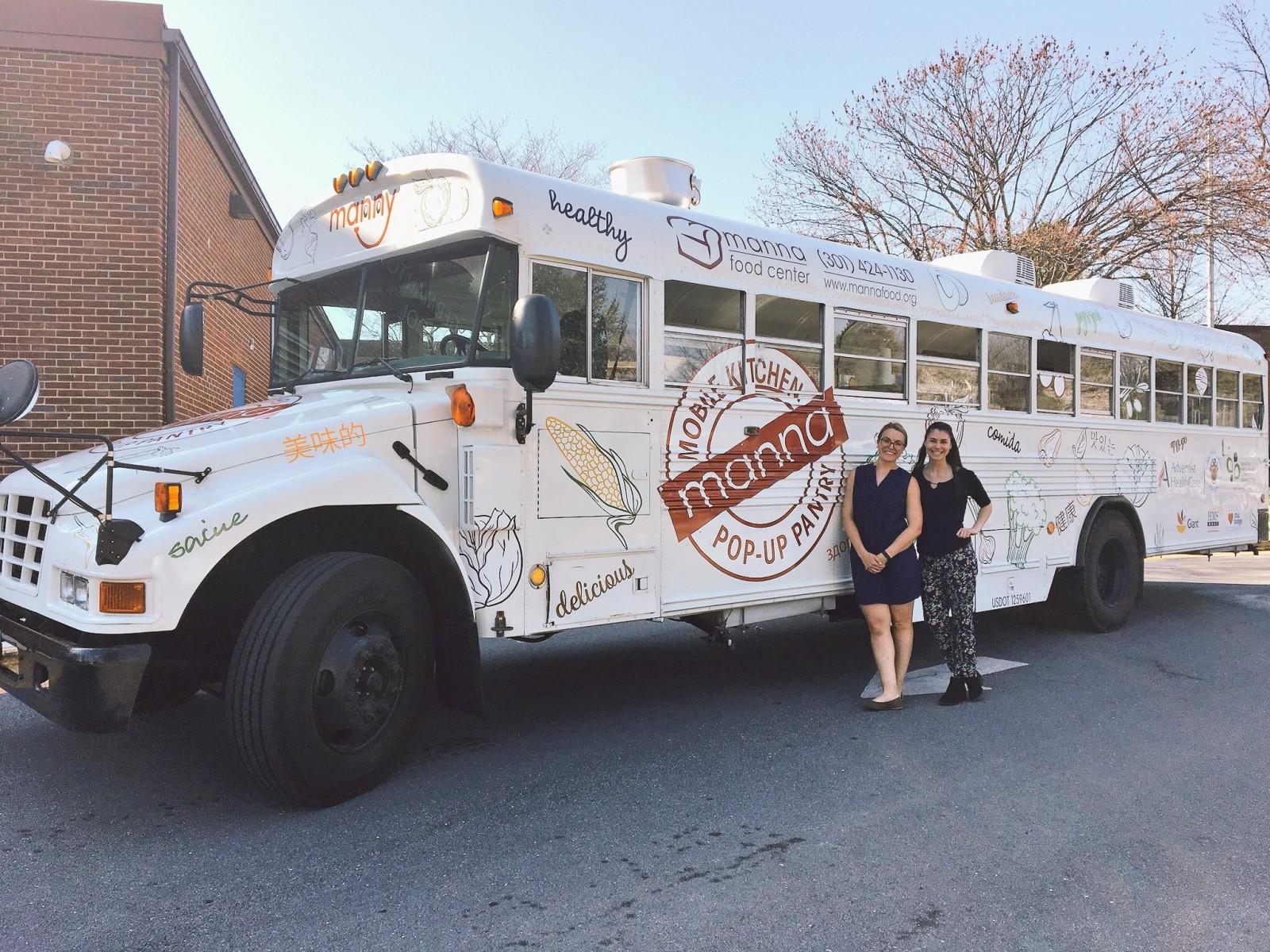 This past week, I had the opportunity to assist Manna's Mobile Kitchen Program Coordinator in presenting the "Small Bites" lesson plan to the students of Germantown Elementary. Following the Common Threads nutrition education curriculum, students were able to get hands-on with prepping and cooking the recipe of the day – seasoned, roasted cauliflower. They had a blast peeling apart bite-sized pieces of cauliflower off of its stalk, tossing it with oil, pepper, and a pinch of salt, and watching it roast in the oven. When it came time to the taste test, the kids couldn't get enough of it! Nearly every one of the students reported loving the recipe, stating that they enjoyed the spiciness of the ground pepper and that they were surprised by its delicious flavor. To my surprise, students were asking for seconds, thirds, and even a plate to go, leaving only scraps of the 4 heads of cauliflower behind. When asked if they would plan to cook this recipe again, a unanimous "YES!" rang throughout the bus. It's safe to say, the lesson plan was a success.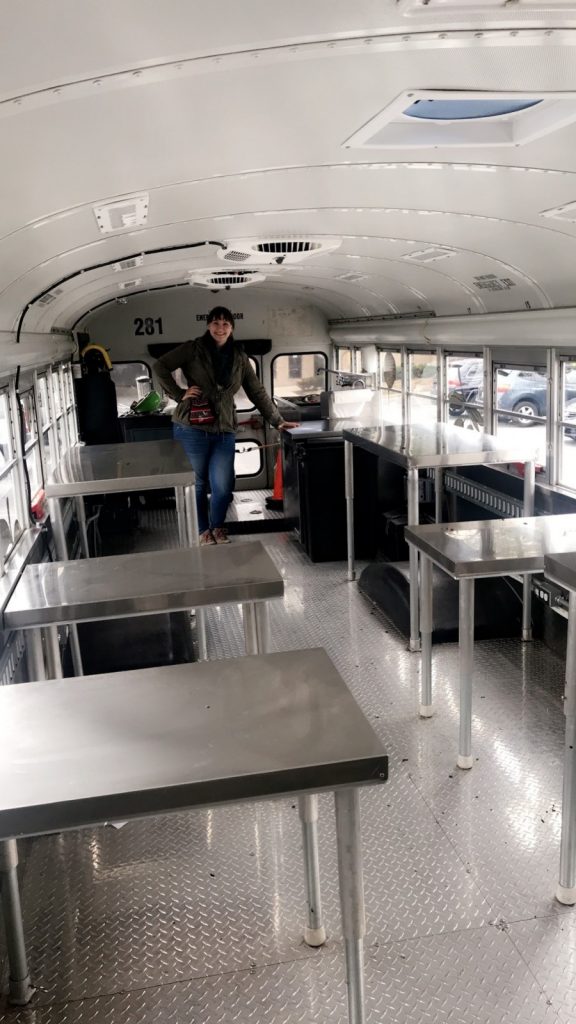 Upon reflection, I couldn't believe how big of an impact this experience had on these students. With only a few heads of cauliflower, three simple household ingredients, and a bowl, these kids were able to develop a healthy and nutritious meal option – with adult supervision of course– and have fun doing it! Based on the amount of enthusiasm portrayed during class, I have no doubt that these kids will be showing off their newly found skills to their friends and family, further helping spread the word of how delicious healthy and nutritious foods can be.
-Becky Handley
Dietetic Intern
University of Maryland
---
---
A Dietetic Intern's Experience at Manna
While beginning my community rotation at Manna Food Center I had no idea what to expect for the 2-week duration we had planned with my dietetic internship. Unlike most other dietetic interns, I had never stepped foot in a warehouse before, let alone volunteered at a food bank.  After my first day in the warehouse, it was safe to say that I was nothing short of impressed and eager to return for the remaining days.
Manna is unlike most food banks for many reasons. While its singular mission to eliminate hunger and food insecurity can be parallel to other organizations, it goes above and beyond to also educate the county on nutrition and healthy eating. In the past year, Manna created a mobile kitchen to bring nutrition education to its community members. Also known as, "Manny," Manna's mobile kitchen and Pop-up-Pantry allows community members to conveniently benefit from Manna's education programs and traveling pantry. One of my tasks during my two weeks here was to assist in teaching and prepping classes to elementary kids on Manny. While it was exciting and new to be on a mobile kitchen, it was even more inspiring to see how eager the children in the class were to try new vegetables and learn about healthy eating!
Aside from my wonderful experience with Manny, I also learned about other great programs Manna has created. For example, while more than 55,000 students in Montgomery County Public Schools are part of households that qualify for Free or Reduced Meals, Manna has created a solution to fight food insecurity geared towards these children. Manna Smart Sacks provides weekend meals to over 2,800 children to bridge the weekend gap when they can't rely on school meals. Smart Sack bags include whole grains, low sodium canned vegetables, lean meats, and healthier snack options so the children can enjoy their weekends without the worry of receiving adequate nutrition.
I also was fortunate to participate in a meeting with Expanded Food & Nutrition Education Program (EFNEP) to see how Manna can partner with them since both programs have similar goals of nutrition education to the community. It was informative and incredible to witness two different organizations make time out of their busy schedules to meet and help one another due to the fact that they have the same goal: to support and educate the community.  I also was able to help volunteer in the warehouse by sorting produce boxes and helped distribute boxes to families when they arrived. Being both behind the scenes of packing the boxes and in front of the scenes distributing them was inspirational because I realized the impact I was making on these families and how grateful they were for this organization. It was one of the most rewarding experiences I have had in my dietetic internship!
Overall, I think Manna is an amazing organization that will continue to expand and impact the lives of families in Montgomery County. This food center has set very high expectations for all other food centers that I will visit in the future. I am thankful for the amazing staff and volunteers that I was honored to meet and work with during my time here.
-Melissa Talley
Dietetic Intern
University of Maryland
Manna Food Center Honors "Heroes Against Hunger" and Montgomery County Executive Isiah Leggett
Organization Marks 35th Year of Fighting Hunger
BETHESDA, MD—Marking its 35th year of fighting hunger in Montgomery County, Manna Food Center announced today it has honored Montgomery County Executive Isiah Leggett with a legacy award for his commitment to supporting the organization's mission and strengthening the social safety net for county residents.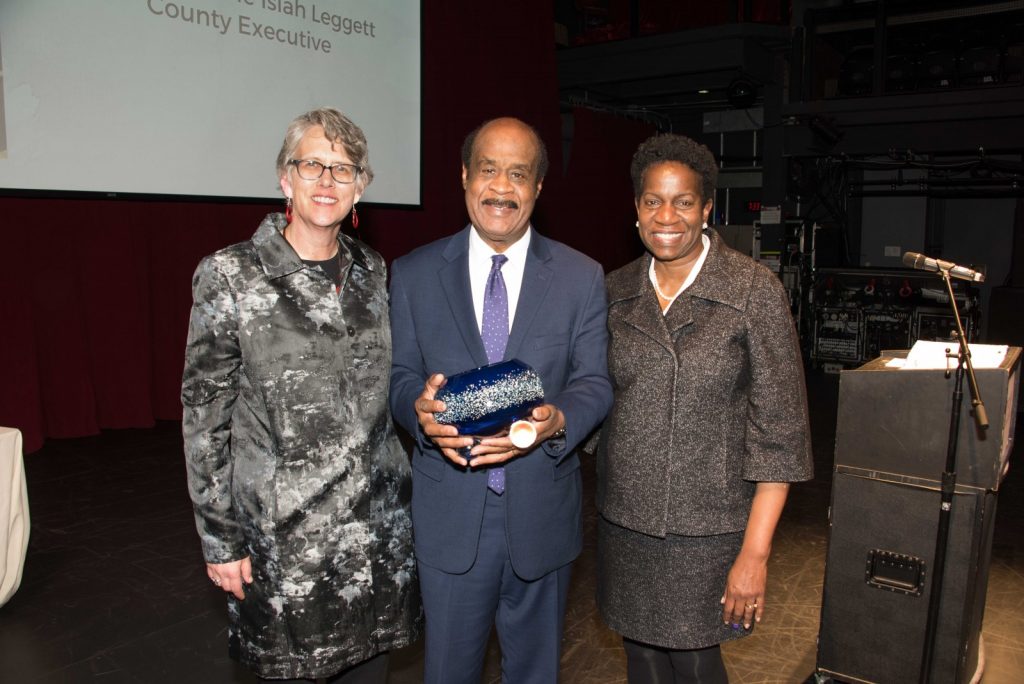 (Left to right) Manna Food Center CEO, Jackie DeCarlo; Legacy Award winner, Hon. Isiah Leggett; and Manna Food Center Board Chair, Selena Singleton.
"As Manna has worked to make Montgomery County hunger-free we have had a strong champion in County Executive Isiah 'Ike' Leggett, who has never forgotten his roots in the hardscrabble poverty of a then-segregated Louisiana," said Jackie DeCarlo, Manna's chief executive officer, at an awards reception held in Silver Spring at The Fillmore. "Mr. Leggett has focused on making sure that every part of our community has a seat at the table and a voice in the decisions that affect their lives. His priorities and approaches are a role model to all of us who want a county where all live in dignity."
Manna, the largest food assistance organization in Montgomery County, also named its 2018 Heroes Against Hunger award recipients, which include: Mead Family Foundation as Community Partner of the Year; Social & Scientific Systems, Inc. as Corporate Partner of the Year; and Ellen Teller of Food Research & Action Center, as Individual Hero of the Year.
"Ending hunger is not something we can do alone," said DeCarlo. "We are grateful to all of our partners for their passion, dedication and commitment to fighting hunger. Our vision for the future is one where hunger no longer exists—and together we can achieve this goal."
During the reception, Manna's innovative programs and services were on display, including "Manny" – the nickname for Manna's Mobile Kitchen and Pop-up Pantry. Manny is a transformed school bus that acts as a cooking and nutrition classroom for children and adults, and food pantry for communities with limited food access.
The event caterer, Corcoran Caterers, is a member of Manna's Community Food Network. Community Food Rescue employs an innovative web tool and mobile app to match surplus food with hunger relief organizations, in real-time.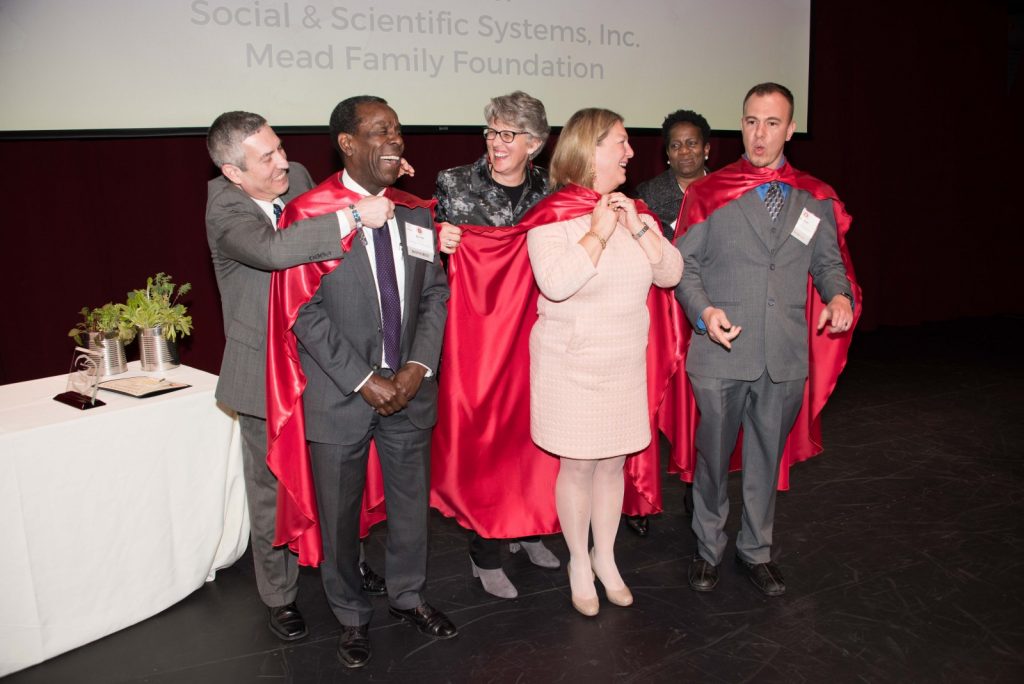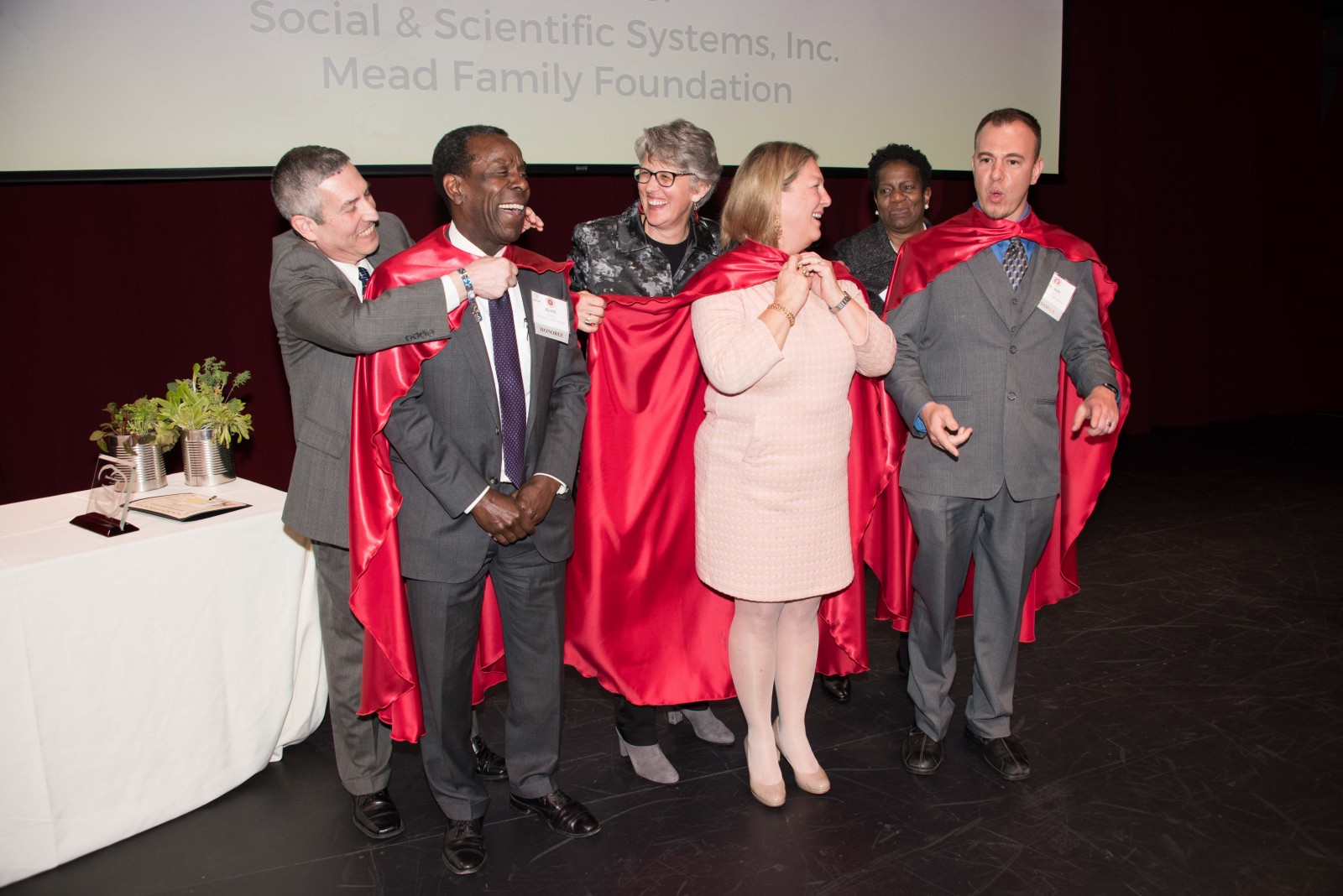 (Left to right) Jeff Miller of Jeff Miller Consulting Alliance (former Manna Food Center board member); Social & Scientific Systems, Inc. President & CEO, Kevin Beverly; Manna CEO, Jackie DeCarlo; Food Research and Action Center Director of Government Affairs, Ellen Teller; Manna Board Chair, Selena Singleton; and Mead Family Foundation board member, Stephen Mead.
The Mead Family Foundation was honored for its role as a lead funder and catalyst for improving food access, education and security in Montgomery County and for strengthening nonprofit partnerships and collaborations around such efforts. The foundation supported Manna and many food security nonprofits in its history. Recently, the Mead Family Foundation provided direct service support, running a two-year Mini-Grants Program to build agencies' capacity to receive, store and serve additional food rescued through Manna's Community Food Rescue network.
Social & Scientific Systems, Inc., which focuses on public health in this region and around the world, received its award for supporting Manna's Smart Sacks program. The company's staff team currently packs 70 bags a week for Greencastle Elementary, plus an additional 150 bags a week at Kemp Mill Elementary school in a weekend bag collaborative with Kids In Need Distributors (or KIND). Over the course of the year, Social & Scientific Systems staff will pack approximately 8,800 weekend bags to combat childhood hunger in our community.
Award recipient Ellen Teller is the director of governmental affairs at Food Research & Action Center. An expert in anti-hunger policy work, Teller has worked closely with organizations and advocates across the nation, including Maryland and Montgomery County, fighting to strengthen anti‐hunger programs. She has also served her local community as member of Manna's Board of Directors and Advocacy Task Force.
Last month, Manna's CEO DeCarlo was awarded Stop Hunger's 2018 Women Stop Hunger Award at a ceremony in Paris, France. Under DeCarlo's leadership, the agency has adopted a comprehensive approach to ending hunger through innovation, experimentation and community engagement. Stop Hunger is a global network of organizations working for a hunger-free world. The Sodexo Stop Hunger Foundation, headquartered in Gaithersburg, nominated DeCarlo for this award.
This past month I had the pleasure to present to the class of the Women's Studies class WS101 at Montgomery College Takoma Park/Silver Spring Campus. We discussed the prevalence of food insecurity in Montgomery County and focused on how disparities among women in Montgomery County in turn negatively impacts their health.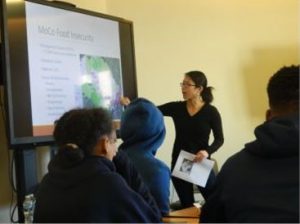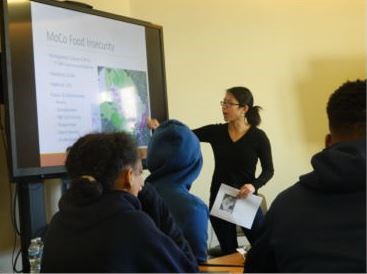 In addition to the presentation, the students also supported Manna in packing Smart Sacks bags for JoAnn Leleck at Broad Acres Elementary School. WS101 students also wrote Valentine's Day cards and put in little treat bags for students as a surprise. Afterwards, students wrote reflections on the presentation and Smart Sacks packing project. One student, Henry Obioma Ukeje, provided us his very powerful words on poverty and the cycles of hunger. Please read his reflections on our Manna blog online.
---
Poverty and the Cycle of Hunger Locally, Nationally, and/or Globally
By: Henry Obioma Ukeje
Across the many societies in the globe, women experience issues that vary greatly in scope.  It does not require one to be female to take a Women's Studies course; an in-depth understanding of what it takes to be a woman living in times of great economic strife and hardships is important. This course has opened my eyes to the severity of the many issues that accost women, especially poverty. The architects of this course engineered its relevance to address issues that face women from all backgrounds and their daily struggles to overcome these challenges, even in the midst of widespread gender inequalities.
Poverty and hunger are cyclical in nature. This can be best illustrated by the sad fact that a child born out of poverty is more likely to spend his/her entire life in poverty, and worse still, will probably raise his/her children in poverty. Politicians do so little to alleviate this, but instead uses poverty to propagate their selfish agendas. Education, which has become a basic need, is the only effective tool to end this vicious cycle of poverty and hunger, but it is still a luxury to many people. Though women and girls make up more than half of the world's population, men are typically more educated than women, which shows how lack of access to education is tool to discriminate against and disempower women.
If women and girls were given equal opportunities as their male counterparts to access education, perhaps then, the cycle of poverty would end. Michele Sullivan, a women's rights activist, states that, "If you help a girl, you help the family and the village and the society."  This is because unlike men, women spend a huge fraction of their income buying food and other necessities; for them, the priority is often caring for their families and communities. More published research also shows that the higher a woman rises in her level of education, the more likely she will be to feed her child better, thus the education of women has a direct impact on malnutrition and child mortality rates. (Sue-Lynn Moses)
Local food banks are of great importance to our societies. We live in societies that are in constant ignorance of the people living around us. People imagine, "If I am okay, then everybody else is," but in reality, the neighbor living in the next block might be going without food for days. Manna Food Center plays a very important role in ensuring that those underprivileged and neglected persons can also get food and not suffer in hunger.
Women and Gender studies instills the spirit of helping within our level of ability and fighting against gender-based discrimination and other inequalities that women face. We should be our own activists, so that we can help raise each other's standards and perpetuate a society where no one drowns in the cycle of hunger due to their economic status. Helping others in the society creates a sense of satisfaction and fulfillment, especially when you see the joy on faces of those who have received food donations that will help to sustain them.
The relationship between women and food, symbolically illustrated by the stuffing of pantry sacks (a "care"-type role typically performed by women), helps us understand how group-based marginalization has been propagated in the society, as well as the stigma associated with the experience of poverty. This act clearly demonstrates the themes our course has been studying: the historical production of sexual difference and the intersection of gender with other social forces. This course has inspired in me the role of being a social actor, so that that I can help to uphold the rights of women and girls. Together, we can end the cycle of hunger in society.
References:
Ayu Saraswati, Barbara Shaw, and Heather Relihann. Introduction to Women's, Gender, and Sexuality Studies.
Joe McCarthy. Educating Girls is the Key to Ending Poverty. Aug 7, 2017. Retrieved from:
https://www.globalcitizen.org/en/content/educating-girls-is-the-key-to-ending-poverty/
---
*Special thanks to the class of WS101 at Montgomery College Takoma Park/Silver Spring, Professor Esther Schwartz-Mckinzie, and Lucy Vitaliti, Coordinator of the Office of Volunteerism and Service Learning, in providing Manna this opportunity to share our knowledge and engage our community to end hunger.
-Karena Kuo, Program Manager, Smart Sacks
Jackie DeCarlo, chief executive officer of Manna Food Center, Montgomery County's largest food assistance organization, was awarded Stop Hunger's 2018 Women Stop Hunger Award at a ceremony in Paris, France on March 13.
For 30 years, Manna served as a traditional social service agency in the suburbs of Washington, D.C., near the Sodexo USA headquarters. Under Jackie's vision and leadership, the agency has committed to a holistic, systemic approach to unleashing the power of community connections, through innovative use of technology, justice-minded initiatives aimed at addressing root causes of hunger, and bold experimentation.
(Left to right) Sodexo Stop Hunger Foundation's Executive Director, Shondra Jenkins; Sodexo's SVP & Chief Human Resources Officer, Gerri Mason Hall; Manna Food Center's CEO, Jackie DeCarlo; Sodexo's SVP Corporate Responsibility & Global Chief Diversity Officer, Rohini Anand; and Sodexo's Group General Counsel, Robert Stern. 
"In Montgomery County, MD, which is one of the richest counties in our state, one in three schoolchildren are food insecure," said DeCarlo. "We are so pleased to receive this award, which will enable us to expand our Mobile Kitchen & Pop-Up Pantry so we can provide kids with fresh fruit and vegetables after school."
Montgomery County's Food Security Plan suggests that financial barriers, transportation and a lack of food preparation knowledge are common factors that prevent Montgomery County families from eating a healthful diet. Seventy percent of county adults do not meet the recommended number of daily vegetable servings. Nicknamed "Manny," Manna's mobile kitchen program is designed to tackle two barriers at once by bringing nutritious foods and cooking skills to the community. This school year, Manny began offering educational opportunities to some of the 30,000 elementary school students in the Montgomery County Public Schools eligible for free and reduced meals. This culinary classroom on wheels is an innovative solution to increase access to nutrition education and nutritious foods in Montgomery County.
The second annual Women Stop Hunger Awards recognize a woman or group of women on the front lines of fighting hunger in their community through programs led by and for women. All recipients were chosen based on a number of criteria including whether their initiatives are innovative, scalable, impactful, and target communities with the greatest need.
(Left to right) Sodexo's SVP Corporate Responsibility & Global Chief Diversity Officer, Rohini Anand, with awardees Elizandra Cerqueira, Nigest Haile Goshu, Manna Food Center's Jackie DeCarlo, Nonhlanhla Joye, Brigitte Miché, and Sophie Bellon, Chairwoman of the Sodexo Board of Directors.
With a staff that is 61 percent female, Manna is supported by a strong coalition of female Board members and volunteers and ambitious new projects like "Manny" are changing the way hunger is addressed in the community.
"Women can be the key to fighting hunger in communities around the globe, and Jackie DeCarlo exemplifies that potential," said Shondra B. Jenkins, executive director of the Sodexo Stop Hunger Foundation. "Stop Hunger is proud to honor Jackie, and confident that Manna Food Center will not only turn this award into food for Montgomery County children who experience hunger today, but also provide them with the culinary and nutrition education skills that will make them less likely to experience hunger tomorrow."
Stop Hunger is a global network of non-profit organizations working for a hunger-free world. The Stop Hunger Awards presented on March 13 were part of the organization's annual fundraising dinner that brings together more than 500 donors, partners, volunteers and representatives of local and international associations. Other recipients of the 2018 Women Stop Hunger Award were Nonhlanhla Joye of Umgibe Farming Organics & Training Institute in South Africa, Nigest Haile Goshu of the Center for Accelerated Women's Economic Empowerment (CAWEE) in Ethiopia, Elizandra Cerqueira with Paraisópolis Women's Association in Brazil, and Brigitte Miché of Restos du Cœur in France.
"I am humbled to be included with such dedicated women from all over the world doing remarkable work to enhance economic, social, and environmental development and feed families who experience hunger in their communities," said DeCarlo. "Stop Hunger should be commended for supporting women's empowerment and striving to ensure the basic needs of all people are met, and we at Manna Food Center will certainly use this award to further that goal."
Manna Food Center's Fight Against Childhood Hunger
By: Danielle Ferguson and Danny Turner (Manna Dietetic Interns)
Childhood hunger is something that hits deep in the heart of our society. According to the Frontline documentary Poor Kids, there are 14 million children currently living in poverty in the United States. Some of these children don't know where their next meal is coming from, or if they will have a place to live the next day. This film follows the story of several families each struggling to find a way to afford basic everyday needs. As future Registered Dietitians, we know that working to improve health and wellbeing through nutrition in our community is incredibly important. It was heartbreaking to find out how widespread and severe childhood hunger is. Thankfully there are organizations like Manna that are working ceaselessly to provide food to those in need. Having the opportunity to be a part of Manna for two weeks, we have experienced how dedicated they are to ending hunger in Montgomery County, especially for the children that live here.
Manna's mission is the create a hunger free zone in Montgomery County and their vision for the future is "nothing less than food security for all – where hunger no longer exists, as residents are self-sufficient and providing for themselves." We have seen the work that the employees, volunteers, and community contribute every day through food sorting, packing, cleaning, and distributing to get it to those who need it most. One of our favorite projects Manna currently operates is the Smart Snacks program for the children in the local community. Smart Sacks provides bags of food to over 2,800 children each week to bridge the weekend gap when they can't rely on school provided meals. The bags include whole grains, low sodium canned vegetables, lean meats, and healthier snack options so that these children can enjoy their weekends without worrying so much about their meals. We can all agree that children should never have to worry about when their next meal will be.
Combating hunger throughout the country is a large task, but an attainable one that begins with small steps. The best way to start is looking at ways you can help in your own community, and there are a lot of ways to contribute to the cause of ending hunger in Montgomery County. The Smart Sacks program is just one facet of Manna, and they are always in need of helping hands to carry out their everyday work. If you feel like you want to contribute to Manna's mission, but aren't quite sure where to start, check out this list of things Manna needs most!
Here are some ways that YOU can help:
Donate money – As a non-profit, Manna relies largely on charitable donations to stay in operation
Volunteer – Manna recruits both individuals and groups as volunteers
Donate Food – Click here to find out which types of food are the most helpful to donate
Jamal here. This fall, Angela Whitmal (our Senior Director of Administration and Participant Services) and I traveled to Tacoma, Washington to attend the Closing the Hunger Gap Conference. The goal of this conference is to move hunger relief organizations toward strategies that promote social justice and address the root causes of hunger, using the lens of racial and economic equity.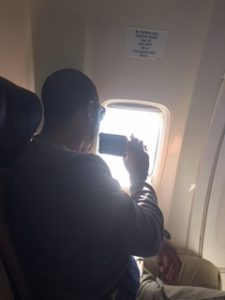 When I first went to Tacoma I was narrow-minded regarding some of our programs here at Manna, but, while away, I learned that ignorance is not bliss–especially if you want to truly cure the ails of a society where the have-nots continue to get less and the haves continue to get more.
As I listened to the different speakers talk about the same battles they face in their states, cities, towns that I fight here in Montgomery County, I realized there are a lot of agencies trying to do the right thing but facing the same stumbling blocks: lack of money, lack of man power and a lack of time to get all they want to do get done and still have time for their own lives. I listened to people come up with ideas that we are currently implementing. Which was very encouraging as well as a having a sense of pride, knowing were heading in the right direction.
There was a conversation started about whether it was ethically right to receive monies from Walmart, a cooperation notorious for not paying its store employees enough money to sustain their families. As the Warehouse Manager, I saw myself wanting the food they donate because the food was either going to a land fill or to a needy family, but this was something I never considered. As a youth of the 80s, and the crack epidemic, I watched a lot of young men sell drugs to line their pockets as well as provide for their families, but am I any different then the parent turning the blind eye so bills can get paid while at the same time taking out an insurance policy on my child so in case of death we can now get out the ghetto?
A recurring phrase used was Social Justice. Are we doing enough to help end the cycle that causes families to need our services, or are we part of the cycle of poverty and hunger another part of the machine that like the pharmaceutical / health care industry instead of teaching people how to better their lives through diet and exercise we offer a drug that seems to address the problem while instead causing several others. Are we a placebo? Are we helping to end hunger or continuing the cycle?
I believe now that we do have a larger responsibility to the public then just feeding them. We do need to educate helping those that might not know about the other resources in MoCo, besides Manna Food Center, by putting them in contact with those that can help them get job training, English classes, educational funding, child care and health care if needed as well as many others.
The Social Justice piece encompasses a lot of things in my eyes seeing to the needs of those that don't have the courage, strength, knowledge, monies to get the help they need to live the life we all deserve. And I believe we at Manna do this daily:
The drivers get up at the crack of dawn to go out to the stores, farmers markets, synagogues, churches or where ever there is food to be picked up to make sure that it is brought back here and sorted and distributed by volunteers and employees working together to make sure people like their own family get the best.
A nutrition team helps to draft guidelines and programs advising us and the public on healthier food choices so that those foods they eat aren't 0 calorie's but nutritious so they can perform the duties on their jobs and in the class rooms to advance to get them out of the cycle of poverty.
The development team drafts up grants while also stirring the hearts and minds of donors that might not ever see the people they help, retrieving monies from grants and funds to help pay for the day to day up keep of the facility.
The volunteer coordinator who helps to bring in a steady supply of help that works for no more than the knowledge of that but for the grace of God there goes I.
A referral office that takes calls for both requests and complaints ensuring that the participant feels like more than another hand out, but their voice is heard like the voice at the Wegmans complaining about the Organic Strawberries being too bruised.
We can do more, and we will do more, because like those 600+ I walked and talked with in Tacoma: we care, and the job will get done.
If this is a conversation you want to join, consider attending one of our monthly Breaking Bread sessions. Manna creates space and intentional conversations to nurture dialogue around critical issues, such as race, class, and a culture of dependency, that create or contribute to hunger in our community. We hope you will join the conversation on the third Wednesday of every month from 4 – 5:30pm at Manna Food Center, 9311 Gaither Rd., Gaithersburg MD 20895. Questions? Contact Angela Whitmal at 240-268-2527 or angela@mannafood.org.
Lindsey here. September marks Family Meals Month, encouraging people to set aside time at least a few days a week to convene the family around a home-cooked meal. Research shows that when families eat together, it's better for kids'–and parents'–emotional well-being, performance, and diet.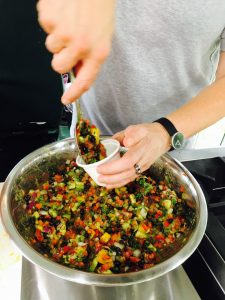 The simplest way to ensure a nourishing meal is to step back and look at the whole plate: do the foods on it have at least three (naturally-occurring) colors? A color-filled plate is an easy way to determine you're providing an array of vitamins and minerals.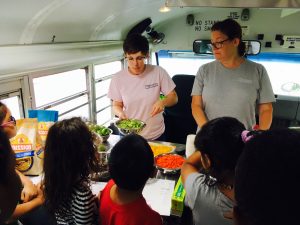 What if I told you that I witnessed 16 kids, ages 8-10, gobble up raw peppers, avocado, and black beans and come back for third helpings? It happened this summer on Manny the Mobile Kitchen.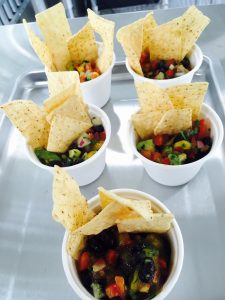 Too little time?
Get kids to help. They can stir, grate, pour, mix, tear, wash, toss, set the table, and clean up as you go along.
Worried about picky eaters?
Taking a little something familiar (like a low-salt tortilla chip) is a great way for kids to try new flavors and textures. It certainly worked with this simple, wholesome recipe from Common Threads.
Too much work?
Make a taco bar! Everyone can pile this wholesome salsa onto their chicken, fish, whole-grain tortilla, or brown rice (hint: instant brown rice cooks perfectly and helps weeknights). Each eater customizes, they can sprinkle on their own scallions, shredded cheese, plain yogurt, chili flakes, etc. That way, each person at the table can decide which foods they want touching.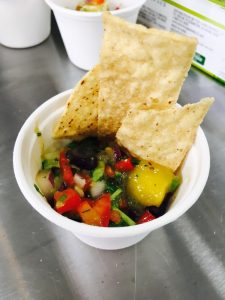 Prioritize time together, and keep meals happy. Use the time to focus on the positive, and what interests kids. Include them in discussions about your community, get their take on the news. If you're stuck, here's a few ideas:
If you could have any super power, what would it be and why?
If we could go anywhere you wanted on vacation, where would you choose? Why?
When do you feel the most proud of who you are?
Bon appetit!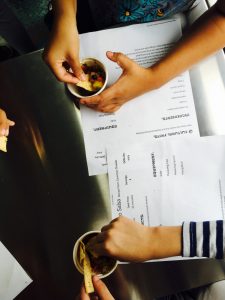 Black Bean Mango Salsa
from Common Threads, kid approved!
Lindsey's trick: frozen mango is ripe, affordable, and pre-chopped
15 ounces black beans

1 mango

1 red bell pepper

1/3 red onion

1 bunch cilantro

2 lime

1 large avocado
1. Drain the can of black beans
2. Peel the mango and chop it along with the bell pepper and red onion
3. Add freshly chopped ingredients to the black beans
4. Chop the bunch of cilantro and add to top of mixture
5. Squeeze the two limes over the mixing bowl
6. Cut the large avocado into small pieces and mix into the mixing bowl
7. Serve the black bean mango salsa and enjoy!
Lindsey here. Once upon a time, Manny the Mobile Kitchen was a humble school bus, toting 72 kiddos to and from school. He looked like this.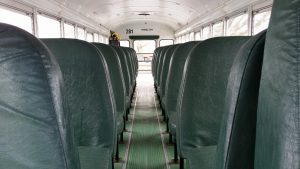 These days, this school bus is taking kids' taste buds through the rainbow of wholesome foods.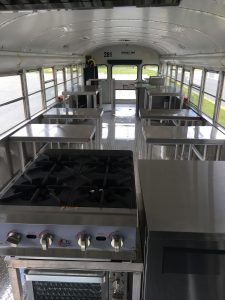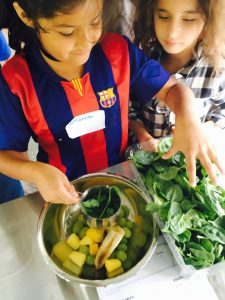 Sixteen youth at Gaithersburg Elementary participated in the pilot program aboard our Manna Mobile Kitchen. We partnered with Common Threads to implement their program, Small Bites, an eight-day class that teaches kids the basics of nutrition in a way that integrates science experiments, reading, and math. For the second half of the class, students engage in hands-on, knife-free food prep making healthy snacks.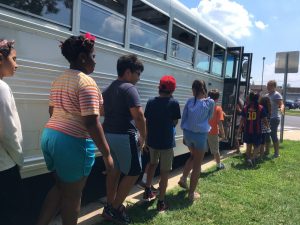 Dishes included Strawberry-Pineapple Agua Fresca (as an alternative to soda), Mango-Lime Yogurt Parfaits, Sneaky Green Smoothies, and Mango Salsa.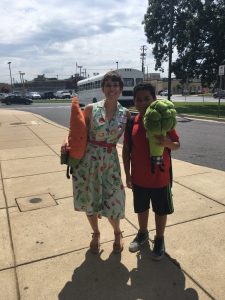 Along with a team of enthusiastic volunteers, we also integrated fitness activities and trying new foods with bell pepper tastings and seed tastings.
By far the most popular dish was our roasted cauliflower! One parent shared how she and her daughter went to the store together to purchase cauliflower after this particular class. She even got her big brother (13) to try and enjoy roasted cauliflower, too.
Manny the Mobile Kitchen will also serve as a Pop-Up Pantry to bring fresh produce to underserved neighborhoods. I hope you'll join us for an opportunity to visit this special new addition to Manna. Climb aboard to enjoy the culinary classroom experience for yourself, plus a tasty sample, on Saturday September 16th. Details here. Hope to see you there!
Dear Friend of Manna Food Center,
This is our September newsletter so it is natural that we are focused on back-to-school topics: another year of the
 Smart Sacks
 program providing 2,850 kids with nutritious bags of food each weekend, the arrival of our new retrofitted school bus 
"Manny"
 that will reach hungry neighbors with fresh produce and teach kids and parents skills for healthy cooking. There is a lot to be excited about as a new school year begins, and thanks to your 
support 
we are able to help students achieve.
But it is also hurricane season. Across the aisles and cubicles of Manna, teammates have been checking with those who have loved ones in Florida and the Caribbean, just as we did in August as attention was fixed on Texas and South Asia.  Recently in a staff meeting we talked about the 
butterfly effect
, the theory that the tiny motion of butterfly wings can have a role to play in major weather events such as tornadoes –we weren't predicting the weather!  The topic came up as we were discussing the role that Manna Food Center plays in creating a Hunger Free MoCo, noting the ripple effect of our high standards and ambitious goals.
During this season of weather-related disasters, our team is doing what we can to 
respond
 to those in need from afar, while we redouble our efforts to be of service to those in our own backyard.  We believe that if we do our best with the projects right in front of us, we are part of broader humanitarian effort.  This is not self-congratulations, it is systems-thinking, being sure to do our part.  You do your part as well by being a supporter of our work.  Thank you for making it possible for us to provide steady service here in Montgomery County, MD in the midst of unsettling events across the globe.
Ending hunger, it's what we do,     Jackie
Lindsey here. For four years I've worked in Nutrition Education at Manna. It's also how long, before that, I applied for job after job, competing with more experienced colleagues who lost their careers in the Recession.
My role here is rooted in the community; I'm on-the-go to schools, senior apartments, and community centers most days of the week. My classes have grandmothers and grandchildren, veterans and students—I receive both stories and hugs.
In these four years, the Nutrition Education workshops evolve with the concerns of our community: as I hear complaints about deceptive advertisements, we develop a new "Nutrition Fact or Fiction" class. As more and more adults share their confusion over this new "prediabetic" diagnosis, we created a two-part series on habits to hinder diabetes and chronic disease. We talk about small, practical steps that make sense in a busy, budgeted lifestyle: walking and dancing with your kids, drinking fruit-infused water, purchasing wholesome foods (oats, onions, carrots) in bulk—to last beyond the week.
In a span of two days, I was reminded: people here are hungry. Participants are tired, frustrated, worried, too–that's easier to see. Hunger is not always so visible in America, few people standing in line for food assistance appear severely underweight.
In my most recent Cooking Matters at the Store grocery tour, a participant had to sit down for the second half of the class because she was so dizzy. In conversation, I learned that she had not eaten since a bagel at breakfast—seven hours earlier—because she ran out of food at home. Over some fresh watermelon, we discussed unit prices and nutrition labels on the store's front park bench.
The next day, a woman called to sign up for a store tour. I asked how she was doing today—a question I've learn to ask with patient pause in this work. She lost half of her pension when retiring for health issues, so she practices gratitude, but struggles with logistics of getting-by. She was called into work for the same time as my upcoming nutrition class. She truly considered calling out of work just to attend a class about how to stretch a grocery budget.
We hear more about hunger in the news, but in terms of numbers. It's not "the needy"; it's our neighbors in need. 
In these four years, I find the amazement of people who step into our warehouse never ceases–the scale of this work is often surprising. If you are able, I invite you to volunteer with Manna, even for just a day. These stories could belong to any of us.
We know from Montgomery County's Food Security Plan that families are not accessing or consuming enough vegetables.  As you likely know, vegetables really drive Nutrition Education: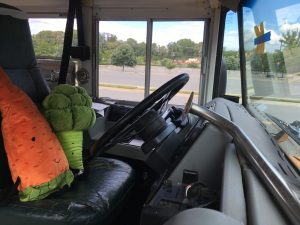 Manna's Mobile Kitchen & Pop-Up Pantry is a new program designed to tackle two barriers at once by bringing nutritious foods and cooking skills to our community. The MMK is an extension of Manna's focus on innovative, participant-centered approaches to eliminating hunger.
Programming will encourage increased fruit and vegetable consumption, greater acceptance of new, nutritious foods, and encourage lifelong skills like math and teamwork. Our pilot program starting this July utilizes Common Threads Small Bites curriculum, which ties youth culinary skills to Common Core academic skills.
Here's where the kids will be cooking:
Our participants often faced transportation barriers to accessing licensed community kitchens where Manna taught classes in the past. We will travel to high-need schools and apartment complexes to teach youth, seniors, and adults at risk of food insecurity.
Upon finalizing permits and exterior wrap designs, the MMK will begin community programming in July 2017.
How can I get involved?
This innovative new program will depend on generous support from the community to fund outreach moving forward.
Corporate Sponsorship opportunities are available. Click here for details.
This school year the MMK will offer educational opportunities to some of the 30,000 elementary students in the Montgomery County Public Schools eligible for free and reduced meals. Our culinary classroom on wheels is an innovative solution to increase access to nutrition education and nutritious foods in Montgomery County.
Mike here, I am a Dietetic Intern completing my rotation at Manna Food Center.
One of the great things that Manna does in the community is teach nutrition education classes. I was able to participate in one of these lessons today: The class is "Sugar Shockers" and I can definitely say I was shocked. It wasn't the content of the lesson, but the responses from participating mothers. Lindsey regularly holds this class at local elementary schools for families in the Linkages to Learning program, many of whom also participate in Smart Sacks.
The lesson detailed sugar in common foods like soft drinks, juices, and breakfast cereals. It also covered how sugar reacts in the body and what health problems can result from eating too much sugar. These aren't new concepts in my field of study, but I realized that it's easy to take for granted the things you know. Some of these concepts were brand new for a lot of the mothers. It was heartbreaking to see their reactions to some of the information. It was as if they had been lied to about what is healthy for their entire lives. They became very concerned about how much sugar their children have been eating every day.
Something that I thought was interesting was that nearly all of the mothers said that they thought honey was healthier than sugar. While honey may be natural and have other potential benefits, the body uses it the same way it uses sugar from a packet. Too much honey results in the same problems as too much sugar.
We also talked about how fruit juice isn't as healthy as eating fresh fruit because when you eat fresh fruit, you get a lot of fiber that helps make you feel full. Eating one or two oranges is plenty for most people. However, with juice, you don't get the fiber, but you get all the sugar. One glass of orange juice may contain eight or nine oranges worth of sugar. While oranges are definitely a healthy food, eating nine oranges at once is just too much for one person. This was another concept that seemed to really upset some of the mothers. Many of their children drink multiple glasses of juice per day because parents thought the juice had equal health benefits of fruit.
Near the end of the lesson, we did an activity in which we read the nutrition facts label on several products and identified how many grams of sugar were in a single serving. Then we counted out how many sugar packets it takes to get that much sugar. One packet of sugar is equal to 1 teaspoon, which is 4 grams of sugar. One of the mothers had a 12 ounce can of ginger ale that contained 32 grams of sugar. That's 8 teaspoons of sugar in a single can! The World Health Organization advises the maximum daily intake for added sugar is 6 teaspoons for women, 9 teaspoons for men, and 4 teaspoons for children.
From the many questions throughout the lesson, and it was obvious that participants had received poor nutrition advice, whether from friends, family, magazines, radio, or television. This is why the nutrition education that Manna provides is so important. People want to make healthy choices, so it's important that we help dispel the myths about nutrition and provide the information necessary to make those healthy choices.
Lindsey here. While life is in full swing here at Manna's warehouse, there have been remarkable opportunities to share Manna's work with professionals across the country (and the world) this March.
Last week, I published a post about the 5 most interesting breakthroughs in health tips that I learned from experts at the International Association of Culinary Professionals' conference. Check out that post here.
I have been a member of the International Association of Culinary Professional for three years now. In 1978, a group of cooking school owners and instructors, including Julia Child and Jacques Pépin, created the IACP (formerly named the Association of Cooking Schools), and in the process, they laid a foundation for food culture in America and beyond. Now IACP's membership includes writers, photographers, stylists, bloggers, marketers, nutritionists, chefs, restaurateurs, culinary tour operators, artisan food producers, and academia.
Last year, I had the honor to serve as a cookbook judge for the Children, Youth, Family cookbooks submitted to the IACP's distinguished Cookbook Awards. This year, for the 39th annual conference, I was selected as a speaker for the first evening's workshops. See, I noticed that the allure of food and cooking united this engaging group of professionals—but who was talking about the millions around us without enough food for the week ahead?
This observation inspired my IACP colleague and I to create a workshop: Using Our Culinary Expertise For Good. Ellen Damaschino is the Program Manager of Cooking Matters, a vital program in Manna's Nutrition Education outreach. Ellen is working on the national level, training Americorp volunteers on teaching grocery shopping and cooking skills to families living on a low-income. I covered work happening here in Montomgery County: from our own nutrition education programming, to Community Food Rescue and Farm to Foodbank.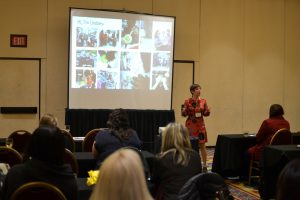 The 3 biggest surprises from our session:
Hunger touches more lives than you might expect.
Ellen and I shared some ways that our organizations fight hunger in the community—both at the personal and the policy level. We then asked our session participants to answer some questions we posted around the room. Our participants included owners of distinguished culinary schools, chefs, writers, and representatives from big food corporations. This response surprised me the most:
People are so eager to give back, but just don't know how.
Prior to the conference, Ellen and I surveyed the 50 attendees registered for our session about what hinders them from helping those affected by hunger. We found common, and some unexpected, themes in the responses.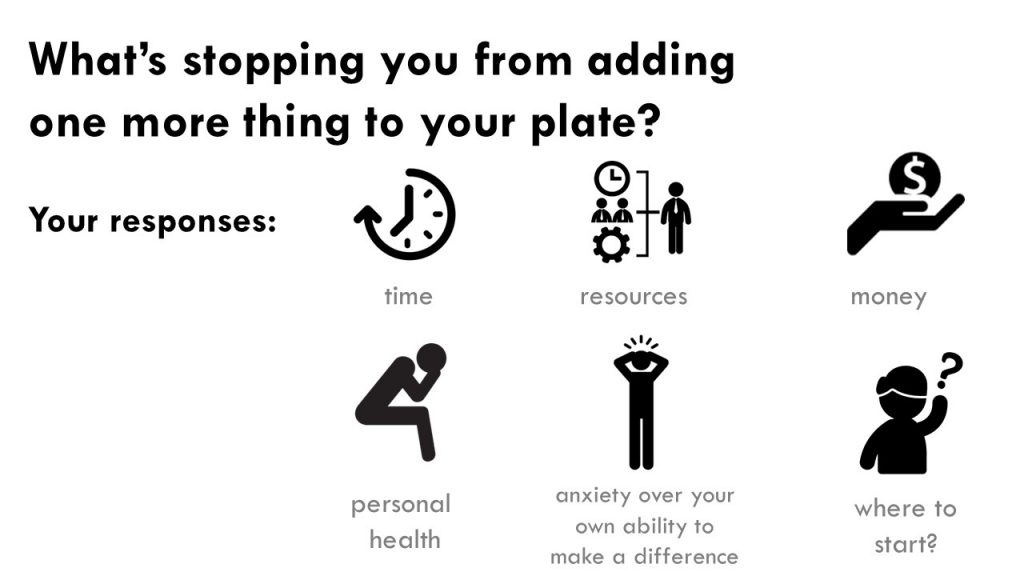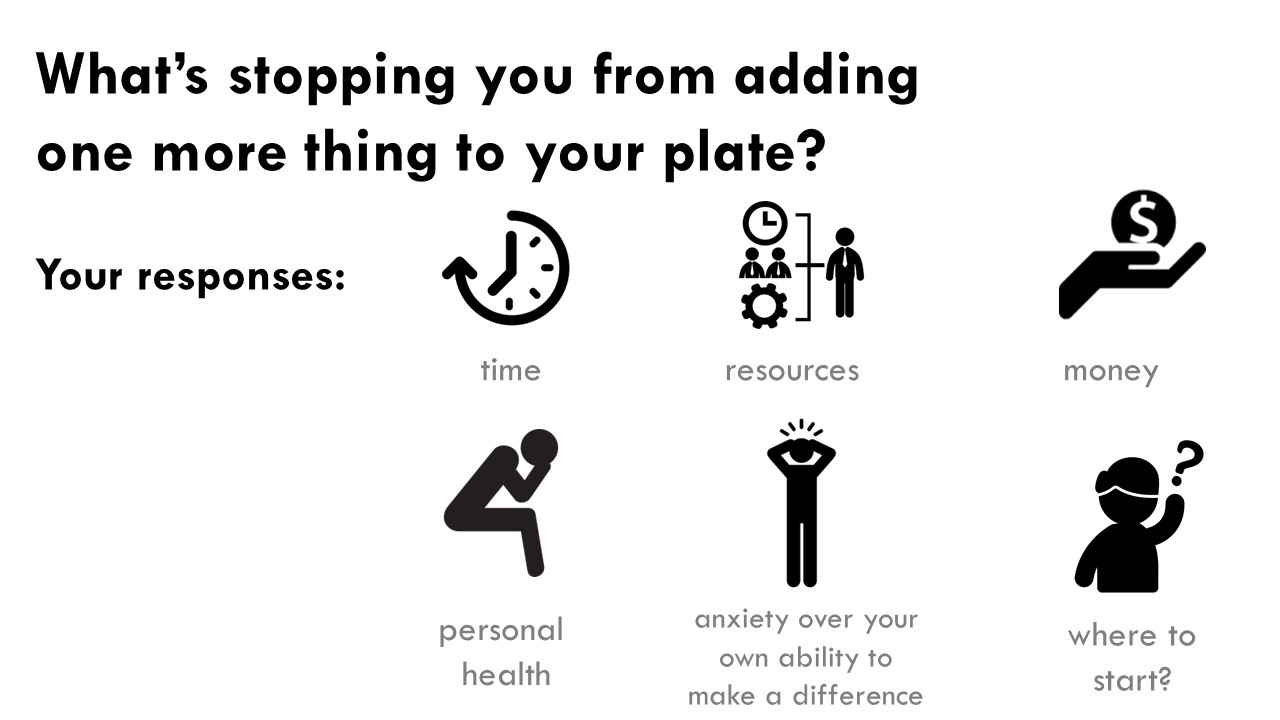 It's all about the small steps.
We found that this group of talented, accomplished, and driven colleagues were indeed eager to make a difference. We didn't need to spend time explaining how or why hunger is simply wrong. We did find that most people are paralyzed by the notion of taking the "right" first step. So we asked our groups to brainstorm what they could do within their means and resources and availability—and sent them them off with small action steps to take home. Feel free to check out our resource guide, and consider your own inspiration to get involved.
How Can You Use Your Culinary Expertise For Good Official Resource Page
Lindsey here. Who's heard this before:
"I was a vegetarian… for a week."
"I gave up soda for the New Year… for the month."
"I'm trying to lose weight. So I'm giving up pasta for the summer."
Healthy intentions so often take the form of cutting out an entire food group—cold turkey, if you will. If you have ever tried a diet, you know how hard it is to stick it out for the long haul. Small steps are a sustainable way to add healthy foods to our plates. Plus, recent research shows that yo-yo dieting can actually increase a woman's risk of heart disease.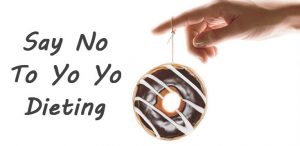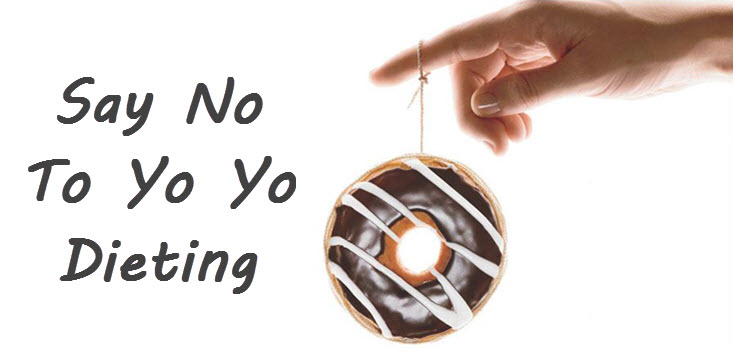 In Manna's nutrition education classes, I like to say that a "diet" is not a thing to do, but a way of living and eating. This message aligns well with the theme of 2017's National Nutrition Month. "Put Your Best Fork Forward" is all about how significant those small steps are over time. Small changes like adding an additional serving of vegetables, or switching out juices for water, are easier to implement daily—and improve your health over time.
Put Your Best Fork Forward reminds us that each bite counts. Those small adjustments can add up over time.
I have the opportunity to interact with Manna's families in our classes throughout the county. (In fact, in March, we are travelling to 17 classes!)  The question I receive every month in these community nutrition workshops is, "If so many of these boxed foods are dangerously high in sodium and sugar, why does Manna have these foods at all?" This is why our healthy wishlist is so important. The families I meet each week at the grocery store and elementary schools are also trying to take steps towards better health. But when meal funds are uncertain, unhealthy canned soups and pasta meal kits are cheap choices. Healthy pantry items like beans, brown rice, canned salmon, nuts, seeds, and spices build healthy, frugal meals.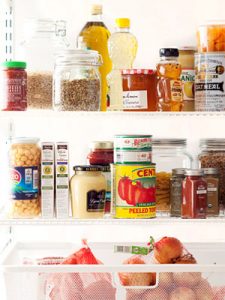 You can help Manna's participants put their best fork forward by encouraging your neighbors, schools, and faith communities to donate wholesome pantry items.
Wishing you good luck in your own journey of healthy eating, and spreading gratitude to the community that makes healthy eating accessible here at Manna.
Lindsey here. Last week, I was a guest speaker at the International Association of Culinary Professionals Conference in Lousiville, Kentucky. Next week, I'll be back to share how we intertwined Manna's work with nationwide hunger-fighting efforts.
At IACP, I had the opportunity to learn about the latest in health, eating, and feeding from professionals all over the globe.
Here are five fascinating takeaways from the pros
one: White flour has the nutritional value of a Q-tip.
I am always seeking a clear way to teach our families about the nutrition (or lack of) in white flour. Unfortunately, cookies, cakes, crackers, white bread, pretzels, etc. are cheap and abundant. If we're looking to fuel our bodies for energy, focus, and wellness, white flour has little to contribute. I love this easy phrase!
two: Hunger is not a production issue. It's economic, political, and infrastructure.
This was uttered by a grain farmer at a workshop called "Can Heritage Grains Actually Feed the World?" Of course, this question does not have a straightforward yes or no answer. However, this statement is a powerful reminder of how much capability, and responsibility, we have to feed our neighbors. By which I mean nourish our neighbors, not bombard vulnerable families with excess bakery leftovers (see number one, above).
three: Health should be more contagious than disease.
Dr. Peter Swanz, a physician and Doctor of Naturopathy, had much to share about the hottest words in food (epigenetics, nutrigenetics and the microbiome). While there were a lot of multi-syllabic science terms, health still comes down to some important basics. Dr. Swanz said: Nutrition is only one piece of our health. Make sleep, exercise, and drinking filtered water priorities, too. Exercise actually increases healthy bacteria in the gut.
four: Beware of the "Eat like me, look like me" trend.
One of the most engaging workshops was about navigating nutrition on the web. Consumers are distrusting experts more and more, and research shows the public views their peers equally credible when it comes to health advice. Pete Evans, pictured here, actually had a book recalled because the Paleo food he recommended for infants was in fact lethal advice! How to spot red flags when you're reading a health headline: is it published? is it too good to be true? is it heavy on testimonials? is there only one study to support the statement? Here is a great watchdog website to handle all those health headlines.
five: We are only 1% human.
You read that right. Our bodies are comprised of ten times more microbial cells than our own human cells. There are approximately 100 times more bacterial genes playing a role in your life than there are human genes. We are 99% bacteria! Here's the take-home message from the latest research: to increase your microbiome diversity, nuts, fruits, vegetables, and exercise made the most difference. Organically grown or not, replacing processed food with any vegetables is the most important step.
Come back to the blog next week to see Manna's good work represented in Louisville.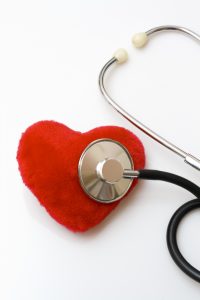 Lindsey here.
Did you know that February has been American Heart Health month since 1964?
You have likely observed that nutrition advice has varied in the decades from then to today, but there are some things that never change. Here are some heart-healthy refrains from our Nutrition Education classes:
Strive for at least 3 different colored foods at every meal
Make half your plate veggies, and then fruits
Move more (walking, dancing, taking the stairs–exercise is free!)
Drink water, and then drink some more
Frozen produce is as healthy as fresh, and sometimes much more affordable
We can't control our genetics, but the great news is that most of the ways to protect our heart are things over which we do have control: stop smoking; sit less; move more; lessen the meats and sweets.
Here are some shots of the open boxes Manna distributed this week. Abundant color is an easy way to spot heart-healthy choices!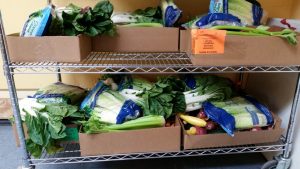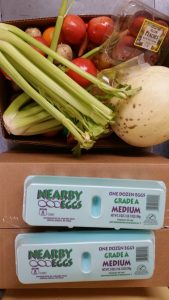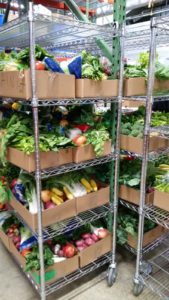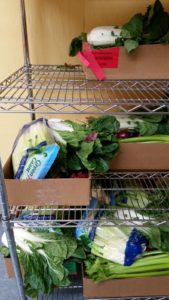 To learn more about heart health, check out these stress-reducing tips plus these important resources for stroke prevention.
Ben and Tuesday here. I'm sure you're probably thinking, "Wait, who?" We are dietetic interns at the University of Maryland College Park, and we've had the privilege to spend the past two weeks at Manna Food Center. Throughout our rotation, we have gotten to experience many different aspects of what is done at Manna. We attended Breaking Bread, created handouts, observed nutrition education sessions, researched a variety of topics, and volunteered in the warehouse.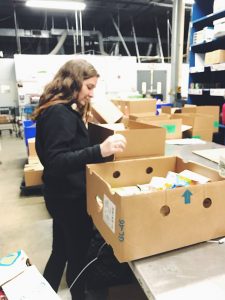 Tuesday's Take
I'm going to take a minute to brag about the awesome staff at Manna. It's obvious that they all love their jobs and put their heart into their work to make life better for others in their community. They are constantly coming up with
ways to better the organization for their participants' sakes. It's the simple things that stood out the most to me. For example, Manna does the best they can to accommodate special food needs. They pack special vegetarian, vegan, gluten free, and renal boxes to ensure that they food they are given out will actually be used by their clients. Another instance of this was when I observed a diabetes and chronic disease prevention nutrition education class. Lindsey is constantly changing her curriculum to meet the needs of the participants. She makes sure to use positive messaging that is appropriate for people of all different cultures and walks of life. All in all, I found it heartwarming and refreshing to see people so invested in the work and mission of their organization.
Ben's Take
What I first noticed when I walked through the doors of Manna was everyone's contagious desire to serve those in need. As we were given a tour of the warehouse, we met people who have been volunteering with Manna each week for the past several years. What keeps these volunteers coming back year after year was the visible effect fighting food insecurity had on their community. The warehouse is the primary site for the Smart Sacks initiative, a program that packs boxes with nutritious food for children who might not have another meal until school is back in session. Manna's servitude extends beyond the warehouse with its Nutrition Education programs. The elite nutrition education professionals of Manna venture out into the community and teach topics such as chronic disease prevention, added sugars, and shopping tips and techniques.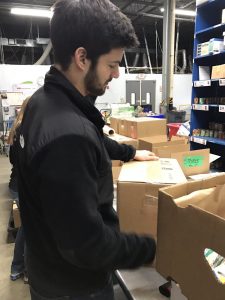 I was able to channel this mindset of service by partaking in one of Manna's weekly distribution days. During the first half of a distribution day, we sorted through produce and pre-prepared foods saved through the Community Food Rescue Program, ensuring the item's quality are suitable for participants. We then packed the produce and rescued goods into open boxes and created bags of meat for participants. During the latter half of the day, patrons came to receive a non-perishable box of food, an open-box of produce, a bag of meat, and their choice of available breads and pastries. These items were loaded up and delivered to the clients. Truth be told, the day seemed long but it was very rewarding, especially after seeing the gratitude expressed by participants. Although my time spent at Manna was short, I can say that I have caught their infectious spirit for serving the community. I highly encourage everyone to take a few hours out of his or her day and volunteer with Manna Food Center.
Jackie here.
Here at Manna Food Center we fully embrace the notion that Dr. King's Birthday should be a "Day On not a Day Off." This year in particular, I wanted to honor Dr. King in a way that would help me be a better leader.    Taking to heart Dr. King's observation that,
"The ultimate measure of a [hu]man is not where he stands in moments of comfort and convenience, but where he stands at times of challenge and controversy. The true neighbor will risk his position, his prestige and even his life for the welfare of others."
I decided I wanted to test my commitment to the welfare of others by walking in the shoes of those Manna serves.  I began a week long "Manna diet."
Like any other participant who schedules a pick-up at one of our distribution sites, on the Friday before MLK weekend I claimed a closed box of non-perishable items and an open box of produce, along with a bag of meat.  Even though I know the technicalities of a Manna order—approximately 60 lbs of food designed to offer items that match the nutritional guidelines of the USDA's My Plate, I was pleasantly surprised by the amount of food I received and the range of items it contained.
Looking the order over, I experienced my first minor disappointment—my produce allotment contained more than ½ dozen green peppers, and only one red.  I'm not a big fan of green peppers.  Plus, there was a huge head of cabbage.  I had no idea how to cook that, and I forgot to grab a recipe in the lobby.  But seconds later I felt a boost: a sweet item I could choose from the dessert table was my favorite—crème brulee. I rarely get that special treat except when I go out to eat at a fancy restaurant. There was even a peanut butter brownie for my spouse!
Within two minutes of my "diet" I got a sense of what Manna participants experience every time they turn to us for food—the fact that the offerings are well-rounded, nutritious, and tasty, but they are also mostly determined by "the luck of the draw." I received what items were available due to what had been rescued or collected that particular week.
When I arrived home, opening the closed box of canned items and bag of protein was a little like opening birthday gifts.  There was a lot of curiosity about what was inside.  Here, too, I was pleased and disappointed at the same time.  There were lots of green canned vegetables and tuna, which I know I need to eat more of, but there were also yams and dry beans that held no appeal for me.  Also, some of the meat options I had never cooked before in my life (pork neck bones turned out to be quite delicious after I simmered them in a crock pot). In my meal planning for the week, I realized how much I typically rely on food items that are pretty quick to prepare—frozen veggies, quick to boil pasta—and are not very creative.  With the Manna box, I had a variety of items that required time and talent to prepare.  I also realized that I go out to eat regularly, which is something low-income families might not have the option of doing.
Over the course of my week, aware of the nature of my experiment, I tried not to complain too much about the constraints of my food options, but I definitely felt limited by my circumstances.  I also learned a lot about myself in how I typically use food to reward myself (no salty chips were in my Manna box!), and I gained an appreciation for how much creativity and commitment is necessary to make the most of Manna offerings.  If I wasn't already committed to Nutrition Education programs to help our participants learn how to shop and cook on a budget, I am now!  If I wasn't passionate before about increasing options for choice, I am now!  I am so grateful that Manna, in partnership with faith communities, has three choice pantry opportunities each month, where neighbors can shop for the food that matches their families' size, tastes, and other preferences.
All in all, my week on a Manna diet didn't entail too much hardship, and I'm proud of that.  That means to me that what Manna is offering our participants is generous, healthful, and appropriate.  We are on track to meet our goals for continuing to increase the quality of food and the options for receiving it.  What I learned most from the week-long diet was the power of giving up comfort and convenience.  Inspired by Dr. King and fueled by the direct experience of being reliant on others for my food, I am more committed to helping create a hunger free Montgomery County.
Thank you for joining us in our concern for the welfare of our neighbors.  I look forward to your responses (on our FB page or info@mannafood.org) to the Manna diet and any reflections you have about the work we are doing.
Lindsey here. Ready or not, the holidays are here. The pace of this season so often induces stress and financial strain–for those with jobs and especially those without. How do we celebrate in the midst of this tension?
I love this mantra:
interrupt anxiety with gratitude.
It's one we put into practice at Manna this month, with teammates posting their responses to the questions:
Who are you grateful for?
What ability are you thankful to have?
What do you take for granted in your day-to-day life?
What element of nature are you grateful for?
This week, Manna's team, volunteers, and participants are bustling around with food distribution before Thanksgiving. It seemed an apt opportunity to pass The Gratitude Jar (a former Utz sourdough pretzel bin)  down the line in our lobby. Every single person waiting for food joyfully accepted the opportunity to submit a message of their own gratitude to the nearly hundred slips of paper filling the jar.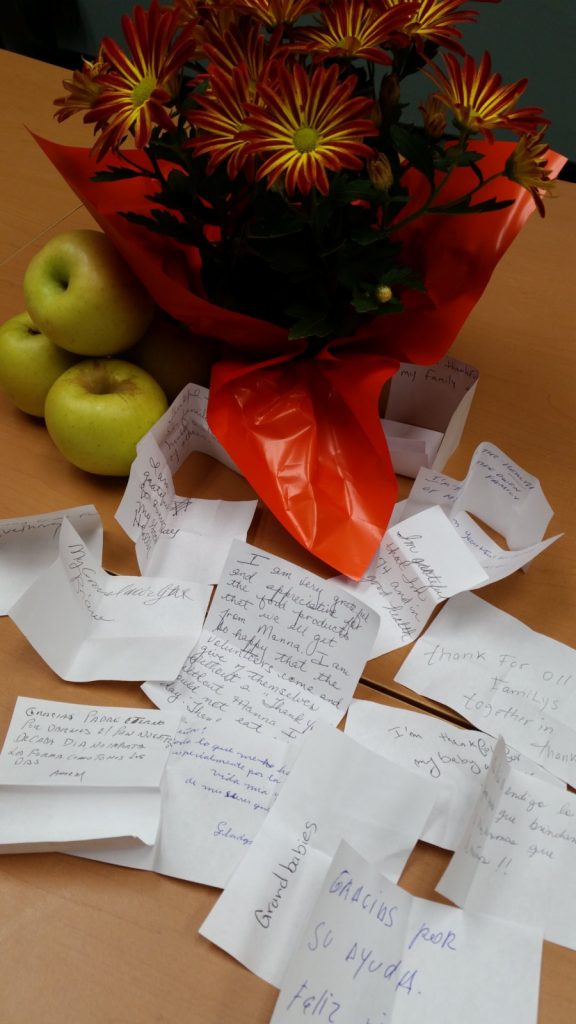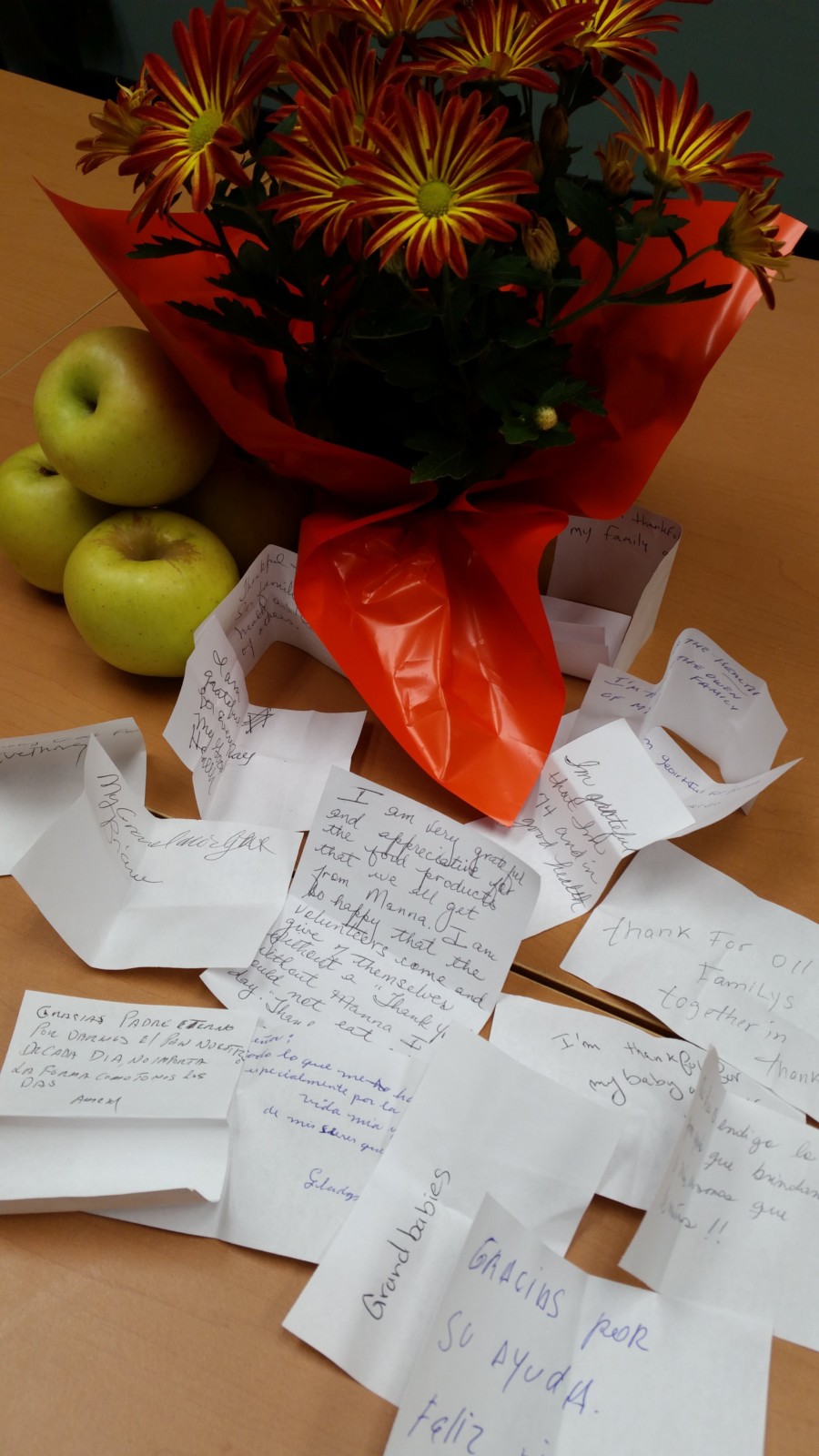 Here are some words of gratitude from Manna's participants:
Gracias por su ayuda. Feliz dia de gracias.
Grandbabies
I am grateful for not getting wounded in Vietnam! and for being alive
I've very grateful and appreciative for the food products that we all get from Manna. I am so happy that the volunteers come and give of themselves without a "thank you". Without Manna, I could not eat every day. Thank you.
I'm am grateful because I can walk. Thankful for my parents.
Thankful and grateful for family, friends, health, and the kindness of others.
I'm grateful that I'm 74 and in good health.
Thanks for life. Grateful for the fact that I can stand here and have the power to say thank you, volunteers.
Thank you God for waking me up every morning.
Thanks to Manna for helping us. We are senior we low income. We eat a lot better. All of the employees are doing a great job, keep it up!
Thanks for waking up, having a job, and for all of the help Manna has given my family!
My healthy kids.
Thankful because God has been good to me. I get free food from Manna when others have nothing to eat. Thank Manna Food.
Gracias a dios por mi familia.
My four wonderful children who would do anything for me.
From the entire Manna team, we are wishing you a celebration full of joy, gratitude, and memories.
Malori here. What comes to mind when you think of a food bank? Prior to working at Manna, I envisioned a line of people signing in to receive a box of canned food and going on their way. It didn't take long for me to see that it wasn't as simple as I thought. Manna provides non-perishable items in addition to bread, produce, prepared foods, frozen meat, and baked goods. None of this happens without a hefty load of scheduling and synchronization of multiple departments. While most of Manna's sites function under this conventional model of distribution, when the opportunity to collaborate arises, Manna offers another model of food distribution.
Just over two years old, Manna's Choice Pantry at Colesville Presbyterian Church (CPC) is serving our neighbors at its capacity of 70 households each month. On October 28th, I had the opportunity to observe the pantry in action and speak with several participants and volunteers about their experience. It truly is a special site where Manna's values: respect, service, and partnership are exemplified.
A core team of eight volunteers, co-lead by Toby Weismiller and Mary Scott, oversee the operation every month. On distribution days, as many as twenty-five volunteers, make the four hours of distribution go by as smoothly as possible. Through two shifts, volunteers dedicate their time setting up; checking in participants; stocking bread, meat, and produce tables; preparing refreshments; guiding participants through the shopping room; and bagging groceries.
Participants choose and tag the boxes they want.  Volunteers then bag the food just like at the grocery store.
Much like at our main distribution center, participants are already in line more than an hour before opening, but what's different about the choice pantry at CPC is the scene that awaits shoppers. As daylight streams into the grand room, participants are met with warm greetings as they choose a seat at the collection of tables and wait for their number to  be called. Waiting is easier when there's a chair to sit in and an array of refreshments like coffee, fresh fruit, cheese and crackers, and baked goodies available. During their wait, participants are encouraged to select their bread, produce, and meat in between conversations with other participants and volunteers alike. Stacy picks up for another family and finds "the longer she sits, the more likely she is to talk to someone new."
Orlando, a first time participant, asked me if he could have a banana. He remarked, "This is really nice and organized, I feel like I can be patient." Joyce has visited the pantry three times with her husband José and loves the "ability to choose the foods that [she wants] and the fact that there is a nice selection of food available."
Many of the participants echoed these sentiments and while Valerie, finds it comfortable and not rushed, she does miss seeing Ms. Sunshine, also known as Ms. Blanche Hall, a long-time Manna employee. Patience is necessary as the pantry's main caveat is the wait time as the shopping process varies depending on the participants and the fact that only five participants can go through the dry goods section at a time.
Participants have the opportunity to choose the items they want right off the shelves that have been organized by food group and type.
Longer wait time aside, Manna's Choice Pantry at CPC offers our neighbors in need a unique opportunity to make more of their own decisions about the foods they'll eat over the next couple of weeks. Though this model of distribution takes a concerted effort on both Manna and CPC's part, two years in, Toby is pleasantly surprised about the ease of the process as the pantry has grown from serving 20 to now 70 families.
Building on the momentum of CPC's success and in the spirit of respect, service, and partnership, Manna is proud to be able to expand the choice pantry model in partnership with Silver Spring United Methodist Church starting November 12th. The choice pantry at SSUMC will be open two Saturdays each month with the capacity to support 45 families each distribution day. Be sure to reach out to us if you're interested in being a part of this incredible work happening right here in Montgomery County!
"Failing to plan is planning to fail."
This was a favorite saying of my undergraduate professor, Dr. Margaret Ammons.  She was educating her students to be classroom teachers, but I have found her guidance to be true in the not-for-profit sector.  If social enterprises lack a plan for how they will fulfill their missions, they can easily fall into a trap of delivering immediate services but not focused on approaches to solve long-standing issues.
Last year Manna Food Center committed itself to a fresh look at its work and mission, by embarking on a strategic planning process.  We listened to stakeholders like you, analyzed trends, and debated the way forward.  I am very pleased to report that on September 27, 2016, our Board of Directors endorsed a
2017 – 2020 plan
.  For the next three years, Manna Food Center will focus on pursuing its mission through participant-centered and data driven program delivery, community leadership and advocacy, and a values-based business model that supports the people who make our work possible.  Our team is now focused on creating an implementation approach.
To make sure we match organizational structure to the challenges and opportunities ahead, we also reconfigured our leadership team.  In the photo above you'll see some familiar faces but new titles.  Angela Whitmal, with more than 11 years of service to Manna, is now our Senior Director of Administration and Client Services.  Jenna Umbriac, R.D., is directing our new Programs and Policies team.  Our logistics work is directed by Edwin Drijas. Stephanie Hubbard has expanded her portfolio as Director of Development and Communications.  Additionally, Manna's Board has named me Chief Executive Officer, with the honor of leading the entire Manna team.
On the horizon this year, as we strive for a hunger free MoCo is the opening, on November 12, of our second choice pantry in partnership with Silver Spring United Methodist Church; retooling our fleet of trucks-including a Manna Mobile Market visiting neighborhoods beginning June 2018; and developing a Capacity Building Campaign to secure additional
funding
 for expansion of our space and facilities.
Another saying of Dr. Ammons' was "some teachers have 20 years' experience or some have the same experience 20 times."  Our new strategic plan is a demonstration of Manna's commitment to progress, continuous improvement, and to striving until, in the words of our vision statement, "Our community is a place where all people at all times have access to safe, sufficient, nutritious food in order to lead fulfilling lives and contribute to making Montgomery County, Maryland, a place where all live in dignity."

Jackie DeCarlo
Chief Executive Officer
Lindsey here. A theme of conversation these days among Manna staff, particularly in our Breaking Bread conversations, is privilege. There are so many ways the privilege of time and leisure come into our health. A recent article about privilege and personal responsibility (a worthy read, check it out) reminded me that there are unexpected ways this luxury appears in eating well.
Naturally, an important step in nutritious eating is cooking at home—I share this in every class I lead. But the time to read about healthy foods, shop for those foods (assuming they fit in your budget), prep and cook is not a priority everyone can afford.
Even keeping up with accurate news can feel like yet another thing on top of a busy working family's to-do list.  One simple way to empower our families at Manna with healthy steps that are possible now is providing nutrition information in our lobby literature racks. Waiting in line to pick up food often offers our families an opportunity to read—so I added this handy list to our lobby today.
8 Great Ways to Live Healthier and Save Money Doing It
adapted from U.S. News and World Report, August 2015 by Lindsey Seegers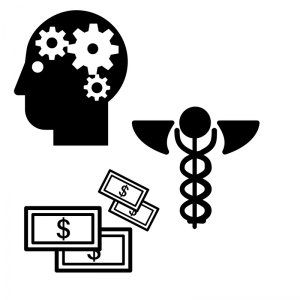 ONE Plan your groceries before you go to the store.
Check out the food in your fridge and your pantry to see what meal makers you have on-hand. Make a list and stick to it at the store—a handy way to avoid overbuying at the store and wasting food at home.
TWO Drink water.
Buying sodas, coffees and smoothies on the go is costly for your wallet and your health. That money you save can go towards wholesome groceries. Water is free (especially if you take a reusable bottle with you to refill)!
THREE Eat less meat.
Meat can often be the most expensive item on our grocery bills. Varying your protein purchases can stretch your shopping budget further, and provide more nutrients for your body. Foods like legumes, peanuts, nuts, grains and seeds offer your body protein, too, and often for less money.
FOUR Discovery free ways to move more.
Finding the time and energy to exercise can be challenge. Ever harder—those expensive fitness gyms! Walking with your kids, friends, or dog is a free way to get more steps in the day. If the weather isn't nice enough to be out, you can dance, stretch, climb stairs, and move more indoors, too.
FIVE Kick the habit.
Cutting out cigarettes immediately puts money back in your wallet, not to mention the benefits your body enjoys. Cutting back on alcohol, or other substances, can to save your money and save your life.
SIX Catch up on an active date.
Everyone can afford to be more active, and it doesn't have to cost money. Spend time with your loved ones (friends, too!) by taking a walk, hike, or even renting a canoe. Research shows that relationships can influence a person's health and wellness decisions.
SEVEN Follow the doctor's orders.
Cancelling a doctor's visit or skipping medicine saves you money right now. But following through on preventative care can save you expensive hospital visits. Avoiding the doctor can mean expensive consequences to your health and your budget later on.
 EIGHT Mind your mental health.
Mental health and happiness are important. Neglecting psychological issues, such as depression, can make it challenging to work. Ignoring mental health can also increase the risk of suffering chronic health conditions. Besides seeing a doctor, the tips listed above can also improve mood and happiness!
These tips might not be new, but certainly provided an important reminder to me to consider self-care. Post this list on your fridge, pass along to a friend, or come grab a copy yourself next time you pop over to our warehouse to donate or volunteer.
Dear friend of Manna,
Although school was out during the summer, Manna did a little bit of testing. In June & July we completed our annual client and staff surveys to get feedback and input into the effectiveness of our programs and the status of our team.
Manna has, in my humble opinion, the best team in Montgomery County. Our dedicated staff of two dozen individuals embraces our core values of service, respect, and collaboration to pursue our mission of eliminating hunger in our community. We are as beautiful as the county itself-reflecting diverse ethnicities, classes, races, and religions. Our skills range from navigating suburban and rural roads behind the wheel of 20 foot trucks, to serving clients with professionalism and compassion, to building donor relationships, to collaborating with partners of all kinds…and much, much more.
One of my main goals as Executive Director is to serve this incredible staff so they can do their best to serve the community. I was humbled and gratified when our survey results showed 67% of the Manna team rated their experience working at Manna as excellent. This was up from 32% in FY15. Other notable responses were that 73% agree or strongly agree that their opinions count at Manna, and 87% believe Manna is on the right path to achieving its mission.
Feedback from our client survey was encouraging as well. Our service was rated good or excellent by 92% of our participants. 92% also indicated they use most or all of food received, indicating that we are providing quality, healthy food and also helping avoid food waste at the household level. The most popular suggestion we received, from 73% of participants, was the request for a larger portion of fresh fruits and vegetables.
One of my favorite sayings around Manna is that I don't expect perfection but I do expect excellence. I think that this summer's survey responses indicate Manna is making the most of its high caliber team to deliver exceptional programs. You as a community member should also expect no less, and I thank you for your
support
 .
Jackie DeCarlo
Executive Director
Ethan Kach stopped by last week with a handcrafted gift for Manna. Two in fact.
Ethan first learned about Manna Food Center through the Boy Scouts' participation in "Scouting For Food". Ethan walked door to door the past four years for this annual food drive. Once a neighbor asked Ethan to volunteer in our warehouse for an evening of packing food boxes and he finally got to see Manna behind-the-scenes. "I was very impressed with the warehouse in how organized everything was, the amount of food that gets collected, and how many people are there to help provide food for the hungry."
For his Eagle Scout project, Ethan came up with the idea to host a food drive, and build two custom carts for Manna. He met with our Operations team last year and saw the need for moving boxes, food, and supplies throughout our warehouse. You will see in the photo that Ethan included rubber bumpers on the corners of the cart to protect our walls–how considerate of you, Ethan! He also added a handle, a drawer for storage, and a space below measured to perfectly store our flat-packed boxes.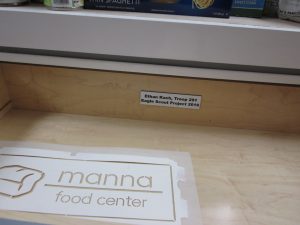 We plan to feature these carts at our sites like Colesville Presbyterian Church and Silver Spring United Methodist–they will be perfect for food demonstrations and nutrition lessons.

Ethan has been working for five years to reach the honor of Eagle Scout. Completing this project inches Ethan closer to his goal, and gifts Manna with a physical reminder of the kindness of our community.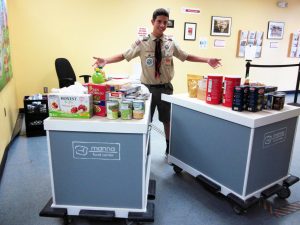 Dear Manna supporter,
I imagine you, also, are thinking about the perfect gifts, no matter what your family or faith traditions.   Parents are making lists & checking them twice.  Congregations are preparing special packages to deliver to neighbors in need.  Businesses are collecting toys to share at local schools.  Through all these activities, we are all giving AND we are receiving.Manna staff recently pulled names for a Secret Santa Gift Exchange and, being a creative crew, you could see the wheels in people's heads start turning.
Here at Manna we give food on a daily basis, made possible through your donations and we receive warm smiles & thankful comments in return.  A teacher at our Smart Sacks school remarked, "Thanks to this program, families are able to feed their children when seasonal jobs like landscaping are scarce." Throughout the year we share food with our neighbors because we know that all people deserve to be well-fed, all our seniors deserve to be cared for, and all our children need to be ready to achieve. In return, our neighborhoods are filled with people better able to create a community where we all live in dignity.
As you consider your year-end charitable contributions, I thank you for what you have made possible so far this year and I ask for your generosity as Manna prepares for the year ahead. Here in your local community, Manna will work to ensure that all food insecure neighbors have access to the food they need to live healthy, active lives.  With your end-of-year gift, you can bolster our programs and projects. Be sure to check your mailbox for a special edition of "Manna Matters" newsletter featuring all the ways you can support this vital work.
In exchange, you'll receive a sincere thank you, noting the tax benefits of your gift.  I suspect, though, as a faithful community supporter, you will most enjoy the satisfaction of knowing that you are a part of Manna Food Center's mission.  Just as the Manna team is taking a pause to enjoy the simple act of giving and receiving, savor the importance of your gift. Together we can end the year with a spirit of generosity and a sense of possibility.
Best wishes of the season to you,
Jackie DeCarlo
CEO
240.268.2524
Lindsey here. Here is what I observed in three consecutive minutes at Manna this week:
Mark Mills, a chocolatier, professional chef, and, oh yes, full-time farmer at Chocolate and Tomatoes farm, pulls up to Manna in his pick up truck, bearing gifts: coolers and crates overflow with freshly picked collard greens, cucumbers, jalapeños and even fresh ginger. 648 pounds of fresh food for the families lined up in our lobby.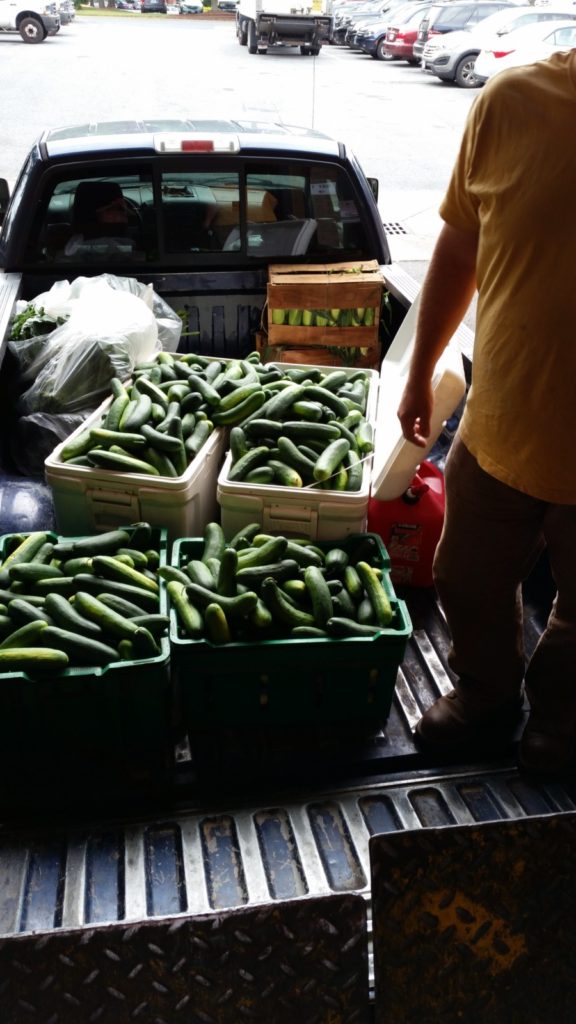 In the referral office, all five phones are active, three volunteers and our own Yelba and Silvia signing up clients to pick up Manna food boxes. In the summer, more children wait in line with their parents, sitting on the floor or their mommy's laps. Over the cacophony of ringing-beeping-faxing-talking-printing cries a baby in the lobby. Not a whimper, a long heart-wrenching hungry cry. The crying crescendos over all the bustling of the lobby and referral office.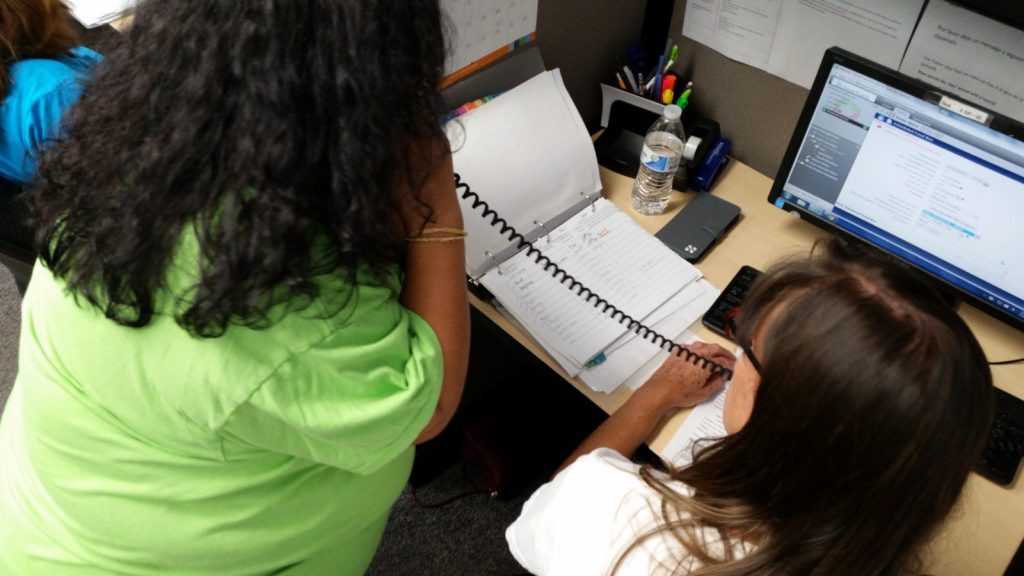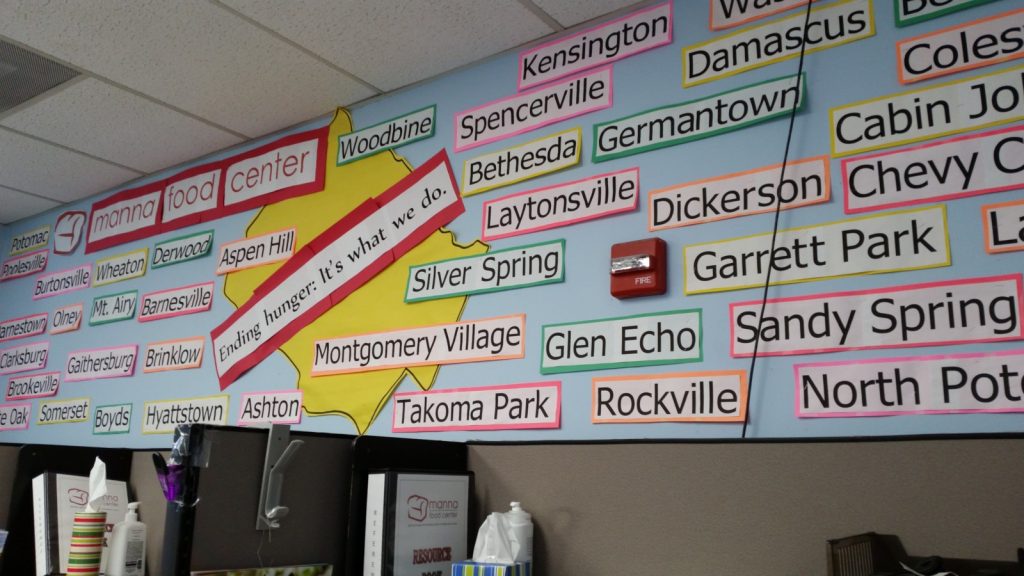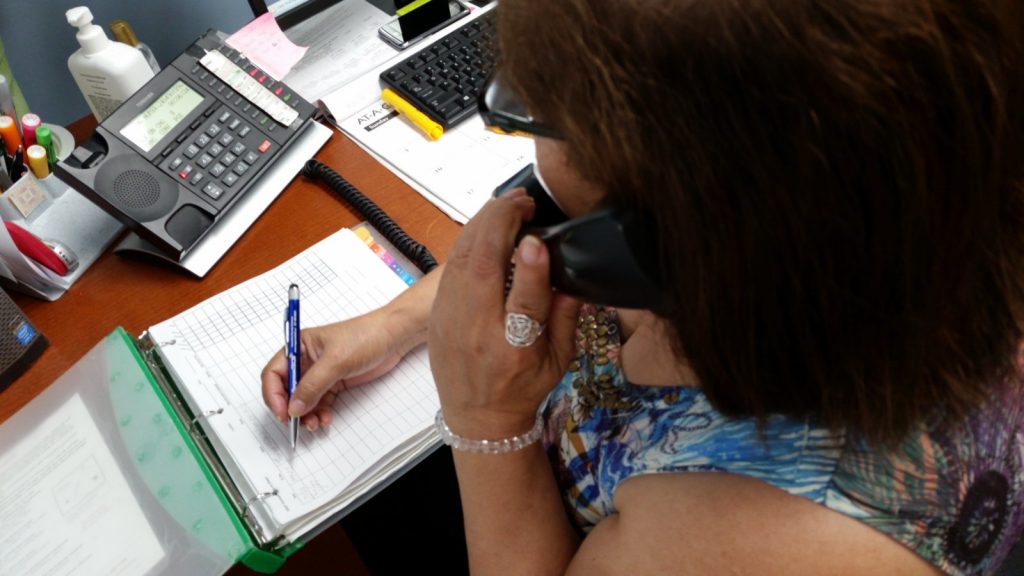 The open boxes, brimming with local produce, sit in a line waiting to go home. Our clients sit and stand in line for noon to approach, when distribution starts—though cabs and buses dropped off some men and women nearly two hours before. Despite the wait in this heat, despite the anxiety of carting home these heavy food packages (sometimes down the sidewalk with an actual cart), every person in line bestows a generous offer. You see, the baby crying—a curly-headed girl, 5 weeks small and barely filling out her diaper—is cradled in the arms of her mother. Her mother, who stands at the very end of a line now curled around Manna's modest lobby to avoid the heat. So when Yelba steps out of the referral office to greet our clients and ask if Mom and Baby can get their food first today, everyone joyfully agrees. And, smiling, they move their chairs and bodies to make room for her stroller.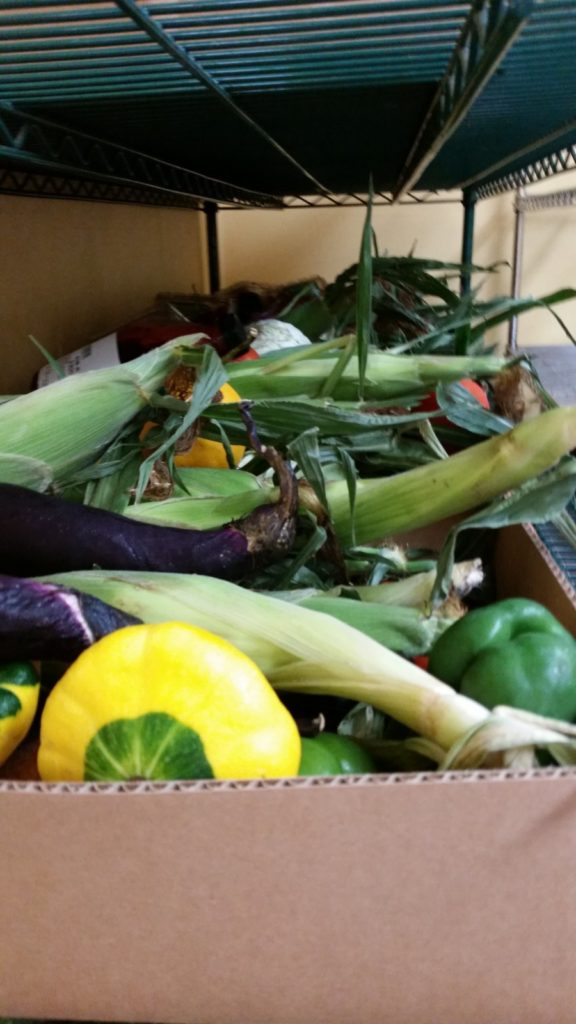 Witnessing this gesture was beautiful. But this moment of generosity is not uncommon: the giving that happens here is not just from Manna's staff and volunteers. Unselfish hospitality abounds in this place.
Dear Manna supporter,
When I was in the third grade I won an essay contest entitled, "Why I Love My Country."  Whenever the 4th of July rolls around, I remember my careful cursive writing and some of the things a young girl was proud of: beautiful landscapes, the Constitution, and caring teachers like Mrs. Robinson.
All grown up and living in Montgomery County, I still believe deeply in the best of America.  Even though on a daily basis the Manna team witnesses some of the struggles our neighbors face, we also know firsthand that community members, like you, are rising to the challenge of fighting hunger with us.  We need food, friends, and funds to reach approximately 3,700 families each month, and
your continued generosity and support
 make that work possible.
Thanks also to those of you who responded to last month's request to participate in our strategic planning survey.  The people we serve are partners in our work too.  Recently, as part of our strategic planning process, Manna invited groups of clients to speak to us about Manna services and to share opinions about the future of our work.   Their sentiments were both encouraging when they spoke of their gratitude for Manna and heart-wrenching when they spoke of their need:
If there was no way to get food from Manna during the month, the degree of hardship will be great, especially for the children who often have to go to bed hungry.  There are numerous occasions during the month were there is only enough food for the children, so the parents will miss a meal.
Throughout the summer, Manna will continue our process of listening to stakeholders as we finalize a strategic plan.  I will be sharing details with you in future newsletters.  While we don't have all of goals and strategies set, like that little third grader who won her first blue ribbon, I'm very optimistic about our prospects. I know what this community has to offer, and I'm proud to work with you and the whole Manna team to create a Hunger Free Montgomery County.
Jackie DeCarlo
Executive Director
Lindsey here. This time of year, the open food boxes we distribute to clients are overflowing with local produce. It's a beautiful sight: plump tomatoes and bouquets of kale tucked between varieties of purple, white and wee green eggplants. These fruits and veggies travel home alongside foods that our drivers rescue from grocery stores each day. Greek yogurt, cheeses, salad makings and cut fruit provide meals with foods that—if not rescued from grocery stores overturning inventory—would have gone to the trash.
Sometimes food waste seems obvious: perfectly edible, whole ingredients tossed from shelf to garbage. But there is another way food that costs our money and time ends up needlessly wasted. Have you ever brought home a head of broccoli and plucked off the florets only? Or found yourself stumped over the stems of leafy greens and cooked only the tops? When it comes to plants, unnecessary waste can happen when we're not sure if all the parts are edible and what on earth to do with them.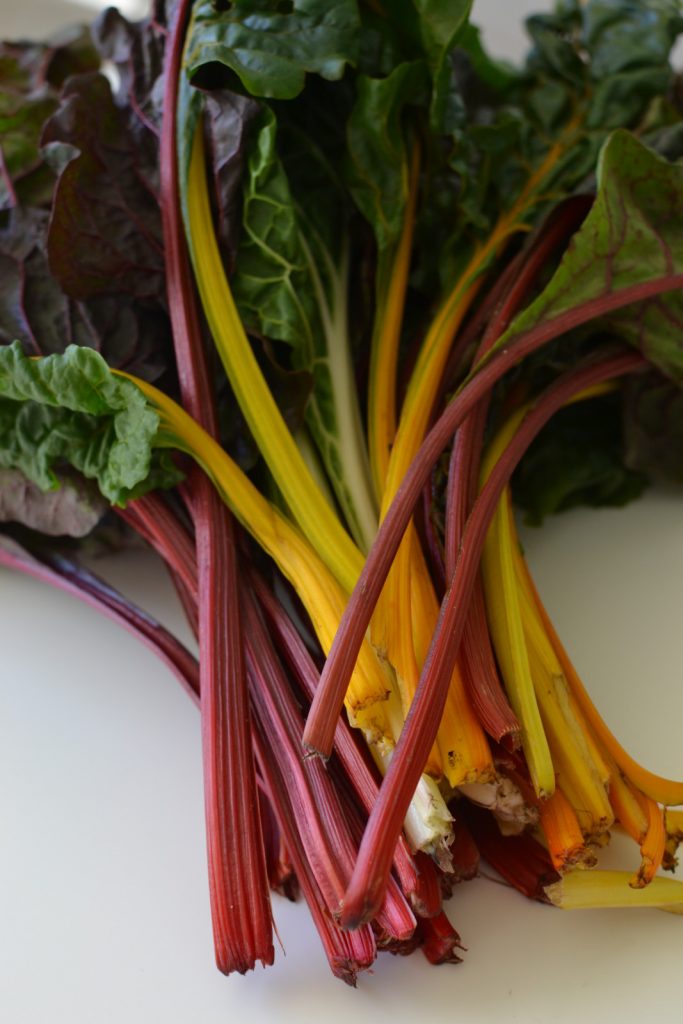 Take this vibrant rainbow chard for example. The prettiest part is the sunset-hued stems, right? But many recipes call only for the leaves. Did you know the stems can be sliced and stir fried, with the leaves added in at the end? The same goes for greens tops (turnip, beet, kohlrabi, collard, or mustard greens); these can be easily braised with garlic and crushed red chili flakes.
You can also switch up your chickpea hummus with chard stalks! In the Mediterranean, chard stalks are boiled and pureéd with garlic, tahini, olive oil and lemon juice for a savory dip.
The most important part of these techniques and know-how—beyond the environmental and good-feeling part of salvaging edible food—is that food stretches further. This is critical when families leave Manna with a 3-5 day supply of food and need those ingredients to make multiple meals. It's why we provide recipes and cooking tips to our clients.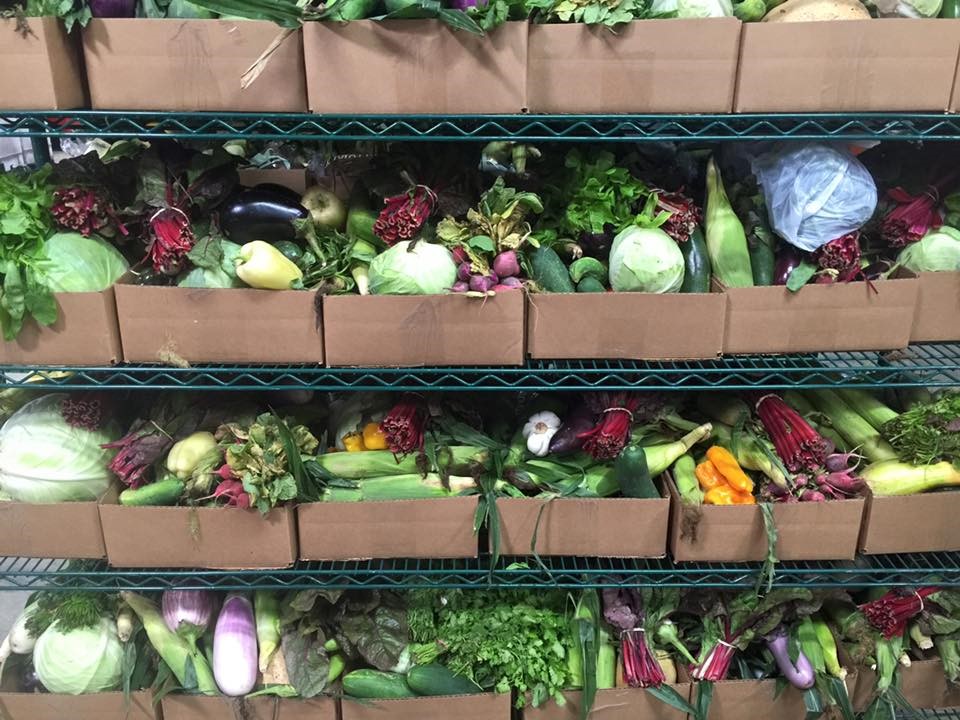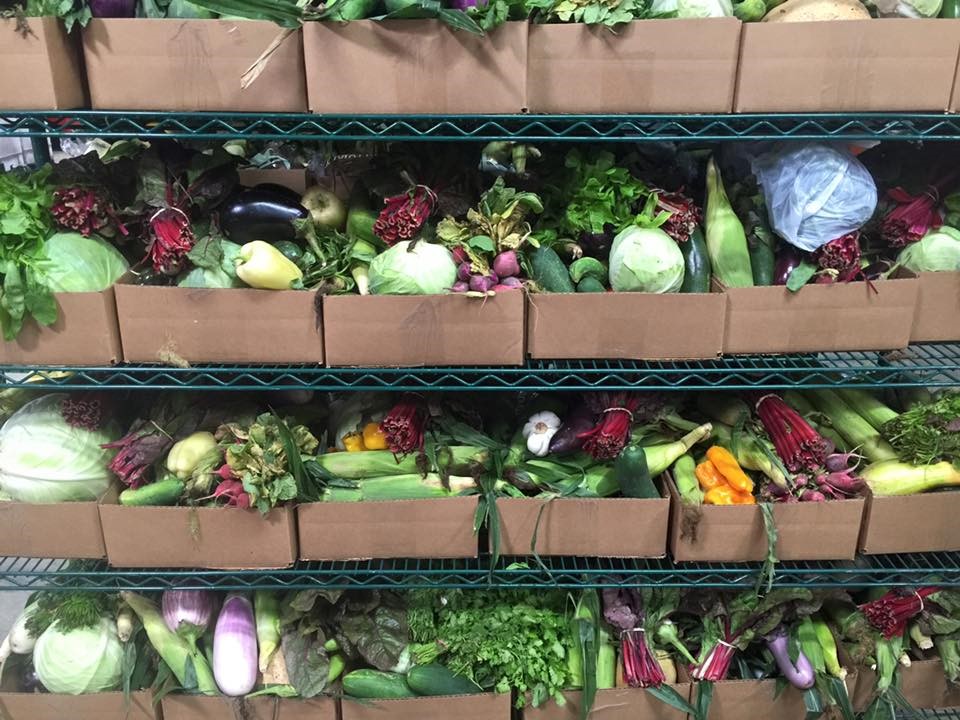 Want to make the most of your farmers market purchases this summer? Check out these great reads below. While you're at the market, come visit a Manna table (look for the bright red tablecloth) at farmers markets all over Montgomery County!
Root to Stalk Cooking: The Art of Using the Whole Vegetable by Tara Duggan (have this on my shelf!)
The Southern Vegetable Book: A Root-to-Stalk Guide to the South's Favorite Produce by Rebecca Lang
Root to Leaf: A Southern Chef Cooks Through the Seasons by Steven Satterfield
Vegetable Literacy: Cooking and Gardening with Twelve Families from the Edible Plant Kingdom by Deborah Madison
Waste-Free Kitchen Handbook: A Guide to Eating Well and Saving Money By Wasting Less Food by Dana Gunders
Lindsey here. Something special about Manna is that we promote "caring for those who care". If you've ever served in a caregiving capacity for a loved one, you know that the caretaker's own well-being is not always a priority. Likewise, at Manna we are bustling around in the business of distributing food each day—the need is always urgent. Stopping for a wholesome lunch or brisk walk doesn't feel as pressing.
It's why we started MORE at Manna, a program to encourage wellness among our Manna teammates. MORE stands for Movement, yOur health, Relaxation, and Education. For two years, we've invited dietitians, boxing instructors, fitness pros, and yoga teachers to join our staff for interactive "Lunch and Learn" sessions. We also run staff-wide competitions for most steps, drinking water, and eating more fruits and veggies. Last month, Jenna and I hosted a 21-day "Eat the Rainbow" Challenge.
Did you know that eating all colors of fruits and vegetables give our bodies maximum nutrients? Each color of fruit and vegetables provides unique, essential health benefits. We challenged our colleagues to eat at least one serving of produce from every color every day! Next week, we celebrate the winners. (One staff member ate 211.5 servings of produce in 21 days!)
How many colors have you enjoyed today?
Lindsey here. I've been teaching healthy budget shopping with the Cooking Matters at the Store program for the three years I've been Manna's Nutrition Educator. The questions that arise week after week are, sadly, the same: "I was just diagnosed with Type II diabetes, what can I eat now?"
In response to this question, I developed a new class for Manna called "Habits to Hinder Diabetes and Chronic Disease". I teach this class at agencies throughout Montgomery County. This week alone, I've taught the workshop to over 60 individuals at senior apartment complexes and the Wells-Robertson House. The refrain of this class is that Type II diabetes can be controlled, and—best of all—prevented and potentially reversed. There is so much bad news about diabetes, a diagnosis that can be frustrating, confusing, and maddening. So I set out to create an uplifting workshop that highlights the ways we can take control over our health. One of those is to gradually transition our eating habits from those abundant meats and sweets to more beans and greens. But informed food choices are only one piece of prevention.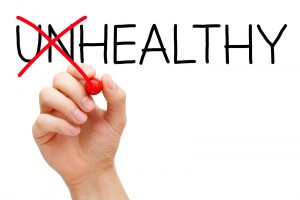 Here are the four healthy habits we discuss at the end of the workshop (adapted from The End of Diabetes by Joel Fuhrman, M.D.):
1.      Make a commitment to yourself.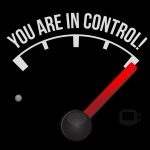 Write down your health goal and share with valued people in your life. Rather than thinking "I'm on a diet", consider the choices you are making towards your own health and positive well-being. This isn't about deprivation, it's about the good care you're giving yourself. Indulgent comfort-food may provide a momentary boost, but the most pleasure in life comes from more meaningful achievements. Each day of healthier food choices brings you closer to improving your health.
2.      Track your progress.
Keep a notebook in a place you'll see it (next to the bed, in the pantry). At least twice weekly: log foods, (and beverages!) and exercise. Even if it's not the precise amount, paint a picture of the food variety in your day. A variety of color is key. If you have diabetes, track your blood sugar and medications too. Write down your movement, how long and vigorous the exercise. Tracking your progress and success can be a powerful motivator—you've got the data to show for all your hard work!
3.      Switch up your pantry.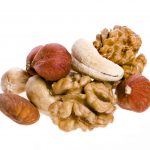 Keep bulk items around. The store brand plain oatmeal, bag of carrots and onions, and one pound of brown rice are inexpensive (versatile and nutritious!) items that stretch your food throughout the month. Avoid purchasing foods that are pre-seasoned and flavored. With items like canned soups or high-sodium packaged foods, combine with fresh, frozen, or no-salt added items to add more fiber to the dish and decrease the sodium per serving.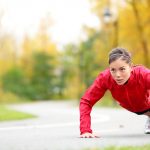 4.      Move more.
Exercise is the very best prescription to protect our health. Medication does not replace the need to (or lifelong benefits) eat well and move more. The benefits are vast, supporting the musculoskeletal system, digestion, heart and blood vessels, and even mental function! This doesn't have to be long distance running: even standing up from a chair and sitting back down for 5 straight minutes gets the heart pumping.
If you know an agency serving families with low-income that may be interested in this class, contact Lindsey at Lindsey@mannafood.org
When Manna's doors first opened 33 years ago last month, elected officials were present at the creation. Several months before, County Executive Charles Gilchrist, had convened a task force to address the needs of low income and hungry neighbors.   Staff from the Department of Health and Human Services, then headed by Chuck Short, now Special Assistant to County Executive Leggett, took a lead role in creating what became Manna Food Center.  We are grateful for the foundational vision of politicians and civil servants who shaped Manna's mission.  Today, with the passing of the Fiscal Year 2017 budget, we continue our appreciation for the leadership that made funding of several core programs possible.  While public funding constitutes only about 20% of Manna's total revenue, it is essential to our ability to work toward a hunger free Montgomery County.
"We are also beefing up our safety net with an increase in the Working Parents Assistance program's subsidies for child care; an increase for initiatives for homeless veterans and chronically homeless adults; an increase for the [Weekend Bag Coalition], which provides food for elementary school children; and numerous other support programs for our most vulnerable residents." -Nancy Floreen
I know that many difficult decisions were made by the County Executive and County Council in approving the budget. As a taxpayer and homeowner I recognize that my family will be paying more in taxes to make this budget possible.  As the Executive Director of Manna, I am also impressed that, as Council President Nancy Floreen said, many items in the budget "….will have a direct impact on residents' lives….[For example] We are also beefing up our safety net with an increase in the Working Parents Assistance program's subsidies for child care; an increase for initiatives for homeless veterans and chronically homeless adults; an increase for the [Weekend Bag Coalition], which provides food for elementary school children; and numerous other support programs for our most vulnerable residents."
Thanks to Montgomery County support Manna will be able to:
    – Continue our service as the County's designated food bank: Last year Manna reached 38,637 residents at an annual cost to the County of approximately $5.00 per person
  – Provide nutritious food to approximately 2,500 students weekly through our Smart Sacks weekend bag program.   By collaborating with Montgomery County Public Schools, Women Who Care Ministries, and Kids in Need Distributors, we will also scale up efforts to reach the neediest low income students in the next school year
  – Coordinate the efforts of the Community Food Rescue network, which is working to increase the amount of food recovered and shared with food insecure neighbors by 20%
  – Work with local farmers and Farmers' Markets through our "Farm to Food Bank" project that makes more locally grown produce available to the 3,700 families who visit Manna monthly.
When I approach foundations, individuals and businesses to ask them to lend their support to these programs designed to end hunger, my "ask" is stronger because I can say that elected officials are a part of the solution.  Clearly taxpayers are both contributors to and beneficiaries of the work Manna does.  On behalf of the staff and Board of Manna Food Center, and the individuals, families and neighborhoods we serve, I thank Montgomery County as a whole for being a place where our most vulnerable residents are served and our prosperity is shared.
Jackie DeCarlo
Executive Director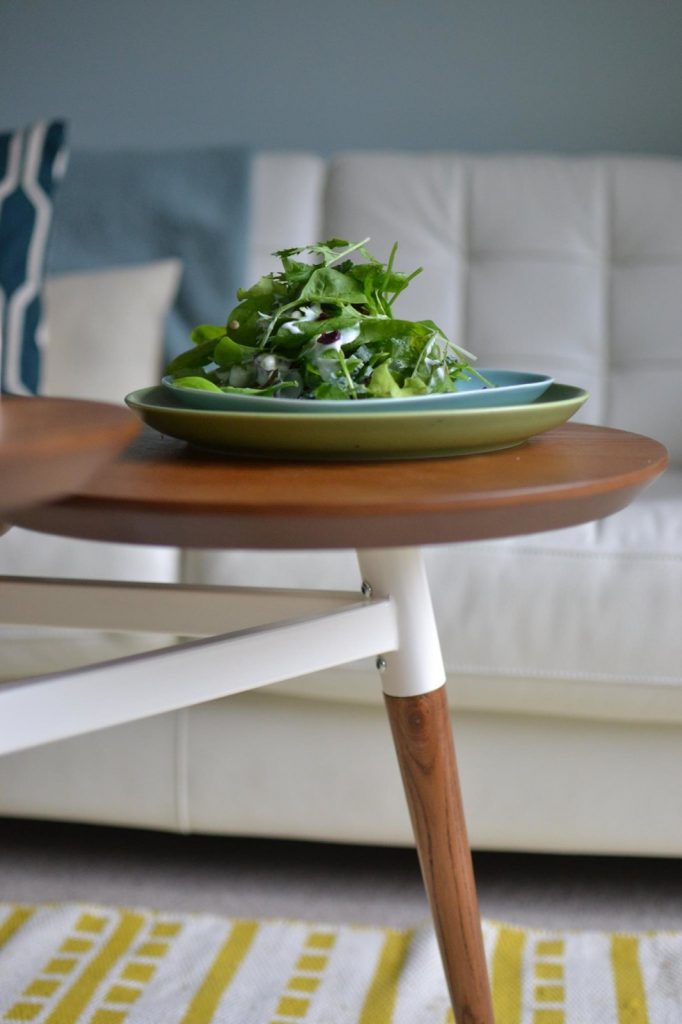 Check out this refreshing salad. I grew it. My name is Lindsey Seegers and I am not a master gardener. In fact, I wouldn't even call myself a gardener: I'm terrified of worms, everything outside makes me sneeze, and I have only two gardening tools. Not even decent gardening gloves.
But guess what? I grow my own food. And it's delicious. There is something so satisfying about the flavor and sense of accomplishment (in the order of your choosing). You can totally do this, too.
Manna partners with farms and farmers markets to offer our families more fresh produce during the growing season. Think how much you love juicy summer tomatoes and crispy vegetables. These seasonal luxuries are just as prized for our clients, but often financially out of reach.
How can you help? Grow a Row for Manna! You can grow a small garden no matter your space. I have assorted, inexpensive plastic pots that hang out on my back steps all summer. Thanks to direct sunlight, there's not a lot of work me for to do besides water and watch.
This year, I'm growing kale, chard, strawberries, peppers, eggplants, tomatoes, butter lettuce, red leaf lettuce, and herbs of all kinds. If I (averse to worms and pollen) can do it, you can too!
Here are some fantastic tips from Maryland's Gardening Network:
PLANTS NEED DIRECT SUNLIGHT. Tomatoes and peppers need at least 6 hour of direct sun. Herbs, lettuces, kale, collards, and beans need at least 4 hours.
WATER THE SOIL WHEN IT IS DRY. Every day, push your finger one inch into the soil. If the soil is dry, slowly add water until it runs out the bottom of the pot. Water twice a day in very hot weather.
PICK AND EAT THE VEGETABLES! Pick the vegetables as soon as they are ripe. Picking them makes the plants grown more.
If you have extra, bring your homegrown produce to our Gaithersburg warehouse. Happy Harvest!
Need help? You can e-mail GardenersGrow@gmail.com or check out this link for more great resources.
Manna Food Center's Smart Sacks program has been hard at work strengthening an important collaboration with two other weekend bag programs serving our County's elementary school students.  Women Who Care Ministries and Kids in Need Distributors have been part of a Manna-led coalition for nearly 2 years now and our hard work and cooperation is about to pay off, but we need your help!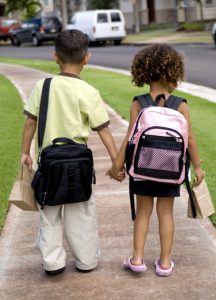 The coalition presented our plan to serve more students than ever before and County Council members Roger Berliner, Craig Rice and George Leventhal are supporting a request for an additional $150,000 dollars in the County budget to make this happen. 
Although we have some great champions on the Council we need support from all of the members, including your representative, to get this funding approved! 
By May 17, the Council will have to make final decisions on budget allocations, reconciliations, etc. and they need to hear public support of these funds in the next two weeks.  You can find the contact information for your Council member at this link. 
Please take a moment over the next few days to let the Council know how valuable weekend programs are for MCPS students and their families.  We are extremely grateful to our donors, volunteers and partners who help our organizations reach over 4,600 elementary students each weekend, but with more than 29,000 students eligible for assistance there is still work to be done.
With your continued support we know we can do more!
Lindsey here. I just returned from Hollywood. Yes, Hollywood: the locale of this year's conference for the International Association of Culinary Professionals. There were wonderful surprises on my trip, including a memorable conversation around Nigerian cuisine with my cab driver, Joseph.
I also met some food heroes of mine, Marion Nestle and Lynne Rossetto Kasper. I missed out on autographs, but the opportunity for conversation over dinner was even better. Rather than share about themselves (or their amazing books and radio shows), theirs was a mutual chorus praising Manna's work, especially nutrition education, as the most important kind of work food lovers can share.
Beyond workshops about why cooking matters to kids today, the food retail revolution, and the future of cooking lessons, I spent my first conference day touring Melissa's Produce. Melissa's is the country's leading distributor of specialty produce. On the East Coast, we buy their fruits and veggies in stores like Trader Joes, Whole Foods, and Wegmans. Our Manna drivers rescue food from these stores each week, meaning that Melissa's produce rotating out of grocery store inventory is likely making its way to Manna boxes. This food rescue provides our clients with wholesome fresh veggies, and also reduces food waste.
My visit to Melissa's California warehouse included perusing 1,500 different varieties of fruits and vegetables! In this tour, I learned the birds and the bees of foods that grow on trees…
Four Things This Foodie Did NOT Know About Fruits and Veggies
1.     Males look great in purple
Eggplant is easily my favorite vegetable, I love how versatile it is. It can be creamy, smoky, or crispy—depending how you cook it. Newbies to eating eggplant often complain about the bitter taste, and, boy oh boy, is there an easy way to get around that! The male eggplant has a very small, round scar on the round base of the vegetable; this has less seeds and is less bitter. The female eggplant has a larger, sometimes longer scar, with more seeds: more bitter. If you're new to eggplant, try cooking a male eggplant.
2.     The bumpier the better
Bell peppers are a different story. If you want the sweetest pepper—think of those NO BOYS ALLOWED signs from middle school—look for the sweet females. Female peppers have four (or more!) bumps; they are sweeter with more seeds, and great for eating raw. Male peppers have three bumps: less seeds and less sweet. Male peppers are better for cooking.
3.     A rose is a rose
You know how some things in life have different names for the same item? Water closet, washroom, loo, powder room, lavatory—we know it's the same destination. But did you know that the tangerine, clementine, and mandarin orange is the very same fruit? This rocked my world.
4.     Go give it a squeeze
Mangoes have the most beautiful hues, from tropical greens to sunny yellows and oranges. Though mangoes are the most popular fruit worldwide, many of us look at these colors for ripeness. However, like a peach, tender flesh + fruity fragrance is the real way to determine if your mango is ready to enjoy.
Part of my job as Nutrition Educator is to develop recipes for the abundant, and sometimes, unusual, foods we distribute at Manna. Upon learning this, my new friends at Melissa's gifted Manna with this wonderful reference book, Melissa's Great Book of Produce.
At the end of the day, eating more fruits and vegetables (no matter what the gender) is what counts the most. Our farmers, local grocery stores, and generous donors help make that possible for the families we serve. To learn more about how Manna drivers rescue food from local grocery stores, click here.
For the second year in a row, Manna organized our "Heroes Against Hunger" reception on April 7 at VisArts in Rockville. We picked the theme of heroes because we are fortunate every day to see heroism in action.  We see it in the 3,700 families we serve each month, who struggle with not always knowing where their next meal is coming from; We see it in their neighbors, who volunteer their time in our warehouse and at our grocery store tours; we see it in the faith based groups, schools and businesses that organize food drives;  We see heroism in our Board, some of who have personal stories of needing the support of free and reduced meals at school or food stamps during a family crisis.  We often say at Manna that no one agency can end hunger.   We also see heroism in the actions of our peers, like the staff of Shepherd's Table and MCCH, who worked through the winter blizzards determined not to close their doors to the homeless.
At our reception, we spent an evening celebrating those types of heroes as well as two special guests.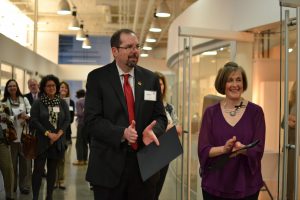 Corporate Hero Against Hunger award: Giant Food
Back in 1983, Manna Food Center was founded by the community and Giant was present at the creation as our first food donor. They started us off with 16,000 pounds of food. These days at 6:30 a.m. our drivers head out for their daily rescue of food from dozens of Giants.   Giant was a role model for the community because now Manna rescues from every major supermarket chain in the County.
Giant also hosts every fall our annual Community Service Week food drive and every Dr. King weekend you can see students, civic leaders and average citizens participating in food drives at all 27 Giant locations in the County to help us stock our shelves for the winter. This spring, April 23-24 and May 7-8,  Giant will be hosting food drives at a dozen stores conducted in partnership with the Montgomery County Muslim Foundation.
Whenever Giant hosts a food drive, I make a point of popping in at stores and I'm often so pleased by how the Giant staff embrace these community events. I go up to the customer service desk and staff, see my Manna nametag and always know who we are and what we are about.   I particularly get a kick out of the store managers who have friendly competitions to see which store can collect the most food by encouraging their shoppers to give generously.   We were proud at HAH to present Giant Food with our first Corporate Hero Against Hunger award.
Just as no one agency can end hunger, even more so, no one sector alone—not corporations, not the government, not all the nonprofits put together can end hunger by themselves. It is a community effort.  As was recently discussed at Impact Now in Silver Spring, it will take a community effort to share prosperity, to create an abundant community.  It will take authentic, courageous, collective work.
But like most things in life, there is a paradox. It is also true, that businesses, governments, neighborhoods are made up of people, of individuals, and it is very appropriate to raise up the example of outstanding individuals to celebrate what they do in and for their communities.  That's why Manna presented, Shondra Jenkins, our Hero Against Hunger award tonight.
When I first came on board at Manna, Shondra popped in with a donation, and it was clear that she was a familiar face and that she kind of knew her way around our big warehouse. That's because for many years, Shondra has been contributing in many ways to Manna's work, particularly our fight against childhood hunger.  In fact, she and her husband, helped us start a weekend bag initiative, now known as the Goldberg Smart Sacks program,  which helps feed low-income kids and their families every Friday of the school year.  She and Greg helped us design the program to be a true community partnership between Manna, Montgomery County Public Schools, and a sponsoring agency, the first one was Greg's credit union.  What started out at one school, Summit Hill Elementary back in 2005, is now in 60 schools with more than 50 partners such as congregations, corporations and civic organizations, who work together to reach 2,491 students each week and provide tasty, well balanced food for their families.
Manna has taken a leadership role in organizing a coalition of other nonprofits who have replicated the model and together we've establish a goal of doubling the number of school children who receive bags throughout the county. We make those ambitious goals because of the original inspiration Shondra and her family provided.  In fact, Shondra's mom, Elaine, has been known to drop off food at the warehouse.  Just last week Shondra's son, Tyler asked for a tour of Manna because his mom was talking to him about food recovery as a way to help end hunger over a family dinner.
Shondra's family is an inspiration and she also did serve on our Board of Directors as a representative of the Sodexo corporation. These days Shondra is an important advisor to me, especially with strategic work with our Community Food Rescue initiative as our County works together with food donors, food assistance organizations, and food runners, to increase the amount of food recovered in Montgomery County by 20%.   I am so appreciative of the leadership she shows Manna and the entire movement to end hunger.   I've seen Shondra in action at national conferences and she is an expert, a networker, and an inspiration.
As the 2016 Individual Hero Against Hunger, Shondra is a great role model to us all and she takes her places among many others in the community working to make Montgomery County Hunger Free. We salute her and all of you, our Manna Food Center supporters.
Jackie DeCarlo
Executive Director
Have you ever been interrupted while telling an important story?  Or had a call drop in the middle of an important conversation?  These experiences – whether due to technology or even rudeness -can be unsettling.  As human beings we all want to be heard.  It is a natural part of who we are to want to share our experience.
Manna Food Center is honored to touch the lives of 38,627 people every year.  While we can't have a conversation with each and every client, we believe it is important to listen to those we serve to understand their realities and create common solutions.  In February we had two unique opportunities to listen and learn.  Before a House of Delegates committee in Annapolis, a Manna client, 89 year old Margaret Dubinsky, shared why as a widower with no living children, she relies on Manna's services and Food Stamps.  She noted,  "When I was younger, I worked as a secretary. I also spent many hours volunteering with my church to provide food for people who were homeless. Now, here I am on the other side of the table, asking for your help."  On the car ride home from our state capital, Margaret told me how glad she was to be able to help influence policy makers. I told her how inspired Manna is to be a part of her story.
Soon after, a group of eight guests at the Colesville Presbyterian Church accepted an invitation from Manna to "break bread" together before they began their monthly shopping at the choice pantry.  The conversations we had with the group, as well as community members, were another example of how Manna is combining our food distribution service with opportunities to build community and share experiences.  We are also convening dinner sessions and "street conversations" at distribution sites to foster dialogue across lines of difference about what it will take for Montgomery County to be hunger free.
Manna believes that listening and learning will help us work with the community to create opportunities, policies, and programs to end hunger.  We are interested in engaging with you too.  Please consider volunteering, donating, or reaching out to me directly to share your ideas and insights.
Ending hunger: it's what we do together.
Jackie DeCarlo
Lindsey here, sharing another round of my Notes from the Nutritionist: a series of kitchen tips we include in each Manna box to help families produce healthy, home-cooked meals.
Now, raise your hand if this has ever been you:
Spot drool-worthy food photo.
Glance / scroll down to discover accompanying recipe.
Vow you are going to attempt this life-changing recipe in Your Very Own Kitchen.
Check out the ingredient list, note the recipe calls for more than eight spices.
Slump head in discouragement.
Reheat leftovers instead.
I've got you covered…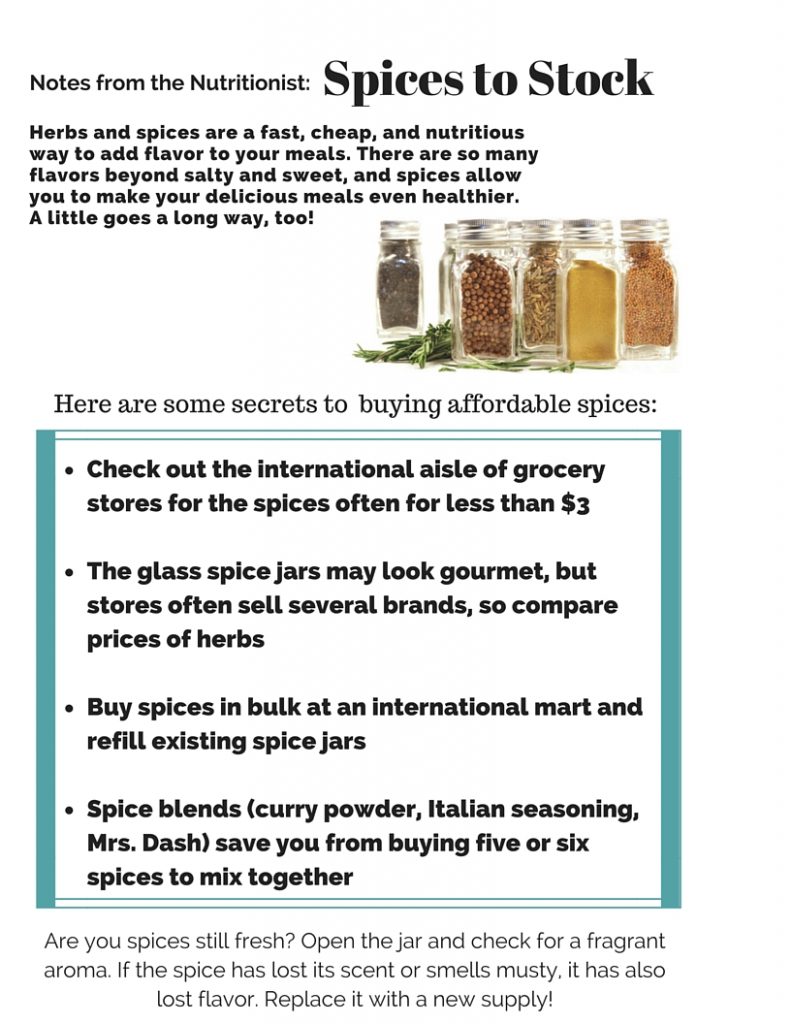 Spices are a fantastic way to throw together a quick, wholesome, flavor-packed meal. Price doesn't have to hinder every part of eating healthy. Hope you enjoyed Part II of our last blog post, The Prepared Pantry, with these remarkably simple tips to improve your spice rack this week.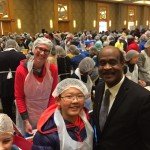 At one time in my career, I was an AmeriCorps director and was motivated by the agency's notion that the Dr. Martin Luther King, Jr. holiday should be considered "A Day On, Not a Day Off."  Since coming to Manna, I've been impressed by how the Montgomery County community comes together on the 3rd Monday of January for a Day of Service.
This past MLK Holiday was particularly special and other food agencies like ours will benefit from the community's generosity.  We hosted our annual MLK Food Drive at 27 Giant stores across the County.  We owe a huge thank you to the hundreds of food drive volunteers, Giant staff, and store patrons, who made the collection of 29,647 pounds of food possible.
But the service didn't end with the food drive!  We also participated in the service event led by the Montgomery County Volunteer Center, on MLK Day to make 100,000 meals.  I was fortunate, along with dozens of other nonprofit representatives, to gather with 2,700 volunteers at the Bethesda Marriott Conference Center.   The volunteers assembled meal packets that consisted of rice, beans and other savory ingredients.   In an initiative with the anti-hunger group, Outreach, and thanks to the support of Fund for Montgomery, the Marriott was a hub of activity as citizens and elected officials gathered to help make Montgomery County hunger free. Click here to see highlights of the event.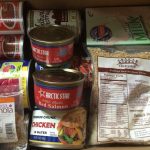 Manna now has more than 16,000 food packets to share with the community.  Manna will, of course, include the packets as part of our regular monthly boxes during the winter months.   As the Center of ending hunger in our County, we will also be sharing these packets with soup kitchens, shelters, pantries and other food programs.  Please let us know if your agency or place of worship would like to benefit from the Dr. King service day success.  Reach me directly:  jackie@mannafood.org.
If the spirit of service over MLK weekend is any indication, it is going to be a great 2016!
Jackie DeCarlo
Executive Director
Join us on February 4 to learn about critical changes to SNAP/Food Stamp eligibility in Montgomery County.
Lindsey here. After being snowed in at home for four straight days, making meals from every canned bean and frozen vegetable I could combine, I got to the grocery store yesterday. Even after the winter storm has settled, some grocery shelves are still emptier than usual.
Having a stocked kitchen cupboard is not only your key to snowed-in sanity, but also a time and money-saver. When money is tight at the end of the week or the end of the month, stocked ingredients can turn your pantry items into a substantial, appetizing meal.
I developed this infographic for our Notes From the Nutritionist series: kitchen tips we include in each Manna box to help families produce healthy, home-cooked meals.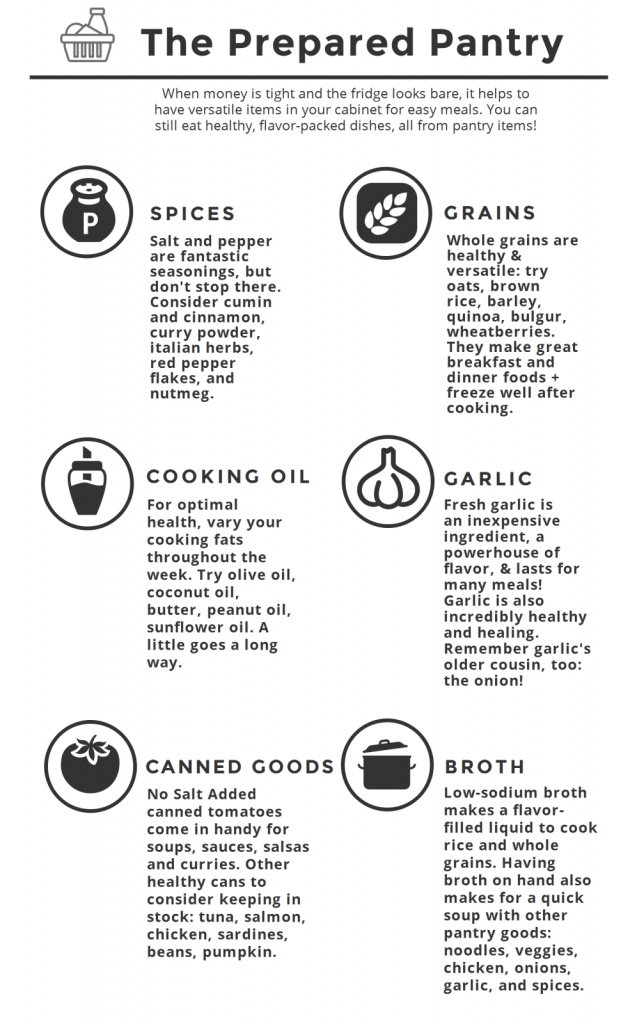 Want to learn more about reading food labels and shopping for the healthiest pantry items on a budget? Come to one of our grocery store tours around Montgomery County, just contact me at Lindsey@mannafood.org
Lindsey here. Despite all the responsibilities, I find the peace of being an adult some days is being alright with not having All The Answers. Nutrition research evolves constantly; scientific reports pop into the headlines about what not to eat this week, confusing the public.  The role of Manna's Nutrition Educator implies a vast knowledge base that intimidates even me. Being relatively new to my career, I can sometimes slip into a panic, convincing myself that perfect strangers will see "nutrition" in my job title and, on the spot, start quizzing me on GMOs, insoluble fiber or sources of Vitamin A (sweet potato, carrots, beef, kale, collards).
In recent conversations with families who receive food through our Smart Sacks program, one mother said she doesn't know what to do with dried beans, another shared her frustration with cooking brown rice on a hurried weeknight. Before I could offer suggestions, the other parents spoke up:
"I make a brown rice salad with corn, celery, green pepper, sweet pepper, and carrot. The dressing is lemon and mayo, and it is good three days in the fridge. Sometimes I add chicken."
"I make a sauce of tomato, sweet red pepper, onion, and fish. I parboil the brown rice, then finish cooking rice in the sauce so the rice is red and my kids don't see that the rice is brown."
With the gradual acceptance of not needing to have all the answers comes the opportunity to listen. Rather than spending the hour telling parents about the healthy dishes in which I use similar ingredients—and assuming my imaginary children adore my every culinary concoction—I took notes. Lots of notes.
One mother, from Nigeria, shared that the only beans she knows are black eyed peas. She often incorporates them into a porridge with yams and corn. Another parent, from Paraguay, says that beans are expensive in South America, and that she, too, is unaccustomed to cooking beans on a regular basis. A third parent, from Mexico voices her favorite Manna item: pink beans, which her family loves in a salad with scallion, tomato, cilantro, and canned salmon. The parents in attendance were eager to go home and try this one.
It's a new year now, and from glancing at the grocery store magazines or health websites, it appears this is the month to reinvent the wheel: cook new foods, whip up creative lunches and dinner for your family.
My afternoon with these creative moms sparked a simpler idea.
Ask you friends and neighbors what they're cooking this week. Isolation can be the biggest risk factor to one's health, so get out and mingle. Cook with a friend, cook for a friend, pass along a new recipe, or have your kids select a new ingredient to cook at home. Isn't it a relief that we don't have to do everything by ourselves? The people around us have delicious wisdom and experience to share if we would just take the time to ask and listen.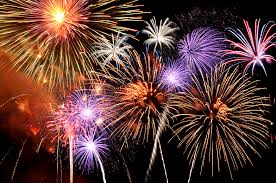 As a big goal setter, I am the kind of person who loves New Year's because I appreciate the chance to pause and make resolutions while also taking stock of progress on commitments made.  Yet at the same time, I am not much of a party-person and am regularly asleep way before midnight.  It has been awhile since I have seen the famed ball drop or toasted the arrival of the New Year.  This paradox is similar to where Manna Food Center finds itself—we live in a county with tremendous assets—diverse people, a vibrant mix of urban and rural communities, and policies and programs that work to share prosperity and opportunity broadly.  Yet, at the same time, approximately 78,000 of our neighbors are not always sure where their next meal is coming from in the year 2016.
The staff and Board of Manna embrace the challenge of such contradictions, hopeful that together we will find solutions to complicated issues.  This is not unwarranted optimism borne out of too many holiday treats, but it is a vision grounded in our commitment to tested approaches and fresh ideas.
Manna has a lot of plans for 2016.  We will:
Help feed more people by wasting less food: As leader of the Community Food Rescue network, Manna is inspired by the values of a sharing economy, powered by advances in technology, and dedicated to having a collective impact with volunteers, donors and partners. Our goal is to increase the amount of food recovered by 20% by the summer of 2017.  Join us!
Accelerate efforts to reach elementary school children: Our Karen Goldberg Smart Sacks program added another 120 students as the number of students eligible for free and reduced meals rapidly climbs in our county.  With financial support Manna will be able to add staff to this program, continuing to build capacity within our 61 partner schools.
Share food and conversation with clients: While it is our daily honor to provide food to those experiencing hunger, in 2016 Manna will also create extra opportunities to "break bread" with our clients. We want to have dialogue about supporting self-sufficiency and creating new solutions to end hunger.
Embark on a three year strategic planning process: Just as we listen to clients, we will also be assessing the views and perspectives of our donors, staff and community leaders to chart the next phase of Manna Food Center's work. Even with a legacy of more than three decades of community impact, Manna has never been satisfied with the status quo.  Committed to making sure that we fulfill our mission means that Manna need to assess our values and programs while planning thoughtfully and ambitiously to end hunger and promote prosperity.  As a dedicated supporter, you will be invited to participate through surveys and other feedback mechanisms.  Thank you in advance for your help in shaping our future.
Click here to sign up for our monthly newsletter and stay up to date on all that will be happening during this New Year.  Please continue to reach out to me personally if I can be of service as we work together to  fight hunger and feed hope in this great, if complicated, county of ours. And, of course,
Happy 2016 to you and yours,
Jackie DeCarlo
Executive Director
Lindsey here. Did you know that FOOD DAY began in 1975? When I first heard of a designated FOOD DAY, I'll admit: I thought it was just another excuse for foodies to get together to celebrate balsamic reductions, kale chips, quinoa, and squash bowls.
While I, too, find food glorious and glamorous, I work at Manna Food Center, where pallets piled high with hundreds of pounds of butternut squash and onions and cabbage make veggies feel, well, far from trendy. Food is this whole "thing" now, especially to millennials like myself. Eating is not merely a physiological obligation, it is a pastime to be tweeted and instagrammed, shared and envied.
There are magazines and television networks and podcasts making a big deal out of food. And while, even as a foodie, I can tire of the 'Ten New Ways To Cook Tomatoes' posts, I am glad there is an increasing conversation around food. Because food is a big deal, and how we share it is even bigger. There are many ways, big and small, we can help improve food access and food quality; and many stories that illustrate why we should:
Through Manna, I meet individuals who cannot afford food for the month. I hear the firsthand account of an elderly man who makes a single can of sliced green beans last for four meals. I listen to a voicemail from a mother who did not have enough food for the entire family to last the weekend, until her daughter brought home brown rice and oatmeal and canned produce in her Smart Sacks bag. At the Clarksburg Farmer's Market last month, I met a farmer whose crops didn't respond to this summer's weather and faces financial loss as a result.
While food has become a source of exploration, experimentation, and joy in my own personal life, at my day job I'm often reminded that food is always a serious matter. It turns out, FOOD DAY is, too; it's about improving our diets as well as our food policies. October 24 is a day to resolve to make changes in our own diets and to take action to solve food-related problems in our communities at the local, state, and national level. In 2015, Food Day's theme is "Toward a Greener Diet." FoodDay.org says, "Eating Real can save your own health and put our food system on a more humane, sustainable path. With America's resources, there's no excuse for hunger, low wages for food and farm workers, or inhumane conditions for farm animals."
Although October 24th has passed, every day is truly "food day" at Manna Food Center, where we take steps to end hunger through food distribution, education, food rescue, and advocacy. Surf our site to find out how we're working towards change, and how you can take part.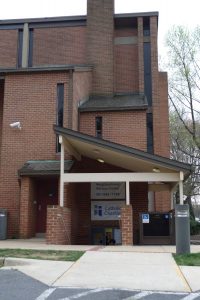 Lindsey here. This week, I visited our clients at one of Manna's busiest distribution sites, Catholic Charities in Wheaton. After receiving food, about twenty people joined me for a community conversation and nutrition workshop inside Catholic Charities.
In my two years at Manna, I have led many workshops, conversed with many clients, listened to their stories. But there were two things about this evening that surprised me.
Garnering participants for any event can prove challenging. People have obligations with work and family, not to mention transportation hurdles. I hoped that advertising snacks might prove appealing to those leaving home around dinnertime.
We first took turn introducing ourselves and naming something "good or new" that happened to us in the past few days. Think about that phrase for a moment: happened to us. For so many people who find themselves in need of Manna's food, it is not always the actions one takes in life that leads to poverty, but rather life happening to a person. Chronic illness, job loss, medical bills, divorce, relocation—the "stuff happens" circumstances. As the men and women in attendance listed their "something good", the responses went like this:
"I was called for work three times last week. I don't have any calls this week, but maybe in a few days I will get a job. Working last week was good."
"I just got out of the hospital, so nothing feels good right now."
"I woke up today and I was able to get here. That's good."
There is never a time for me that these stories will feel commonplace or acceptable. They are simultaneously heart-wrenching and maddening.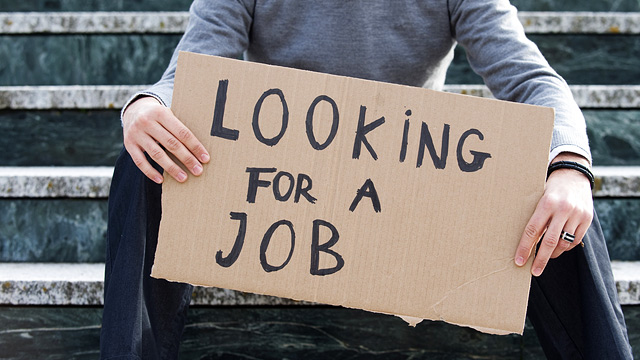 At Manna, we serve families challenged by food insecurity who don't always know when that next meal will be available—or the quality of the food they can afford. I spent so many years studying food insecurity, I don't often think about our families as physically hungry. Hunger is that state we have all experienced, that discomfort relieved by eating. Where some of us can alleviate that hunger with food whenever we want, families facing food insecurity have limited foods available to them. The next meal may be out of reach financially, geographically, or both. When I visit their children in school, I rest assured these kids have breakfast and lunch among the safety of their peers.
But on Tuesday night, I spent time with their parents, and with unemployed singles. This group responded to my spread of apples, cheeses and whole grain crackers as if they had not eaten all day. It was at the end of class, when I passed out the leftover apples and boxes of crackers that I realized: maybe they hadn't.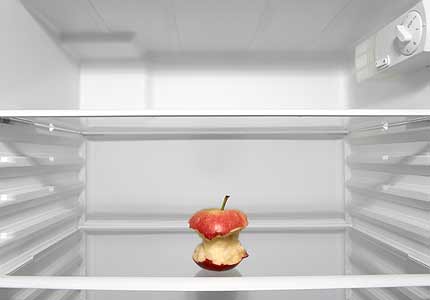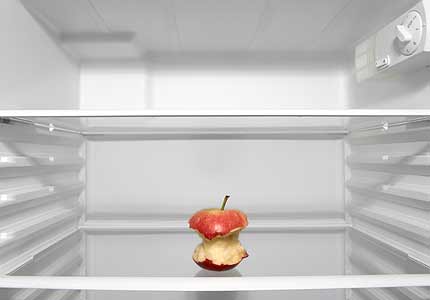 By the time I arrived home after class, it was just 30 minutes before I typically go to bed. Still, I stared at my bursting pantry and rummaged through the fridge, then freezer, eventually deciding I would stay up late to digest my impromptu dinner so I would not wake up hungry.
For no good reason, I have that choice. For now, my husband and I still have jobs to afford our house, our food and our fun. For now, we have our health and separate cars to get to our full-time jobs, and to the multiple grocery stores we frequent. For no good reason—not because I am good or worthy or luckier than most: I woke up to a refrigerator with multiple options for breakfast, I packed a lunch I had time to cook, I'm returning home to a delicious, healthy and homemade dinner. I have food in my home, with plenty to share.
For no good reason, I have that choice.
Lindsey here, with some photos of what we've been up to. I hope you came hungry…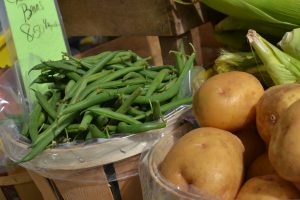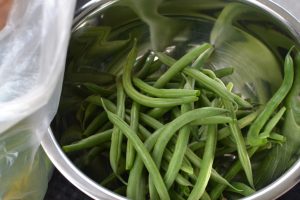 Last week, Manna's Nutrition Team (Jenna & Lindsey) enjoyed a second annual friendly-competition of CHOPPED! at the Clarksburg Farmer's Market. With crisp produce from Scenic View Orchards, Chef Charley and Team Manna went knife-to-knife for the grand prize: bragging rights.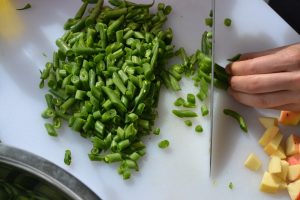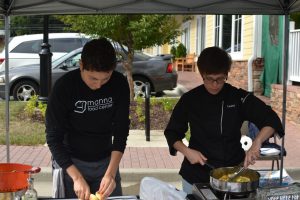 Our dishes were very different. Chef Charley went the tartine route, topping herbed bread with marinated beets, heirloom tomatoes, and cheese. What did Jenna and I make? Check out the recipe below!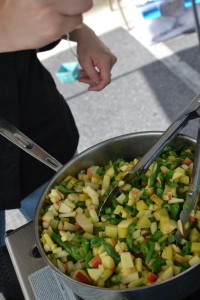 Three common fruits and veggies transform into an unexpected, aromatic autumn sidedish. Stir in chickpeas for a vegetarian entrée, or serve alongside your favorite protein and brown rice.
LINDSEY'S INDIAN-SPICED AUTUMN SAUTÉ
Cook time: less than 20 minutes
1 pint fresh green beans, tips trimmed & sliced into 1 inch pieces
5 yukon gold potatoes, ½ inch dice
4 apples (we used Gala), diced
3 tablespoons cooking fat (butter, olive oil, coconut oil; we used half butter, half olive oil)
½ tablespoon curry powder
½ teaspoon saigon cinnamon
1 teaspoon honey
Juice of 1 lemon
¾ teaspoon salt
In a large pan over medium-low heat, heat oil/butter until melted. Sprinkle curry powder and cinnamon into melted butter and stir for 30 seconds. Add potatoes, stirring occasionally, until the potatoes are just tender. Watch the heat, the potatoes should not get crispy or brown.
Once the potatoes are just fork-tender (not overcooked!), stir in the sliced green beans along with ½ cup water. Increase the heat to medium and cover pan to steam beans for about 2 minutes. Add the apples and stir, covering for 5 minutes. Add more water if the mixture sticks to the pan.
Toss with honey and lemon and taste the mixture: the apples should be slightly soft, the potatos and green beans tender. Add salt and additional curry powder or cinnamon as you like. The curry powder should be present, but not overpowering. Gobble up!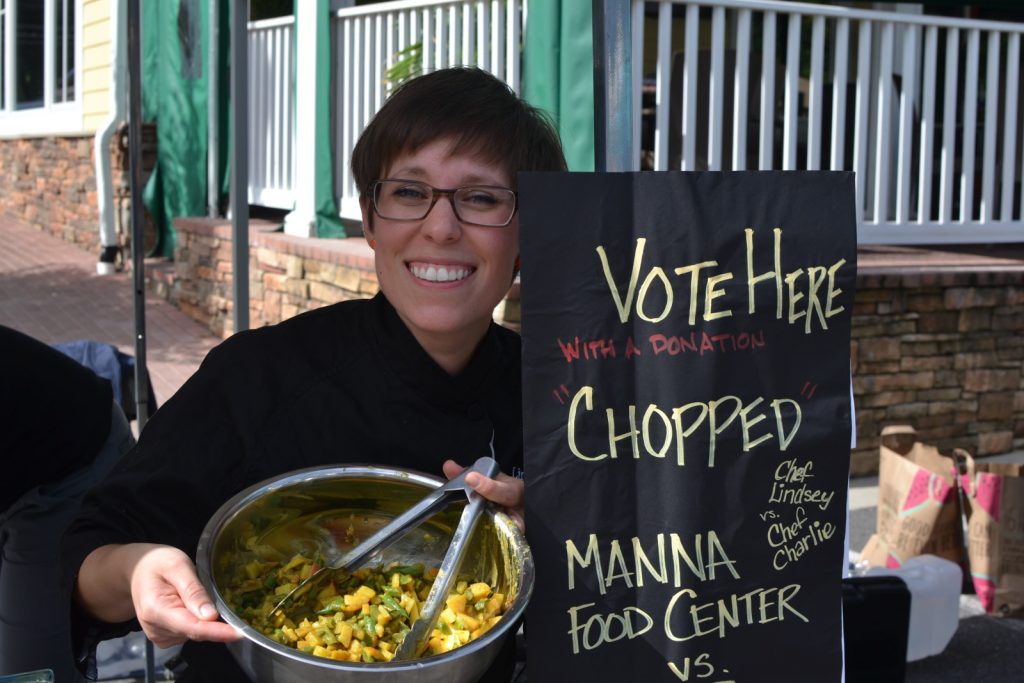 A word or two about spices:
"Curry" is a word that needlessly intimidates unfamiliar eaters. It is simply a sauce of spiced vegetables. The story goes that the British invented Curry Powder to bring the aromatic flavors of Indian cuisine to home kitchens. Store-bought curry powder is just a spice blend of tumeric, ground ginger, coriander, cumin and paprika—flavorful, but not necessarily spicy.
Saigon Cinnamon packs more punch that traditional ground cinnamon. I find it at conventional grocery stores among the jarred spices.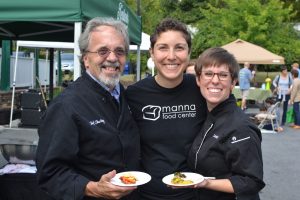 All proceeds from the dollar-votes went to Manna. The votes, for the second year in a row, were split down the middle–meaning shoppers and tasters enjoyed a might delicious morning. Thank you to all who came out!
I spy with my little eye some lofty promises around what looks like a candy bar.
"Get 35% of your daily fiber, antioxidants Vitamin E and zinc, plus whole grains in this delicious flavor from the folks at Kellogg's FiberPlus®. With tasty ingredients like real peanuts and peanut butter, plus a chocolatey drizzle on top and dipped in more chocolatey goodness on the bottom, these bars make nutritious snacking a real treat."
Fights cancer!
Strengthens Bones!
Have phrases like these ever caught your eye on a box of food? A high-sodium, sugary kids' cereal may read, "Made with whole grains! Whole grains support a healthy heart!" 
While whole grains do support a healthy heart, whole grains like plain oatmeal, brown rice, and whole wheat are healthier grain choices than a sugary cereal. A bag of chips may say "Made with canola oil! Canola oil is low in saturated fat and reduces your risk of heart disease!" Of course, you already know potato chips are not really the way to prevent disease.
WORDS TO WATCH: these phrases can be deceiving
"Promotes",   "Improves",   "Defends",   "Guards against",   "Boosts"
HEALTHY GROCERY GUIDELINES: these phrases can be helpful
Less, Low, or Reduced (sodium, sugar, or fat)
Lean (cuts of meat)
Good Source of (fiber or vitamins)
The best foods have no labels at all. Foods like fruits, vegetables, herbs, beans and fish don't need to convince anyone what great choices they are! When shopping, stick to the perimeter of the store, away from the packaged and boxed food.
These are just some of the lessons I teach in my weekly Cooking Matters at the Store tours with Manna's clients. We have offered this class to now over 500 residents of Montgomery County! Of course, the juiciest discussion in my classes is always What's For Dinner.  That's why I started Manna's Healthy Recipe of the Month. If you would like to receive the simple recipes I collect and cook at Manna, just send me an e-mail: Lindsey@mannafood.org
Happy, Healthy New Year to You!
At Manna, I post recipes in our lobby and send out health tips in all of our closed food boxes. While I create them for clients, I'm especially tickled when volunteers and visiting donors take a recipe and tell me what a hit it was with their families.
As Manna's Nutrition Educator, I like to think my role is to share the good news of good eating with the entire community. Those small, simple choices YOU make around food—that your kids see, your friends and neighbors see—cultivate the conversation that nourishing ourselves, and others, is essential.
Three small steps you can take today:
Eat all of your meals at the table.

Eating while working, driving, or watching TV can lead to mindless over-eating.
Try decreasing your screen time to two hours a day. Tune in for your favorite shows and then find active hobbies you enjoy in place of watching TV. If you're going to snack while watching your favorite show, this is a great chance to fix a plate of fresh fruit or raw veggies.
Balance out your day.
Grab a tote of apples or pears, a bag of carrots or celery. When you get back from the grocery store, chop up fruits and veggies into snack-sized strips and keep them in the front of the fridge. Or, enjoy as an edible centerpiece on your kitchen table!
Keep healthy snacks in sight.
I certainly can't type up these yummy vegetable ideas and leave you hanging for delicious dip! Inspired by a visiting nutritionist at Manna: Combine one cup plain Greek yogurt (whole or low-fat doesn't affect the recipe) with two tablespoons Mrs. Dash Onion & Herb seasoning. Stir and refrigerate at least 30 minutes. Add salt and pepper to taste and enjoy this healthy "ranch" dip with all your favorite veggies.
Craving more recipes? Subscribe here: Lindsey@mannafood.org
I've shared before how much our clients value our Cooking Matter at the Store grocery store tours. We've reached over 500 participants in this wonderful program, and at least once a month a client calls to share: "I really never knew that it was cheaper to buy in bulk! I'm saving on my grocery bill and cooking more at home."
These classes allow Manna to impact the lives—and lower the grocery bills—of so many clients. Just as important are the many partnerships that form among helpers in our community. These tours bring interactive nutrition education to moms groups, teens, adults with disabilities and seniors, as well as individuals transitioning to independent living and employment.
Out of a partnership with AARP Foundation , and their donation to our program, came the opportunity to purchase translation headsets for my nutrition education workshops and classes. An interpreter uses the microphone headset and participants simply tuck transmitters into their pockets to hear my content through earphones. This allows for an uninterrupted, hands-on class with clients.
When Impact Silver Spring requested a Spanish-language store tour, I realized our new equipment made this possible!
Technology is a remarkable thing, and it's allowing Manna's Nutrition Education program to reach clients of all cultures in ways I didn't imagine just a few months ago. This also means I will be holding a workshop for Rockville seniors in Mandarin next month!

A very special thank you to the many agencies who respect the value of this program, and encourage their clients to hang out with us for an hour to talk—of all things—apples and oranges. With gratitude to AARP Foundation, now we're also talking manzanas y naranjas.
These "April showers" are certainly living up to their reputation. So far, the spring is warm, but not so much yet that our farmer's markets are open and bursting with vibrant produce. The conventional grocery stores into which I've stepped lately feature piles of pineapple and citrus. Give me some veggies, too, please!
During conversations with Manna's families, I find that most shoppers find fresh fruits and vegetables too expensive for their budget. Shopping seasonally is one budget-friendly technique, but this can be confusing at conventional stores with year-round tomatoes, apples, and peppers imported from all of the world. Thankfully, there are more places in the store to find wholesome foods.
We often forget about the wonder of the grocer's freezer section. I'm not talking about frozen TV dinners, pizzas, and waffles. Plain frozen fruits and vegetables are a great year-round bargain when you stick to the store brand. Not to mention, this is the ultimate prepared convenience food to which a nutrition expert can offer a hearty stamp of approval. The two-pound bag of frozen broccoli, less than $2, lasts far longer than the fresh broccoli and all need not be cooked at once. This inexpensive purchase means a healthy green veggie that lasts the entire month!

I almost always have an array of frozen veggies in my own freezer: broccoli, cauliflower, edamame, corn, mixed peppers, spinach, peas, and butternut squash. Quick quesadillas, stir fries, and rice dishes are easily made more nutrient-rich by just stirring in a handful. I also love to mash frozen veggies (after roasting) for flavorful soups and lasagnas.


Consider frozen fruit, too! Berries, mango, and pineapple are longer-lasting and require less chopping than their out-of-season siblings in the fresh departments. I love to add these to whole wheat pancake batter, smoothies, yogurt, and oatmeal–most do not even require thawing.
If you are passionate about good food, and have a interest in helping Manna's clients learn how to shop healthy on a budget, write me! Lindsey@mannafood.org
Happy, healthy shopping!
June rounds out another series of Cooking Matters at the Store tours–that's 200 Manna clients attending in-store nutrition classes in just three months! While I've shared some exciting updates about our bi-lingual store tours, we've begun an additional class format that allows us to reach even further into the marginalized area of our community.
"Pop-Up tours" allow me to bring the grocery store to residents who are disabled, or otherwise unable to access public transportation. My special teaching box contains packages of breakfast foods, cans of fruits and vegetables, nutrition labels and ingredient lists for common products at the store. In just two weeks, 97 community members attended pop-up tours at Holiday Park Senior Center (Silver Spring), The Jefferson House (Rockville), and Rehabilitation Opportunities Inc. (Germantown).
Here is the question I hear the most: "What can I have for breakfast?" Many participants share their doctor's advice to reduce sugar intake, but that can feel unachievable given the usual sweet ritual of cereal and juice to start the day.
My response: who says breakfast has to be sweet? For individuals living with diabetes or prediabetes, or for those just looking for a healthier breakfast routine, check out these savory inspirations (with links to their recipes):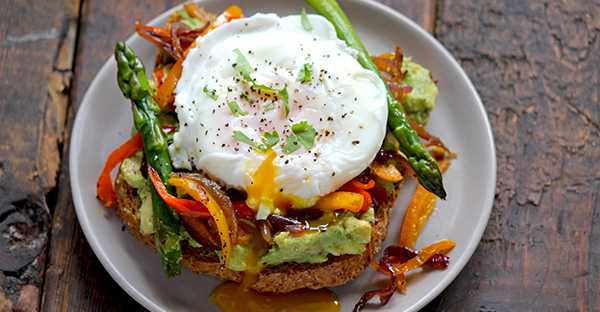 In my house, we even create savory breakfast menus for dinner when we're low on ideas or our budget. Just last week, my sweet potato, zucchini, carrot & chive pancakes were an indulgent-tasting treat we enjoyed for dinner and again for breakfast the next morning. Give one of these savory dishes a try, and open your mind to the new possibilities of breakfast.
If you missed the first culinary battle, the competitors (and generous partners) will be at it again on Sunday, September 27 making delicious, spontaneous creations out of local foods supplied by our favorite Clarksburg Farm vendors: Scenic View Orchards, Valencia's Produce, and Abundant Grace Farm.  Come watch the fun, taste the food, and vote for the winner!
This farmers market week, be sure to support the markets that support Manna Food Center: Central Farm Markets, Olney Farm and Artisan Market, City of Rockville Market, and Clarksburg Farmers Market.  Last month, these markets and the their generous vendors combined to provide over 20,000 pounds of fresh, regional produce to Montgomery County families served by Manna.
by Lindsey Seegers
Manna is the coordinator of Community Food Rescue, a network designed to feed more and waste less, in Montgomery County.  Read about the latest round of mini-grants awarded to build the capacity of local partners to fill bellies, not landfills.
See more here: http://communityfoodrescue.org/blog/
In honor of Farmers Market week we are remembering the epic battle between Manna's Nutrition Education team and Whole Foods Market's Chef Charlie at the Clarksburg Farmers Market's Inaugural "Chopped" Challenge.
If you missed the first culinary battle, the competitors (and generous partners) will be at it again on Sunday, September 27 making delicious, spontaneous creations out of local foods supplied by our favorite Clarksburg Farm vendors: Scenic View Orchards, Valencia's Produce, and Abundant Grace Farm.  Come watch the fun, taste the food, and vote for the winner!
This farmers market week, be sure to support the markets that support Manna Food Center: Central Farm Markets, Olney Farm and Artisan Market, City of Rockville Market, and Clarksburg Farmers Market.  Last month, these markets and the their generous vendors combined to provide over 20,000 pounds of fresh, regional produce to Montgomery County families served by Manna.
At Manna, I post recipes in our lobby and send out health tips in all of our closed food boxes. While I create them for clients, I'm especially tickled when volunteers and visiting donors take a recipe and tell me what a hit it was with their families.
As Manna's Nutrition Educator, I like to think my role is to share the good news of good eating with the entire community. Those small, simple choices YOU make around food—that your kids see, your friends and neighbors see—cultivate the conversation that nourishing ourselves, and others, is essential.
Three small steps you can take today:
Eat all of your meals at the table.

Eating while working, driving, or watching TV can lead to mindless over-eating.
Try decreasing your screen time to two hours a day. Tune in for your favorite shows and then find active hobbies you enjoy in place of watching TV. If you're going to snack while watching your favorite show, this is a great chance to fix a plate of fresh fruit or raw veggies.
Balance out your day.


Grab a tote of apples or pears, a bag of carrots or celery. When you get back from the grocery store, chop up fruits and veggies into snack-sized strips and keep them in the front of the fridge. Or, enjoy as an edible centerpiece on your kitchen table!
Keep healthy snacks in sight.


I certainly can't type up these yummy vegetable ideas and leave you hanging for delicious dip! Inspired by a visiting nutritionist at Manna: Combine one cup plain Greek yogurt (whole or low-fat doesn't affect the recipe) with two tablespoons Mrs. Dash Onion & Herb seasoning. Stir and refrigerate at least 30 minutes. Add salt and pepper to taste and enjoy this healthy "ranch" dip with all your favorite veggies.

Craving more recipes? Subscribe here: Lindsey@mannafood.org