The Breaking Bread: National Nutrition Month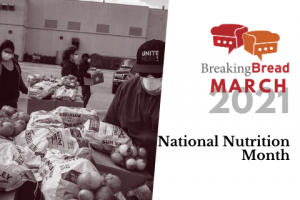 Manna's monthly Breaking Bread sessions are an opportunity for us to dive more deeply into the root causes of food insecurity and connect the dots between food justice and issues like racial justice. All are welcome.
This month's Breaking Bread will acknowledge National Nutrition Month and will aim to understand some of the reasons why communities of color and lower-income communities face higher rates of not only type 2 diabetes but also other chronic diseases such as obesity and heart disease. Access to supportive nutrition education/counseling is one potential intervention when it comes to improving community health. However, there is real lack of ethnic and racial diversity in health messaging and health messengers.
What are the implications of this and how can we ensure that individuals most impacted by diet-related conditions see themselves and their cultural traditions in nutrition education?
We look forward to seeing you there!
Click here to register.