Shocked about Sugar Shockers
Mike here, I am a Dietetic Intern completing my rotation at Manna Food Center.
One of the great things that Manna does in the community is teach nutrition education classes. I was able to participate in one of these lessons today: The class is "Sugar Shockers" and I can definitely say I was shocked. It wasn't the content of the lesson, but the responses from participating mothers. Lindsey regularly holds this class at local elementary schools for families in the Linkages to Learning program, many of whom also participate in Smart Sacks.
The lesson detailed sugar in common foods like soft drinks, juices, and breakfast cereals. It also covered how sugar reacts in the body and what health problems can result from eating too much sugar. These aren't new concepts in my field of study, but I realized that it's easy to take for granted the things you know. Some of these concepts were brand new for a lot of the mothers. It was heartbreaking to see their reactions to some of the information. It was as if they had been lied to about what is healthy for their entire lives. They became very concerned about how much sugar their children have been eating every day.
Something that I thought was interesting was that nearly all of the mothers said that they thought honey was healthier than sugar. While honey may be natural and have other potential benefits, the body uses it the same way it uses sugar from a packet. Too much honey results in the same problems as too much sugar.
We also talked about how fruit juice isn't as healthy as eating fresh fruit because when you eat fresh fruit, you get a lot of fiber that helps make you feel full. Eating one or two oranges is plenty for most people. However, with juice, you don't get the fiber, but you get all the sugar. One glass of orange juice may contain eight or nine oranges worth of sugar. While oranges are definitely a healthy food, eating nine oranges at once is just too much for one person. This was another concept that seemed to really upset some of the mothers. Many of their children drink multiple glasses of juice per day because parents thought the juice had equal health benefits of fruit.
Near the end of the lesson, we did an activity in which we read the nutrition facts label on several products and identified how many grams of sugar were in a single serving. Then we counted out how many sugar packets it takes to get that much sugar. One packet of sugar is equal to 1 teaspoon, which is 4 grams of sugar. One of the mothers had a 12 ounce can of ginger ale that contained 32 grams of sugar. That's 8 teaspoons of sugar in a single can! The World Health Organization advises the maximum daily intake for added sugar is 6 teaspoons for women, 9 teaspoons for men, and 4 teaspoons for children.
From the many questions throughout the lesson, and it was obvious that participants had received poor nutrition advice, whether from friends, family, magazines, radio, or television. This is why the nutrition education that Manna provides is so important. People want to make healthy choices, so it's important that we help dispel the myths about nutrition and provide the information necessary to make those healthy choices.
Ben and Tuesday here. I'm sure you're probably thinking, "Wait, who?" We are dietetic interns at the University of Maryland College Park, and we've had the privilege to spend the past two weeks at Manna Food Center. Throughout our rotation, we have gotten to experience many different aspects of what is done at Manna. We attended Breaking Bread, created handouts, observed nutrition education sessions, researched a variety of topics, and volunteered in the warehouse.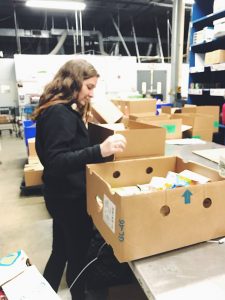 Tuesday's Take
I'm going to take a minute to brag about the awesome staff at Manna. It's obvious that they all love their jobs and put their heart into their work to make life better for others in their community. They are constantly coming up with
ways to better the organization for their participants' sakes. It's the simple things that stood out the most to me. For example, Manna does the best they can to accommodate special food needs. They pack special vegetarian, vegan, gluten free, and renal boxes to ensure that they food they are given out will actually be used by their clients. Another instance of this was when I observed a diabetes and chronic disease prevention nutrition education class. Lindsey is constantly changing her curriculum to meet the needs of the participants. She makes sure to use positive messaging that is appropriate for people of all different cultures and walks of life. All in all, I found it heartwarming and refreshing to see people so invested in the work and mission of their organization.
Ben's Take
What I first noticed when I walked through the doors of Manna was everyone's contagious desire to serve those in need. As we were given a tour of the warehouse, we met people who have been volunteering with Manna each week for the past several years. What keeps these volunteers coming back year after year was the visible effect fighting food insecurity had on their community. The warehouse is the primary site for the Smart Sacks initiative, a program that packs boxes with nutritious food for children who might not have another meal until school is back in session. Manna's servitude extends beyond the warehouse with its Nutrition Education programs. The elite nutrition education professionals of Manna venture out into the community and teach topics such as chronic disease prevention, added sugars, and shopping tips and techniques.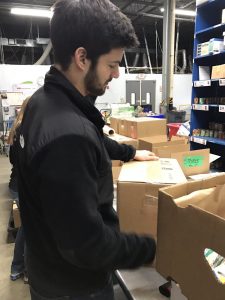 I was able to channel this mindset of service by partaking in one of Manna's weekly distribution days. During the first half of a distribution day, we sorted through produce and pre-prepared foods saved through the Community Food Rescue Program, ensuring the item's quality are suitable for participants. We then packed the produce and rescued goods into open boxes and created bags of meat for participants. During the latter half of the day, patrons came to receive a non-perishable box of food, an open-box of produce, a bag of meat, and their choice of available breads and pastries. These items were loaded up and delivered to the clients. Truth be told, the day seemed long but it was very rewarding, especially after seeing the gratitude expressed by participants. Although my time spent at Manna was short, I can say that I have caught their infectious spirit for serving the community. I highly encourage everyone to take a few hours out of his or her day and volunteer with Manna Food Center.
Lindsey here. Did you know that FOOD DAY began in 1975? When I first heard of a designated FOOD DAY, I'll admit: I thought it was just another excuse for foodies to get together to celebrate balsamic reductions, kale chips, quinoa, and squash bowls.
While I, too, find food glorious and glamorous, I work at Manna Food Center, where pallets piled high with hundreds of pounds of butternut squash and onions and cabbage make veggies feel, well, far from trendy. Food is this whole "thing" now, especially to millennials like myself. Eating is not merely a physiological obligation, it is a pastime to be tweeted and instagrammed, shared and envied.
There are magazines and television networks and podcasts making a big deal out of food. And while, even as a foodie, I can tire of the 'Ten New Ways To Cook Tomatoes' posts, I am glad there is an increasing conversation around food. Because food is a big deal, and how we share it is even bigger. There are many ways, big and small, we can help improve food access and food quality; and many stories that illustrate why we should:
Through Manna, I meet individuals who cannot afford food for the month. I hear the firsthand account of an elderly man who makes a single can of sliced green beans last for four meals. I listen to a voicemail from a mother who did not have enough food for the entire family to last the weekend, until her daughter brought home brown rice and oatmeal and canned produce in her Smart Sacks bag. At the Clarksburg Farmer's Market last month, I met a farmer whose crops didn't respond to this summer's weather and faces financial loss as a result.
While food has become a source of exploration, experimentation, and joy in my own personal life, at my day job I'm often reminded that food is always a serious matter. It turns out, FOOD DAY is, too; it's about improving our diets as well as our food policies. October 24 is a day to resolve to make changes in our own diets and to take action to solve food-related problems in our communities at the local, state, and national level. In 2015, Food Day's theme is "Toward a Greener Diet." FoodDay.org says, "Eating Real can save your own health and put our food system on a more humane, sustainable path. With America's resources, there's no excuse for hunger, low wages for food and farm workers, or inhumane conditions for farm animals."
Although October 24th has passed, every day is truly "food day" at Manna Food Center, where we take steps to end hunger through food distribution, education, food rescue, and advocacy. Surf our site to find out how we're working towards change, and how you can take part.