Kids Love Their Veggies at Gaithersburg Elementary
Lindsey here. Once upon a time, Manny the Mobile Kitchen was a humble school bus, toting 72 kiddos to and from school. He looked like this.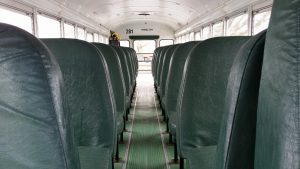 These days, this school bus is taking kids' taste buds through the rainbow of wholesome foods.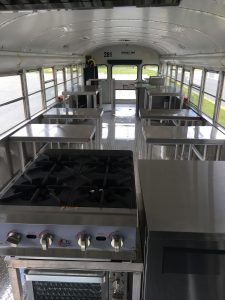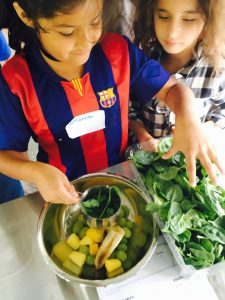 Sixteen youth at Gaithersburg Elementary participated in the pilot program aboard our Manna Mobile Kitchen. We partnered with Common Threads to implement their program, Small Bites, an eight-day class that teaches kids the basics of nutrition in a way that integrates science experiments, reading, and math. For the second half of the class, students engage in hands-on, knife-free food prep making healthy snacks.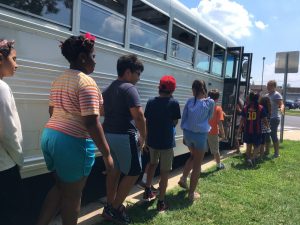 Dishes included Strawberry-Pineapple Agua Fresca (as an alternative to soda), Mango-Lime Yogurt Parfaits, Sneaky Green Smoothies, and Mango Salsa.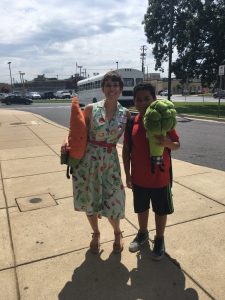 Along with a team of enthusiastic volunteers, we also integrated fitness activities and trying new foods with bell pepper tastings and seed tastings.
By far the most popular dish was our roasted cauliflower! One parent shared how she and her daughter went to the store together to purchase cauliflower after this particular class. She even got her big brother (13) to try and enjoy roasted cauliflower, too.
Manny the Mobile Kitchen will also serve as a Pop-Up Pantry to bring fresh produce to underserved neighborhoods. I hope you'll join us for an opportunity to visit this special new addition to Manna. Climb aboard to enjoy the culinary classroom experience for yourself, plus a tasty sample, on Saturday September 16th. Details here. Hope to see you there!
We know from Montgomery County's Food Security Plan that families are not accessing or consuming enough vegetables.  As you likely know, vegetables really drive Nutrition Education: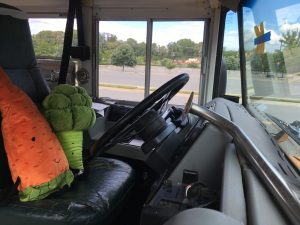 Manna's Mobile Kitchen & Pop-Up Pantry is a new program designed to tackle two barriers at once by bringing nutritious foods and cooking skills to our community. The MMK is an extension of Manna's focus on innovative, participant-centered approaches to eliminating hunger.
Programming will encourage increased fruit and vegetable consumption, greater acceptance of new, nutritious foods, and encourage lifelong skills like math and teamwork. Our pilot program starting this July utilizes Common Threads Small Bites curriculum, which ties youth culinary skills to Common Core academic skills.
Here's where the kids will be cooking:
Our participants often faced transportation barriers to accessing licensed community kitchens where Manna taught classes in the past. We will travel to high-need schools and apartment complexes to teach youth, seniors, and adults at risk of food insecurity.
Upon finalizing permits and exterior wrap designs, the MMK will begin community programming in July 2017.
How can I get involved?
This innovative new program will depend on generous support from the community to fund outreach moving forward.
Corporate Sponsorship opportunities are available. Click here for details.
This school year the MMK will offer educational opportunities to some of the 30,000 elementary students in the Montgomery County Public Schools eligible for free and reduced meals. Our culinary classroom on wheels is an innovative solution to increase access to nutrition education and nutritious foods in Montgomery County.