Root to Stalk Eating
Lindsey here. This time of year, the open food boxes we distribute to clients are overflowing with local produce. It's a beautiful sight: plump tomatoes and bouquets of kale tucked between varieties of purple, white and wee green eggplants. These fruits and veggies travel home alongside foods that our drivers rescue from grocery stores each day. Greek yogurt, cheeses, salad makings and cut fruit provide meals with foods that—if not rescued from grocery stores overturning inventory—would have gone to the trash.
Sometimes food waste seems obvious: perfectly edible, whole ingredients tossed from shelf to garbage. But there is another way food that costs our money and time ends up needlessly wasted. Have you ever brought home a head of broccoli and plucked off the florets only? Or found yourself stumped over the stems of leafy greens and cooked only the tops? When it comes to plants, unnecessary waste can happen when we're not sure if all the parts are edible and what on earth to do with them.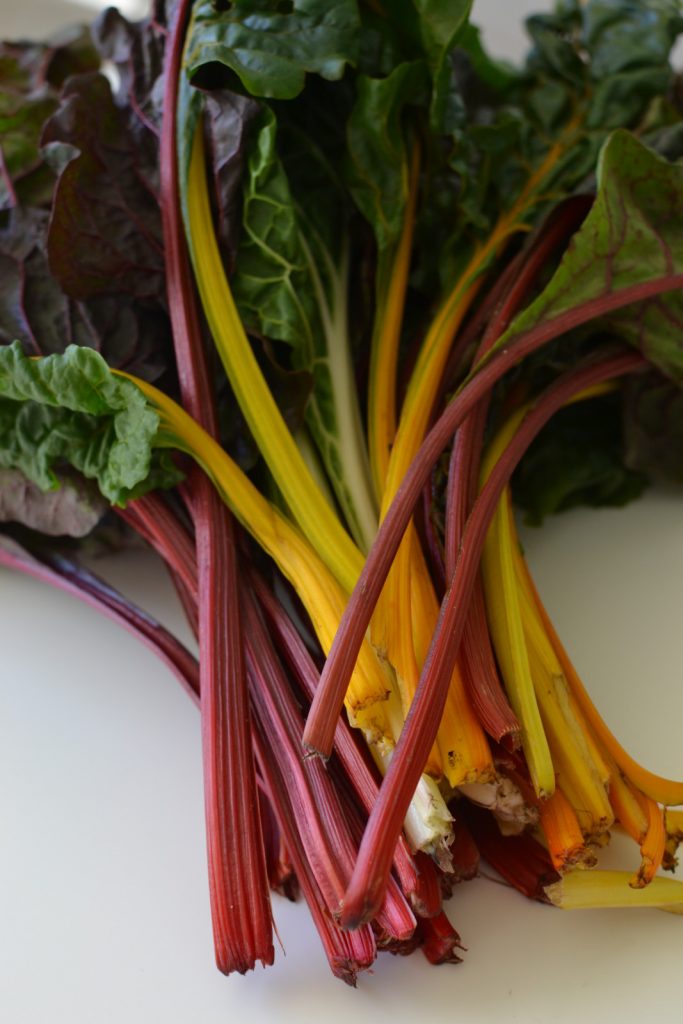 Take this vibrant rainbow chard for example. The prettiest part is the sunset-hued stems, right? But many recipes call only for the leaves. Did you know the stems can be sliced and stir fried, with the leaves added in at the end? The same goes for greens tops (turnip, beet, kohlrabi, collard, or mustard greens); these can be easily braised with garlic and crushed red chili flakes.
You can also switch up your chickpea hummus with chard stalks! In the Mediterranean, chard stalks are boiled and pureéd with garlic, tahini, olive oil and lemon juice for a savory dip.
The most important part of these techniques and know-how—beyond the environmental and good-feeling part of salvaging edible food—is that food stretches further. This is critical when families leave Manna with a 3-5 day supply of food and need those ingredients to make multiple meals. It's why we provide recipes and cooking tips to our clients.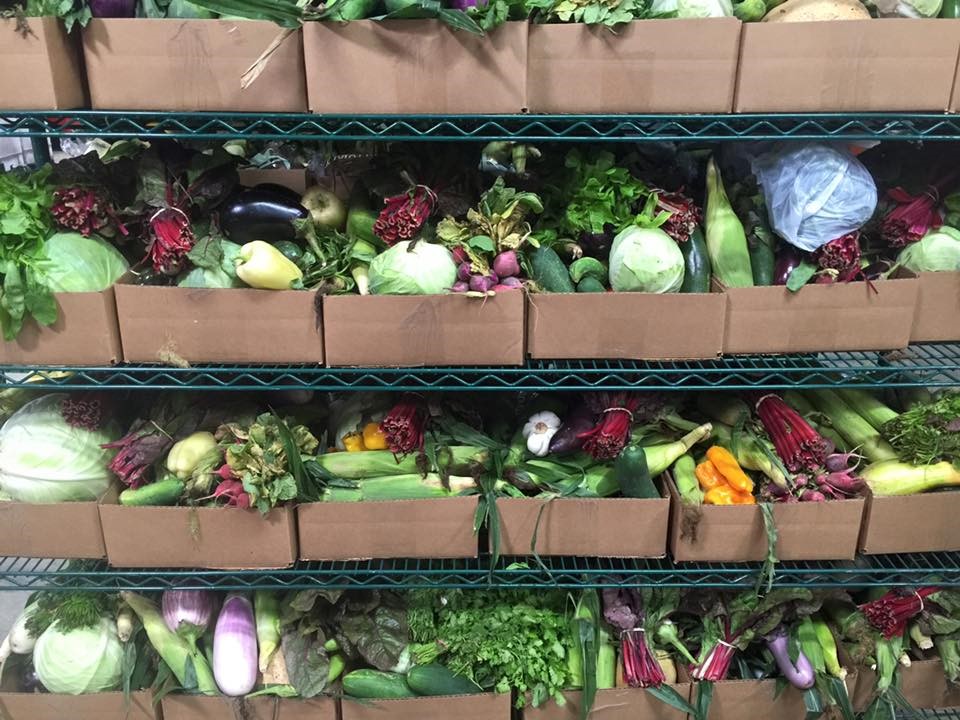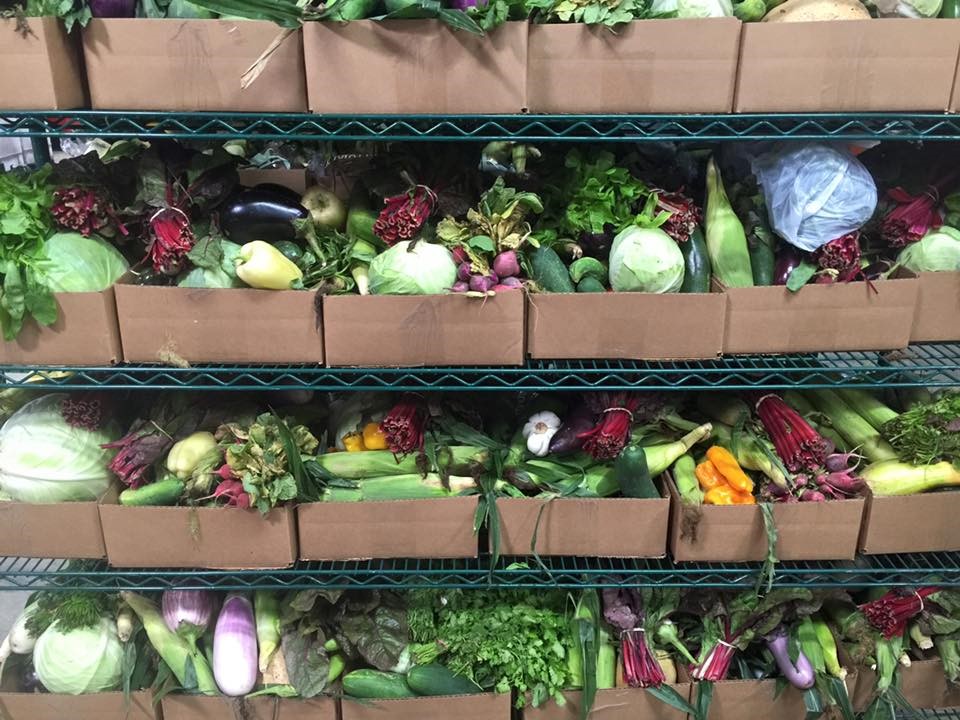 Want to make the most of your farmers market purchases this summer? Check out these great reads below. While you're at the market, come visit a Manna table (look for the bright red tablecloth) at farmers markets all over Montgomery County!
Root to Stalk Cooking: The Art of Using the Whole Vegetable by Tara Duggan (have this on my shelf!)
The Southern Vegetable Book: A Root-to-Stalk Guide to the South's Favorite Produce by Rebecca Lang
Root to Leaf: A Southern Chef Cooks Through the Seasons by Steven Satterfield
Vegetable Literacy: Cooking and Gardening with Twelve Families from the Edible Plant Kingdom by Deborah Madison
Waste-Free Kitchen Handbook: A Guide to Eating Well and Saving Money By Wasting Less Food by Dana Gunders
Lindsey here. After being snowed in at home for four straight days, making meals from every canned bean and frozen vegetable I could combine, I got to the grocery store yesterday. Even after the winter storm has settled, some grocery shelves are still emptier than usual.
Having a stocked kitchen cupboard is not only your key to snowed-in sanity, but also a time and money-saver. When money is tight at the end of the week or the end of the month, stocked ingredients can turn your pantry items into a substantial, appetizing meal.
I developed this infographic for our Notes From the Nutritionist series: kitchen tips we include in each Manna box to help families produce healthy, home-cooked meals.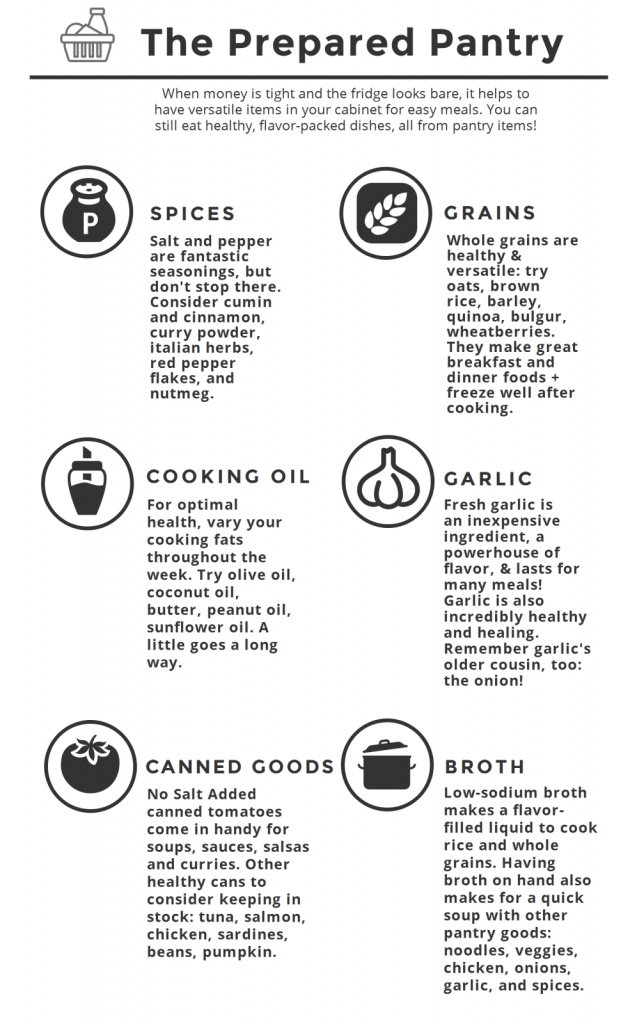 Want to learn more about reading food labels and shopping for the healthiest pantry items on a budget? Come to one of our grocery store tours around Montgomery County, just contact me at Lindsey@mannafood.org
Lindsey here. Despite all the responsibilities, I find the peace of being an adult some days is being alright with not having All The Answers. Nutrition research evolves constantly; scientific reports pop into the headlines about what not to eat this week, confusing the public.  The role of Manna's Nutrition Educator implies a vast knowledge base that intimidates even me. Being relatively new to my career, I can sometimes slip into a panic, convincing myself that perfect strangers will see "nutrition" in my job title and, on the spot, start quizzing me on GMOs, insoluble fiber or sources of Vitamin A (sweet potato, carrots, beef, kale, collards).
In recent conversations with families who receive food through our Smart Sacks program, one mother said she doesn't know what to do with dried beans, another shared her frustration with cooking brown rice on a hurried weeknight. Before I could offer suggestions, the other parents spoke up:
"I make a brown rice salad with corn, celery, green pepper, sweet pepper, and carrot. The dressing is lemon and mayo, and it is good three days in the fridge. Sometimes I add chicken."
"I make a sauce of tomato, sweet red pepper, onion, and fish. I parboil the brown rice, then finish cooking rice in the sauce so the rice is red and my kids don't see that the rice is brown."
With the gradual acceptance of not needing to have all the answers comes the opportunity to listen. Rather than spending the hour telling parents about the healthy dishes in which I use similar ingredients—and assuming my imaginary children adore my every culinary concoction—I took notes. Lots of notes.
One mother, from Nigeria, shared that the only beans she knows are black eyed peas. She often incorporates them into a porridge with yams and corn. Another parent, from Paraguay, says that beans are expensive in South America, and that she, too, is unaccustomed to cooking beans on a regular basis. A third parent, from Mexico voices her favorite Manna item: pink beans, which her family loves in a salad with scallion, tomato, cilantro, and canned salmon. The parents in attendance were eager to go home and try this one.
It's a new year now, and from glancing at the grocery store magazines or health websites, it appears this is the month to reinvent the wheel: cook new foods, whip up creative lunches and dinner for your family.
My afternoon with these creative moms sparked a simpler idea.
Ask you friends and neighbors what they're cooking this week. Isolation can be the biggest risk factor to one's health, so get out and mingle. Cook with a friend, cook for a friend, pass along a new recipe, or have your kids select a new ingredient to cook at home. Isn't it a relief that we don't have to do everything by ourselves? The people around us have delicious wisdom and experience to share if we would just take the time to ask and listen.