Farm to Food Bank
Fresh fruits and vegetables are an essential part of a healthy diet, and many Montgomery County residents don't have access to these important nutritious foods, which is why Manna created its Farm to Food Bank initiative in 2010. Farm to Food Bank provides fresh, locally and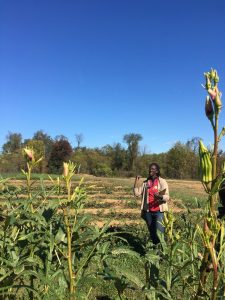 regionally grown produce to those experiencing hunger and food insecurity in our community by purchasing from neighboring farms throughout the growing season. In the past year, Manna purchased 125,209 pounds of produce!
Manna is proud to support local farms, orchards and farmers markets as a matter of philosophy. To ensure this vital program thrives, Manna works with Montgomery County farmers and  farmers markets within the county. We are deeply grateful to these partners for their enthusiastic participation and for their meaningful donations of often hundreds of additional pounds of food.
We also support the consumption of farm fresh vegetables and fruits through our food education programs. To make a life-long impact on community members we serve, Manna knows that information about selecting and preparing fresh food on a limited budget must be available.
At Manna Food Center, we know that supporting our local food system is an integral part of increasing food access for all residents and essential to our goal of eliminating hunger in Montgomery County.
Participating Farms
Participating Farmers Markets