Healthy Food, Healthy People, Healthy Planet
Notes from the CEO – Jackie DeCarlo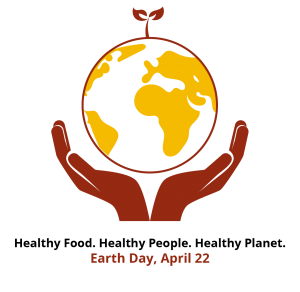 Last week I harvested my first "salad" from my garden! It was a mix of greens that had served as centerpieces at our Heroes Against Hunger (HAH) celebration. It was a small but tasty start of spring. I like to work in the garden to connect with the soil, occasionally find a cute wriggling earthworm, and enjoy the satisfaction of eradicating weeds. Perfect activities for April, the month our world celebrates Earth Day on the 22nd.
Year-round Manna Food Center is connected to the earth, especially through our food recovery efforts. The Community Food Rescue network matches sources of surplus food with agencies that serve our hungry neighbors. Powered by volunteer food runners, we are able to divert food that might go to waste from donors such as Ridgewells Catering, Charles E. Smith Jewish Day School, and Giant Food to peer agencies. Hilton's Canopy, for example, donated surplus food from our HAH celebration to Montgomery County Coalition for the Homeless.
With acreage well beyond the raised bed in my garden, five partners participating in Farm to Food Bank do the hard work of planting, cultivating, and harvesting fresh produce to help Manna offer tasty and healthy items to more than 3,000 participants a month. The farmers are located across Montgomery County, at plots in Ashton, Brookeville, Dickerson, and Germantown. We also purchase through farmers markets in Bethesda, Olney, and Rockville. By selling their crops to Manna at a discounted price, these small businesses are giving back to the community.
Speaking of community, let me give you a quick update on our work in East County to build "The Center" for ending hunger. We have the green light to begin demolition at our site at 12301 Old Columbia Pike, with a goal of moving in this summer. We continue to finalize renovation plans for 9311 Gaither Road and will soon convene "Q&A" sessions about the process to help supporters like you learn all the details. We'll share dates soon.
Thanks for your interest in what's "growing" here at Manna Food Center and for supporting our work across the county to waste less and feed more.
Sincerely,
Jackie