We Did It! 
Notes from the CEO – Jackie DeCarlo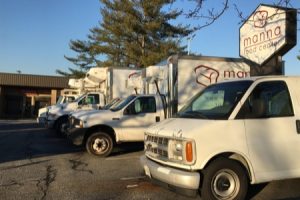 This summer Manna orchestrated a temporary re-location so that our warehouse could be transformed into a distribution hub.  With the help of incredibly committed volunteers, faithful and generous donors, and a rock-star team of dedicated employees, Manna made it back to our home at 9311 Gaither Rd last month.  But that's not all, this summer we also created a Manna Marketplace and launched services at our new Center at the corner of Tech Rd and Rt 29 in Silver Spring.
These incredible milestones are critical to our vision of Food for All. They reflect our place-based strategy of serving in areas where poverty and food insecurity are too high.  They embody our core value of "respect" as we continue to design services that respond to the requests and interests of our community.  Plain and simple they indicate that we are serious about our delivering on our mission in the best way we know-how.
We are serious about our delivering on our mission.
We could not have made it through this support without support like yours, and we hope you'll come out and celebrate with us this month.  Read on in this newsletter for details of our "One Weekend: Two Celebrations" plans for October 19 and 20th.  Please join us and see for yourself the transformation that your support has made possible!
It wasn't easy…our warehouse team battled high temperatures, wildlife (ask 'em about the snakes), and lack of equipment.  Other staff and volunteers, grateful for increased office space and amenities, had to cope with malfunctioning phone systems, changed commutes, and the demands of new processes to support our goal of reaching 10,000 new neighbors.  We've had some challenges, there is no doubt.
At marketplace, I recently spoke to "Marcus," a participant recovering from a heart attack.  He spoke of his eagerness to heal and return to work.  He shared his gratitude to Manna as his family struggles to get by only on disability insurance. Before he left the Manna Marketplace he also gave me some tips on how to manage the grocery carts more efficiently!  Most importantly Marcus helped me realized that all the struggles, hassles, doubts, and challenges of this summer were worth it.  We are better able to serve Marcus and neighbors like him now and into the future.
A few tough months will soon be distant memories replaced by the joy of service and partnership.