Closing the Hunger Gap
Jamal here. This fall, Angela Whitmal (our Senior Director of Administration and Participant Services) and I traveled to Tacoma, Washington to attend the Closing the Hunger Gap Conference. The goal of this conference is to move hunger relief organizations toward strategies that promote social justice and address the root causes of hunger, using the lens of racial and economic equity.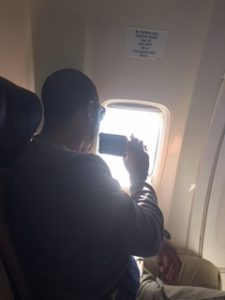 When I first went to Tacoma I was narrow-minded regarding some of our programs here at Manna, but, while away, I learned that ignorance is not bliss–especially if you want to truly cure the ails of a society where the have-nots continue to get less and the haves continue to get more.
As I listened to the different speakers talk about the same battles they face in their states, cities, towns that I fight here in Montgomery County, I realized there are a lot of agencies trying to do the right thing but facing the same stumbling blocks: lack of money, lack of man power and a lack of time to get all they want to do get done and still have time for their own lives. I listened to people come up with ideas that we are currently implementing. Which was very encouraging as well as a having a sense of pride, knowing were heading in the right direction.
There was a conversation started about whether it was ethically right to receive monies from Walmart, a cooperation notorious for not paying its store employees enough money to sustain their families. As the Warehouse Manager, I saw myself wanting the food they donate because the food was either going to a land fill or to a needy family, but this was something I never considered. As a youth of the 80s, and the crack epidemic, I watched a lot of young men sell drugs to line their pockets as well as provide for their families, but am I any different then the parent turning the blind eye so bills can get paid while at the same time taking out an insurance policy on my child so in case of death we can now get out the ghetto?
A recurring phrase used was Social Justice. Are we doing enough to help end the cycle that causes families to need our services, or are we part of the cycle of poverty and hunger another part of the machine that like the pharmaceutical / health care industry instead of teaching people how to better their lives through diet and exercise we offer a drug that seems to address the problem while instead causing several others. Are we a placebo? Are we helping to end hunger or continuing the cycle?
I believe now that we do have a larger responsibility to the public then just feeding them. We do need to educate helping those that might not know about the other resources in MoCo, besides Manna Food Center, by putting them in contact with those that can help them get job training, English classes, educational funding, child care and health care if needed as well as many others.
The Social Justice piece encompasses a lot of things in my eyes seeing to the needs of those that don't have the courage, strength, knowledge, monies to get the help they need to live the life we all deserve. And I believe we at Manna do this daily:
The drivers get up at the crack of dawn to go out to the stores, farmers markets, synagogues, churches or where ever there is food to be picked up to make sure that it is brought back here and sorted and distributed by volunteers and employees working together to make sure people like their own family get the best.
A nutrition team helps to draft guidelines and programs advising us and the public on healthier food choices so that those foods they eat aren't 0 calorie's but nutritious so they can perform the duties on their jobs and in the class rooms to advance to get them out of the cycle of poverty.
The development team drafts up grants while also stirring the hearts and minds of donors that might not ever see the people they help, retrieving monies from grants and funds to help pay for the day to day up keep of the facility.
The volunteer coordinator who helps to bring in a steady supply of help that works for no more than the knowledge of that but for the grace of God there goes I.
A referral office that takes calls for both requests and complaints ensuring that the participant feels like more than another hand out, but their voice is heard like the voice at the Wegmans complaining about the Organic Strawberries being too bruised.
We can do more, and we will do more, because like those 600+ I walked and talked with in Tacoma: we care, and the job will get done.
If this is a conversation you want to join, consider attending one of our monthly Breaking Bread sessions. Manna creates space and intentional conversations to nurture dialogue around critical issues, such as race, class, and a culture of dependency, that create or contribute to hunger in our community. We hope you will join the conversation on the third Wednesday of every month from 4 – 5:30pm at Manna Food Center, 9311 Gaither Rd., Gaithersburg MD 20895. Questions? Contact Angela Whitmal at 240-268-2527 or angela@mannafood.org.
Lindsey here. For four years I've worked in Nutrition Education at Manna. It's also how long, before that, I applied for job after job, competing with more experienced colleagues who lost their careers in the Recession.
My role here is rooted in the community; I'm on-the-go to schools, senior apartments, and community centers most days of the week. My classes have grandmothers and grandchildren, veterans and students—I receive both stories and hugs.
In these four years, the Nutrition Education workshops evolve with the concerns of our community: as I hear complaints about deceptive advertisements, we develop a new "Nutrition Fact or Fiction" class. As more and more adults share their confusion over this new "prediabetic" diagnosis, we created a two-part series on habits to hinder diabetes and chronic disease. We talk about small, practical steps that make sense in a busy, budgeted lifestyle: walking and dancing with your kids, drinking fruit-infused water, purchasing wholesome foods (oats, onions, carrots) in bulk—to last beyond the week.
In a span of two days, I was reminded: people here are hungry. Participants are tired, frustrated, worried, too–that's easier to see. Hunger is not always so visible in America, few people standing in line for food assistance appear severely underweight.
In my most recent Cooking Matters at the Store grocery tour, a participant had to sit down for the second half of the class because she was so dizzy. In conversation, I learned that she had not eaten since a bagel at breakfast—seven hours earlier—because she ran out of food at home. Over some fresh watermelon, we discussed unit prices and nutrition labels on the store's front park bench.
The next day, a woman called to sign up for a store tour. I asked how she was doing today—a question I've learn to ask with patient pause in this work. She lost half of her pension when retiring for health issues, so she practices gratitude, but struggles with logistics of getting-by. She was called into work for the same time as my upcoming nutrition class. She truly considered calling out of work just to attend a class about how to stretch a grocery budget.
We hear more about hunger in the news, but in terms of numbers. It's not "the needy"; it's our neighbors in need. 
In these four years, I find the amazement of people who step into our warehouse never ceases–the scale of this work is often surprising. If you are able, I invite you to volunteer with Manna, even for just a day. These stories could belong to any of us.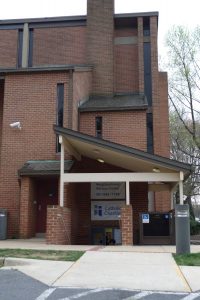 Lindsey here. This week, I visited our clients at one of Manna's busiest distribution sites, Catholic Charities in Wheaton. After receiving food, about twenty people joined me for a community conversation and nutrition workshop inside Catholic Charities.
In my two years at Manna, I have led many workshops, conversed with many clients, listened to their stories. But there were two things about this evening that surprised me.
Garnering participants for any event can prove challenging. People have obligations with work and family, not to mention transportation hurdles. I hoped that advertising snacks might prove appealing to those leaving home around dinnertime.
We first took turn introducing ourselves and naming something "good or new" that happened to us in the past few days. Think about that phrase for a moment: happened to us. For so many people who find themselves in need of Manna's food, it is not always the actions one takes in life that leads to poverty, but rather life happening to a person. Chronic illness, job loss, medical bills, divorce, relocation—the "stuff happens" circumstances. As the men and women in attendance listed their "something good", the responses went like this:
"I was called for work three times last week. I don't have any calls this week, but maybe in a few days I will get a job. Working last week was good."
"I just got out of the hospital, so nothing feels good right now."
"I woke up today and I was able to get here. That's good."
There is never a time for me that these stories will feel commonplace or acceptable. They are simultaneously heart-wrenching and maddening.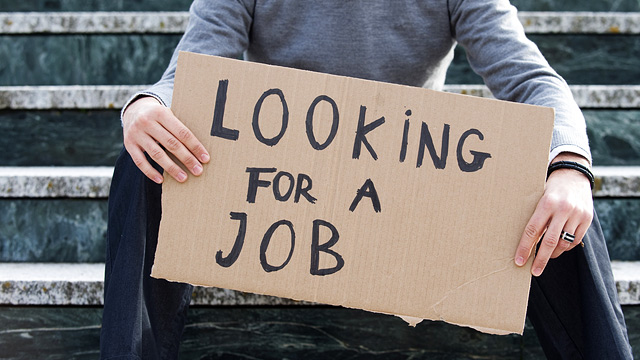 At Manna, we serve families challenged by food insecurity who don't always know when that next meal will be available—or the quality of the food they can afford. I spent so many years studying food insecurity, I don't often think about our families as physically hungry. Hunger is that state we have all experienced, that discomfort relieved by eating. Where some of us can alleviate that hunger with food whenever we want, families facing food insecurity have limited foods available to them. The next meal may be out of reach financially, geographically, or both. When I visit their children in school, I rest assured these kids have breakfast and lunch among the safety of their peers.
But on Tuesday night, I spent time with their parents, and with unemployed singles. This group responded to my spread of apples, cheeses and whole grain crackers as if they had not eaten all day. It was at the end of class, when I passed out the leftover apples and boxes of crackers that I realized: maybe they hadn't.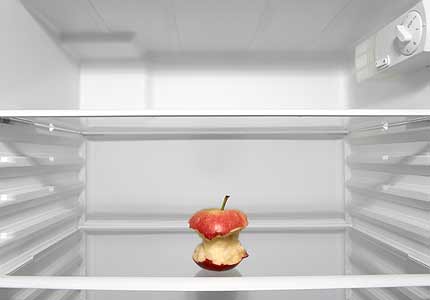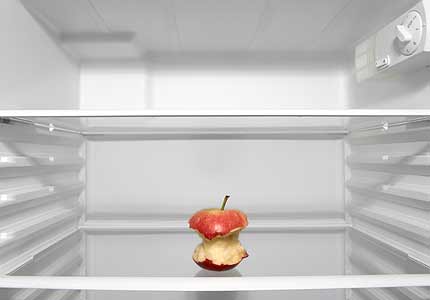 By the time I arrived home after class, it was just 30 minutes before I typically go to bed. Still, I stared at my bursting pantry and rummaged through the fridge, then freezer, eventually deciding I would stay up late to digest my impromptu dinner so I would not wake up hungry.
For no good reason, I have that choice. For now, my husband and I still have jobs to afford our house, our food and our fun. For now, we have our health and separate cars to get to our full-time jobs, and to the multiple grocery stores we frequent. For no good reason—not because I am good or worthy or luckier than most: I woke up to a refrigerator with multiple options for breakfast, I packed a lunch I had time to cook, I'm returning home to a delicious, healthy and homemade dinner. I have food in my home, with plenty to share.
For no good reason, I have that choice.