Poverty and the Cycle of Hunger Locally, Nationally, and/or Globally
This past month I had the pleasure to present to the class of the Women's Studies class WS101 at Montgomery College Takoma Park/Silver Spring Campus. We discussed the prevalence of food insecurity in Montgomery County and focused on how disparities among women in Montgomery County in turn negatively impacts their health.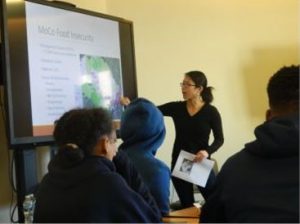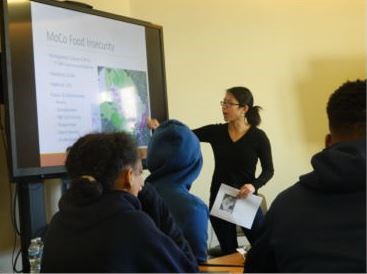 In addition to the presentation, the students also supported Manna in packing Smart Sacks bags for JoAnn Leleck at Broad Acres Elementary School. WS101 students also wrote Valentine's Day cards and put in little treat bags for students as a surprise. Afterwards, students wrote reflections on the presentation and Smart Sacks packing project. One student, Henry Obioma Ukeje, provided us his very powerful words on poverty and the cycles of hunger. Please read his reflections on our Manna blog online.
---
Poverty and the Cycle of Hunger Locally, Nationally, and/or Globally
By: Henry Obioma Ukeje
Across the many societies in the globe, women experience issues that vary greatly in scope.  It does not require one to be female to take a Women's Studies course; an in-depth understanding of what it takes to be a woman living in times of great economic strife and hardships is important. This course has opened my eyes to the severity of the many issues that accost women, especially poverty. The architects of this course engineered its relevance to address issues that face women from all backgrounds and their daily struggles to overcome these challenges, even in the midst of widespread gender inequalities.
Poverty and hunger are cyclical in nature. This can be best illustrated by the sad fact that a child born out of poverty is more likely to spend his/her entire life in poverty, and worse still, will probably raise his/her children in poverty. Politicians do so little to alleviate this, but instead uses poverty to propagate their selfish agendas. Education, which has become a basic need, is the only effective tool to end this vicious cycle of poverty and hunger, but it is still a luxury to many people. Though women and girls make up more than half of the world's population, men are typically more educated than women, which shows how lack of access to education is tool to discriminate against and disempower women.
If women and girls were given equal opportunities as their male counterparts to access education, perhaps then, the cycle of poverty would end. Michele Sullivan, a women's rights activist, states that, "If you help a girl, you help the family and the village and the society."  This is because unlike men, women spend a huge fraction of their income buying food and other necessities; for them, the priority is often caring for their families and communities. More published research also shows that the higher a woman rises in her level of education, the more likely she will be to feed her child better, thus the education of women has a direct impact on malnutrition and child mortality rates. (Sue-Lynn Moses)
Local food banks are of great importance to our societies. We live in societies that are in constant ignorance of the people living around us. People imagine, "If I am okay, then everybody else is," but in reality, the neighbor living in the next block might be going without food for days. Manna Food Center plays a very important role in ensuring that those underprivileged and neglected persons can also get food and not suffer in hunger.
Women and Gender studies instills the spirit of helping within our level of ability and fighting against gender-based discrimination and other inequalities that women face. We should be our own activists, so that we can help raise each other's standards and perpetuate a society where no one drowns in the cycle of hunger due to their economic status. Helping others in the society creates a sense of satisfaction and fulfillment, especially when you see the joy on faces of those who have received food donations that will help to sustain them.
The relationship between women and food, symbolically illustrated by the stuffing of pantry sacks (a "care"-type role typically performed by women), helps us understand how group-based marginalization has been propagated in the society, as well as the stigma associated with the experience of poverty. This act clearly demonstrates the themes our course has been studying: the historical production of sexual difference and the intersection of gender with other social forces. This course has inspired in me the role of being a social actor, so that that I can help to uphold the rights of women and girls. Together, we can end the cycle of hunger in society.
References:
Ayu Saraswati, Barbara Shaw, and Heather Relihann. Introduction to Women's, Gender, and Sexuality Studies.
Joe McCarthy. Educating Girls is the Key to Ending Poverty. Aug 7, 2017. Retrieved from:
https://www.globalcitizen.org/en/content/educating-girls-is-the-key-to-ending-poverty/
---
*Special thanks to the class of WS101 at Montgomery College Takoma Park/Silver Spring, Professor Esther Schwartz-Mckinzie, and Lucy Vitaliti, Coordinator of the Office of Volunteerism and Service Learning, in providing Manna this opportunity to share our knowledge and engage our community to end hunger.
-Karena Kuo, Program Manager, Smart Sacks