Community Food Education
Manna's Community Food Education Programs offer free programming that makes crucial health information more accessible. Manna provides the lessons, volunteers, and cooking demonstration food (if applicable). Any of the workshops or classes listed below can be offered in multiple languages; we simply ask your agency to provide an onsite interpreter. If you have any questions or concerns about our Community Food Education Services please contact our Community Food Education Program Manager, Cynthia Wilson at cynthia@mannafood.org.
NOW VIRTUAL: Community Health Presentations 
Formerly known as our "Health Workshops" these interactive workshops cover a range of commonly requested health topics like how to reduce sugar, eat nutrient-dense foods on a budget, and reduce instances of chronic diseases like diabetes. Each presentation lasts an hour, and you may request multiple workshops for your site.
Group Requirements:

Located in Montgomery County, Maryland
8+ adult participants that qualify for Manna Services
Timing:
Time slots are offered Monday through Thursday from 9am to 2pm
One workshop is one hour-long
You may request multiple workshop dates
Current Presentation Offerings:
Habits to Hinder Diabetes (Parts One and Two)
Sugar Shocker
Healthy Foods: Fact or Fiction
Smart Shopping
See below for a more detailed description of our current workshop offerings.
NOW VIRTUAL: Mobile Kitchen Classes
Looking for cooking education programming specifically for children? At Manna, we are determined to make healthy eating accessible for all residents of Montgomery County, and we offer specialized cooking classes. Normally held on our Mobile Kitchen, classes are now virtual. During each hour-long class, we discuss cooking and eating foods that focus on meeting core nutrition standards such as more fruits/veggies, whole grains, healthy fats, and plant-based/lean proteins. Together we cook a recipe that aligns with the nutrition lesson and enjoy our creation at the end. 
Group Requirements: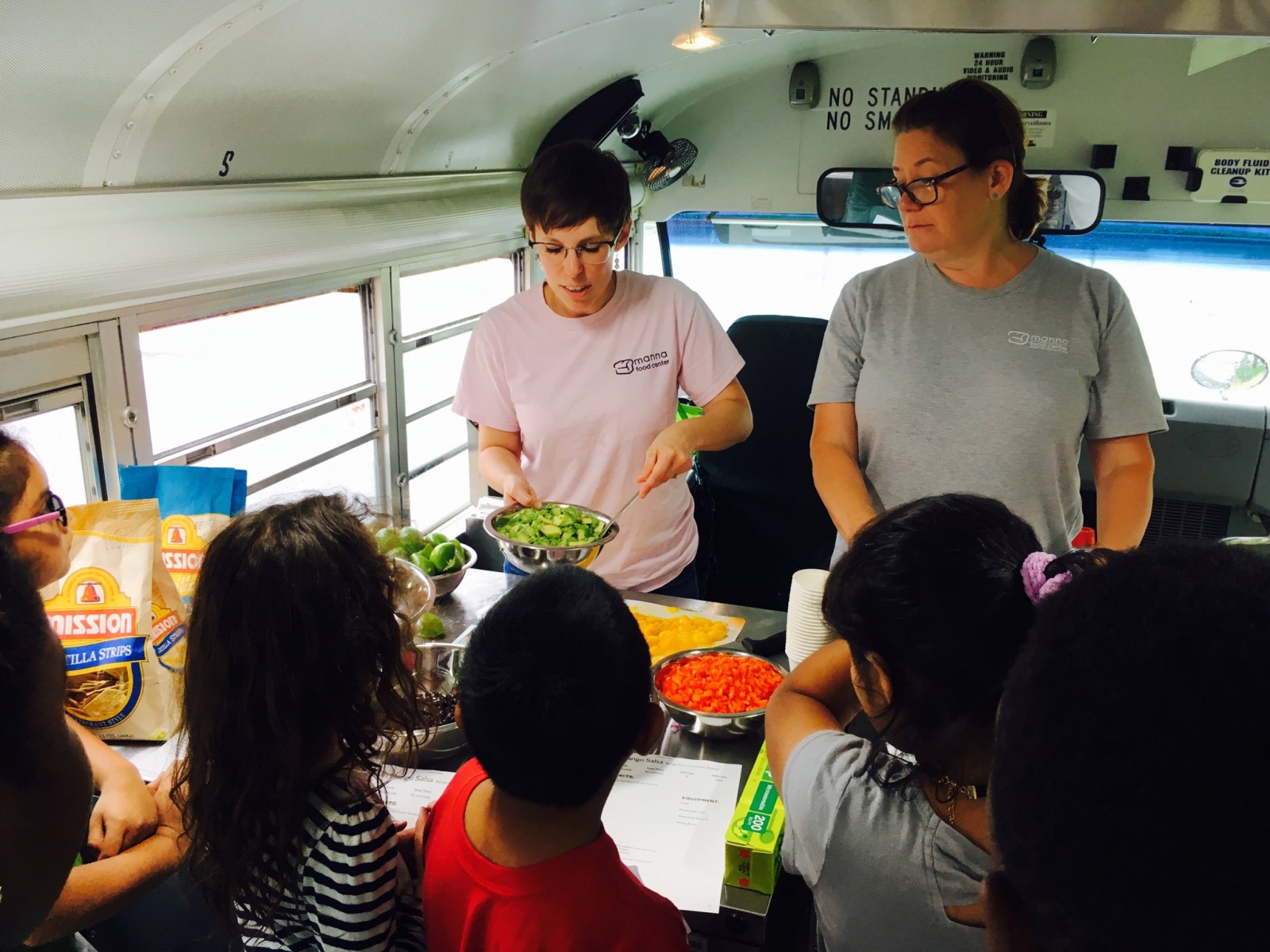 Located in Montgomery County, Maryland
Participants that could qualify for Manna Services
Class Size: 8-12 older adults OR 10-16 children (3rd grade or older)***
Convenient parking for a 40 ft school bus (when classes are in person)
Timing:
Year-round with discretion based on weather
Classes run Tuesday through Thursday from 10am to 2pm. Scheduling preference is given to groups that request back-to-back classes.
You may request multiple class dates or a series of classes
Current Class Offerings:
Small Bites Cooking Class for Kids
Healthy Eating on a Budget for Older Adults Cooking Class
See below for a more detailed description of our current class offerings.
TEMPORARILY SUSPENDED DUE TO COVID-19: Community Kitchen Classes

The classes held at our Community Kitchen, at Silver Spring United Methodist Church, are adult cooking classes that the focus is healthy eating on a budget and offer community members the opportunity to learn new recipes, cooking tricks and understand how food greatly impacts our health. During each hour-long class, we have a healthy food demonstration, discussion of nutrition concepts and information, and enjoy tasting our recipe at the end of class. We learn how to work around lack of time, money and practice key strategies that encourage creation and eating nutrient-dense foods. We believe that by utilizing the right strategies and access to the right resources, families can enjoy the multitude of benefits that healthier cooking and eating provides.
Community Health Workshops:
1. Habits to Hinder Diabetes and Chronic Disease Workshop
This two-part nutrition workshop series is for individuals living with Type II diabetes or who want to prevent diabetes. Habits to Hinder Diabetes and Chronic Disease covers the standard American diet vs. eating for disease prevention, foods to maintain good health, motivational tips to get started, as well as signs and symptoms that signal a doctor's visit.
2. Shocking Secrets About Sugar Workshop
An interactive one-hour session that will answer the question: can sugar really be addictive? In addition to the brain's response to sugar, we'll cover the 46 other names for sugar, eating tips to prevent or control chronic disease, and offer hands-on practice for identifying healthy food choices. Participants arrange sugar packets to visualize the amount of sugar in common snacks, beverages, and pantry items.
3. Healthy Food: Fact or Fiction Workshop
A walk-through of our most commonly asked food and health questions designed to dispel eating myths and solidify knowledge around key core nutrition principles. We decode and demystify many grocery store advertisements and descriptions and uncover what organic, made with real fruit, heart-healthy, and low sodium mean for our bodies and well-being.
4. Smart Shopping
Balancing eating health and saving money can be a challenge but we will discuss how to navigate through the grocery store and make cents out of purchasing healthy foods. We'll discuss tricky advertising, the meaning behind popular product health labels, and easy ways to save money on products that you already purchase.
Mobile Kitchen Class Workshops:
1. Small Bites Kids Cooking Class by Common Threads
For our Kid's Classes, we use a curriculum called Small Bites, provided by the organization Common Threads. Specifically tailored to children 3rd grade and older, we start all our classes with a hands-on activity, reading, game, or experiment focused around a core nutrition principle. Some of the principles we focus on are eating more fruits/veggies, whole grains, plant proteins, etc. Then, we cook together as a group and enjoy tasting our recipes at the end. The Small Bites curriculum specifically makes recipes that don't require knives so our students can participate in every part of cooking. It focuses on cooking sides and snacks rather than full meals. It also emphasizes the Common Core and National Health Standards for each grade level through cooking involving science, math, and reading comprehension.
2. Healthy Eating On A Budget for Older Adults Cooking Class
Specifically tailored to adults ages 65 years or older, we start all our first classes with a simple recipe that we cook together and a lesson about reducing sugar and salt in our daily diets. After the first class, older adults are able to guide class recipes and discussions with their own lesson suggestions and questions. Each consecutive class focuses on two topics per lesson; a core nutrition principle such as eating more fruits/veggies, whole grains, plant proteins, as well as answering a prior classmate's question. Some common questions include "what's a healthy dessert I can make," "what is a good recipe to make with my grandchildren," or "how do I cook portions for just one person?" We always answer these participant-driven questions and emphasize core nutrition principles through cooking and eating a recipe. During each class, we encourage our participants to make connections with each other and share their own strategies they use to cook and eat nutritious foods.
For more information about any of these workshops, classes or services please contact Community Nutrition Education Program Manager, Cynthia Wilson at cynthia@mannafood.org