Notes from the Executive Director – February 2016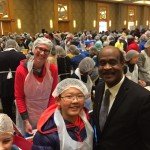 At one time in my career, I was an AmeriCorps director and was motivated by the agency's notion that the Dr. Martin Luther King, Jr. holiday should be considered "A Day On, Not a Day Off."  Since coming to Manna, I've been impressed by how the Montgomery County community comes together on the 3rd Monday of January for a Day of Service.
This past MLK Holiday was particularly special and other food agencies like ours will benefit from the community's generosity.  We hosted our annual MLK Food Drive at 27 Giant stores across the County.  We owe a huge thank you to the hundreds of food drive volunteers, Giant staff, and store patrons, who made the collection of 29,647 pounds of food possible.
But the service didn't end with the food drive!  We also participated in the service event led by the Montgomery County Volunteer Center, on MLK Day to make 100,000 meals.  I was fortunate, along with dozens of other nonprofit representatives, to gather with 2,700 volunteers at the Bethesda Marriott Conference Center.   The volunteers assembled meal packets that consisted of rice, beans and other savory ingredients.   In an initiative with the anti-hunger group, Outreach, and thanks to the support of Fund for Montgomery, the Marriott was a hub of activity as citizens and elected officials gathered to help make Montgomery County hunger free. Click here to see highlights of the event.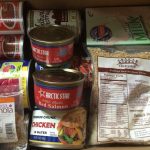 Manna now has more than 16,000 food packets to share with the community.  Manna will, of course, include the packets as part of our regular monthly boxes during the winter months.   As the Center of ending hunger in our County, we will also be sharing these packets with soup kitchens, shelters, pantries and other food programs.  Please let us know if your agency or place of worship would like to benefit from the Dr. King service day success.  Reach me directly:  jackie@mannafood.org.
If the spirit of service over MLK weekend is any indication, it is going to be a great 2016!
Jackie DeCarlo
Executive Director
Join us on February 4 to learn about critical changes to SNAP/Food Stamp eligibility in Montgomery County.