May 15-22: Ride On's Annual Give & Ride Food Drive
Give and Ride May 15 – 22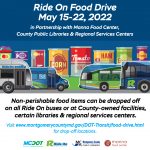 Mark your calendars and spread the word! Starting on Sunday May 15th and running through Sunday, May 22nd, passengers can ride for FREE by bringing non-perishable food items to any Ride On bus in Montgomery County.
Ride & Donate at the same time!
Even if you have a Ride On pass, bring a can and save a fare! If transferring to other buses, bring additional donations. All donations will benefit Manna and the Montgomery County community.
For more information on the where to drop non-perishable goods, click here.