June's Breaking Bread: How We Will Create New Normal Part 3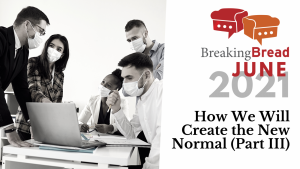 Manna's monthly Breaking Bread sessions are an opportunity for us to dive more deeply into the root causes of food insecurity and connect the dots between food justice and issues like racial justice. All are welcome. We are excited about the 3rd and last out of three series discussions on the "Next Normal" happening on Wednesday, June 16, 2021 on Zoom. 
In the first session, Dave and Catherine introduced the Social Change Wheel as a tool we can use to enact social change and realize our vision of the "Next Normal." In the second part, David shared a framework of the Wheel as a way to promote deliberative and reflexive conversations, and Jose shared his lived experience with a focus on some of the barriers that exist between service providers and service recipients. Building on what we heard from these last 2 sessions, Breaking Bread this month will be focusing on the lessons we have learned from the pandemic, specifically we will identify the fundamental values we would like the "Next Normal" to be based on, and concretely bring up how we can apply those values to our Food Security approach .
We would like you to think about something inspirational you have witnessed, experienced, read, or created during the pandemic and would like to take with you into the "Next Normal" and be ready to share with the participants of Breaking Bread in this session.
We look forward to seeing you there! Don't forget to RSVP here to join us!