Intern Reflection: Manna Keeps Their Community Healthy
Prior to my two-week rotation at Manna Food Center in Gaithersburg, Maryland, I thought all food banks were the same. From what I'd seen in the past, they handed out canned goods, bags of rice, and ramen. That belief was permanently changed after my first hour at Manna. I began the day sorting huge crates of fresh produce from local farmers; potatoes, cucumbers, oranges, apples, strawberries, assorted greens, mangos, and much more. I discovered almost a dozen varieties of eggplant, squash, and tomatoes that I had no idea existed. Once the boxes were overflowing with colorful fruits and vegetables, it was time to begin distributing food to participants. While helping recipients load their food into cars, I was able to learn how critical the need is and how thankful people are to have this valuable resource in their community.
Along with a box of fruits and vegetables, participants leave Manna with a bag of frozen meat, a choice of bread items, and one "closed box" containing shelf-stable items. The closed box given to every participant doesn't just contain a handful of randomly selected cans, but is composed of four to six cans of vegetables, one to three cans of fruit, at least one can of meat protein, multiple cans of beans or nuts, three containers of grains, bonuses such as soup, peanut butter, and other pantry staples like olive oil and mayonnaise. Each box contains around twenty items, which can be tailored for individual participants with particular nutrition needs. For example, patients with diabetes are given boxes containing items with less simple sugar, while vegetarian participants are given boxes that do not contain meat products.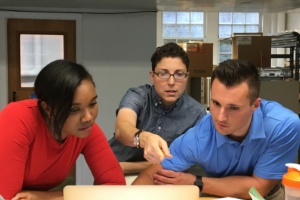 During our time at Manna Food Center, fellow University of Maryland Dietetic Intern Stephanie Jean and I shadowed Registered Dietitian Jenna Umbriac and learned about how she uses her dietetics experience and education in her role as the Director of Programs & Policy. Jenna explained to us that the purpose of this organization is to fight hunger, reduce food waste, and improve health outcomes. We've kept that purpose in mind throughout the last two weeks, while we created tools and guides for Manna volunteers, staff, and participants.
We constructed new guides to help staff build food boxes for participants following a Kosher diet, as well as participants with diabetes who are following a vegetarian diet. We also made alterations to the vegetarian guides with instructions on how to make boxes fit a vegan diet. These guides will help expand the options for participants with specific dietary needs while saving staff and volunteer time constructing special boxes. We also designed and produced a Volunteer Produce ID Manual, which includes photos and names of many different varieties of fruit and vegetables, as well as information and recipes for Manna participants. This valuable resource will help volunteers identify unfamiliar produce, either by name or by image, and provide box recipients with tips for storage, preparation, and preservation, as well as recipes and nutrition facts. These tools will help reduce food waste and hunger, by providing participants with the knowledge and resources to incorporate the foods they receive into their diet, as well as improve health outcomes, by including items that fit with individual dietary needs.
Since arriving at Manna I've gained a sincere appreciation for the vital role of food assistance organizations, like Manna, play in helping food-insecure individuals. Manna Food Center keeps their community healthy, not hungry, and I'm proud to have been a part of that.