Food for All – Empowering Health Through Choice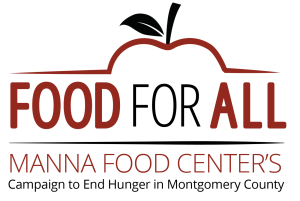 This past year has been one of exciting transition for Manna Food Center. Through the dedicated support of donors like you, we have been able to steadily grow our programming and services. Manna is excited to announce that now we have launched a bold expansion plan focused on bringing fresh food to high-need communities where poor transportation and other barriers make access to healthy food challenging.
Through this expansion, Manna is going to the areas where people
need them most.
Joy Stein, Food for All, Campaign Committee member
How are we doing this? Through the transformation of our current warehouse at 9311 Gaither Road in Gaithersburg into a food distribution hub & the opening of a new marketplace and office at 12301 Old Columbia Pike in Silver Spring.
This expansion wouldn't be possible without generous supporters who are stepping up to ensure our neighbors have the nutritious food that they need. Manna has launched the Food for All Campaign to raise the much-needed funds to fuel this transformation.