Our Distribution Locations are Changing on April 23rd!
Our Distribution Locations are Changing!
Nuestros Lugares de Distribución están Cambiando!
If you would like to talk with our team to consider other distribution dates, times and locations, please call (301) 424-1130.  
Si deseahablar con nosotros para considerarotrasfechas de distribución, horarios y ubicaciones, llame al (301) 424-1130. 
Starting Tuesday, April 23, 2019 Manna will be opening a new distribution site at Gaithersburg Middle School. This site will replace our daily distribution at Manna's Gaithersburg warehouse. 
Gaithersburg Middle School
2 Teachers Way, Room 200
Gaithersburg, MD 20877
A partir del martes 23 de abril de 2019, Manna abrirá un nuevo sitio de distribución, que pronto reemplazará el lugar de nuestra distribución en la bodega principal ubicada en 9311 Gaither Rd. Gaithersburg.
Nuevo Centro
Gaithersburg Middle School
2 Teachers Way
Gaithersburg, MD 20877 – Sala 200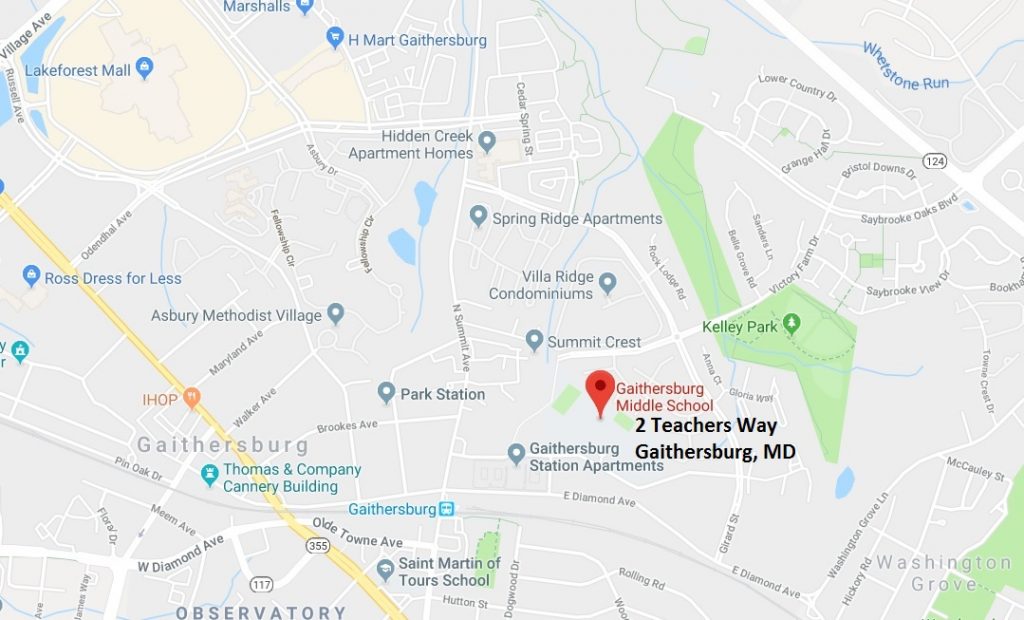 Food distribution at the Gaithersburg warehouse will continue daily until May 24, 2019. From April 23 to May 24, you will have the option to schedule a pick-up at either Manna's Warehouse or Gaithersburg Middle School. 
After May 24, food will no longer be distributed from Manna's Warehouse on Gaither Rd. 
La distribución de alimentos en la bodega principal de Gaithersburg continuará todos los días hasta el 24 de mayo de 2019. Desde el 23 de abril hasta el 24 de mayo, tendrá la opción de programar su recojo en la bodega de Manna o en la nueva ubicación que es Gaithersburg Middle School.
Después del 24 de mayo, los alimentos no serán distribuidos en la bodega de Manna en 9311 Gaither Rd. Gaithersburg.
Lindsey here. For four years I've worked in Nutrition Education at Manna. It's also how long, before that, I applied for job after job, competing with more experienced colleagues who lost their careers in the Recession.
My role here is rooted in the community; I'm on-the-go to schools, senior apartments, and community centers most days of the week. My classes have grandmothers and grandchildren, veterans and students—I receive both stories and hugs.
In these four years, the Nutrition Education workshops evolve with the concerns of our community: as I hear complaints about deceptive advertisements, we develop a new "Nutrition Fact or Fiction" class. As more and more adults share their confusion over this new "prediabetic" diagnosis, we created a two-part series on habits to hinder diabetes and chronic disease. We talk about small, practical steps that make sense in a busy, budgeted lifestyle: walking and dancing with your kids, drinking fruit-infused water, purchasing wholesome foods (oats, onions, carrots) in bulk—to last beyond the week.
In a span of two days, I was reminded: people here are hungry. Participants are tired, frustrated, worried, too–that's easier to see. Hunger is not always so visible in America, few people standing in line for food assistance appear severely underweight.
In my most recent Cooking Matters at the Store grocery tour, a participant had to sit down for the second half of the class because she was so dizzy. In conversation, I learned that she had not eaten since a bagel at breakfast—seven hours earlier—because she ran out of food at home. Over some fresh watermelon, we discussed unit prices and nutrition labels on the store's front park bench.
The next day, a woman called to sign up for a store tour. I asked how she was doing today—a question I've learn to ask with patient pause in this work. She lost half of her pension when retiring for health issues, so she practices gratitude, but struggles with logistics of getting-by. She was called into work for the same time as my upcoming nutrition class. She truly considered calling out of work just to attend a class about how to stretch a grocery budget.
We hear more about hunger in the news, but in terms of numbers. It's not "the needy"; it's our neighbors in need. 
In these four years, I find the amazement of people who step into our warehouse never ceases–the scale of this work is often surprising. If you are able, I invite you to volunteer with Manna, even for just a day. These stories could belong to any of us.
Lindsey here. Ready or not, the holidays are here. The pace of this season so often induces stress and financial strain–for those with jobs and especially those without. How do we celebrate in the midst of this tension?
I love this mantra:
interrupt anxiety with gratitude.
It's one we put into practice at Manna this month, with teammates posting their responses to the questions:
Who are you grateful for?
What ability are you thankful to have?
What do you take for granted in your day-to-day life?
What element of nature are you grateful for?
This week, Manna's team, volunteers, and participants are bustling around with food distribution before Thanksgiving. It seemed an apt opportunity to pass The Gratitude Jar (a former Utz sourdough pretzel bin)  down the line in our lobby. Every single person waiting for food joyfully accepted the opportunity to submit a message of their own gratitude to the nearly hundred slips of paper filling the jar.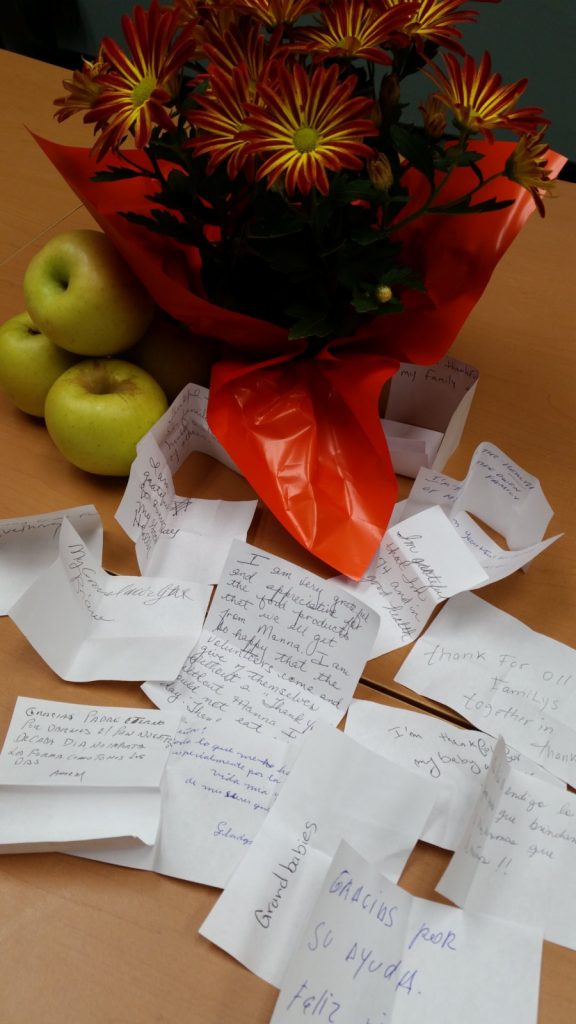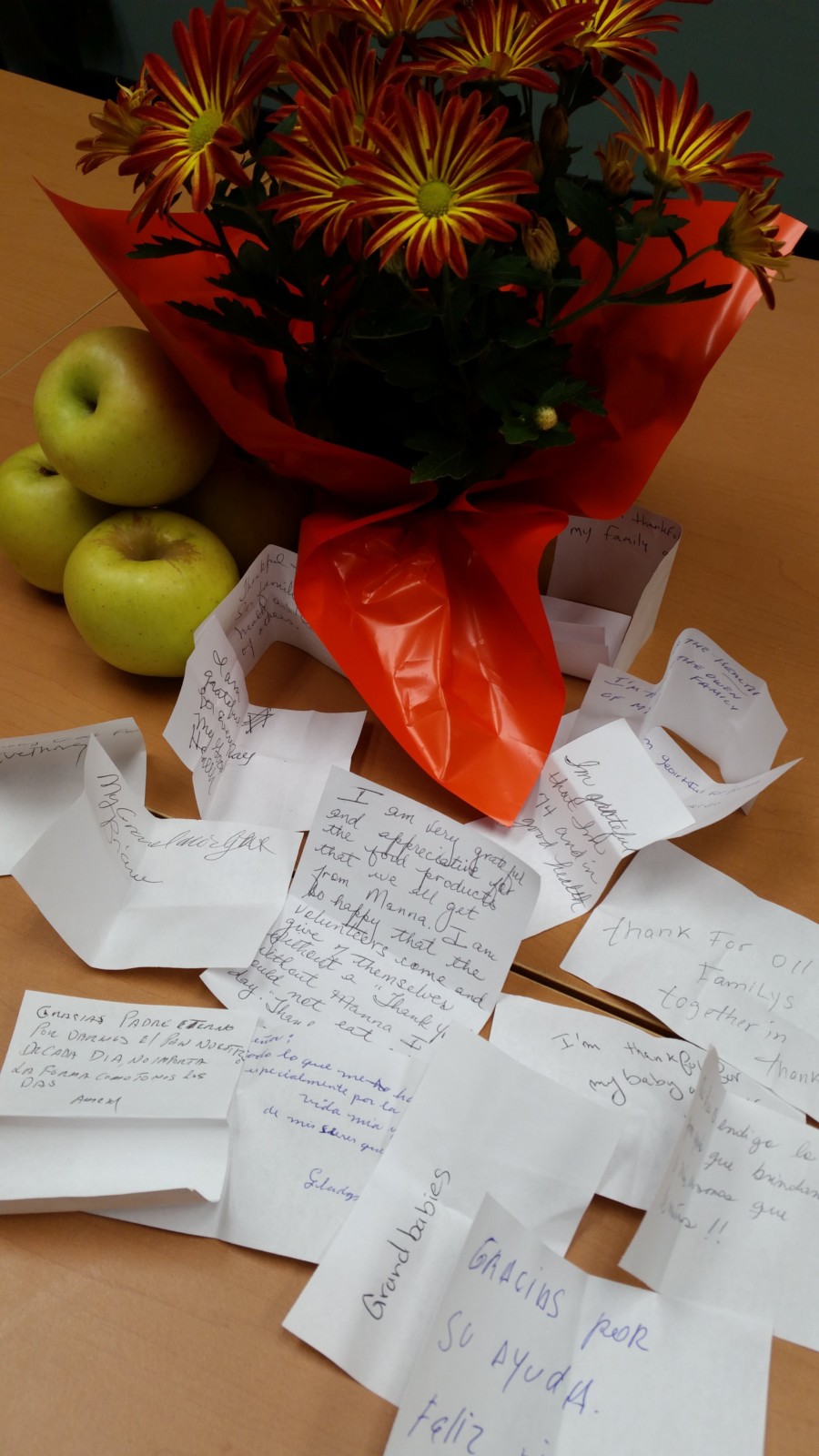 Here are some words of gratitude from Manna's participants:
Gracias por su ayuda. Feliz dia de gracias.
Grandbabies
I am grateful for not getting wounded in Vietnam! and for being alive
I've very grateful and appreciative for the food products that we all get from Manna. I am so happy that the volunteers come and give of themselves without a "thank you". Without Manna, I could not eat every day. Thank you.
I'm am grateful because I can walk. Thankful for my parents.
Thankful and grateful for family, friends, health, and the kindness of others.
I'm grateful that I'm 74 and in good health.
Thanks for life. Grateful for the fact that I can stand here and have the power to say thank you, volunteers.
Thank you God for waking me up every morning.
Thanks to Manna for helping us. We are senior we low income. We eat a lot better. All of the employees are doing a great job, keep it up!
Thanks for waking up, having a job, and for all of the help Manna has given my family!
My healthy kids.
Thankful because God has been good to me. I get free food from Manna when others have nothing to eat. Thank Manna Food.
Gracias a dios por mi familia.
My four wonderful children who would do anything for me.
From the entire Manna team, we are wishing you a celebration full of joy, gratitude, and memories.