Breaking Bread February 17th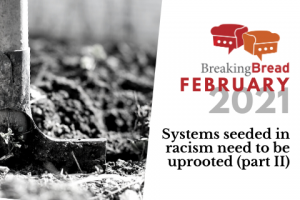 Manna's monthly Breaking Bread sessions are an opportunity for us to dive more deeply into the root causes of food insecurity and connect the dots between food justice and issues like racial justice.  All are welcome. This month's Breaking Bread will be the second of a two-part series titled "Systems Seeded in Racism Need to be Uprooted" and will take place on Wednesday, February 17, 2021 from 12:00-1:30pm via Zoom.
January's conversation tackled "Systems Seeded in Racism" and discussed how our current agricultural system was and is impacted by racist policies, and we were joined by Tope Fajingbesi who provided her current perspective as a farmer, author, lecturer, and accountant at Dodo Farms, a Certified Naturally Grown produce farm here in Montgomery County.  You can watch the recording here.
February's conversation, in honor of Black History Month, will be a celebration of the many historic contributions Black men and women have made to our food system and highlight local efforts to "uproot" systemic racism and make agriculture and food more inclusive. We'll have some trivia followed by a panel discussion featuring local businesses, farmers markets, and activities making change right here in the DMV.