Food Distribution Sites
Locations & Schedules of Food Distribution
Gaithersburg
Tuesdays and Thursdays 5 – 7pm
*Participant Choice Pantry
Gaithersburg Middle School
2 Teachers Way, Room 200
Gaithersburg, MD 20877 (Get directions)
Germantown
Thursdays from 2 – 5 pm
Salvation Army Center
20021 Aircraft Drive
Germantown, MD 20874 (Get directions)
Silver Spring
Tuesdays and Thursdays from 9am -12 pm and 4 – 7 pm
Wednesdays and Fridays from 10 am – 12 pm and 1 – 3 pm
1st Saturday of the month from 9 am – 12 pm
*Participant Choice Market (like a small grocery store)
Manna Market
12301 Old Columbia Pike
Silver Spring, MD 20904 (Get directions)

Tuesdays from 4 – 7 pm
*Indoor Distribution, pre-packed boxes
Glenmont United Methodist Church
12901 Georgia Avenue
Wheaton, MD 20906 (Get directions)

Wednesdays from 4 – 7 pm
*Indoor Distribution, pre-packed boxes
Clifton Park Baptist Church
8818 Piney Branch Rd.
Silver Spring, MD 20903 (Get directions)

**East County Regional Services Center
This distribution has transitioned to the new Manna Market

4th Friday of every month: 3 – 7 pm
*Participant Choice Pantry
Colesville Presbyterian Church
12800 New Hampshire Ave
Silver Spring, MD 20904 (Get directions)

2nd & 4th Saturdays of every month: 10 am – 12 noon
*Participant Choice Pantry
Silver Spring United Methodist Church- Four Corners Campus
33 University Blvd E
Silver Spring, MD 20901 (Get directions)
Community Drop Off Locations

Manna works in cooperation with the following residences to provide food distribution. Contact your resident manager to learn how to schedule a pick up.

Forest Oak Towers/HOC
Homecrest House
Hampshire Village Apartments
Londonderry Towers
Paddington Square Apartments/HOC
Tanglewood Apartments/HOC
Town Center (Rockville)/HOC
The Willows Community
Victory Oaks Apartments
Victory Towers Apartments
Victory Forest Apartments

Contact referral@mannafood.org if your agency is interested in being a community distribution site.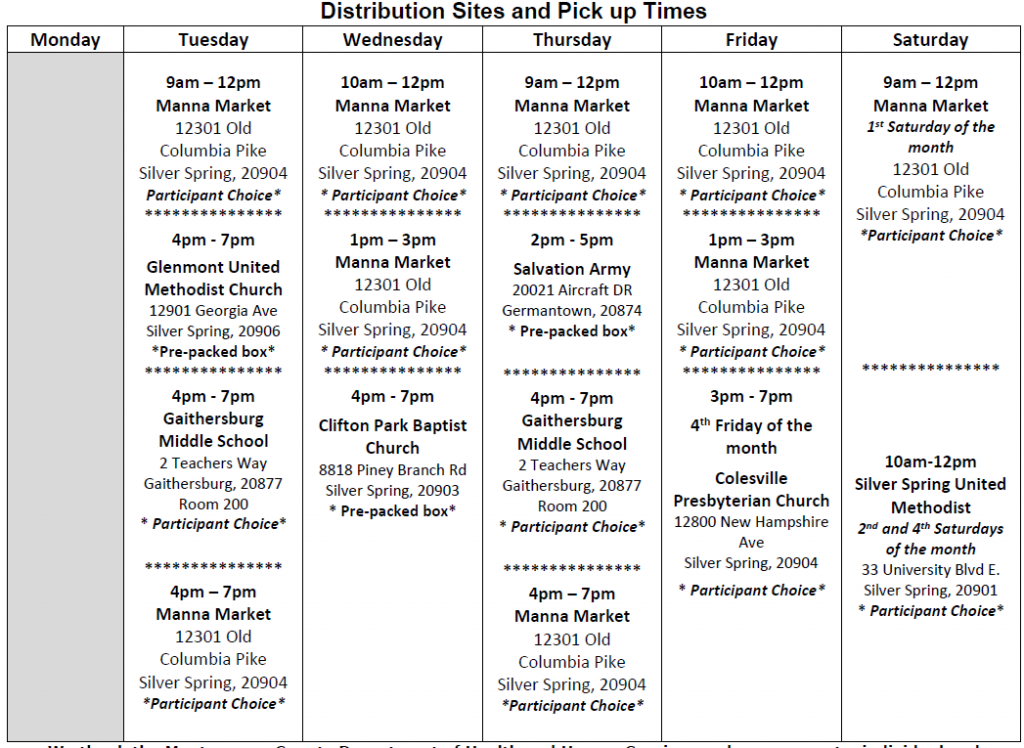 Holidays and Inclement Weather

All Manna sites are closed in observance of the following holidays: New Year's Day, Martin Luther King Jr. Day, President's Day, Memorial Day, July 4th, Labor Day, Columbus Day, Thanksgiving, the day following Thanksgiving, and Christmas Day.

In the event of inclement weather, check our website for more information about closings. We typically follow the Montgomery County Government policies but may decide to close if the conditions are not safe for travel. If Manna is closed, we will automatically honor the referral the next day at our Main Warehouse. Those with referrals to a Satellite must reschedule for the following week or schedule a pick up at our main warehouse.