A Dietetic Intern's Experience at Manna
Cooking Up Healthy Habits with Montgomery County's Youth
Have you ever wanted to learn something new but not have the resources to start?  Whether it's learning a new subject, picking up a new hobby, or developing a new skill, it's essential to have a strong knowledge base, the right equipment, and access to resources in order to be successful.
For the children of Montgomery County, learning new skills in nutrition, such as cooking, food safety, and healthy eating habits, is possible with the help of "Manny", Manna Food Center's commercial kitchen on wheels. Every day, Manny travels from school to school providing nutrition education to students who qualify for free or discounted school lunches. Over a series of 8 weeks, students are able to learn the ins-and-outs of how to choose healthy, nutritious food options, how to cook these food options, and how to turn their actions into sustainable, healthy habits for a lifetime.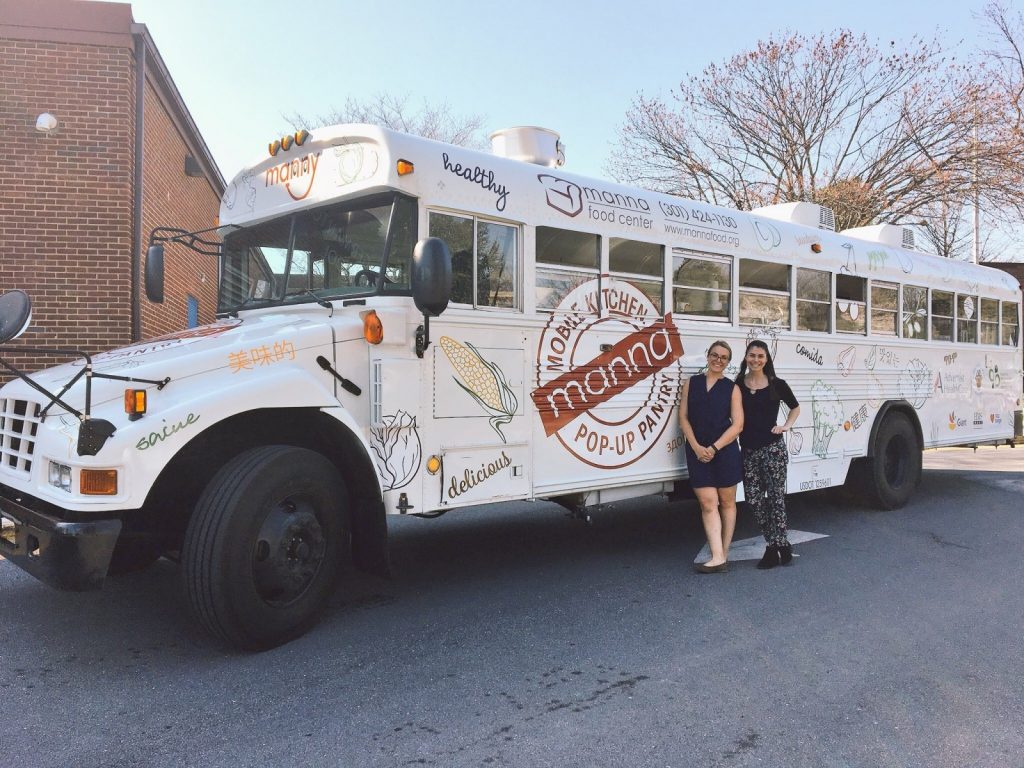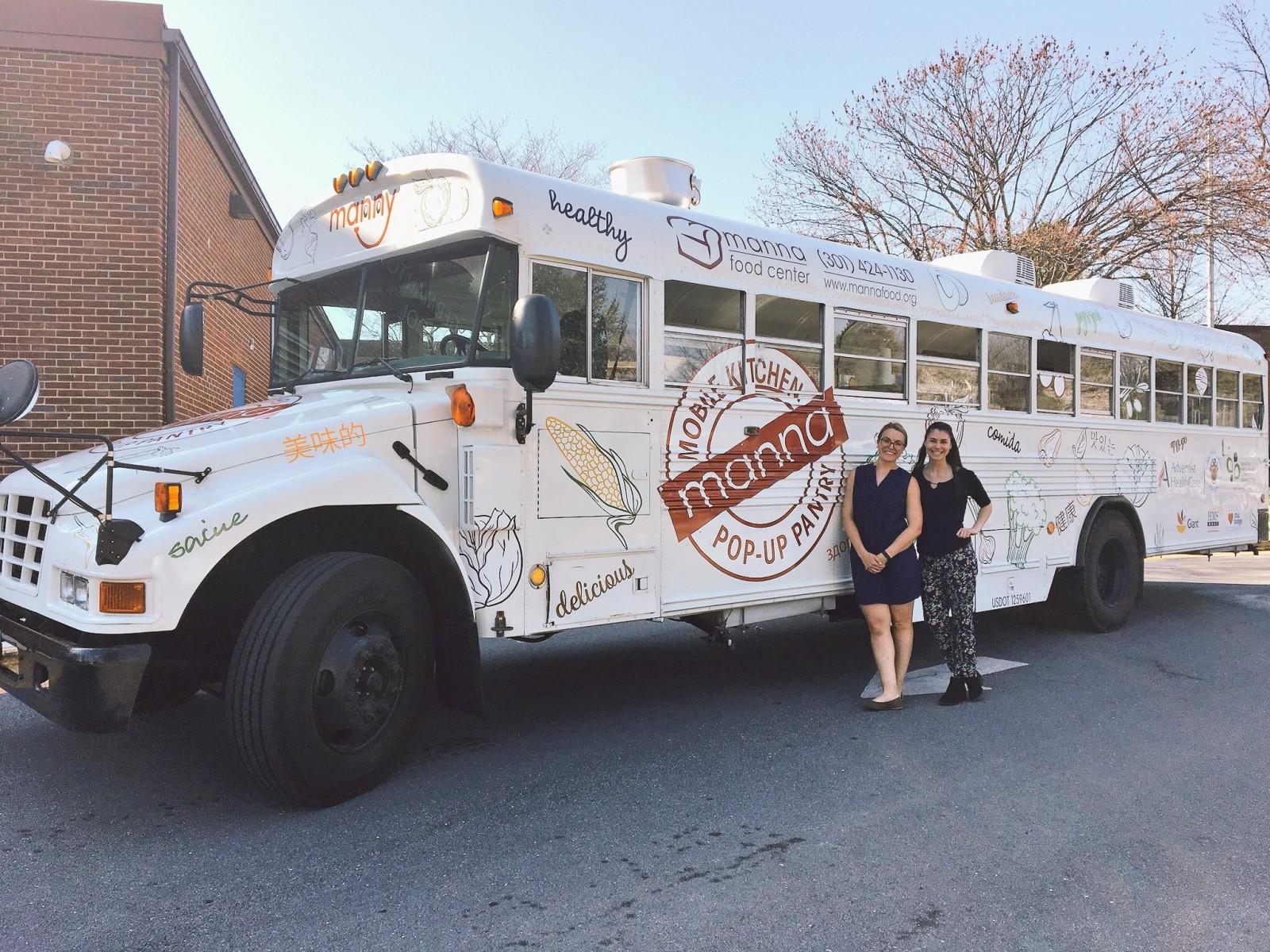 This past week, I had the opportunity to assist Manna's Mobile Kitchen Program Coordinator in presenting the "Small Bites" lesson plan to the students of Germantown Elementary. Following the Common Threads nutrition education curriculum, students were able to get hands-on with prepping and cooking the recipe of the day – seasoned, roasted cauliflower. They had a blast peeling apart bite-sized pieces of cauliflower off of its stalk, tossing it with oil, pepper, and a pinch of salt, and watching it roast in the oven. When it came time to the taste test, the kids couldn't get enough of it! Nearly every one of the students reported loving the recipe, stating that they enjoyed the spiciness of the ground pepper and that they were surprised by its delicious flavor. To my surprise, students were asking for seconds, thirds, and even a plate to go, leaving only scraps of the 4 heads of cauliflower behind. When asked if they would plan to cook this recipe again, a unanimous "YES!" rang throughout the bus. It's safe to say, the lesson plan was a success.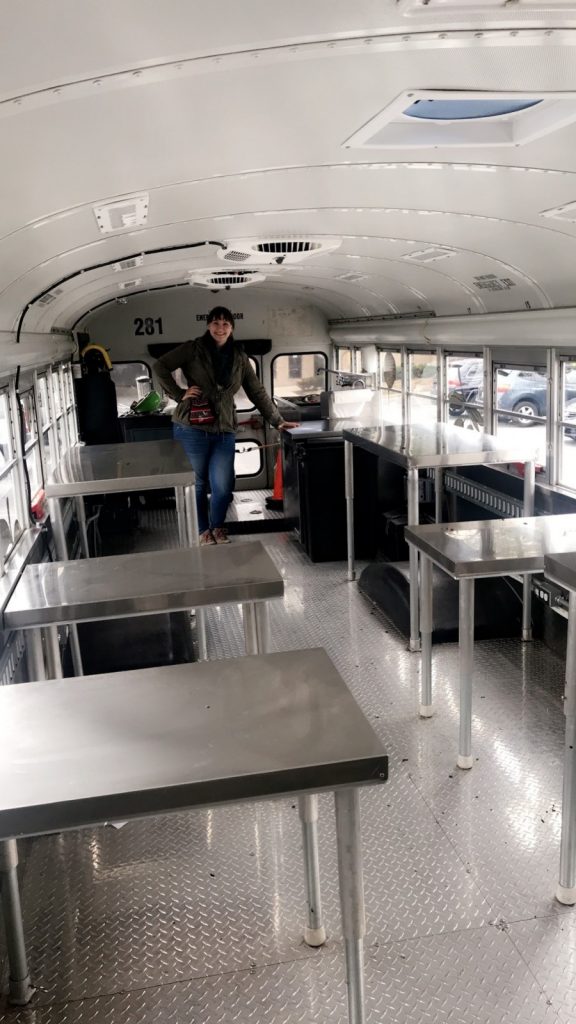 Upon reflection, I couldn't believe how big of an impact this experience had on these students. With only a few heads of cauliflower, three simple household ingredients, and a bowl, these kids were able to develop a healthy and nutritious meal option – with adult supervision of course– and have fun doing it! Based on the amount of enthusiasm portrayed during class, I have no doubt that these kids will be showing off their newly found skills to their friends and family, further helping spread the word of how delicious healthy and nutritious foods can be.
-Becky Handley
Dietetic Intern
University of Maryland
---
---
A Dietetic Intern's Experience at Manna
While beginning my community rotation at Manna Food Center I had no idea what to expect for the 2-week duration we had planned with my dietetic internship. Unlike most other dietetic interns, I had never stepped foot in a warehouse before, let alone volunteered at a food bank.  After my first day in the warehouse, it was safe to say that I was nothing short of impressed and eager to return for the remaining days.
Manna is unlike most food banks for many reasons. While its singular mission to eliminate hunger and food insecurity can be parallel to other organizations, it goes above and beyond to also educate the county on nutrition and healthy eating. In the past year, Manna created a mobile kitchen to bring nutrition education to its community members. Also known as, "Manny," Manna's mobile kitchen and Pop-up-Pantry allows community members to conveniently benefit from Manna's education programs and traveling pantry. One of my tasks during my two weeks here was to assist in teaching and prepping classes to elementary kids on Manny. While it was exciting and new to be on a mobile kitchen, it was even more inspiring to see how eager the children in the class were to try new vegetables and learn about healthy eating!
Aside from my wonderful experience with Manny, I also learned about other great programs Manna has created. For example, while more than 55,000 students in Montgomery County Public Schools are part of households that qualify for Free or Reduced Meals, Manna has created a solution to fight food insecurity geared towards these children. Manna Smart Sacks provides weekend meals to over 2,800 children to bridge the weekend gap when they can't rely on school meals. Smart Sack bags include whole grains, low sodium canned vegetables, lean meats, and healthier snack options so the children can enjoy their weekends without the worry of receiving adequate nutrition.
I also was fortunate to participate in a meeting with Expanded Food & Nutrition Education Program (EFNEP) to see how Manna can partner with them since both programs have similar goals of nutrition education to the community. It was informative and incredible to witness two different organizations make time out of their busy schedules to meet and help one another due to the fact that they have the same goal: to support and educate the community.  I also was able to help volunteer in the warehouse by sorting produce boxes and helped distribute boxes to families when they arrived. Being both behind the scenes of packing the boxes and in front of the scenes distributing them was inspirational because I realized the impact I was making on these families and how grateful they were for this organization. It was one of the most rewarding experiences I have had in my dietetic internship!
Overall, I think Manna is an amazing organization that will continue to expand and impact the lives of families in Montgomery County. This food center has set very high expectations for all other food centers that I will visit in the future. I am thankful for the amazing staff and volunteers that I was honored to meet and work with during my time here.
-Melissa Talley
Dietetic Intern
University of Maryland