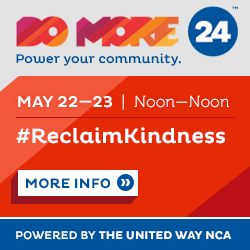 Imagine what would happen if we all showed the kindness to others that we want for ourselves?
Manna is participating in the 7th Annual online #DayOfGiving, powered by United Way NCA, helps raise money for nonprofits serving the #NationalCapitalArea. 100% of monies raised will help to make the change we need in our communities now more than ever. Learn more at DoMore24.org. #ReclaimKindness
Donate at http://bit.ly/DoMore24Manna starting on May 22 at NOON
Do More is an annual 24-hour fundraiser that is powered by United Way of the National Capital Area.  Funds raised through Do More 24 will help Manna meet the needs of our neighbors during the summer months, a time of year when support is the lowest but food insecurity remains high.
$24 will support local farms and farmers and bring 75 pounds of fresh, locally grown produce to your neighbors who are experiencing hunger and food insecurity.
$48 will provide one month of nutritionally balanced food for weekend meals to three elementary school children and their families who are experiencing hunger and food insecurity.
$124 will provide essential food support to the average family receiving services from Manna Food Center for the year. Many families are faced with the unreasonable choice of choosing between spending their limited funds on food or necessary bills such as gas, electricity and rent.
$240 will provide food to make 96 nutritionally balanced meals for families experiencing hunger and food insecurity.
With just $24 you can make a difference in our community today!