Mobile Kitchen & Pop-Up Pantry
When the COVID-19 pandemic is behind us, we'd love to collaborate with your organization to bring cooking/nutrition classes and food distribution support directly to your community! Email our Community Food Education Program Manager, Cynthia Wilson, about Manna's Mobile Kitchen and Pop-Up Pantry at cynthia@mannafood.org.
Manny the Mobile Kitchen and Pop-Up Pantry serves two separate functions, as a classroom to teach general nutrition principles through cooking, and as a food distribution vehicle. 

We are determined to make healthy eating accessible for all residents of Montgomery County. When schools are in-person, we teach one time classes or a series of eight Manny cooking classes that span the entire school year. In the series, we will touch on topics such as whole grains, proteins, fruits and vegetables, and much more! We align our nutrition concepts with cooking lessons for an hour of an engaging, hands-on learning experience. We also provide cooking classes for adults on Manny. With our adults, we still talk about nutrition topics but our cooking lessons are a little more involved.
When COVID-19 restrictions are not in place, Mobile Kitchen classes run from year-round, dependent on weather, from 10am-3pm. Scheduling preference is given to groups that request back-to-back recurring classes.
Interested in our other Nutrition Education Opportunities? Please click here to find out more.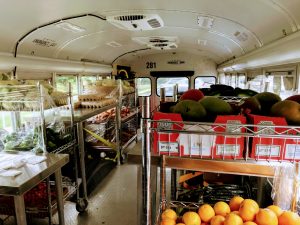 In addition to classes, Manny can serve as a Pop-Up Pantry. Our mobile pantries consist of partial food distribution for up to 50 families that are food-insecure in Montgomery County. We aim to provide both fresh produce and shelf-stable items. If you know of a group of individuals that could benefit from food assistance, or would like us to provide this service at your location please call Agar Mbianda at 240-268-2504.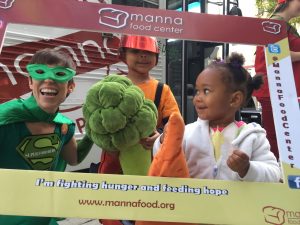 Would you like Manny, the Mobile Kitchen and Pop-Up Pantry Vehicle to make an appearance at your next community event? When COVID-19 restrictions are no longer in place, we can accommodate a variety of event requests, including health fairs, school meet and greets, and donor-driven events, based on our availability. 
Event time slots are generally available March through November from 10:00am to 6:00pm Wednesdays – Saturdays.
Frequently Asked Questions:
What is Manny? Manny is the nickname of the new Manna Mobile Kitchen & Pop-Up Pantry (MMK). The MMK is a transformed school bus that will act as a cooking classroom for all ages. With Manny, we can bring hands-on cooking education to children, their parents, and seniors. The bus will also be used for targeted food distribution in areas with limited food access.

Why a Mobile Kitchen?   We know from Montgomery County's Food Security Plan that along with financial barriers, transportation and a lack of food preparation knowledge are common factors in our community that prevent families from eating a healthful diet. 70% of County adults do not meet the recommended number of daily vegetable servings.  The MMK is a program designed to tackle two barriers at once by bringing nutritious foods and cooking skills to our community.  This school year the MMK will offer educational opportunities to some of the 30,000 elementary school students in the Montgomery County Public Schools eligible for free and reduced meals. Our culinary classroom on wheels is an innovative solution to increase access to nutrition education and nutritious foods in Montgomery County.

How is Manny used? The MMK is an extension of Manna's focus on innovative, participant-centered approaches to eliminating hunger. Programming will encourage increased fruit and vegetable consumption, greater acceptance of new, nutritious foods, and encourage lifelong skills like math and teamwork. The MMK will combine food distribution with nutrition education in a unique and eye-catching way, creating a community space that draws new people into Manna's community engagement and advocacy activities.

Where does Manny travel? Our participants often faced transportation barriers to accessing licensed community kitchens where Manna taught classes in the past. We will travel to high-need schools and apartment complexes to teach youth, seniors, and adults at risk of food insecurity.

How can I get involved? As an innovative new program, the Manna Mobile Kitchen depends on generous support from the community to fund outreach and programming. Please consider designating your donation to the MMK here.  For other ways to get involved see below.
If you have any questions or concerns about our Manny or Community Food Education Services please contact our Community Food Education Program Manager, Cynthia Wilson at cynthia@mannafood.org.