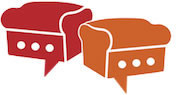 Breaking Bread – Continuing the Conversation
When: May 15, 2019, from 4:00 – 5:30 PM
Where:
Manna Food Center
9311 Gaither Rd.
Gaithersburg, MD 20877

We are excited to let you know about Manna Food Center's Breaking Bread project! We're inviting you to become part of a new network of people who are exploring the underlying causes of and pursuing new solutions to the experience of hunger and food insecurity in Montgomery County. In the coming days, we'll be hosting Breaking Bread discussions at Manna's food distribution sites and there will also be Neighbor's Circles held over dinner throughout the county.
On a regular basis Manna is also creating a space for this network of people to get together monthly to share inspiration, progress on action steps, and explore other community action we can take together on these issues. And, as the name suggests, we will always meet over a shared meal or snack. Please join us!
We hope you will join the conversation on May 15, 2019 and the third Wednesday of every month from 4-5:30pm at Manna Food Center, 9311 Gaither Rd., Gaithersburg MD 20895. Questions? Contact Angela Whitmal at 240-268-2527 or angela@mannafood.org. Let us know if you can make it!