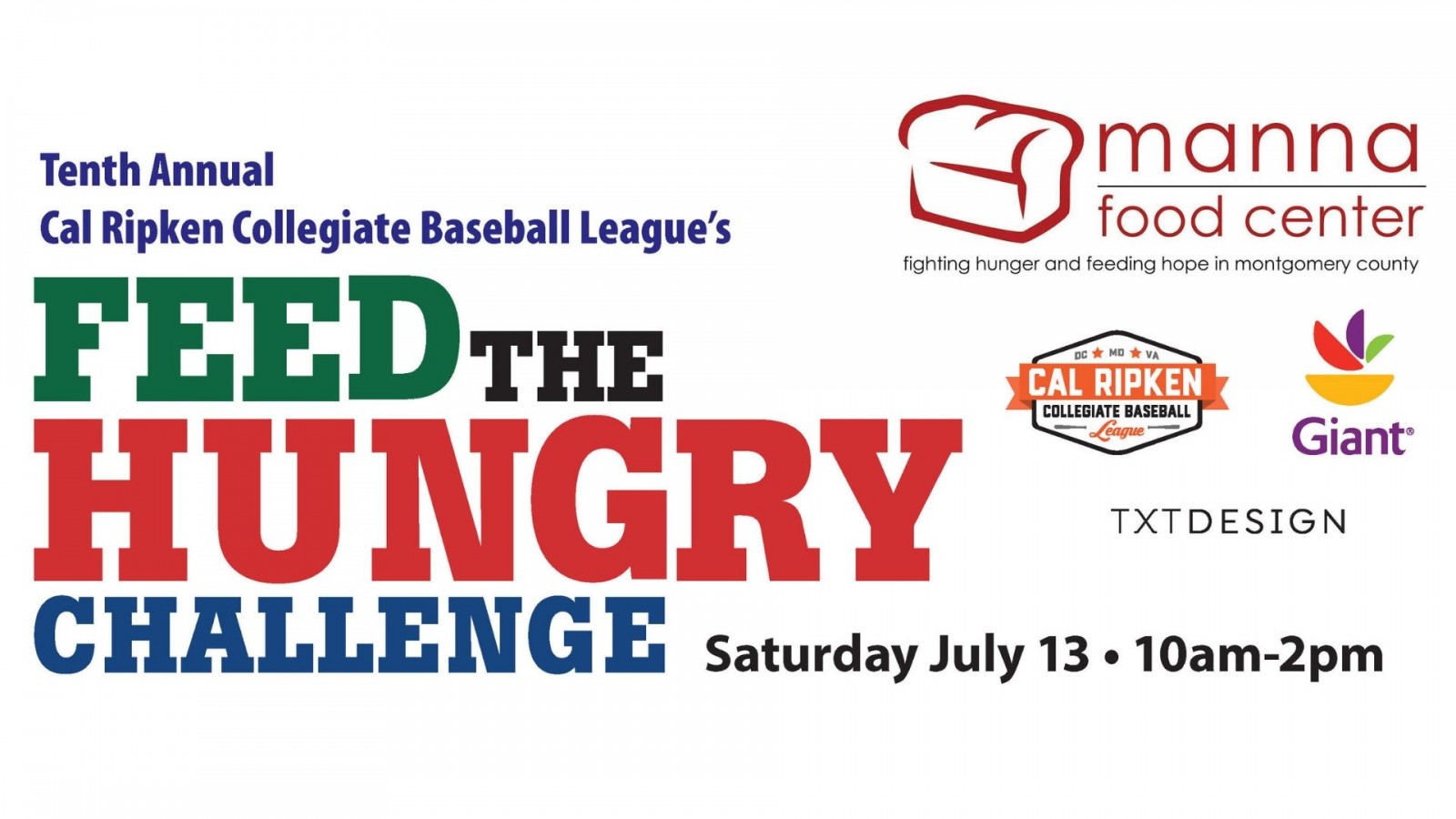 Register For This Event!
In Montgomery County, more people than you can imagine struggle to put food on the table. In these challenging times, 3,300 families rely on the Manna Food Center for food each month. This summer, you can help our neighbors in need by supporting the Tenth Annual Cal Ripken Collegiate Baseball League's Feed the Hungry Challenge. Since 2010, Ripken League players have collected nearly 27 tons of food for Manna Food Center.
Each family that donates two or more cans or boxes of food will receive a free family pass for four to a regular season game this July in your favorite Cal Ripken League ballpark. The team whose fans donate the most food will win the Annual Challenge Cup!
Visit one of the 12 Giant Food stores listed below on July 13 to not only support Manna but cheer on your favorite team.
Silver Spring-Takoma Thunderbolts
Arliss Street Center – 8750 Arliss St
Blair Park – 1280 East West Highway
Westfield Wheaton – 2900 University Blvd.
White Oak – 11221 New Hampshire Ave.
Bethesda Big Train
Cabin John – 7919 Tuckerman Lane
Georgetown Square – 10400 Old Georgetown Rd.
Montrose Crossing – 12051 Rockville Pike
Westwood – 5400 Westbard Avenue
Gaithersburg Giants
Flower Hill – 18250 Flower Hill Way
Goshen Crossing – 20044 Goshen Road
Kentlands – 229 Kentlands Boulevard
Shady Grove – 16837 Crabbs Branch Way
Download flyer https://www.mannafood.org/wp-content/uploads/2019/07/2_MannaFoodDrive-AdForProgram_2019.pdf