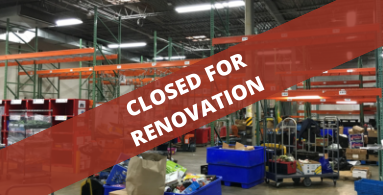 Beginning today, Monday, July 8, 2019 our warehouse located at 9311 Gaither Road, Gaithersburg, MD. 20877 will be temporarily closed for renovation. Our temporary location is 8341 Beechcraft Ave. Gaithersburg, MD. 20879. We anticipate returning to 9311 Gaithersburg MD. 20877 sometime in September 2019. We will continue to keep you posted.
Caseworkers:  If picking up on behalf of participants, boxes should be picked at 8341 Beechcraft Avenue site between the hours of 9:00am to 3pm.
Emailed referrals should continue to be sent to referral@mannafood.org no later than 3pm the day before. Faxed referrals should be sent to 301.294.7968. If you have any questions, don't hesitate to call 301.424.1130 between the hours of 9am to 4:00pm, Monday through Friday.
This fall, Manna will be opening a new market-style food distribution site at 12301 Old Columbia Pike, Silver Spring.